Software Segment Held Largest Share of Drug Modelling Software Market in 2019
According to our new market research study on "North America Drug Modelling Software Market to 2027 – Regional Analysis and Forecast – by Type, and Application" the market is expected to reach US$ 4,588.87 million by 2027 from US$ 2,468.17 million in 2019; it is estimated to grow at a CAGR of 8.4% from 2020 to 2027. The report provides trends prevailing in the North America drug modelling software market and the factors driving the market growth along with those hindering it.
In 2019, the software segment accounted for the highest share of the market. Also, the same segment is estimated to grow at the highest CAGR in the forecast period. Growth of this segment is attributed to the growing demand for effective therapeutics and increase in drug discovery efforts of various biologics across a wide range of therapeutics. In addition, strategic activities by service providers such as collaborations, product advancement, and product launch in order to expediate drug discovery timeline are further accelerating the growth of the market.
The growth of the North America drug modelling software market is mainly attributed to the rapid integration of AI for the drug discovery, increasing preference for personalized medicine, high R&D spending for novel therapeutic applications and presence of major market players. However, the lack of data standardization is the major factor hindering the market growth in North America.
Crown Bioscience Inc (JSR life science); Chemical Computing Group ULC; Nimbus Therapeutics; Leadscope, Inc (Instem); and Schrödinger, Inc are among the leading companies operating in the North America drug modelling software market.

North America Drug Modelling Software Market, By Country, 2019 (%)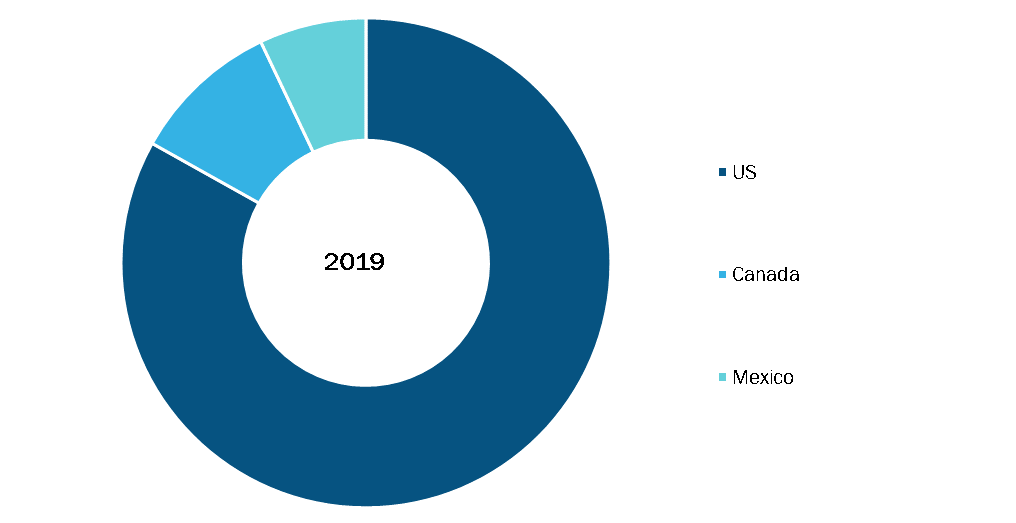 The Report Segments North America Drug Modelling Software Market as Follows:
North America Drug Modelling Software Market – By Product Type
North America Drug Modelling Software Market – By Application
Drug Discovery and Development

Computational Physiological Medicine

Disease Modelling

Medical Imaging

Predictive Analysis of Drug Targets

Simulation Software

Cellular Simulation
North America Drug Modelling Software Market – By Country
North America

US

Canada

Mexico
Contact Us
Contact Person: Sameer Joshi