Health Benefits Associated with Sparkling Water Escalate Sparkling Water Market Growth
According to our latest market study on "Sparkling Water Forecast to 2028 – COVID-19 Impact and Global Analysis – By Category (Plain, Flavored); Packaging Type (Bottles, Cans), Distribution Channel (Supermarkets and Hypermarkets, Convenience Stores, Online Retail, Others)" the sparkling water market was valued at USD 23,271.30 million in 2020 and is projected to reach USD 55,298.58 million by 2028; it is expected to grow at a CAGR of 11.7% from 2021 to 2028.The report highlights key factors driving the market growth and prominent players along with their developments in the market.
Sparkling water is one of the preferred alternatives for soft drinks such as soda and juices. Sparkling water is produced when water is infused with carbon dioxide under pressure which makes it drink similar to soft drink with less calories. It comes in plain and flavored categories with added sweeteners and sugar. Sparkling water keeps person hydrated and provides weight management benefits. Research also states that, sparkling water improves digestion and help to relieve constipation. Currently, sparkling water gaining popularity owing to its health benefits and less calorie content compared to other soft drinks.
With the growing trend of adopting a healthy lifestyle among all age groups, consumers are progressively switching to healthy and innovative drinks, including sparkling water, especially as an alternative to sodas and sugary carbonated beverages. According to Nestlé, a Switzerland-based food and beverages company, ~64% of the consumers prefer functional beverages with no added calories. In addition, most young age consumers are increasingly opting for sparkling water over plain water, mainly, due to preference for flavors. Further, soft drinks contribute to rise in the incidence of diseases such as hypertension and diabetes, and awareness regarding the same is further driving consumer inclination toward sugar-free drinks, including flavored bottled water or sparkling bottled water.
Some of the major key players operating in the global sparkling water market include PepsiCo, Nestle, A.G. Barr, Crystal Geyser Water Company, Talking Rain, National Beverage Corp., Asahi Group Holdings, Ltd., Dr Pepper Snapple Group, The Coca-Cola Company, and Limitless.
Impact of COVID-19 Pandemic on Sparkling Water Market
With the spread of COVID 19 across the globe, most countries declared a health emergency and stopped unessential movements, thus impacting heavily on the supply chain of goods. This also raised the demand for healthy food and beverage from the consumers that boost immunity. With the relaxation of the COVID 19 norms, the market conditions resumed with the necessary precautions. The pandemic largely influenced the buying behavior of consumers towards healthy and nutritious food and beverages. During the initial months of the Covid-19 pandemic, a majority of public places and offices were closed, which led to a considerable drop in the commercial demand for sparkling water. However, widespread home isolation orders have spurred the demand for bottled water of various kinds among households across the globe, including sparkling water. This pandemic is projected to impact the sparkling water market at a low level and is anticipated to recover in the next two to three quarters.
Global Sparkling Water Market Breakdown – by Region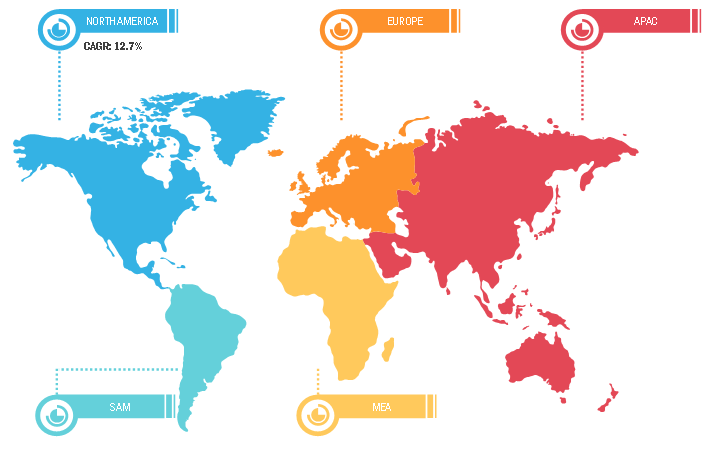 The report includes the segmentation of the global sparkling water market as follows:
Global sparkling water market is segmented by category into plain and flavored. Based on packaging type, the market is segmented into bottles and cans. Based on distribution channel, the market is segmented into supermarkets and hypermarkets, convenience stores, online retail, and others. By geography, the sparkling water market is broadly segmented into North America, Europe, Asia Pacific (APAC), Middle East & Africa (MEA), and South and Central America. The market in North America is further segmented into the US, Canada, and Mexico. The sparkling water market in Europe is further segmented into Germany, France, the UK, Italy, Russia, and the Rest of Europe. The market in Asia Pacific is sub segmented into China, India, Japan, Australia, South Korea, and the Rest of Asia Pacific. The sparkling water market in Middle East & Africa (MEA) is further segmented into South Africa, Saudi Arabia, the UAE, and the Rest of MEA. The market in South and Central America is sub segmented into Brazil, El Salvador, Argentina, and the Rest of South and Central America.

Contact Us
Contact Person: Sameer Joshi
Phone: +1-646-491-9876
Email Id: sales@theinsightpartners.com