Advanced Packaging Technologies to Contribute Significantly to Economic Recovery of Semiconductor Industry
Foundries, substrate/PCB suppliers, and EMS/DM Players, etc., operating with different business models entering packaging business
The advanced packaging market was worth ~US$ 30 billion in 2020; it is expected to grow at a CAGR of 8% to reach US$ 55 billion by 2028. There has been a paradigm shift in the packaging/assembly business in recent times. Although Outsourced Semiconductor Assembly and Tests (OSATs) and Integrated Device Manufacturers (IDMs) have been the key contributors to the market for a long, players with different business models including foundries, substrate/Printed Circuit Board (PCB) suppliers, and Electronic Manufacturing Service (EMS) companies are entering into the assembly/packaging business.
Innovations in packaging technology, miniaturization of devices, and increasing adoption of MEMS expected to propel advanced packaging market growth
Innovations in packaging technologies, and focus on heterogeneous integrations and wafer-level packages have prompted the chip industry to develop a new set of solutions, collectively known as advanced packaging. An increase in the size of silicon from 100 mm to 300 mm is a significant trend affecting the advanced packaging market. The shift to wafers with longer diameters has reduced the manufacturing cost by 20-25%. The miniaturization of devices and increasing adoption of MEMS are bolstering the demand for embedded die packaging. Though the technology is not new in the market, the adoption has been limited to niche applications due to high cost and low yield; however, it has immense potential for development in the future. Advancements in the Bluetooth and radiofrequency (RF) modules and the rise of Wi-Fi 6 could further fuel the advanced packaging industry. The continuous evolution of smartphones and tablets technologies, wireless communications, etc., will positively impact the progress of this industry.
Advanced packaging technology to hold more than 60% share in semiconductor packaging market by 2028
The advanced packaging industry held ~40% share in the semiconductor packaging market in 2020, and currently, the market is dominated by traditional packaging platforms. However, advanced packaging technologies are expected to account for more than 60% of the semiconductor packaging market by 2028.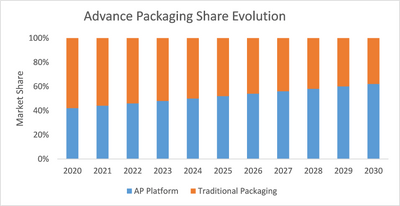 The back-end process of supply chains requires significant investments in specialized facilities. Firms specializing in assembly, packaging, and testing typically invest ~15% of their annual revenues in facilities and equipment. The back-end process is relatively less capital-intensive and employs more labor than the front-end fabrication process; however, innovations in advanced packaging are changing these dynamics. Overall, backend process activity accounted for ~14% of the total industry capital expenditure and contributed to ~6.5% of the total value added by the semiconductor packaging industry in 2020. The industry is concentrated primarily in Taiwan and mainland China, and several new facilities are also being built in Southeast Asia (Malaysia, Vietnam, and the Philippines).
Traditional packaging Vs. advanced packaging market trend
The traditional packaging market dominated the overall semiconductor packaging market in 2020. In terms of 300mm equivalent wafer, traditional packaging still dominates with ~72% of the market share. However, advanced packaging is estimated to increase its share of wafers to more than 60% by 2028. The value of advanced wafer packaging is almost double that of traditional packaging, resulting in a high profit margin for semiconductor manufacturers. Flip-chip constituted ~80% of the advanced packaging market in 2020, and it will continue to contribute to a significant market share by 2028.
Technology trends:
Heterogeneous integration is a key to semiconductor innovation.
Advanced packaging is seen to raise the value of a semiconductor product, adding functionality and maintaining/increasing performance while lowering cost.
Various multi-die packaging methods (SiP) are being developed in both high end and low end application for consumer, performance, and specialized applications.
Supply chain:
The semiconductor manufacturing supply chain is changing at various levels.
IC substrate and PCB manufacturers—SEMCO, Unimicron, AT&S, Shinko, and so on are entering into the advanced packaging area.
OSATs are expanding their testing expertise, while traditional pure testing service players are investing in assembly/packaging capabilities.
TSMC, Intel, and Samsung have emerged as the key innovators of new advanced packaging technologies.
Flip-chip advance packaging platform dominated advanced packaging market in 2020
Among all advanced packaging platforms, 3D/2.5D stacking and fan-out are expected to grow at ~22% and 16% CAGR, respectively from 2021 to 2028. The adoption of such packaging platforms will continue to surge across various applications. Mainly led by mobile phone segment, the market for fan-in wafer-level packaging (FIWLP) will grow at a CAGR of 5% during 2020–2026. Though small (~US$ 50 million in 2020), the embedded die market is expected to grow at a 20% CAGR from 2021 to 2028, and the telecommunications and infrastructure, automotive, and mobile sectors would be the major adopters of this advanced packaging platform.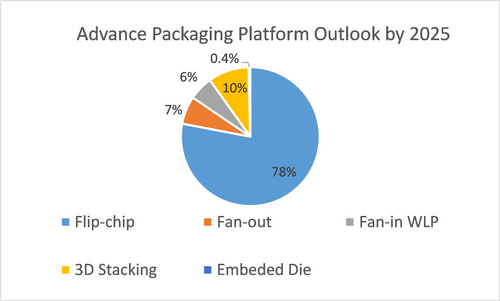 Fan-out wafer level packaging expected to witness significant growth rate
Fan-out wafer-level packaging (FOWLP) has emerged as a promising technology to meet the ever-increasing demands for consumer electronics. This type of packaging benefits through specific features such as substrate-less package, lower thermal resistance, and higher performance. The enhanced performance delivered by FOWLP is attributed to shorter interconnects and direct IC connection by thin-film metallization, instead of the standard wire bonds or flip-chip bumps, and more moderate parasitic effects.
Investment Outlook: Significant investments by IDMs in advanced packaging technology to boost their foundry business
TSMC earned ~US$ 3.6 billion as advanced packaging revenue in 2020. The company announced an estimated US$2.8 billion CapEx in 2021 for its advanced packaging business, geared explicitly toward SoIC, SoW, and InFO variants, and CoWoS product lines. Further, Intel's investment in various advanced packaging portfolios—such as Foveros, EMIB, and Co-EMIB—is a key to implementing its IDM 2.0 strategy as unveiled by the company's new leadership. The company plans to capitalize on external and internal manufacturing resources to focus on design wins and increased market share, thereby growing Intel's leadership in the client and data center domains.
Samsung is aggressively investing in advanced packaging technologies to boost its foundry business and emerge as a solid alternative for TSMC. On the other hand, various OSATs are also investing heavily in advanced packaging technologies to compete in the lucrative market. Their CapEx spending increased 27% YoY in 2020 to reach ~US$6 billion, irrespective of the COVID-19 pandemic impact.
Expanding advanced packaging production in us to drive market
With the rise in supply chain concerns and trade tensions, the US is taking the first steps toward bringing larger-scale IC packaging production capabilities back to the country. The country lacks larger-scale packaging production capabilities, substrates, and wafer bumping services. Amkor, Intel, and other companies in the US are making efforts for addressing these issues. While the US is a leader in chip design, it has seen a decline in new fabs and capacity. A large percentage of fab capacity is concentrated in Asia. Nevertheless, Intel, Samsung, TSMC, and others are building new fabs in the US. Thus, chip manufacturing is critical for maintaining technological leadership, both from a supply chain and economic perspective, and for supply chain security reasons.
A few of the notable developments in the advanced packaging industry in the US are as follows:
Intel is developing an advanced packaging operation in New Mexico.
SkyWater is developing advanced packaging capabilities in Florida.
Amkor is looking at building its first plant in the US, while other OSATs are expanding.
Northrop Grumman will open a packaging processing line in the country.
The US government has proposed a plan worth US$ 52 billion to boost semiconductor manufacturing in the country, which also involves advanced packaging.
Competitive Landscape: Top 10 players account for more than 70% market share
Intel and Samsung (IDMs); TSMC (a foundry); ASE, SPIL, Amkor, PTI, and JCET (the Top 5 global OSATs); Nepes; and Chipbond are the 10 players that account for ~75% of global advanced packaging industry. The advanced packaging market is significantly driven by end user revenue because of the elevated demand for the latest technologies and high-speed gadgets. The companies have gained sustainable competitive advantages through innovations in this market, owing to the growing need for differentiated products for various applications.
February 2021: Siemens Digital Industries Software announced a collaboration with Advanced Semiconductor Engineering, Inc. (ASE) to evaluate multiple complex integrated circuit (IC) package assemblies and interconnects in a data-robust graphical environment before and during physical design implementation.
August 2020: Samsung Electronics announced the availability of its silicon-proven 3D IC packaging technology—eXtended-Cube (X-Cube)—for most advanced process nodes.
May 2020: Synapse Electronique, a Canadian equipment electronics manufacturer and EMS provider, integrated two Universal Instruments Fuzion Platform production lines in its Shawinigan, Quebec facility.

Report Coverage
Revenue forecast, Company Analysis, Industry landscape, Growth factors, and Trends

Segment Covered
This text is related
to segments covered.

Regional Scope
North America, Europe, Asia Pacific, Middle East & Africa, South & Central America

Country Scope
This text is related
to country scope.
Amkor technology, Inc.
ASE Technology Holding Co.Ltd
Intel Corporation
Taiwan Semiconductor Manufacturing Company
SPIL
PTI
JCET
NEPES
CHIPBOUND
Samsung
The Insight Partners performs research in 4 major stages: Data Collection & Secondary Research, Primary Research, Data Analysis and Data Triangulation & Final Review.
Data Collection and Secondary Research:
As a market research and consulting firm operating from a decade, we have published many reports and advised several clients across the globe. First step for any study will start with an assessment of currently available data and insights from existing reports. Further, historical and current market information is collected from Investor Presentations, Annual Reports, SEC Filings, etc., and other information related to company's performance and market positioning are gathered from Paid Databases (Factiva, Hoovers, and Reuters) and various other publications available in public domain.
Several associations trade associates, technical forums, institutes, societies and organizations are accessed to gain technical as well as market related insights through their publications such as research papers, blogs and press releases related to the studies are referred to get cues about the market. Further, white papers, journals, magazines, and other news articles published in the last 3 years are scrutinized and analyzed to understand the current market trends.
Primary Research:
The primarily interview analysis comprise of data obtained from industry participants interview and answers to survey questions gathered by in-house primary team.
For primary research, interviews are conducted with industry experts/CEOs/Marketing Managers/Sales Managers/VPs/Subject Matter Experts from both demand and supply side to get a 360-degree view of the market. The primary team conducts several interviews based on the complexity of the markets to understand the various market trends and dynamics which makes research more credible and precise.
A typical research interview fulfils the following functions:
Provides first-hand information on the market size, market trends, growth trends, competitive landscape, and outlook
Validates and strengthens in-house secondary research findings
Develops the analysis team's expertise and market understanding
Primary research involves email interactions and telephone interviews for each market, category, segment, and sub-segment across geographies. The participants who typically take part in such a process include, but are not limited to:
Industry participants: VPs, business development managers, market intelligence managers and national sales managers
Outside experts: Valuation experts, research analysts and key opinion leaders specializing in the electronics and semiconductor industry.
Below is the breakup of our primary respondents by company, designation, and region:

Once we receive the confirmation from primary research sources or primary respondents, we finalize the base year market estimation and forecast the data as per the macroeconomic and microeconomic factors assessed during data collection.
Data Analysis:
Once data is validated through both secondary as well as primary respondents, we finalize the market estimations by hypothesis formulation and factor analysis at regional and country level.
3.1 Macro-Economic Factor Analysis:
We analyse macroeconomic indicators such the gross domestic product (GDP), increase in the demand for goods and services across industries, technological advancement, regional economic growth, governmental policies, the influence of COVID-19, PEST analysis, and other aspects. This analysis aids in setting benchmarks for various nations/regions and approximating market splits. Additionally, the general trend of the aforementioned components aid in determining the market's development possibilities.
Various factors that are especially aligned to the country are taken into account to determine the market size for a certain area and country, including the presence of vendors, such as headquarters and offices, the country's GDP, demand patterns, and industry growth. To comprehend the market dynamics for the nation, a number of growth variables, inhibitors, application areas, and current market trends are researched. The aforementioned elements aid in determining the country's overall market's growth potential.
The "Table of Contents" is formulated by listing and analyzing more than 25 - 30 companies operating in the market ecosystem across geographies. However, we profile only 10 companies as a standard practice in our syndicate reports. These 10 companies comprise leading, emerging, and regional players. Nonetheless, our analysis is not restricted to the 10 listed companies, we also analyze other companies present in the market to develop a holistic view and understand the prevailing trends. The "Company Profiles" section in the report covers key facts, business description, products & services, financial information, SWOT analysis, and key developments. The financial information presented is extracted from the annual reports and official documents of the publicly listed companies. Upon collecting the information for the sections of respective companies, we verify them via various primary sources and then compile the data in respective company profiles. The company level information helps us in deriving the base number as well as in forecasting the market size.
3.4 Developing Base Number:
Aggregation of sales statistics (2020-2022) and macro-economic factor, and other secondary and primary research insights are utilized to arrive at base number and related market shares for 2022. The data gaps are identified in this step and relevant market data is analyzed, collected from paid primary interviews or databases. On finalizing the base year market size, forecasts are developed on the basis of macro-economic, industry and market growth factors and company level analysis.
Data Triangulation and Final Review:
The market findings and base year market size calculations are validated from supply as well as demand side. Demand side validations are based on macro-economic factor analysis and benchmarks for respective regions and countries. In case of supply side validations, revenues of major companies are estimated (in case not available) based on industry benchmark, approximate number of employees, product portfolio, and primary interviews revenues are gathered. Further revenue from target product/service segment is assessed to avoid overshooting of market statistics. In case of heavy deviations between supply and demand side values, all thes steps are repeated to achieve synchronization.
We follow an iterative model, wherein we share our research findings with Subject Matter Experts (SME's) and Key Opinion Leaders (KOLs) until consensus view of the market is not formulated – this model negates any drastic deviation in the opinions of experts. Only validated and universally acceptable research findings are quoted in our reports.
We have important check points that we use to validate our research findings – which we call – data triangulation, where we validate the information, we generate from secondary sources with primary interviews and then we re-validate with our internal data bases and Subject matter experts. This comprehensive model enables us to deliver high quality, reliable data in shortest possible time.