Advanced Wound Care market is expected to reach US$ 13,241.8 million by 2028 from US$ 10,133.2 million in 2022, growing at a CAGR of 4.6% from 2022 to 2028.
The report highlights trends prevailing in the market and factors driving its growth. The market's growth is attributed to the rising geriatric population, increasing incidence of diabetic ulcers, and rising prevalence of chronic diseases across the globe. However, high costs of advanced wound care dressing products are hindering the growth of the global advanced wound care market.
North America dominated the advanced wound care market. The US held the largest market share in 2021 and is expected to follow a similar trend over the forecast period. According to the World Health Organization (WHO), in 2017, the proportion of people aged 60 or above was 9.9% and is expected to increase to 13.7% and 20.3% by 2030 and 2050, respectively. Similarly, elderly people (aged ≥ 65) are currently the fastest-growing group of the general population in the US. The National Population Projections by the U.S. Census Bureau 2017 state that nearly one in four U.S. citizens are likely to be older adults by 2060, which is expected to aid the overall market growth. Advanced wound care is mainly needed among the geriatric population as the wounds tend to heal slowly and require much more attention. Bioactive agents such as collagens, hydrogels, alginates, and hydrocolloids are used in different dressing applications that lead to faster recovery of wounds. Hudson Medical Innovations is engaged in providing advanced wound care products to medical professionals and healthcare systems such as hospitals and clinics.
According to the National Library of Medicine, approximately 20% of moderate or severe diabetic foot infections result in lower extremity amputations. The incidence of osteomyelitis is about 20% of diabetic foot ulcers, as reported in 2021. Collagen advanced wound care dressings can be an effective tool in healing diabetic foot wounds. With diabetic foot ulcers being a major contributor to recurring infections, amputation, and death, it is most important to utilize advanced wound care dressings such as collagen to optimize healing. Components of collagen, such as fibroblasts and keratinocytes, are all primary fundamentals in tissue regeneration. Collagen wound dressings such as Medifil II Collagen Particles, Skin Temp II Collagen Sheets, and Collatek Collagen Gel, contain a higher nativity that supports the regulation of extracellular matrix (ECM), thus, supporting and promoting the healing process in a better manner. Such factors are expected to assist the overall growth of the segment.
Strategic Insights
Increase in Incidence of Diabetes to Influence Advanced Wound Care Market
Diabetes is a life-threatening chronic disease with no specialized cure. It prevents the body from adequately regulating blood glucose levels. The prevalence of diabetes is rapidly increasing across the globe. Type 2 diabetes is the most prevalent form of diabetes and has grown alongside cultural and societal changes. In high-income countries, up to 91% of adults with the disease have type 2 diabetes. According to the International Diabetes Federation (IDF), approximately 537 million people were living with diabetes in 2021, and it is expected to reach 643 million by 2030 and 783 million by 2045 across the world.
Diabetes can lead to complications in many body parts, such as diabetic foot ulcers, and increase the risk of premature death. Primary complications include leg amputation. Thus, the rising prevalence of diabetes globally is driving the advanced wound care market.
The Amputation Prevention Centers and Wound Care at Memorial Hermann performs services that helps in preventing lower limb loss and optimize outcomes for patients with chronic, non-healing wounds.
Smith & Nephew, Acelity L.P., Braun Melsungen AG, Integra Lifesciences Corporation, ConvaTec, and 3M are among the leading companies in the global advanced wound care market. The market is anticipated to flourish with the development of new innovative products by market players.
In March 2020, Smith & Nephew plc (UK) launched the PICO 14 Single-use NPWT System (NPWT) and dressing in the US. The system is portable and clinically effective in the treatment of chronic, acute, traumatic, subacute, and dehisced wounds; partial thickness burns; ulcers (such as diabetic or pressure); flaps and grafts; and closed surgical incisions. The same is primarily used in home care and hospital settings.
In January 2022, Convatec Group Plc, one of the global medical solutions companies focused on the management of chronic conditions, announced that it had entered into a definitive agreement to acquire Triad Life Sciences Inc. to address unmet clinical needs in surgical wounds, chronic wounds, and burns. The transaction, which is subject to regulatory approvals and other customary conditions, was expected to close during Q1 2022 and the same got completed in 2022 first half his marks the definitive entry for Convatec into the rapidly growing advanced wound biologic section. Regenerative medicine and biologically-derived therapies are frequently used to treat hard-to-heal wounds, which, in the US alone, affect 3.7 million patients each year.
Lucrative Regions for Advanced Wound Care Market
Product Insights
Based on product, the global advanced wound care market is segmented into dressings, devices, and bioactives. The dressings segment is likely to hold the largest market share by 2028. The demand for wound dressings is rising, owing to the increasing technological advancements, rising surgical procedures, and increasing prevalence of chronic wounds across the globe. Advanced wound dressings made of synthetic components as well as from natural sources compared to standardized wound care products lead to faster wound healing and better patient outcomes. Advanced wound care techniques mainly absorb the moisture around the wound.
Companies operating in the advanced wound care market are adopting the product innovation strategy to meet the evolving customer demands worldwide, allowing them to maintain their brand name in the global advanced wound care market.
Advanced Wound Care Market – Segmentation
The advanced wound care market is bifurcated into type and geography. Based on product, the global advanced wound care market is segmented into dressings, devices, and bioactives. In terms of wound type, the advanced wound care market is segmented into surgical trauma, burns, ulcers, diabetic foot, and others. Based on end user, the global advanced wound care market is segmented into hospitals & clinics, ambulatory surgical centers, wound care centers, and others. Based on geography, the advanced wound care market is segmented into North America (the US, Canada, and Mexico), Europe (the UK, Germany, France, Italy, Spain, and the Rest of Europe), Asia Pacific (China, Japan, India, Australia, South Korea, and the Rest of Asia Pacific), the Middle East & Africa (the UAE, Saudi Arabia, South Africa, and the Rest of the Middle East & Africa), and South & Central America (Brazil, Argentina, and the Rest of South & Central America).
Our research scope includes Smith & Nephew, Acelity L.P., Braun Melsungen AG, Integra Lifesciences Corporation, ConvaTec, and 3M.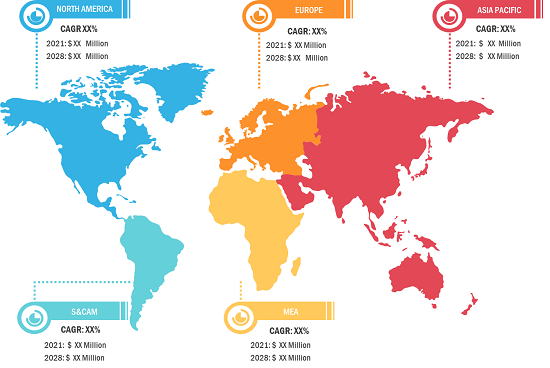 Sample PDF showcases the content structure and the nature of the information with qualitative and quantitative analysis.
Request discounts available for Start-Ups & Universities
REGIONAL FRAMEWORK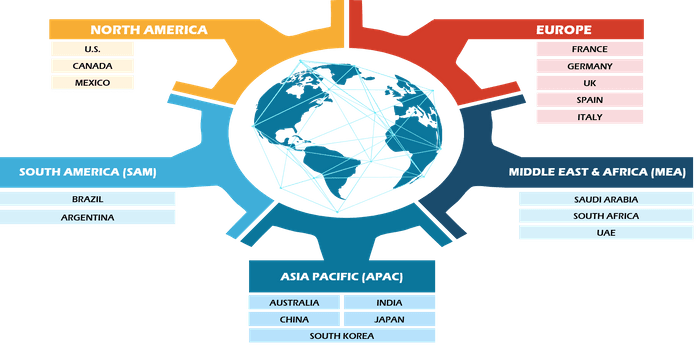 Have a question?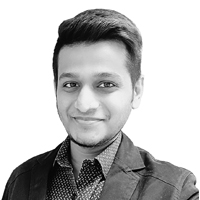 will walk you through a 15-minute call to present the report's content and answer all queries if you have any.

Speak to Analyst
Sample PDF showcases the content structure and the nature of the information with qualitative and quantitative analysis.
Request discounts available for Start-Ups & Universities
MARKET PLAYERS
Sample PDF showcases the content structure and the nature of the information with qualitative and quantitative analysis.
Request discounts available for Start-Ups & Universities

Report Coverage
Revenue forecast, Company Analysis, Industry landscape, Growth factors, and Trends

Segment Covered
Product, Wound Type, and End User

Regional Scope
North America, Europe, Asia Pacific, Middle East & Africa, South & Central America

Country Scope
This text is related
to country scope.
Frequently Asked Questions
---
The List of Companies - Advanced Wound Care Market
Smith & Nephew
Acelity L.P.
Braun Melsungen AG
Integra Lifesciences Corporation
ConvaTec
3M
MiMedx, Inc.
Mölnlycke Health Care
Paul Hartmann AG
Cardinal Health, Inc.
The Insight Partners performs research in 4 major stages: Data Collection & Secondary Research, Primary Research, Data Analysis and Data Triangulation & Final Review.
Data Collection and Secondary Research:
As a market research and consulting firm operating from a decade, we have published many reports and advised several clients across the globe. First step for any study will start with an assessment of currently available data and insights from existing reports. Further, historical and current market information is collected from Investor Presentations, Annual Reports, SEC Filings, etc., and other information related to company's performance and market positioning are gathered from Paid Databases (Factiva, Hoovers, and Reuters) and various other publications available in public domain.
Several associations trade associates, technical forums, institutes, societies and organizations are accessed to gain technical as well as market related insights through their publications such as research papers, blogs and press releases related to the studies are referred to get cues about the market. Further, white papers, journals, magazines, and other news articles published in the last 3 years are scrutinized and analyzed to understand the current market trends.
Primary Research:
The primarily interview analysis comprise of data obtained from industry participants interview and answers to survey questions gathered by in-house primary team.
For primary research, interviews are conducted with industry experts/CEOs/Marketing Managers/Sales Managers/VPs/Subject Matter Experts from both demand and supply side to get a 360-degree view of the market. The primary team conducts several interviews based on the complexity of the markets to understand the various market trends and dynamics which makes research more credible and precise.
A typical research interview fulfils the following functions:
Provides first-hand information on the market size, market trends, growth trends, competitive landscape, and outlook
Validates and strengthens in-house secondary research findings
Develops the analysis team's expertise and market understanding
Primary research involves email interactions and telephone interviews for each market, category, segment, and sub-segment across geographies. The participants who typically take part in such a process include, but are not limited to:
Industry participants: VPs, business development managers, market intelligence managers and national sales managers
Outside experts: Valuation experts, research analysts and key opinion leaders specializing in the electronics and semiconductor industry.
Below is the breakup of our primary respondents by company, designation, and region:

Once we receive the confirmation from primary research sources or primary respondents, we finalize the base year market estimation and forecast the data as per the macroeconomic and microeconomic factors assessed during data collection.
Data Analysis:
Once data is validated through both secondary as well as primary respondents, we finalize the market estimations by hypothesis formulation and factor analysis at regional and country level.
3.1 Macro-Economic Factor Analysis:
We analyse macroeconomic indicators such the gross domestic product (GDP), increase in the demand for goods and services across industries, technological advancement, regional economic growth, governmental policies, the influence of COVID-19, PEST analysis, and other aspects. This analysis aids in setting benchmarks for various nations/regions and approximating market splits. Additionally, the general trend of the aforementioned components aid in determining the market's development possibilities.
Various factors that are especially aligned to the country are taken into account to determine the market size for a certain area and country, including the presence of vendors, such as headquarters and offices, the country's GDP, demand patterns, and industry growth. To comprehend the market dynamics for the nation, a number of growth variables, inhibitors, application areas, and current market trends are researched. The aforementioned elements aid in determining the country's overall market's growth potential.
The "Table of Contents" is formulated by listing and analyzing more than 25 - 30 companies operating in the market ecosystem across geographies. However, we profile only 10 companies as a standard practice in our syndicate reports. These 10 companies comprise leading, emerging, and regional players. Nonetheless, our analysis is not restricted to the 10 listed companies, we also analyze other companies present in the market to develop a holistic view and understand the prevailing trends. The "Company Profiles" section in the report covers key facts, business description, products & services, financial information, SWOT analysis, and key developments. The financial information presented is extracted from the annual reports and official documents of the publicly listed companies. Upon collecting the information for the sections of respective companies, we verify them via various primary sources and then compile the data in respective company profiles. The company level information helps us in deriving the base number as well as in forecasting the market size.
3.4 Developing Base Number:
Aggregation of sales statistics (2020-2022) and macro-economic factor, and other secondary and primary research insights are utilized to arrive at base number and related market shares for 2022. The data gaps are identified in this step and relevant market data is analyzed, collected from paid primary interviews or databases. On finalizing the base year market size, forecasts are developed on the basis of macro-economic, industry and market growth factors and company level analysis.
Data Triangulation and Final Review:
The market findings and base year market size calculations are validated from supply as well as demand side. Demand side validations are based on macro-economic factor analysis and benchmarks for respective regions and countries. In case of supply side validations, revenues of major companies are estimated (in case not available) based on industry benchmark, approximate number of employees, product portfolio, and primary interviews revenues are gathered. Further revenue from target product/service segment is assessed to avoid overshooting of market statistics. In case of heavy deviations between supply and demand side values, all thes steps are repeated to achieve synchronization.
We follow an iterative model, wherein we share our research findings with Subject Matter Experts (SME's) and Key Opinion Leaders (KOLs) until consensus view of the market is not formulated – this model negates any drastic deviation in the opinions of experts. Only validated and universally acceptable research findings are quoted in our reports.
We have important check points that we use to validate our research findings – which we call – data triangulation, where we validate the information, we generate from secondary sources with primary interviews and then we re-validate with our internal data bases and Subject matter experts. This comprehensive model enables us to deliver high quality, reliable data in shortest possible time.