The Ammunition Market is expected to grow from US$ 43.04 billion in 2022 to US$ 69.75 billion by 2028; it is estimated to grow at a CAGR of 8.4% from 2022 to 2028.
The Ammunition Market players are majorly focusing on the development of new and innovative ammunitions to replace different traditional brass cartridges. For instance, Nammo, an international aerospace and defense company, is looking for new lightweight materials that could replace brass cartridges that would benefit individual soldiers by lowering the overall weight and easy transportation of ammunition boxes as well. As a result, the company has invested in MAC LLC, which manufactures ammunition for small arms, to continue the research & development of such products. Further, missile manufacturers have been using composite materials for the last few years for making missiles lightweight, which can allow them to cover extended ranges than those covered by missiles made from conventional materials.
As several country governments have been pushing their capabilities to increase their firepower and strengthen their armed forces, the demand for advanced weaponry systems has been on the rise, thereby driving the Ammunition Market growth. In 2019, a country in Asia Pacific awarded a US$ 30 million contract to Elbit Systems for the procurement of STYLET-guided mortar ammunitions. Similarly, in 2022, Bharat Dynamics Limited (BDL) won a contract worth US$ 394 million to supply Konkurs-M anti-tank guided missiles to the Indian Army. Moreover, in 2022, the US Navy awarded a US$ 217 million contract to Raytheon Technologies for the procurement of Tomahawk guided cruise missiles.
The development of precision-guided grenades by the US armed forces is likely to transform the line infantry attack dynamics worldwide. In 2017, the US Army announced that it would produce 105 XM25 Counter Defilade Target Engagement (CDTE) weapons, which are precision-guided grenade launchers, to assign them to specially trained soldiers. The US Army has already tested the weapon in combat in Afghanistan. The weapon received mixed reviews from soldiers who were using it. Ranger units found the XM25 cumbersome for the battlefield. They were also concerned that the limited basic load of 25mm rounds was insufficient to justify taking an M4A1 carbine out of the mission. However, continuous efforts for improving such ammunitions are likely to generate new opportunities for market players during the forecast period.
Ammunitions Market - Strategic Insights
Report Coverage - Ammunition Market
Report Coverage
Details
Market Size Value in
US$ 43.04 Billion in 2022
Market Size Value by
US$ 69.75 Billion by 2028
Growth rate
CAGR of 8.4% from 2022 to 2028
Forecast Period
2022-2028
Base Year
2022
No. of Pages
280
No. of Tables
213
No. of Charts & Figures
115
Historical data available
Yes
Segments covered
Product, Application, Guidance, Lethality, and Caliber
Regional scope
North America, Europe, Asia Pacific, Middle East & Africa, South & Central America
Country scope
US, Canada, Mexico, UK, Germany, Spain, Italy, France, India, China, Japan, South Korea, Australia, UAE, Saudi Arabia, South Africa, Brazil, Argentina
Report coverage
Revenue forecast, company ranking, competitive landscape, growth factors, and trends
Free Sample Copy Available
Impact of COVID-19 Pandemic on Ammunition Market Growth
Massive demand for ammunition and firearms in 2020 resulted in the shortage of ammunition as the manufacturers faced challenges in continuing their operations amid the social restrictions imposed in response to the COVID-19 pandemic due to disrupted supply chains, which led to raw material shortages, increased prices, and inventory shortfalls. The defense sector did not experience any significant impact from the pandemic; however, the vendors that produce ammunitions for commercial applications faced many challenges in the procurement of raw materials. The demand for ammunition reduced significantly in 2020 in commercial applications due to the suspension of shooting sports events and hunting activities amid lockdown situations. However, commercial application is a secondary preference for ammunition manufacturers, as their priority is to cater to military demands. Currently, they are focused on grabbing contracts from defense authorities of different countries to remain competitive in the Ammunition Market due to the rise in expenditure by different countries.
Lucrative Regions for Ammunitions Market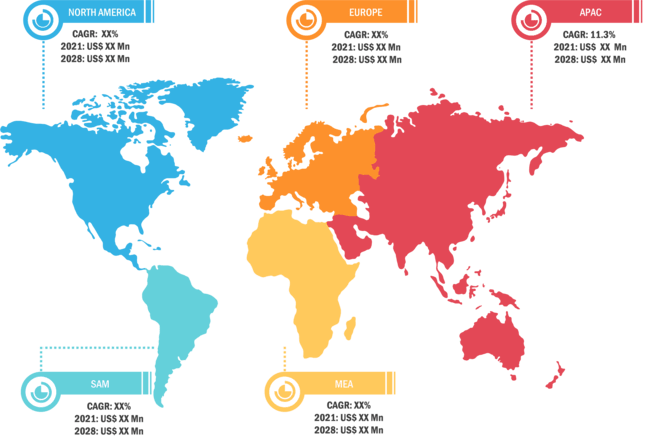 Get more information on this report :
Market Insights – Ammunition Market
Based on region, the Ammunition Market is primarily segmented into North America, Europe, Asia Pacific, the Middle East & Africa, and South America. North America is expected to account for the largest Ammunition Market share in 2022 and is expected to continue to be a dominant shareholder during the forecast period. Also, Europe is expected to account for second largest Ammunition Market share in 2022 followed by Asia Pacific. Further, Asia Pacific is expected to register the highest CAGR in the Ammunition Market during the forecast period.
Guidance Insights – Ammunitions Market
Based on guidance, the Ammunition Market is bifurcated into guided and non-guided. The guided segment is expected to dominate the Ammunition Market in 2022, and it is also projected to retain its dominance during the forecast period as well. The growth of the guided ammunitions segment is attributed to huge demand for precision guided missiles and large adoption of guided mortar systems. Advancements in positioning system technologies, such as semi-active lasers, radar homing, inertial navigation systems (INS), and global positioning systems (GPS), are favoring the guided Ammunition Market growth. In addition, the compatibility of the positioning system with the missile's nuclear warhead is likely to boost its inclusion in ammunition. For instance, in May 2022, EMCORE Corporation received its first order to provide multiple SDI170 MEMS inertial measurement units (IMUs) for precision-guided ammunition by a major international weapons system manufacturer. In November 2021, HALCON, a part of the EDGE Group that is a leading manufacturer and supplier of precision-guided weapons, received a contract worth US$ 880 million from the UAE Armed Forces for its Thunder and Desert Sting range of precision-guided munitions.
The Ammunition Market is highly fragmented due to the presence of large number of Ammunition Market players across the world. Thales Group, Raytheon Technologies, Elbit Systems Ltd., Northrop Grumman Corporation, and BAE Systems are among the prominent Ammunition Market players operating worldwide. The top five players account for ~25% of the total market, wherein the other 3 quarters of the market has been acquired by more than 300 vendors.
The Ammunition Market players are witnessing a rise in demand for across several commercial as well as defense applications. Therefore, many companies focus on expanding their product offerings to private and public end users. For this, they are partnering with different companies to develop sustainable solutions for the public and private sectors.
In May 2022, Nammo signed a contract with the Swedish Defence Materiel Administration (FMV) to be the sole supplier of 12.7mm ammunitions to Swedish armed forces until 2029.
In March 2022, the defense ministry of Saudi Arabia inked 23 contracts for US$ 3.4 billion with local and international enterprises. During the same period, the Saudi Arabian Military Industries (SAMI) also signed 5 contracts for US$ 1.6 billion to purchase military vehicles, ammunition, and communication devices.
Frequently Asked Questions