The gamma ray spectroscopy market is valued US$ 765.61 million in 2022; It is estimated to grow at a CAGR of 6.7% from 2022 to 2028.
According to Bundesamt für Strahlenschutz, Germany has ~100,000 radioactive sources that are sealed and used in medicine, agriculture, and research industries. According to the Atomic Energy Act and Radiation Protection Act, these radioactive sources are used under government supervision and require a license. The UK has around eight nuclear facilities. The UK government plans to derive a quarter of the country's energy from nuclear facilities. The Russian Federation is one of the world's leading providers of nickel, iron ore, coal, diamond, aluminum, uranium, palladium, platinum, and gold. It accounts for 14% of the total mineral extraction in the world. The gamma ray spectrometer is used for mineral exploration, one of the factors fueling the gamma ray spectroscopy market growth.
According to World Nuclear Association, France's nuclear energy generates about 70% of electricity due to the energy security-based policy passed in 2014. According to this government policy, the country aimed to reduce the nuclear share of electricity production to 50% by 2025, which was postponed from 2019 to 2035. Further, in February 2022, the country announced its plan to construct 6 new nuclear reactors. Developing nuclear reactors will further contribute to the gamma ray spectroscopy market size.
Gamma Ray Spectroscopy Market - Strategic Insights
Report Coverage - Gamma Ray Spectroscopy Market

| Report Coverage | Details |
| --- | --- |
| Market Size Value in | US$ 765.61 Million in 2022 |
| Market Size Value by | US$ 1,130.26 Million by 2028 |
| Growth rate | CAGR of 6.7% from 2022 to 2028 |
| Forecast Period | 2022-2028 |
| Base Year | 2022 |
| No. of Pages | 153 |
| No. of Tables | 61 |
| No. of Charts & Figures | 72 |
| Historical data available | Yes |
| Segments covered | Type and End User |
| Regional scope | North America, Europe, Asia Pacific, Middle East & Africa, South & Central America |
| Country scope | US, Canada, Mexico, UK, Germany, Spain, Italy, France, India, China, Japan, South Korea, Australia, UAE, Saudi Arabia, South Africa, Brazil, Argentina |
| Report coverage | Revenue forecast, company ranking, competitive landscape, growth factors, and trends |
| Free Sample Copy Available | |
Impact of COVID-19 Pandemic on Gamma Ray Spectroscopy Market Analysis
Before COVID-19, the gamma ray spectroscopy market was experiencing substantial growth due to the rising demand from manufacturing industries and the growing development of spectrometers. However, lockdowns, business shutdowns, international trade restrictions, and various containment measures negatively impacted the production and supply chain of the market until June 2020 and during the second large outbreak in October 2021. On the other side, during the COVID-19 pandemic, some big manufacturers developed new sales, services, and delivery techniques by adopting digital platforms.
As industrial activities picked pace from the last quarter of 2020, market players experienced steady growth in demand from end users. Therefore, the global gamma ray spectroscopy market is expected to recover strongly in the coming years owing to the increasing requirement for exploring the rock's potassium, uranium, thorium, and other minerals. Further, in the aerospace industry, scientists can determine the composition of other planets and stars with the help of a detector placed in a space telescope.
Lucrative Regions for Gamma Ray Spectroscopy Market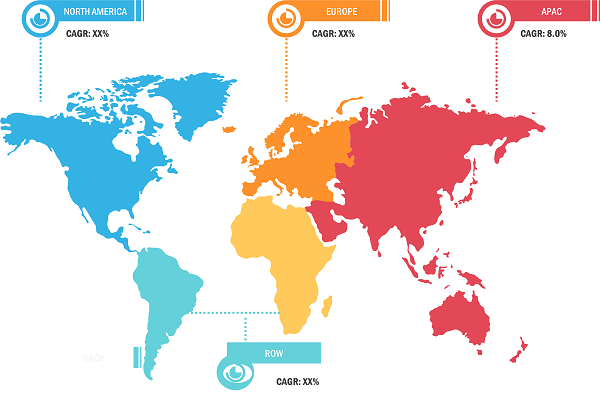 Get more information on this report :
Market Insights – Gamma Ray Spectroscopy Market
The Asia Pacific gamma ray spectroscopy market is segmented into Australia, China, India, Japan, South Korea, and the Rest of Asia Pacific. In Australia, Australian Radiation Protection and Nuclear Safety, under the National Commonwealth Government of Australia, deals with protecting the country's citizens from nonionizing and ionizing radiations; these organizations will contribute to the growth of the Australian gamma ray spectroscopy market growth. In December 2020, China launched gamma ray-hunting satellites to trace the gravitational waves. Such developments are expected to influence the region's gamma ray spectroscopy market size positively.
China's Chang'E-1/2 spacecrafts' major payload onboard is gamma ray spectrometers, aimed to provide major elements' map of abundances including Si, O, Mg, Al, Ca, Na, Fe, and Ti and of the natural radioactive elements, Th, U, and K, in the subsurface of the moon. Moreover, in May 2021, the Large High Altitude Air Shower Observatory (LHAASO), a cosmic ray observatory, announced that it had found 12 ultrahigh-energy photons sources and detected a photon with an energy level of 1.4 PeV. The country has a Hongyanhe Nuclear Power Plant presence, with a total installed capacity of more than 6.71 million kilowatts.
India currently has 22 nuclear power reactors operating in its 7 states. In March 2021, Indian scientists developed a low-cost spectrograph that can locate faint light sources from distant quasars. Such spectroscopes were previously imported from other countries. However, the government of India launched the "Make in India" campaign to support the businesses of local manufacturers. The country's Aries-Devasthal Faint Object Spectrograph & Camera (ADFOSC), an optical spectrograph, was developed by an autonomous institute of the Department of Science and Technology (DST)- Aryabhatta Research Institute of Observational Sciences (ARIES) and Government of India. The country has Radiation Processing Plant in Vashi, India's first commercial-scale Gamma Irradiator for food processing.
Type-Based Insights
The gamma ray spectroscopy market is segmented based on type: hardware, software, and services. Compared to software and services, the hardware segment led the market in 2021. However, due to high adoption in nuclear facilities, space research, and mineral exploration, the software segment is the fastest growing segment during the forecast period. Hardware gamma-ray spectrometer is the most common equipment used in several industries to detect gamma radiation. In October 2021, NASA announced that the organization is working on the Compton Spectrometer and Imager (COSI), a new space telescope, to study the origin of stars. This gamma-ray telescope will be launched by 2025.
CAEN S.p.A.; Mirion Technologies, Inc.; AMETEK Inc; Linde PLC; Sander Geophysics Limited; NVIATech instruments; ANTECH; NATS, Inc.; Geomatrix Earth Science Ltd; and ATOMTEX are a few key players that are profiled in this gamma ray spectroscopy market analysis. Moreover, the performances of several other essential players were analyzed to get a holistic view of the gamma ray spectroscopy market and its ecosystem.
In the gamma ray spectroscopy market report, players are majorly adopting strategic market initiatives, which involve the expansion of footprint globally and meeting the surge in customer demand. Market players are mainly focusing on product and service enhancements by integrating advanced features and technologies into their offerings.
In October 2021, NASA announced that it would proceed with the development of the Compton Spectrometer and Imager (COSI) spacecraft as its next small Explorer, or SMEX, astrophysics mission. COSI, led by John Tomsick at the University of California Berkeley, is scheduled for launch in 2025.
In September 2021, Mirion Technologies, Inc. announced the release of its new Apex-Guard software, an exciting addition to the Mirion Apex-Gamma Lab Productivity Suite.
Frequently Asked Questions