The Gene synthesis in healthcare market was valued at US$ 3,991.23 million in 2017 and it is projected to reach US$ 107,797.82 million by 2025; it is expected to grow at a CAGR of 28.7% from 2017 to 2025.
This research report provides insights on the global gene synthesis market. Gene synthesis is a technique of synthetic biology which is used to create artificial genes in the laboratory. The method works based on solid-phase DNA synthesis, it differs from molecular cloning and polymerase chain reaction (PCR). Gene synthesis is used for molecular cloning, creating fusion proteins, or achieving sufficiently high protein expression levels. Compared to traditional molecular cloning techniques, the gene synthesis service is helpful in saving both time and money while offering unparalleled top to bottom customizability. Factors driving this market are increase in investments & funds for gene synthesis, rising numbers of start-up companies and technological advancements are key drivers for the growth of the market. However, factors such as lack of skilled professionals and long approval processes are likely to restrain the market growth to a certain extent.
The Gene synthesis in healthcare market is expected to witness substantial growth post-pandemic. The COVID-19 has affected economies and industries in various countries due to lockdowns, travel bans, and business shutdowns. The COVID-19 crisis has overburdened public health systems in many countries and highlighted the strong need for sustainable investment in health systems. As the COVID-19 pandemic progresses, the healthcare industry is expected to see a drop in growth. The life sciences segment thrives due to increased demand for invitro diagnostic products and rising research and development activities worldwide. However, the medical technologies and imaging segment is witnessing drop in sales due to a smaller number of surgeries being carried out and delayed or prolonged equipment procurement. Additionally, virtual consultations by healthcare professionals are expected to become the mainstream care delivery model post-pandemic. With telehealth transforming care delivery, digital health will continue to thrive in coming years. In addition, disrupted clinical trials and the subsequent delay in drug launches is also expected to pave the way for entirely virtual trials in the future. New technologies such as mRNA is expected to emerge and shift the pharmaceutical industry and market is also expected to witness more vertical integration and joint ventures in coming years.
Lucrative Regions for Gene synthesis in Healthcare Market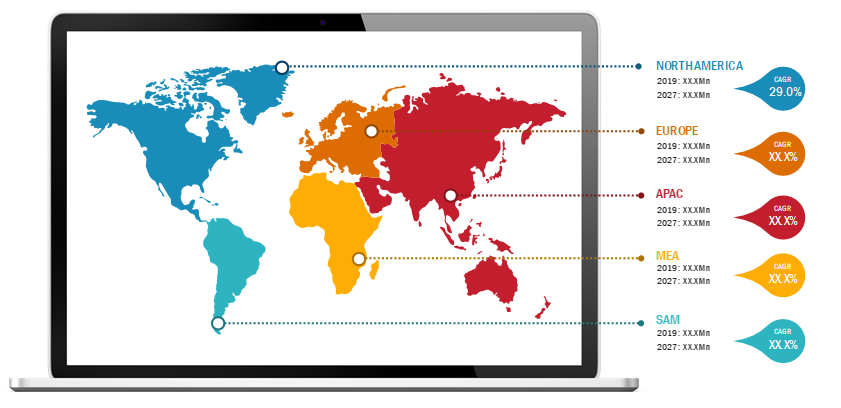 Get more information on this report :
Market Insights

Growing Applications of Gene synthesis in Healthcare to Drive Gene synthesis in Healthcare Market Growth
Gene synthesis is mostly accepted tool in fields of recombinant DNA technology, which includes recombinant protein production. For instance, in July 2018, Innovate UK, the UK's innovation agency, funded approximately US$ 1.76 million (£1.3 million) project, Evonetix Ltd, (UK) that will be in partnership with Durham University. The funds will be used for the development of a new enzymatic approach to DNA synthesis. Moreover, in April 2018, DNA Script received approximately US$5.5 million in grant funds from the European Commission and Bpifrance (French investment bank). The technology platform, and other related resources are helping the company to accelerate the development of the gene synthesis. Companies have also increased their research and development funds for the enhancement of the gene synthesis. Additionally, in 2016, Twist Bioscience raised its revenue with US$ 61 million for the scale-up and commercial operation of the silicon chip-based high throughput low-cost gene synthesis platform.
Globally, the gene synthesis has set benchmark with its innovations and the dynamic results. The industry has attracted various global leaders to invest for gene synthesis. For instance, in November 2017, Bolt Threads raised US$123 million in Series D funding that was led by Ballie Gifford along with the others such as, aforementioned Formation 8, Founders Fund, Fidelity Management, Research Company and Temasek. Allen & Company LLC. Bolt Threads also announced in TechCrunch that it has added to the amount for Series D round to sum up the amount of US$213 million. Additionally, in 2015, Zymergen received US$44 million funds from investors such as Transcript, AME Cloud Ventures, Data Collective, Draper Fisher Jurvetson, HVF, Innovation Endeavors, Obvious ventures, True Ventures and Two Sigma Ventures.
The following table represents the investments made in various countries for the biotechnology development.
In March 2018, SynbiCITE (UK) received around US$ 17.6 million (£13M) grants and US$ 318.5 million (£234M) private investment. Importantly, SynbiCITE is made for increasing synbio applications in the UK. The SynbiCITE has supported the synbio at national level for the increase of gene synthesis applications. Thus, a huge investments made by the government, companies is expected to increase the growth of the global gene synthesis market over the forecast years.
Increasing number of new entrants conducting gene synthesis procedures is one of the major factor driving the growth of the global gene synthesis market. The start-ups are proliferating due to support from accelerators to promote and commercially exploit the biological and engineering applications. The supportive government of respective geographies facilitating adequate funds for research and developments in the biotechnology sectors are helpful for the start-up companies to seek basic investments for setting up a new venture. For instance, the first synthetic biology accelerator is Indie Bio (California, US) and EU (Ireland). Moreover, in December 2017, Molecular Assemblies, (San Diego, US) develops a latest enzymatic method for DNA synthesis, has raised US$2.3 million. In addition, DNA Script (France), founded in 2014 led by Illumina Ventures and Merck Ventures and other investors Sofinnova Partners, Kurma Partners, and Idinvest Partners, raised more than US$ 12 million (€11M). These funds and the support of major players in the field helps the company to make the unique DNA synthesis technology for industrial scale-up.
Asia Pacific also witnesses increase in the number of start-up companies as the governments in Asian countries are providing funds for the development in bioengineering procedures such as gene synthesis. For instance, in May 2018, Indian government funded IITM Bioincubator, to the department of Indian Institute of Technology Madras as a state-ofart research facility in cancer biology and for setting up of a bioinformatics infrastructure facility. The funds were provided by various agencies such as, CSIR, DAE, DBT, and DST and others. Similarly, in China, Chinaccelerator is a financer that provides mentorship programs by helping start-ups. It helps in the establishments of starts-ups by assisting the companies with venture capitals under programs such as RebelBio, and Indie Bio. Availability of funds for the innovative concepts in advanced biotechnological approach motivates entrepreneurs across the globe to establish new companies and service provision for gene synthesis. Thus, the aforementioned factors are likely to support the market growth over the forecast period.
Product and Services-Based Insights
The services segment held the major market share among the products & services segments. In 2017, the services segment held a largest market share of 51.1% of the gene synthesis market, by products & services. This segment is also expected to dominate the market in 2025 owing to analysis and data management solutions, service partnerships and financial solutions. Furthermore, the services segment is anticipated to witness the fastest growth rate during the forecast period, 2018 to 2025.
Gene synthesis in Healthcare Market, by Product and Services – 2017 and 2025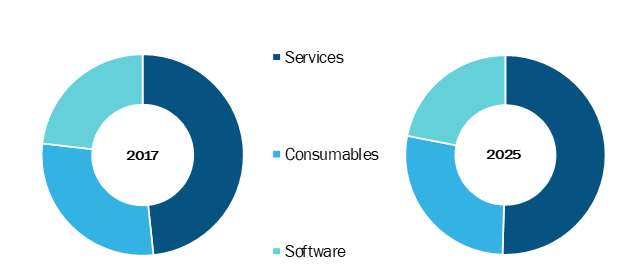 Get more information on this report :
Application-Based Insights
The research & developmental activities segment is expected to dominate the market based on application. Research & developmental activities segment is anticipated to grow at a CAGR of 30.9% during the forecast period. The R&D helps to build variant libraries, genes, operons, increase the function of proteins, and to test the particular gene is expected to boost the demand for breast implants in the coming years.
End User-Based Insights
The academic & research institutes segment is likely to dominate the market, by end user. In 2017, the academic & research institutes segment held a largest market share of 45.5% of the gene synthesis market, by technology. This segment is also expected to dominate the market in 2025. However, the biotechnology & pharmaceutical companies segment is anticipated to witness the fastest growth rate of 30.1% during the forecast period, 2018 to 2025. This higher growth rate of the segment owing to the increasing government funding and partnerships between the various organizations in all the regions

Strategic Insights
The Gene synthesis in healthcare market players are adopting the product launch and expansion strategies to cater to changing customer demands worldwide, which also allows them to maintain their brand name globally.
Gene synthesis in Healthcare Market – by Product and Services
Software

Consumables

Services
Gene synthesis in Healthcare Market – by Application
Gene synthesis in Healthcare Market – by End User
Academic and Research Institutes

Pharma & Biotech Companies

Diagnostic Laboratories

Others
Gene synthesis in Healthcare Market – by Geography
North America

Europe

France

Germany

Italy

UK

Spain

Rest of Europe

Asia Pacific (APAC)

China

India

South Korea

Japan

Australia

Rest of APAC

Middle East & Africa (MEA)

South Africa

Saudi Arabia

UAE

Rest of MEA

South America and Central America (SCAM)

Brazil

Argentina

Rest of SCAM
Company Profiles