The geogrid market was valued at US$ 931.49 million in 2019 and is projected to reach US$ 2,079.02 million by 2028; it is expected to grow at a CAGR of 9.4% from 2020 to 2028.
Geogrid is a geosynthetic material formed by combining the intersecting ribs and it is used to stabilize aterrain. Geogrids are mainly made up of polymers such as polyester, high-density polyethylene, and polypropylene. Geogrids are used as a base reinforcement to retain subsoils below roads and to reinforce retaining walls of a structure. The physical properties of geogrid such as minimal elongation with high tensile modulus and high tensile strength, make it a material of choice to be used as a reinforcement material.
In 2019, Asia Pacific contributed to the largest share in the global geogrid market. The growing use of geogrids in the emerging economies such as China and India due to rise in infrastructure investments, development of rail, and increase in road construction & maintenance activities is anticipated to drive the geogrid market in the region. The governments in the region are taking various initiatives to attract investments in industrial development. Economies such as India and China are attracting investors in the long term. For instance, governments of these countries focus on attracting FDIs by taking several initiatives such as signing international bilateral agreements, entering into public/private partnerships, and improving base and logistics and social use infrastructure, and other such initiatives. Thus, several government initiatives for the industrial development provide a huge market opportunity for the expansion of the geogrids market in this region. In addition, the ever-growing development of transportation sector in India, Japan, and China is also favoring the future growth and value of this market. The growing consumer awareness regarding product applications for soil-reinforcement in addition to its eco-friendly nature, will further accelerate market growth.
The COVID-19 pandemic is adversely affecting economies and industries in various countries due to government-imposed lockdowns, travel bans, and business shutdowns. Chemical & materials is one of the major industries suffering serious disruptions such as supply chain breaks, technology event cancellations, and office shutdowns. The shutdown of various plants and factories in North America, Europe, Asia Pacific, South America, and the Middle East & Africa has restricted the global supply chain and negatively impacted the manufacturing activities, delivery schedules, and product sales. Furthermore, various companies have already predicted possible delays in product deliveries and slump in future sales of their products. The travel bans imposed by countries in Europe, Asia, and North America are hindering the business collaborations and partnerships opportunities. All these factors are hampering the activities in the chemical & materials industry, which is restraining the growth of various markets related to this industry. Many countries are now resuming to normalcy, whereas many are experiencing second wave of the outbreak. In addition, due to vaccination drives, situations are changing now across the globe.
Geographic Overview of Geogrid Market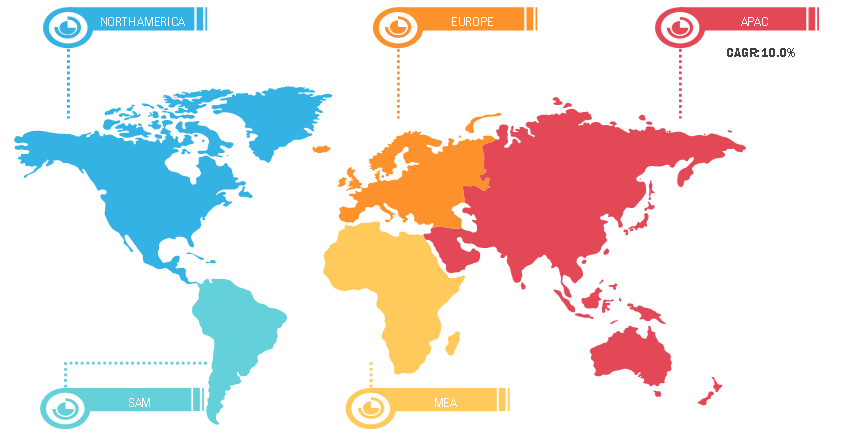 Get more information on this report :
Market Insights
Superior Properties Associated with Geogrids
Geogrids have various properties which includes minimal elongation, along with high tensile strength and tensile modulus, which makes them beneficial for soil reinforcement. The use of geogrids to the soil or other geotechnical materials will help create a composite material. Thus, due to the various properties of geogrid, there is a wide range of applications where it has been used. Geogrids are used in various applications such as retaining walls, which are used in foundation soil, pavement construction, energy sector, landfill construction, and many more. The use of geogrids for restraining walls is basically in soil backfills. The ability of holding the soil together will help in stabilizing the retaining wall construction and thus, by using geogrids, the structural integrity of the soil can be increased. It is used in building strong retaining walls for both permanent and temporary solutions. Geogrids are used to stabilize the soil mainly in the shallow foundation. The geogrids interlock with the structural fill, providing a strong foundation, which will improve the stability of the weakest soil. Geogrids can also help in minimizing the effect of erosion and providing permanent protection. In pavement construction, geogrids are used to improve the subgrade as well as reinforce the pavement base. The geogrids are used to fill and increase the load-bearing capacity of the underlying subgrade, which helps in increasing the structural performance of the roadways. Geogrids are also used in the energy sector for subgrade stabilization of embankments. They are also utilized in soft soils, which includes access roads, crane pads, and other Mechanically Stabilized Earth (MSE) structures. Moreover, geogrids are used in landfill construction sites, which includes the likes of perimeter haul roads, retaining walls, reinforced steep slopes, and other such structures. Thus, an increase in use of geogrids in such kind of applications is going to drive the geogrid market across the world.
Type Insights
In terms of type, the global geogrid market is segmented into uniaxial geogrid, biaxial geogrid, and triaxial geogrid. Biaxial geogrid is a type of geogrid which is made from high polymer. Biaxial geogrid consists of high tensile strength, which is in both transverse and longitudinal directions. This type of geogrid is basically made through the process of extruding, punching, sheet forming, and stretching. This type of geogrid basically provides good bearing capacity which can enhance soil structure and prevent soil erosion. It is often used in road construction to prevent the road from reflective and fatigue cracking. Biaxial geogrid is used to improve the long-term durability of the subgrade as well as reduces road maintenance costs. Geogrids also provide support for the construction of access roads, highways, and applications on weak subgrades, which earlier required expensive over-excavating and replacing. Biaxial geogrid has a good resistance to long term degradation, which makes it suitable for various applications such as embankment reinforcement, soil stabilization, slope protection, wall reinforcement, and other permanent load bearing foundation reinforcement. This, in turn, has led to an increased demand for biaxial geogrids. These products are mostly used in subbase reinforcement, soil stabilization, foundation engineering, and highway construction applications.
Application Insights
Based on application, the global geogrid market is segmented into road construction, railroad stabilization, and soil reinforcement. The road construction segment led the market with the largest share in 2019. In the road construction segment, geogrid is mostly used in two major application areas – subgrade stabilization and base reinforcement. In the base reinforcement application, the geogrids are basically applied at the bottom or within the unbound layers of a flexible pavement system, which helps in improving the load carrying capacity of the pavement which is subjected to repeated traffic. In subgrade stabilization applications, the geogrids are basically used to build a construction platform over the weak subgrades to carry the equipment and facilitate the construction of the pavement system without any excessive deformation of the subgrades. Geogrids are also successful in reinforcing asphalt concrete (AC) overlays which is mostly regarding reflective crack retardation. Another benefit of using geogrids is that they develop an efficient interlock with surrounding asphalt which helps in the prevention of cracks from opening even after penetrating full depth.
Manufacturing Method Insights
In terms of manufacturing method, the global geogrid market is segmented into extruded, knitted/woven, and bonded. The extruded segment led the market with the largest share in 2019. This manufacturing method of geogrids basically includes an extrusion of a flat sheet of plastic into a desired configuration. The plastic material which is used can be high-density polypropylene or high-density polyethylene. The punching pattern is already set and is placed over the sheet to make holes for the formation of desired grids. The punching of pattern of holes basically leads to the formation of apertures. After forming apertures, the next thing includes the development of tensile strength, which is basically done by stretching the material to both transverse and longitudinal directions. They are used in soil and road paving reinforcement.
Geogrid Market, by Manufacturing Method – 2019 and 2028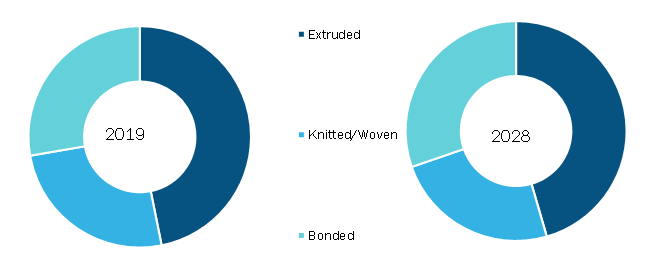 Get more information on this report :
Strategic Insights
Report Coverage - Geogrid Market
Report Coverage
Details
Market Size Value in
US$ 931.49 Million in 2019
Market Size Value by
US$ 2,079.02 Million by 2028
Growth rate
CAGR of 9.4% from 2020-2028
Forecast Period
2020-2028
Base Year
2020
No. of Pages
163
No. of Tables
82
No. of Charts & Figures
67
Historical data available
Yes
Segments covered
Type , Application , and Manufacturing Method
Regional scope
North America, Europe, Asia Pacific, Middle East & Africa, South & Central America
Country scope
US, Canada, Mexico, UK, Germany, Spain, Italy, France, India, China, Japan, South Korea, Australia, UAE, Saudi Arabia, South Africa, Brazil, Argentina
Report coverage
Revenue forecast, company ranking, competitive landscape, growth factors, and trends
Free Sample Copy Available
A few key players operating in the global geogrid market are Tensar Corporation; Solmax; NAUE America Inc.; HUESKER Inc.; and Carthage Mills Inc. Major market players are focused on strategies such as mergers and acquisitions, and product launches to increase their geographical presence and consumer base globally.
Report Spotlights
Progressive industry trends in the global geogrid market to help players develop effective long-term strategies
Business growth strategies adopted by developed and developing markets
Quantitative analysis of the market from 2017 to 2028
Estimation of the demand for geogrid across various industries
PEST analysis to illustrate the efficacy of buyers and suppliers operating in the industry to predict market growth
Recent developments to understand the competitive market scenario and the demand for geogrids
Market trends and outlook coupled with factors driving and restraining the growth of the geogrid market
Decision-making process by understanding strategies that underpin commercial interest with regard to global geogrid market growth
Geogrid market size at various nodes of market
Detailed overview and segmentation of the global geogrid market as well as its dynamics in the industry
geogrid market size in various regions with promising growth opportunities
Geogrid Market, by Type
Uniaxial Geogrid
Biaxial Geogrid
Triaxial Geogrid
Geogrid Market, by Application
Road Construction
Railroad Stabilization
Soil Reinforcement
Geogrid Market, by Manufacturing Method
Extruded
Knitted/Woven
Bonded
Company Profiles
HUESKER Synthetic GmbH
Tensar Corporation
NAUE GmbH & Co. KG
Carthage Mills, Inc.
SOLMAX
S i A Pietrucha Sp. z o.o
BOSTD Geosynthetics Qingdao Ltd
Thrace Group
Wrekin Products Ltd
TMP GEOSYNTHETICS
Strata Systems, Inc.
Reed & Graham, Inc
Frequently Asked Questions
The major players operating in the global geogrid market are BPM geosynthetics; HUESKER Synthetic GmbH; Tensar Corporation; NAUE GmbH & Co. KG; Carthage Mills, Inc.; SOLMAX; S i A Pietrucha Sp. z o.o; BOSTD Geosynthetics Qingdao Ltd ; Thrace Group; Wrekin Products Ltd; TMP GEOSYNTHETICS; Strata Systems, Inc. and Reed & Graham, Incare among many others.
In 2019, Asia Pacific contributed to the largest share in the global geogrid market. The growing use of geogrids in the emerging economies such as China and India due to rising infrastructure investments, development of rail and increasing road construction & maintenance activities are the major factors anticipated to drive the demand for geogrid. The governments in the region are taking various initiatives to attract investments in industrial development. Economies such as India and China attract investors in the long term. For instance, government of these countries focus on attracting FDIs by taking several initiatives such as signing international bilateral agreements, entering into public/private partnerships, and improving base and logistics and social use infrastructure and other such initiatives. Thus, several government initiatives for the industrial development provide a huge market opportunity for the expansion of the geogrids market in this region. In addition, the ever-growing development of transportation sector in India, Japan and China are also favoring the future growth and value of this market. Growing consumer awareness regarding product applications for soil-reinforcement in addition to their eco-friendly nature will further accelerate market growth
The biaxial geogrid segment captured the largest share in the global geogrid market in 2019 and it is estimated to maintain its dominance during the forecast period. This growth is owing to superior junction strength and optimum load-bearing properties. The increasing demand for geogrids in road construction is mainly driving the market of biaxial geogrids across the globe. In addition, they find use in soil stabilization, subbase reinforcement, foundation engineering, flyovers, bridges, and highway construction applications. Their beneficial features such as high tensile stiffness, excellent durability, and stretch resistance may favor biaxial geogrid demand during the forecast period