[Research Report] The hair transplant market accounted to US$ 5,272.1 Mn in 2017 and is expected to grow at a CAGR of 23.6% during the forecast period 2018 - 2025, to account to US$ 28,627.6 Mn by 2025.
Market Insights and Analyst View:
A hair transplant is a surgical procedure used to move hair and hair follicles from an individual's body called a donor site to a bald location on the body. The removed hair from one part of the body is implanted into tiny holes in the scalp. This procedure is ideally performed with the help of a scalpel or a punch graft instrument. With hair transplant help, an individual can obtain the desired looks and confidence. The target market for hair transplants includes men suffering from baldness, women suffering from thinning hair and hair fall, and victims of scalp or burn injuries.
The rise in surgical hair restoration procedures and the growing number of hair transplant procedures among men are bolstering the growth of the hair transplant market. Also, hair clinics across the globe are adopting several hair transplant marketing strategies, which is a key factor propelling the market's growth. In addition, the hair transplant market trends will likely positively impact the market's growth in the coming years.
Growth Drivers and Challenges:
Hair loss is a sensitive issue among both young men and women worldwide. Factors such as rising work pressure, stress, improper eating habits, heredity, and exposure to chemicals cause hair fall and receding hairline. Growing media and celebrity influence, societal pressure, and growing urbanization are some factors encouraging individuals to opt for hair transplants to enhance their physical appearance.
Hair transplant procedures have been opted by men on a large scale in the past few years. Since men are more prone to baldness, they hold the maximum share as users of hair transplant procedures. According to the International Society of Hair Restoration Surgery, the percentage of people undergoing hair loss treatment increased by 13% from 2016 to 2019. Moreover, in 2019, 681,964 people underwent surgical hair treatment procedures (a 14% increase from 2016), and 1,401,589 patients underwent non-surgical hair loss treatment (a 13% increase from 2016). However, female patients have also increased considerably in recent years. Thus growing importance of physical appearance and awareness is expected to boost the hair transplant market in the coming years.
However, the increasing number of black market hair transplant clinics that perform dangerous and poor hair transplants will likely hinder market growth. Some of the complications caused by these hair transplant black market clinics are larger scars, poor hair growth, infections, etc.
Strategic Insights
Report Segmentation and Scope:
The "Global Hair Transplant Market" is segmented based on procedure, implant site, therapy, and geography. Based on procedure, the hair transplant market is segmented into surgical and non-surgical. Based on the site of transplant, the hair transplant market is segmented into scalp, facial, and chest transplants. The hair transplant market by therapy was segmented into platelet-rich plasma, ravage 670, and laser caps.
The hair transplant market based on geography is segmented into North America (US, Canada, and Mexico), Europe (Germany, France, Italy, UK, Spain, and Rest of Europe), Asia Pacific (Australia, China, Japan, India, South Korea, and Rest of Asia Pacific), Middle East & Africa (South Africa, Saudi Arabia, UAE, and Rest of Middle East & Africa), and South & Central America (Brazil, Argentina, and Rest of South & Central America)
Segmental Analysis:
Based on procedure, the hair transplant market is bifurcated into surgical and non-surgical hair transplant procedures. The surgical segment held a larger market share in 2017, and the same segment is likely to grow at a higher rate during the forecast period. The surgical hair transplant procedure involves the removal of hair follicles from any site in the body, like the face, legs, or scalp, and transplanting them on the required hairless portion. It is an invasive procedure usually performed to treat hair baldness in which hair follicles are transplanted from the donor site to the bald area. Surgical hair transplantation is also used to perform hair transplants in lashes and brows. Thus, the rising demand for surgical hair transplants is driving the growth of the hair transplant market size.
Hair Transplant Market, by Procedure – 2017 and 2025
The global hair transplant market, based on the site of transplant is segmented into scalp, facial and chest transplant. The facial transplant segment is further segmented into eyelash, eyebrow, and beard/ moustache transplants. In 2017, the scalp segment held the largest share of the market. In addition, the segment is also expected to grow at the fastest rate during the coming years owing to rapid advancements in hair transplant technology. Thus, the increasing popularity of scalp hair transplant products is driving the hair transplant market.
In terms of therapy, the hair transplant market is segmented into platelet-rich plasma therapy, laser cap, and Revage 670 Laser. By therapy, platelet rich plasma therapy segment held the largest share of hair transplant market. Platelet-rich plasma, normally called "PRP, " is a non-operative procedure for treating baldness. This therapy has minimal side effects associated with it.
Regional Analysis:
Based on geography, the hair transplant market is divided into five key regions: North America, Europe, Asia Pacific, South & Central America, and Middle East & Africa. In terms of revenue, North America dominated the hair transplant market share. The North America hair transplant market has been segmented into US, Canada, and Mexico. The US holds the largest share of the North American hair transplant market. Increasing number of hair transplant procedures in the US is likely to drive the US hair transplant procedure market. As per the International Society Of Hair Restoration Surgery, around 149,254 hair transplant procedures were performed in US and Canada. Thus, the growing number of hair transplant procedures performed will likely contribute to the growth of the U.S. hair transplant market size.
Additionally, the Asia Pacific hair transplant market, based on countries, is segmented into China, Japan, Australia, India, South Korea, and the Rest of Asia Pacific. The hair transplant market in India is likely to witness rapid growth owing to a large population, rising medical tourism, and the availability of cost-effective hair transplant treatments. Thus, the abovementioned factors will likely drive the Indian hair transplant market size.
Further, The Europe hair transplant market includes the consolidated markets for France, Germany, the United Kingdom (UK), Spain, Italy, and the Rest of Europe. The UK occupies a significant position in the Europe hair transplant market and is expected to record vigorous growth during the forecast period. The government of the UK has started many initiatives in collaboration with major players in the region. For instance, the European Hair Research Society is an independent, non-profit organization promoting the research of hair biology and hair disease in Europe. The EHRS comprises an international group of dermatologists, scientists, and professionals in academia, industry, and government. Thus government initiatives and increasing social awareness are expected to boost the UK hair transplant market size during the forecast period.
The Middle East & Africa market includes countries such as Saudi Arabia, the U.A.E., South Africa, Turkey, Rest of the Middle East and Africa. The Middle East & Africa (MEA) hair transplant market is expected to grow with the highest growth rate in the forecast period. Among the countries included in the Middle East & Africa region, Turkey held the largest market share in 2016, followed by the U.A.E. Turkey is also estimated to be the fastest-growing country in the region. Clinics in Turkey offering hair transplant procedures offer package deals, such as hotel accommodation until the procedure is completed. Moreover, the price of hair transplants in Turkey is about 20-25% of the cost of hair transplant procedures in America and Europe. The cost-effectiveness of the procedure and the availability of better are the major factors driving the market's growth in Middle East & Africa during the forecast period.
South and Central America is segmented into Argentina, Brazil, and the rest of South and Central America. Increasing disposable income in South American countries, rising number of new hair transplant centers, increasing medical tourism industry for hair transplantation procedures, and low cost of procedures can be the key factors for the growth of the South & Central American hair transplant market.
Industry Developments and Future Opportunities:
Various initiatives taken by key players operating in the global hair transplant market are listed below:
In June 2023, Pfizer received US FDA approval for its LITFULO (Ritlecitinib), a once-daily oral treatment for individuals aged 12 or older with severe alopecia areata.
In May 2023, Pristyn Care announced the expansion of its aesthetic surgery offerings to include hair transplant procedures. Pristyn Care is offering hair transplant, beard transplant and eyebrow transplant services across five cities in India.
In September 2021, Dr Reddy's Laboratories launched the prescription drug Minoxidil topical solution USP 2% and 5% for treating female pattern hair loss (FPHL). Dr Reddy's will sell its products as Mintop 2% and Mintop Eva 5%, respectively
Covid-19 Impact:
The effect of the COVID-19 pandemic was largely seen in the aesthetic industry. The market was widely affected as governments had restricted non-necessary healthcare services and permissions for limited necessary surgeries. This has led to a steep decrease in the aesthetic industry. Also, the fear of the coronavirus decreased the interest and demand for reconstructive procedures, including non-surgical procedures. During the pandemic, health services in the European region were highly prioritized to serve patients affected by COVID-19. The routine health care services have remained suspended. Therefore, it has affected the region's aesthetic services and dependable revenue generation. Various aesthetic companies closed their operations in the region. The pandemic has affected aesthetic service adversely; a Hamilton Fraser Cosmetic Insurance Survey conducted in March 2020 stated that ~99% of doctors' practice had been impacted during the pandemic.
Similarly, in India, all cosmetic, aesthetic, and hair transplant (HT) surgeries were stopped as elective surgeries may become the reason for infection spread. Most HT clinics in India stopped or postponed surgeries until the lockdown date limit. The pandemic caused financial implications for these setups. In addition to the revenue loss, clinics will also face increased costs during the COVID-19 pandemic due to maintenance costs of clinic's equipment and salaries.
Competitive Landscape and Key Companies:
Some of the prominent players operating in the global hair transplant market include Cole Instruments Inc., CAPILLUS, LaserCap Company, Apira Science, Harris FUE Instruments, HairMax Inc., THERADOME, FueInstrument, Shaanxi Xingmao Industry Co., Ltd, and Restoration Robotics, Inc. among others. these companies focus on new product launches and geographical expansions to meet the growing consumer demand worldwide and increase their product range in specialty portfolios. They have a widespread global presence, allowing them to serve a large set of customers and subsequently increase their market share.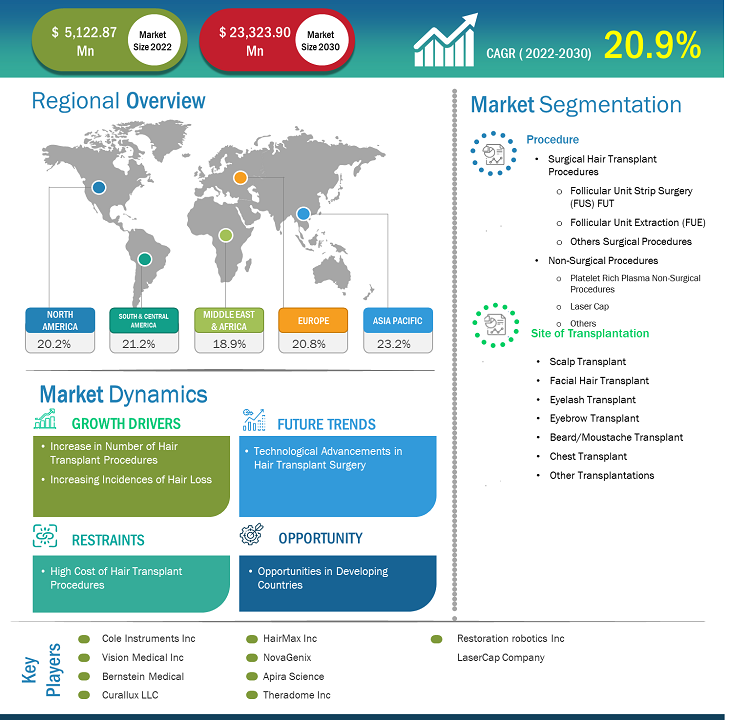 Sample PDF showcases the content structure and the nature of the information with qualitative and quantitative analysis.
Request discounts available for Start-Ups & Universities
REGIONAL FRAMEWORK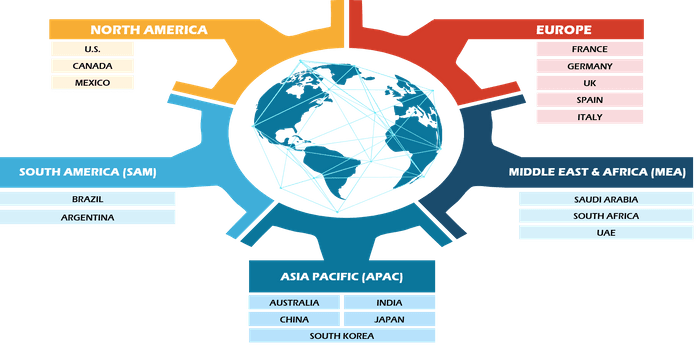 Have a question?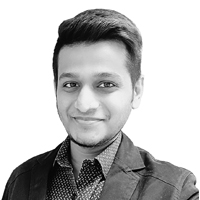 will walk you through a 15-minute call to present the report's content and answer all queries if you have any.

Speak to Analyst
Sample PDF showcases the content structure and the nature of the information with qualitative and quantitative analysis.
Request discounts available for Start-Ups & Universities
MARKET PLAYERS
Sample PDF showcases the content structure and the nature of the information with qualitative and quantitative analysis.
Request discounts available for Start-Ups & Universities

Report Coverage
Revenue forecast, Company Analysis, Industry landscape, Growth factors, and Trends

Segment Covered
Technique , by Site of Transplant , by Therapy

Regional Scope
North America, Europe, Asia Pacific, Middle East & Africa, South & Central America

Country Scope
US, Canada, Mexico, UK, Germany, Spain, Italy, France, India, China, Japan, South Korea, Australia, UAE, Saudi Arabia, South Africa, Brazil, Argentina
Frequently Asked Questions
---
The List of Companies
Cole Instruments Inc.
CAPILLUS
LaserCap Company
Apira Science
Harris FUE Instruments
HairMax Inc.
THERADOME
FueInstrument
Shaanxi Xingmao Industry Co., Ltd
Restoration Robotics, Inc.
The Insight Partners performs research in 4 major stages: Data Collection & Secondary Research, Primary Research, Data Analysis and Data Triangulation & Final Review.
Data Collection and Secondary Research:
As a market research and consulting firm operating from a decade, we have published many reports and advised several clients across the globe. First step for any study will start with an assessment of currently available data and insights from existing reports. Further, historical and current market information is collected from Investor Presentations, Annual Reports, SEC Filings, etc., and other information related to company's performance and market positioning are gathered from Paid Databases (Factiva, Hoovers, and Reuters) and various other publications available in public domain.
Several associations trade associates, technical forums, institutes, societies and organizations are accessed to gain technical as well as market related insights through their publications such as research papers, blogs and press releases related to the studies are referred to get cues about the market. Further, white papers, journals, magazines, and other news articles published in the last 3 years are scrutinized and analyzed to understand the current market trends.
Primary Research:
The primarily interview analysis comprise of data obtained from industry participants interview and answers to survey questions gathered by in-house primary team.
For primary research, interviews are conducted with industry experts/CEOs/Marketing Managers/Sales Managers/VPs/Subject Matter Experts from both demand and supply side to get a 360-degree view of the market. The primary team conducts several interviews based on the complexity of the markets to understand the various market trends and dynamics which makes research more credible and precise.
A typical research interview fulfils the following functions:
Provides first-hand information on the market size, market trends, growth trends, competitive landscape, and outlook
Validates and strengthens in-house secondary research findings
Develops the analysis team's expertise and market understanding
Primary research involves email interactions and telephone interviews for each market, category, segment, and sub-segment across geographies. The participants who typically take part in such a process include, but are not limited to:
Industry participants: VPs, business development managers, market intelligence managers and national sales managers
Outside experts: Valuation experts, research analysts and key opinion leaders specializing in the electronics and semiconductor industry.
Below is the breakup of our primary respondents by company, designation, and region:

Once we receive the confirmation from primary research sources or primary respondents, we finalize the base year market estimation and forecast the data as per the macroeconomic and microeconomic factors assessed during data collection.
Data Analysis:
Once data is validated through both secondary as well as primary respondents, we finalize the market estimations by hypothesis formulation and factor analysis at regional and country level.
3.1 Macro-Economic Factor Analysis:
We analyse macroeconomic indicators such the gross domestic product (GDP), increase in the demand for goods and services across industries, technological advancement, regional economic growth, governmental policies, the influence of COVID-19, PEST analysis, and other aspects. This analysis aids in setting benchmarks for various nations/regions and approximating market splits. Additionally, the general trend of the aforementioned components aid in determining the market's development possibilities.
Various factors that are especially aligned to the country are taken into account to determine the market size for a certain area and country, including the presence of vendors, such as headquarters and offices, the country's GDP, demand patterns, and industry growth. To comprehend the market dynamics for the nation, a number of growth variables, inhibitors, application areas, and current market trends are researched. The aforementioned elements aid in determining the country's overall market's growth potential.
The "Table of Contents" is formulated by listing and analyzing more than 25 - 30 companies operating in the market ecosystem across geographies. However, we profile only 10 companies as a standard practice in our syndicate reports. These 10 companies comprise leading, emerging, and regional players. Nonetheless, our analysis is not restricted to the 10 listed companies, we also analyze other companies present in the market to develop a holistic view and understand the prevailing trends. The "Company Profiles" section in the report covers key facts, business description, products & services, financial information, SWOT analysis, and key developments. The financial information presented is extracted from the annual reports and official documents of the publicly listed companies. Upon collecting the information for the sections of respective companies, we verify them via various primary sources and then compile the data in respective company profiles. The company level information helps us in deriving the base number as well as in forecasting the market size.
3.4 Developing Base Number:
Aggregation of sales statistics (2020-2022) and macro-economic factor, and other secondary and primary research insights are utilized to arrive at base number and related market shares for 2022. The data gaps are identified in this step and relevant market data is analyzed, collected from paid primary interviews or databases. On finalizing the base year market size, forecasts are developed on the basis of macro-economic, industry and market growth factors and company level analysis.
Data Triangulation and Final Review:
The market findings and base year market size calculations are validated from supply as well as demand side. Demand side validations are based on macro-economic factor analysis and benchmarks for respective regions and countries. In case of supply side validations, revenues of major companies are estimated (in case not available) based on industry benchmark, approximate number of employees, product portfolio, and primary interviews revenues are gathered. Further revenue from target product/service segment is assessed to avoid overshooting of market statistics. In case of heavy deviations between supply and demand side values, all thes steps are repeated to achieve synchronization.
We follow an iterative model, wherein we share our research findings with Subject Matter Experts (SME's) and Key Opinion Leaders (KOLs) until consensus view of the market is not formulated – this model negates any drastic deviation in the opinions of experts. Only validated and universally acceptable research findings are quoted in our reports.
We have important check points that we use to validate our research findings – which we call – data triangulation, where we validate the information, we generate from secondary sources with primary interviews and then we re-validate with our internal data bases and Subject matter experts. This comprehensive model enables us to deliver high quality, reliable data in shortest possible time.