[Research Report] The household insecticides market was valued at US$ 11,785.9 Mn in 2018, and it is expected to grow at a CAGR of 5.2% during the forecast period 2019 – 2027 to reach US$ 18,514.3 Mn by 2027.
Household insecticides are defined as those products which helps to inhibit the growth of insects such as mosquitoes, flies and other insects at home. Such insecticides portrays limited toxicity to human and are composed of natural or synthetic substances including isobutyl piperidine carboxylate, hydroxyethyl, citronella oil and geraniol oil. The market is a perfect competition market with the presence of numerous Household Insecticides market players and buyers. The market players are competing based on price, product innovation, and quality.
In 2018, Asia Pacific held the largest share of the global household insecticides market. The dominance of the household insecticides market in this region is primarily attributable to the presence of strong industrial base with prominent manufactures significantly contributing to market growth. The demand for household insecticides is rising in the region with the wake of alarming health and hygiene issues along with rising prevalences of diseases such as malaria, dengue and others. Further, the easy accessibility and availability of raw materials coupled with cheap labor and low production cost are yet another factor that bode well the market demand in the region
The COVID-19 pandemic is adversely affecting economies and industries in various countries due to government-imposed lockdowns, travel bans, and business shutdowns. The chemical & materials is one of the major industries suffering serious disruptions such as supply chain breaks, technology events cancellations, and office shutdowns. The shutdown of various plants and factories in North America, Europe, Asia Pacific, South America, and the Middle East and Africa has restricted the global supply chain and negatively impacted the manufacturing activities, delivery schedules, and product sales. Furthermore, various companies have already predicted possible delays in product deliveries and slump in future sales of their products. The travel bans imposed by countries in Europe, Asia, and North America are hindering the business collaborations and partnerships opportunities. All these factors are hampering the activities in the chemical & materials industry, which are restraining the growth of various markets related to this industry.


The ongoing COVID-19 pandemic has altered the status of the household insecticides industry. As much as the outbreak has distorted operational efficiency and disrupted the value chains due to the sudden shutdown of national and international boundaries, it has also positively impacted the demand for household insecticides. With the growing consciousness towards health and hygiene, the demand for household insecticides is expected to rise globally. Also, as the economies are planning to revive their operations, the demand for household insecticides is expected to rise globally in the coming months. Further, significant investments by prominent companies in the development of advanced products is, yet, another factor supporting the market growth
Geographic Overview of Household Insecticides Market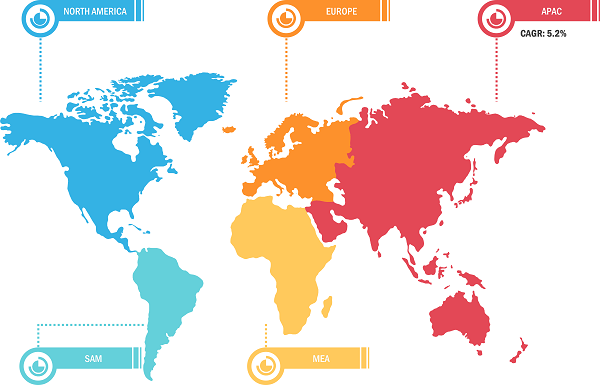 Get more information on this report :
Market Insights
Rising acceptance of natural form of household insecticides
Natural insecticides are those insecticides which are derived from a natural source such as a mineral or plant. The demand for such form of insecticides is rising for household or domestic uses attributable to the harmful attributes of synthetic form of insecticides. Synthetic insecticides contain harmful chemicals and substances which are perceived to impact the health of individual. The growing awareness related to health and rising concern over the potential harm caused by synthetic insecticides has driven the need for natural insecticides. With the growing trend towards natural form of insecticides, several manufacturers have invested in research and development activities and have introduced natural form of insecticides to meet consumer's demand. For instance, Godrej Consumer Products Limited, which is leading industry in home insecticides, have come mosquito repellant agarbatti completely composed of neem and turmeric. The company through the launch of this natural product has provided safe solution at low cost. Thus, natural form of household insecticides is expected to rise.
Insect Type Insights
The global household insecticides market, by insect type, is segmented into mosquitoes & flies, rats & other rodents, termites, bedbugs & beetles and others. The mosquitoes & flies segment led the market with the largest share in 2018. There has been a rising demand for mosquito insecticides in the global market. There are two main two leading and most widely used insecticides that are used in the preparation of household insecticides to be effective against mosquitoes known as malathion and permethrin. Malathion is an organophosphate that is quite often used for the elimination of mosquitoes indoors as well as outdoors and also against a wide range of insects. It is used in a small amount as in the mosquito insecticide as it possesses no harm to humans.
Composition Insights
The global household insecticides market, by composition, is segmented into natural and synthetic. The natural segment is expected to register fastest growth during the forecasted year. The different types of natural household insecticides are citronella oil, geraniol and others. The natural or organic form of household insecticides has been used widely as these insecticides are less toxic as compared to the synthetic household insecticides
Packaging Insights
The global household insecticides market, by packaging, is segmented into small, medium and large. The small segment leads the global household insecticides market whereas medium segment is expected to grow at fastest growth rate during the forecast period of 2019-2027. The small packaging type of household insecticides generally weighs between 250 gm. to 500 gm. It has been noted that the small packaging insecticides have been frequently used as they are easy to port and can be used before the product expires. It has a short period of use due to its acute weight
Distribution Channel Insights
The global household insecticides market, by distribution channel, is segmented into supermarket/hypermarket, convenience stores, online stores and others. The supermarkets and hypermarkets segment led the market with the largest share in 2018. In the case of sales through hypermarkets & supermarkets, the manufacturer sells his product to a distributor who then provides these products to the hypermarkets & supermarkets depending upon its demand. This proves to be beneficial as the product would get a good sales image in the hypermarkets & supermarkets and also there would be no wastage of the product as it would be manufactured only on demand and with specific numbers. The sales of household insecticides are growing high in the hypermarkets & supermarkets.
Strategic Insights
Report Coverage - Household Insecticides Market
Report Coverage
Details
Market Size Value in
US$ 11,785.9 Million in 2018
Market Size Value by
US$ 18,514.3 Million by 2027
Growth rate
CAGR of 5.2% from 2019-2027
Forecast Period
2019-2027
Base Year
2019
No. of Pages
210
No. of Tables
114
No. of Charts & Figures
92
Historical data available
Yes
Segments covered
Insect Types ; Composition ; Packaging ; Distribution Channel
Regional scope
North America, Europe, Asia Pacific, Middle East & Africa, South & Central America
Country scope
US, Canada, Mexico, UK, Germany, Spain, Italy, France, India, China, Japan, South Korea, Australia, UAE, Saudi Arabia, South Africa, Brazil, Argentina
Report coverage
Revenue forecast, company ranking, competitive landscape, growth factors, and trends
Free Sample Copy Available
A few key players operating in the global household insecticides market are Godrej Consumer Products Limited; Reckitt Benckiser Group PLC.; S. C. Johnson & Son, Inc.; Spectrum Brands Inc.; and Sumitomo Chemical Co., Ltd. Major market players are focused on strategies such as mergers and acquisitions, and product launches to increase their geographical presence and consumer base globally. For instance, in 2018, Godrej Consumer Products Limited launched a new natural product, 'Goodknight Naturals Neem Agarbatti'. Likewise, in 2019, Spectrum Brands, Inc., donated 10,000 bottles of Cutter Insect Repellent products to the American Red Cross to help with the organization's ongoing disaster relief efforts after the Hurricane Dorian.
Report Spotlights
Progressive industry trends in the global household insecticides market to help players develop effective long-term strategies
Business growth strategies adopted by developed and developing markets
Quantitative analysis of the market from 2017 to 2027
Estimation of the demand for household insecticides across various industries
PEST analysis to illustrate the efficacy of buyers and suppliers operating in the industry to predict market growth
Recent developments to understand the competitive market scenario and the demand for household insecticides
Market trends and outlook coupled with factors driving and restraining the growth of the household insecticides market
Decision-making process by understanding strategies that underpin commercial interest with regard to global household insecticides market growth
household insecticides market size at various nodes of market
Detailed overview and segmentation of the global Household insecticides market as well as its dynamics in the industry
household insecticides market size in various regions with promising growth opportunities

Household Insecticides Market, by Insect Type
Mosquitoes & Flies
Rats & other Rodents
Termites
Bedbugs & Beetles
Others
Household Insecticides Market, by Composition
Household Insecticides Market, by Packaging
Household Insecticides Market, by Distribution Channel
Supermarket/Hypermarket
Convenience Stores
Online Stores
Others

Company Profiles
Godrej Consumer Products Limited
Liphatech, Inc.
Neogen Corporation
SC Johnson & Son, Inc.
Spectrum Brands, Inc.
Reckitt Benckiser Group plc
Jyothy Laboratories Ltd.
Sumitomo Chemical Co., Ltd.
Bayer AG
Medella Laboratories
Frequently Asked Questions