The ice cream market is projected to reach US$ 1,21,022.15 million by 2028 from US$ 90,272.08 million in 2021. It is expected to grow at a CAGR of 4.3% from 2021 to 2028.
Ice cream manufacturers are developing products with nutritional components, organic herbal fillings, and exotic flavors in product formulation to acquire a competitive advantage and appeal to more consumers. Manufacturers are introducing new exotic flavors such as coconut, lemon, and tropical fruits to adapt to shifting consumers' tastes. Additionally, consumers concerned about their health favor Skinny Cow, a low-calorie and low-fat ice cream brand. As a result, their consumer base is increasing. Additionally, the favorable regulations support the market innovations that were examined. For instance, the US Food and Drug Administration (US FDA) held a public hearing on cannabidiol (CBD) legislation in the US in May 2019. Thus, various manufacturers are tapping into this opportunity and introducing new products to differentiate their offerings. For instance, Ben & Jerry's launched an ice cream with a CBD additive.
Further, liquor ice cream is gaining popularity across developed regions such as North America and Europe. The products contain less than 0.5% alcohol. Therefore, they are widely retailed in grocery and specialty stores. For instance, Häagen-Dazs launched a spirit-infused ice cream with a flavor of five traditional pints made with Irish cream, rum, bourbon, and stout.
In 2020, North America held the largest share of the global ice cream market. Asia Pacific is estimated to register the fastest CAGR during the forecast period. Over the past few years, the growing health consciousness among North Americans has increased the adoption of ice cream without compromising indulgence for ingredients and tastes. According to the International Dairy Foods Association (IDFA) 2021 report, the average North American consumes 23 pounds of ice cream annually. Moreover, since the COVID-19 pandemic, the stockpiling of eatables with longer shelf life without spoilage increased the demand for frozen desserts. Hence, the increasing demand for frozen desserts is boosting the North America ice cream market. In addition, manufacturers are investing significantly in research and development activities to cater to consumers' interest in offering high-quality products in North America.
General Mills Inc., Baskin Robbins, and Unilever are the prominent market players in the region.
Strategic Insights
Report Coverage - Ice Cream Market
Report Coverage
Details
Market Size Value in
US$ 90,272.08 Million in 2021
Market Size Value by
US$ 1,21,022.15 Million by 2028
Growth rate
CAGR of 4.3% from 2021 to 2028
Forecast Period
2021-2028
Base Year
2021
No. of Pages
157
No. of Tables
89
No. of Charts & Figures
90
Historical data available
Yes
Segments covered
Flavor, Category, Form, and Distribution Channel
Regional scope
North America, Europe, Asia Pacific, Middle East & Africa, South & Central America
Country scope
US, Canada, Mexico, UK, Germany, Spain, Italy, France, India, China, Japan, South Korea, Australia, UAE, Saudi Arabia, South Africa, Brazil, Argentina
Report coverage
Revenue forecast, company ranking, competitive landscape, growth factors, and trends
Free Sample Copy Available
Impact of COVID-19 Pandemic on Ice Cream Market
The shortage of the large labor force needed in the manufacturing units and the break of on-premises sales through specialty stores, supermarkets, and convenience stores due to the subsequent lockdowns and the closure of retail stores further affected the market sales. Despite witnessing a major hit due to the pandemic, several companies reported that the industry witnessed an immense boost in the take-home consumption segment by the end of 2020. Due to work-from-home mandates, the at-home consumption ice cream markets trend emerged significantly during the pandemic. However, industry experts believe that, apart from lockdown restrictions, ice cream sales were affected by the fear or misconception that ice cream could make one susceptible to COVID-19 because one could catch a cold. This is one of the major factors that restrained the ice cream markets' growth during the pandemic.
As consumers' focus increased on immunity and wellness during the peak pandemic period, the demand for healthy and immunity-boosting food also increased. The pandemic also triggered changes in the overall dietary preferences of consumers. As a result of this, manufacturers began to introduce immunity-boosting ice creams. For instance, in 2020, Dairy Day, a leading ice cream brand, launched a range of ice creams with immunity-boosting ingredients under the brand name Dairy Day Plus. The company introduced turmeric flavor ice cream and Chyawanaprash ice cream in the launch phase. However, as supply chains were highly disrupted, a shortage of raw materials created a shortfall in production volumes. Many leading ice cream manufacturers with high inventory levels were able to cater to the increased demand. However, the profits of small to medium-sized manufacturers with low inventories were negatively impacted.
Ice Cream Market Breakdown, by Region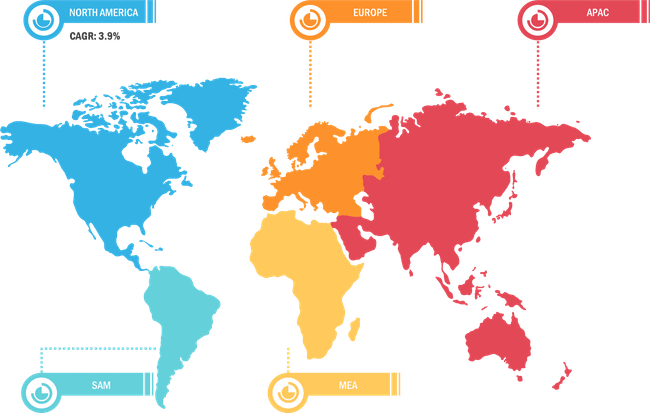 Get more information on this report :
Market Insights
Innovative Flavors and Flavored Indulgence Drive Ice Cream Market
Ice cream manufacturers are investing significantly in product innovation to expand their customer base and meet emerging consumer trends. Many global brands and companies are launching innovative limited edition and seasonal flavors for frozen desserts in collaboration with other small players, gaining consumer traction. For instance, in July 2021, Kraft Macaroni & Cheese launched a limited-edition ice cream in collaboration with Van Leeuwen—a Brooklyn-based ice cream brand. These 2 brands collaborated to launch a Kraft Macaroni & Cheese summer treat that claims to have no artificial flavors and preservatives. Kraft Macaroni & Cheese ice cream would be available at Van Leeuwen scoop shops and online platforms, such as Amazon and Walmart. Therefore, catering premium products with innovative flavors and loaded indulgences to consumers are driving the ice cream markets' growth.
Product Flavor Insights
Based on flavor, the ice cream market is categorized into vanilla, chocolate, fruit, and others. The vanilla segment held the largest ice cream market share during the forecast period. However, the chocolate segment is expected to register the highest CAGR during the forecast period. The vanilla flavor is derived through macerating and percolating vanilla pods in ethanol and water solution. Vanilla is fragrant, has a creamy and delicious taste, and is suitable for many products. Hence, vanilla is widely used as a flavoring agent in ice creams and has high demand worldwide.
Moreover, consumption of vanilla provides a calming effect, helps curb sugar intake, eases toothache, and prevents colds and respiratory infections. It has antioxidant properties as it is a rich magnesium, calcium, phosphorous, and potassium source. Hence, the benefits of vanilla consumption fuel the demand for flavor worldwide.
Ice Cream Market, by Flavor – 2021 and 2028

Get more information on this report :
Category Insights
Based on category, the ice cream market is segmented into sugar-free and conventional. The conventional segment held a larger market share during the forecast period, whereas the sugar-free segment is projected to register the highest CAGR during the forecast period. The sugar-free ice cream includes sugar-alcohol ingredients, such as xylitol, maltitol, and erythritol. Also, the 'go-natural' ice cream market's trend encourages manufacturers to add sugar substitutes as sweeteners. These substitutes can be derived from plants and fruits containing lower calories than regular sugar. On March 4th, 2015, World Health Organization (WHO) issued guidelines on sugar intake for children and adults. These guidelines recommended that adults and children should reduce their daily intake of free sugars to less than 10% of their total energy intake. A further reduction to below 5% or roughly 25 grams (6 teaspoons) per day would provide additional health benefits.
End Use Insights
Based on Form, the ice cream market is segmented into cups and tubs, bars and sticks, and others. The cups and tubs segment accounted for the largest market share in 2020. Ice cream cups have significant demand in the ice cream industry, as an individual can try multiple flavors in one cup. Tubs are usually preferred owing to their volume. The increasing environmental concerns increase the adoption of reusable cups among the millennials, driving the ice cream market growth for the segment. Tubs are considered significant containers and are available in rectangular, round, and square shapes. Cups and tubs have an easy-to-open, easy-to-close lid printed with color to prevent ice cream's light and radiant heat damage. Hence, consumers generally prefer ice creams in cups or tubs.
The major players operating in the ice cream market include Unilever; Nestlé SA; General Mills Inc.; Mars, Incorporated; LOTTE CONFECTIONERY CO., LTD; Wells Enterprises; Baskin-Robbins; Turkey Hill Dairy; Dairy Farmers of America, Inc.; and Blue Bell Creameries. These companies are emphasizing on new product launches and geographical expansions to meet the growing consumer demand worldwide. They have a widespread global presence, which provides them to serve a large set of customers from all over the world and subsequently increases their market share. These market players focus heavily on new product launches and regional expansions to increase their product range in specialty portfolios.
Report Spotlights
Progressive industry trends in the ice cream market to help companies develop effective long-term strategies
Business growth strategies adopted by the ice cream market players in developed and developing countries
Quantitative analysis of the market from 2019 to 2028
Estimation of global demand for ice cream
Porter's Five Forces analysis to illustrate the efficacy of buyers and suppliers in the ice cream market
Recent developments to understand the competitive market scenario
Market trends and outlook, as well as factors driving and restraining the growth of the ice cream market
Assistance in the decision-making process by highlighting market strategies that underpin commercial interest
Size of the ice cream market at various nodes
A detailed overview and ice cream industry dynamics
Size of the ice cream market in various regions with promising growth opportunities
Frequently Asked Questions