The industrial valve market is expected to grow from US$ 78.18 billion in 2021 to US$ 125.59 billion by 2028; it is estimated to grow at a CAGR of 7.0% during 2021 to 2028.
The growing rate of industrialization has led to an increase in demand for oil and gas, which is boosting the development of new oil refineries. This, in turn, is driving the industrial valves market. Further, the increasing government emphasis on sustainability and curtailing water pollution has led to a rise in the deployment of wastewater treatment plants, which is boosting the sales of industrial valves. The increase in the establishment of healthcare institutions, use of advanced medical equipment, and growing adoption of Internet of Things (IoT) solutions in the manufacturing sector are creating substantial growth opportunities for the industrial valve market players.

Crude oil is the backbone of the modern-day industrial economy. In addition to its application as fuel, it acts as an important base raw material for deriving various chemicals. With the increasing rate of industrialization and urbanization, the demand for oil and gas has surged substantially. For instance, the crude oil production of the Organization of the Petroleum Exporting Countries (OPEG) has risen steadily from ~400,000 b/d in January 2016 to ~800,000 b/d by the end of Q2 of 2021. Countries such as the US, China, India, Vietnam, and South Korea are expected to present huge demand for crude oil during the forecast period due to the continuous growth in their manufacturing sectors, supported by favorable economic conditions and government policies. Equinor, a petroleum refining company, has announced to invest US$ 8.8 billion by end of 2022 for driving the progress of Wisting petroleum discovery in the Arctic Barents Sea, the northernmost oilfield of the world. Petróleo Brasileiro S.A. has also announced to invest US$ 68 billion from 2022 to 2026 for managing production at the offshore fields in the subsea pre-salt area. Qatar has plans to increase its LNG production by 40% to 110 million tonnes per annum by 2026. The Russian government has also announced the plan of escalating its LNG production capacity to 140 million tons per year by 2035, with a threefold increase. Further, a significant number of oil and gas refineries have aged and require maintenance operations. Moreover, with the growing emphasis on curtailing carbon emission, governments are also favoring gas-powered power plants over coal-powered power plants, as natural gas emits less carbon than coal does, which is further propelling the demand for natural gas. The growing production of oil and gas boosts the industrial valves market growth.
Strategic Insights
Report Coverage - Industrial Valve Market
Report Coverage
Details
Market Size Value in
US$ 78.18 billion in 2021
Market Size Value by
US$ 125.59 billion by 2028
Growth rate
CAGR of 7.0% from 2021 to 2028
Forecast Period
2021-2028
Base Year
2021
No. of Pages
185
No. of Tables
83
No. of Charts & Figures
92
Historical data available
Yes
Segments covered
Material Type, Valve Type, Industry
Regional scope
North America, Europe, Asia Pacific, Middle East & Africa, South & Central America
Country scope
US, Canada, Mexico, UK, Germany, Russia, Italy, France, India, China, Japan, South Korea, Australia, UAE, Saudi Arabia, South Africa, Brazil, Argentina
Report coverage
Revenue forecast, company ranking, competitive landscape, growth factors, and trends
Free Sample Copy Available

Impact of COVID-19 Pandemic on Industrial Valve Market
The manufacturing sector experienced noticeable losses due to temporary factory shutdowns and low production volumes, which hindered the growth of the oil & gas, power & energy, and chemicals and petrochemicals industries. Moreover, the social or physical distancing measures put limitations on the operations of logistics and other service providers. Component shortages, quarantine mandates, and travel restrictions further restrained the production of industrial valves.

As per the BP Statistical Review of World Energy 2020, the US is the world's largest producer and consumer of natural gas products. However, the country experienced a nationwide lockdown in the mid-2020 for curtailing the spread of COVID-19, which further restricted the oil & gas-related projects, such as storage and transportation activities of liquid gasses, thus leading to the decline in global oil prices. Due to this, industrial valve manufacturing companies faced revenue losses and slow growth. However, in Q3 of 2020, as the industries started to resume their operations, supply chain stakeholders also began gaining pace gradually.
Lucrative Regions for Industrial Valve Market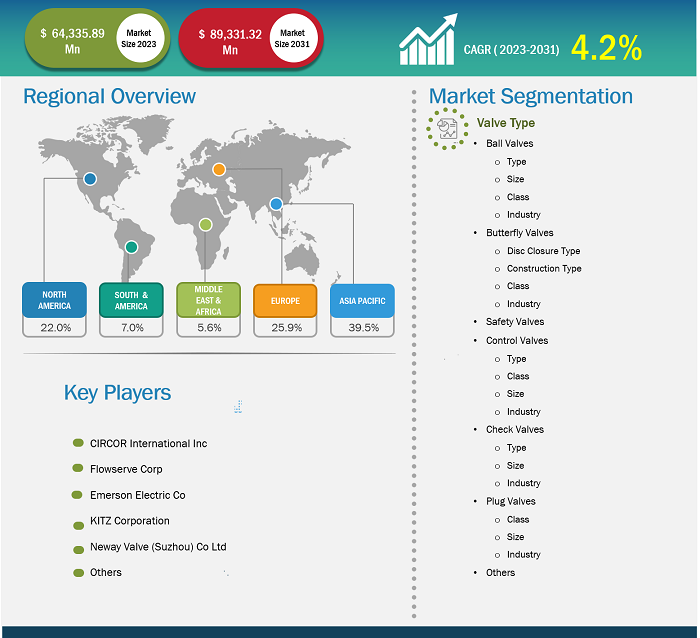 Get more information on this report :
Industrial Valve Market Insights
Growing Popularity of IoT
Continuous advancements in microprocessor processing capabilities and high-speed connectivity technologies have paved the way for the wide-scale deployment of the Internet of Things (IoT) among other modern technologies. With the growing emphasis on digitalization and automation the value chain among manufacturers for achieving high efficiency and productivity is leading industrial valve market players to offer IoT- ready industrial valves. For instance, Belimo Energy Valve, a product of BELIMO Holding AG, offers easy access to valuable data and control of the valves such as measure flow, monitor the current energy consumption, controlling valve ­position,­ flow­, or the thermal power with the help of Modbus, MP-Bus, BACnet, or IoT connectivity. Further, smart valves are capable of monitoring their health and can predict any forthcoming adversities in their operations. An ideal smart valve is offered with an integrated battery backup, a small solar panel, Wi-Fi connectivity, and a dedicated remote control feature. In water supply applications, the authorized users receive SMS when the valve cuts the water supply. Continuous progress in smart cities projects across the world is anticipated to create demand for smart industrial valves for monitoring and controlling the utility lines, thereby driving the industrial valve market growth during the forecast period.
Material Type-Based Market Insights
Based on material type, the industrial valve market is segmented as cast iron, steel, cryogenic, alloy-based, and others. The steel segment led the market with a share of 37.2% in 2020. The steel valves are made from various compositions of stainless steel, cast steel, forged steel, and others, and they are the most used industrial valves. They exhibit greater corrosion resistance than valves made from iron cast and brass, and have pressure handling capabilities of upto 1000psi. Further, steal valves also showcase higher strength and durability. Thus, these valves are widely adopted in a range of industrial applications, and are used across thermal and nuclear power plants, hydrocarbon or petrochemical processing plants, oil and gas transmission lines, off-shore oil drilling, pulp and paper facilities, and other processing industrial pipelines. Moreover, they are becoming more popular in conventional plumbing as they are free of lead. Many states and provinces in North America have No-Lead laws that dictate the use of lead-free components in plumbing applications.
Industry-Based Market Insights
Based on industry, the industrial valve market is segmented as oil & gas, water treatment, power & energy, chemical & petrochemical, food & beverage, healthcare & pharmaceutical, and others. The oil and gas segment led the market in 2020. In oil and gas plants, extraction and processing of crude and gas are majorly done using pipelines, and valves are used for regulating the flow of these substances. Although oil and gas resources are found in limited geographic location, they are utilized across the world, and they are distributed using pipelines. The rise in industrialization at a steady rate is driving the demand for oil and gas, owing to which several oil producing countries are scaling up their production capacities. For instance, the UAE has announced its plans to invest US$ 127 billion during 2022–2026 in the expansion of its oil and gas production. Russia has announced its plan to increase its LNG production threefold to bring it to 140 million tons per year by 2035. Thus, the growing investment for increasing oil production is projected to create growth opportunities for industrial valve market players.
Players operating in the industrial valve market adopt strategies such as mergers, acquisitions, and market initiatives to maintain their positions in the market. A few developments by key players are listed below:
In November 2021, Rusco announced the launch of a smart automated ball valve for home filtration, well water, commercial, and municipal applications, which can be paired with smartphones for program automation, to carry out sediment flushing and flow shut-off.
In June 2021, Neles announced the launch of a versatile butterfly valve line for an extensive range of applications in all process industries.
The industrial valve market is segmented on the basis of material type, valve type, and industry. Based on material type, the market is segmented into cast iron, steel, cryogenic, alloy-based and others. Based on valve type, the industrial valve market is segmented into ball valve, butterfly valve, diaphragm valve, safety valve, and piston ram valve. On the basis of industry, the industrial valve market is segmented into oil & gas, water treatment, power & energy, chemical & petrochemical, food & beverage, healthcare & pharmaceutical, and others.
Valen Inc., Crane Co., Circor International, Emerson Electric Co., Flowserve Corporation, Kitz Corporation, Neway Valve (Suzhou) Co. Ltd., Spirax Sarco, Schlumberger Limited, and IMI PLC are the key industrial valve market players considered for the research study. In addition, several other significant industrial valve market players have been studied and analyzed in this research report to get a holistic view of the global industrial valve market and its ecosystem.
Frequently Asked Questions