[Research Report] The solid fuel market is expected to grow from US$ 389.14 billion in 2022 to US$ 401.54 billion by 2028; it is expected to record a CAGR of 0.5% during 2022–2028.
Rising use of coal due to the establishment of refineries is driving the solid fuel market. Current refineries and combinations of refinery by-products and coal are used to produce an array of end products such as gasoline, carbon anodes, jet fuel, and heating oil. With many refineries, the demand for coal as an energy source has increased. The following table shows the number of operational petroleum refineries in 2021 based on region.

Get more information on this report :
The US, China, Russia, and India have the largest oil refinery capacities. Asia Pacific is a shelter for the greatest number of operational petroleum refineries. There were around 316 operational petroleum refineries in the region as of 2021. Based on capacity, China National Petroleum Corp, China Petrochemical Corp, Saudi Arabian Oil Co, Valero Energy Corp, and Exxon Mobil Corp were the leading five oil refining companies across the world in 2021. The presence of many refineries drives the demand for solid fuels, bolstering the solid fuel market size.
Solid Fuel Market - Strategic Insights
Report Coverage - Solid Fuel Market
Report Coverage
Details
Market Size Value in
US$ 389.14 billion in 2022
Market Size Value by
US$ 401.54 billion by 2028
Growth rate
CAGR of 0.5% from 2022 to 2028
Forecast Period
2022-2028
Base Year
2022
No. of Pages
173
No. of Tables
105
No. of Charts & Figures
70
Historical data available
Yes
Segments covered
Fuel Type
Free Sample Copy Available
Impact of COVID-19 Pandemic on Solid Fuel Market Growth
The COVID-19 outbreak significantly affected most industries across the globe. The pandemic has been a major factor in slowing the progress toward universal energy access. Approximately 733 million individuals do not have access to electricity globally, and nearly 2.4 billion individuals still use fuels for cooking purposes. Considering the current rate of progress, over 650 million people will remain without electricity by 2030. Due to the imposition of lockdown measures, the pandemic significantly lessened the electricity demand in the industrial and commercial sectors in 2021.
From late 2020 and early 2021, the economies started recovering from COVID-19 pandemic effects. The energy demand is growing as the global economies are regaining their businesses after lockdown measures. This factor is projected to impact solid fuel market penetration gradually and positively. The recovery phase of COVID-19 pandemic is projected to fuel industrial and commercial demand for electricity, easing many of the problems witnessed during the pandemic. This factor will fuel the growth of the solid fuel market.
Lucrative Regions for Solid Fuel Market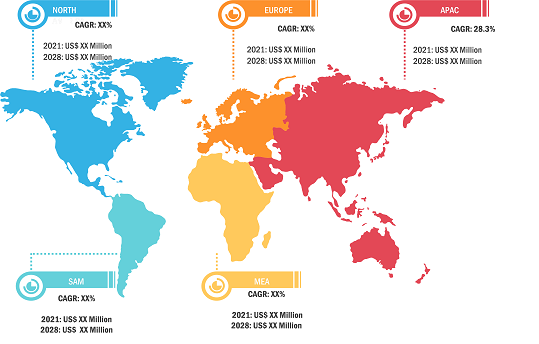 Get more information on this report :
Market Insights – Solid Fuel Market
Rising use of anthracite is expected to bolster the solid fuel market size in the coming years. A few statistics on anthracite and its use and availability in various countries are given below:
In the US, the fuel accounted for <1% of the coal mined in 2021. All anthracite mines in the US are in northeastern Pennsylvania. In the country, anthracite is majorly used in the metals industry.
The US is a top country in terms of anthracite and bituminous coal reserves globally. As of 2020, the country's anthracite and bituminous coal reserves were approximately 218,938 million metric tons, ~29.50% of the global reserves of anthracite and bituminous coal.
Currently, China holds the largest share of the world's anthracite production, accounting for over ¾ quarters of the global output. Most of the Chinese production is standard-grade anthracite, which is utilized for power generation. Thus, the use of anthracite for power generation contributes to the solid fuel market growth.
Fuel Type-Based Insights
Based on fuel type, the solid fuel market is segmented into petcoke/flexicoke, anthracite, metallurgical coke, and coal. The petcoke/flexicoke segment is expected to register the highest CAGR during 2022–2028.
Petcoke, also known as petroleum coke, is a byproduct of all types of oil refining. Petcoke is used as raw material for the manufacturing of graphite electrodes. Thus, with an increase in the manufacturing of graphite electrodes for steel fabricating, the demand for petcoke is also projected to propel. Moreover, in 2017, the US government passed an order saying "petcoke should be utilized only in industries where sulfur is absorbed in manufacturing processes of cement, gasification plants, and lime." (EPCA 2018). Thus, such initiatives by the government fuel the solid fuel market size.
The lime industry is one of the end users of flexicoke solid fuel. In India, the construction industry is expanding exponentially. Hence, the demand for construction-related products such as gypsum and lime products are rising. Gypsum and lime products are key materials during the construction process; therefore, the quality of the products plays a key role in safety and durability of the structures. J.K. Cement Ltd, UltraTech Cement Limited, JK Lakshmi Cement Ltd., Ambuja Cements Ltd., ACC Limited, and Bharat Heavy Electricals Limited are among the leading players in terms of lime and gypsum products in India. Thus, rising use of lime for construction industry positively propels the solid fuel market growth.
Based on geography, the solid fuel market is segmented into North America, Europe, Asia Pacific (APAC), the Middle East & Africa (MEA), and South America (SAM). Indian Oil Corp Ltd, Exxon Mobil Corp, RESORBENT Sro, JH CARBON PTY LTD, Essar Global Fund Ltd, BP Plc, Lukoil Oil Co, Valero Energy Corp, Phillips 66, and Hargreaves (UK) Services Ltd are among the key solid fuel market players.
The solid fuel market players mainly focus on tailor-made solutions to create customer value.
In 2023, BP Plc launched the green hydrogen cluster of the Valencia region (HyVal) at its Castellón refinery. Led by BP Plc, this public–private collaborative initiative is intended to be based around the phased development of up to 2GW of electrolysis capacity by 2030 for producing green hydrogen at BP Plc's refinery.
In 2022, BP Plc acquired Archaea Energy Inc. a renewable natural gas ("RNG") company for $26 per Archaea Class A and Class B share in cash, or a total enterprise value of approximately $4.1 billion, including approximately $800 million of net debt.
Frequently Asked Questions