The mesotherapy market was valued at US$ 561.20 million in 2019 and is projected to reach US$ 890.92 million by 2027; it is expected to grow at a CAGR of 6.1% from 2020 to 2027.
Various countries such as India, South Korea, Thailand, Singapore, Malaysia, Brazil, Mexico, Saudi Arabia, and the UAE have emerged as the world's best medical tourism destinations. These countries are at the forefront to offer aesthetic services such as nose jobs, facelift, lip jobs, hair transplant, and liposuction. Medical tourists from developed countries such as the US and Canada, and several European countries travel to the abovementioned countries for the treatment of their health problems. As per the Society of Aesthetic Plastic Surgery, South Korea is among the largest countries that has performed the highest number of plastic surgeries. ~400,000 medical tourists visited South Korea for medical procedures in 2018. The country has registered ~20% growth in medical tourism in the past 10 years. According to a Gallup poll, ~14% of South Korean women have undergone cosmetic surgery. The country has also reported increasing demand from foreigners at a rate of 40% of globally performed cosmetic surgeries every year. Therefore, the growing demand for aesthetic procedures and increasing medical tourism drive the growth of the mesotherapy market.
In addition, the inclination toward anti-hair-loss treatments and fat reduction procedures has increased significantly in both developed and developing regions. Surge in the prevalence of hair loss and obesity due to increasingly stressful lifestyle of populations has resulted in the emergence of mesotherapy as an alternative to liposuction. Also, plasma-rich growth factors with mesotherapy have increased the number of mesotherapy across the countries. Moreover, low treatment cost and reduced traveling costs are the prime factors leading the growth of medical tourism, which, in turn is expected to drive the growth of the mesotherapy market during the forecast period.
The scope of the mesotherapy market includes product type, indication, end user, and geography. The global market for mesotherapy is analyzed on the basis of five major regions—North America, Europe, Asia Pacific, the Middle East and Africa, and South and Central America. The report offers insights and in-depth analysis of the mesotherapy market, emphasizing on various parameters such as market trends, technological advancements, and market dynamics, and competitive landscape analysis of the globally leading market players.
Lucrative Regions for Mesotherapy Market


Get more information on this report :
Market Insights
Increasing Adoption of Mesotherapy
Mesotherapy is a no-needle therapy with minimally invasive procedure involving a noncomplex process, and these advantages drive its adoption in the aesthetic and medical sectors. For aesthetic purposes, this therapy is widely used for skin and hair rejuvenation treatments, and for medical purposes, it is used to reduce pain. Mesotherapy enables local treatment in smaller areas of the body, with minimal doses and fewer side-effects. Vitamins, minerals, and enzymes used during mesotherapy are beneficial to skin, which makes mesotherapy a better alternative to expensive surgeries. Additionally, it helps address various skin problems, keeps it hydrated, and brightens the skin tone. Mesotherapy is employed for skin rejuvenation and wrinkle treatment among elderly populations. The adoption rate of mesotherapy is also high among the athletes as they undergo this procedure to lower pain in their body parts. Better results in less time help them return on field quickly. Moreover, reduced costs have added to the popularity of this treatment procedure, especially in fat reduction procedures. Mesotherapy is widely adopted as an alternative to liposuction. Thus, the increasing adoption of mesotherapy drives the mesotherapy market growth.
Product Type-Based Insights
On the basis of product type, the mesotherapy market is segmented into mesotherapy fillers kits, mesotherapy solution kits, mesotherapy chemical peels, anti-ageing masks, and mesotherapy devices. In 2019, the mesotherapy solution kits segment accounted for the highest share of the market; the market for this segment is estimated to grow at the highest CAGR during the forecast period. The growth of this segment is attributed to the rising need for wellness products to offer a good look and better skin conditions across the globe.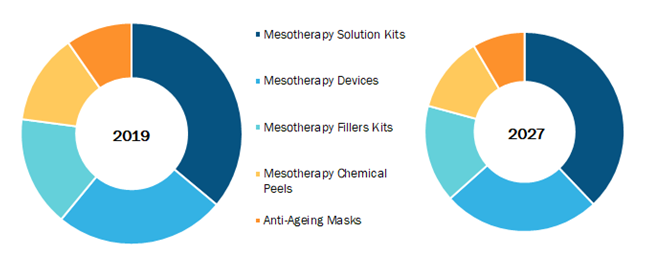 Get more information on this report :
Indication-Based Insights
The mesotherapy market, based on indication, the mesotherapy Market is segmented into anti-ageing and wrinkle treatment, facial rejuvenation, stretch marks, acne and scar treatment, fat loss, and hair loss. The anti-ageing and wrinkle treatment segment held the largest share of the market in 2019, whereas the facial rejuvenation segment is estimated to register the highest CAGR of 6.9% during 2020–2027.
End User-Based Insights
The mesotherapy Market, by end user, is segmented into hospitals, dermatology clinics, cosmetic clinics, and others. The dermatology clinics segment held the largest share of the market in 2019, and it is estimated to register the highest CAGR of 5.8% from 2020 to 2027.
Product launches and expansions are commonly adopted strategies by the mesotherapy market players to expand their footprint worldwide and meet the growing demand. These strategies also enable them to expand their respective portfolios. The companies operating in the mesotherapy market adopt the strategy of product innovation to cater to changing customer needs, which also permits the players to maintain their brand name globally.
By Product Type
Mesotherapy Fillers Kits
Mesotherapy Solution Kits
Mesotherapy Chemical Peels
Anti-Ageing Masks
Mesotherapy Devices

By Indication
Anti-Ageing and Wrinkle Treatment
Facial Rejuvenation
Stretch Marks
Acne and Scar Treatment
Fat Loss
Hair Loss

By End User
Hospitals
Dermatology Clinics
Cosmetic Clinics
Others

By Geography
North America

Europe

France
Germany
UK
Spain
Italy
Rest of Europe

Asia Pacific(APAC)

China
India
Japan
Australia
South Korea
Rest of APAC

Middle East and Africa (MEA)

Saudi Arabia
UAE
South Africa
Rest of MEA
South and Central America (SCAM)
Brazil
Argentina
Rest of SCAM
Company Profiles
Colgate-Palmolive Company (FILORGA)
Mesoskinline
INSTITUTE BCN
KORU PHARMACEUTICALS CO., LTD
Fusion Meso
TOSKANI COSMETICS
DR. Korman
OSTAR BEAUTY SCI-TECH CO LTD.
mesoestetic
Revitacare
Galderma
DERMEDICS International
Mesotech S.r.l.
SKIN TECH PHARMA GROUP
Frequently Asked Questions
Mesotherapy is a non-surgical technique that uses microinjections of pharmaceutical and homeopathic preparations, plant extracts, vitamins, and other ingredients into subcutaneous fat. Mesotherapy injections target adipose fat cells, superficially by inducing lipolysis, rupture and cell death among adipocytes. The injections help in removing excess fat, tighten skin and rejuvenate resulting in younger looking skin.
The factors that are driving growth of the market are increasing adoption of mesotherapy and growing medical tourism are expected to boost the growth of the global mesotherapy market.
The mesotherapy market majorly consists of the players such Colgate-Palmolive Company (FILORGA), Mesoskinline, INSTITUTE BCN, KORU PHARMACEUTICALS CO., LTD, Fusion Meso, TOSKANI COSMETICS, DR. Korman, OSTAR BEAUTY SCI-TECH CO LTD., mesoestetic, Revitacare, Galderma, DERMEDICS International, Mesotech S.r.l., SKIN TECH PHARMA GROUP are among others.