The Middle East and North Africa snack pellets market size is expected to grow from US$ 317.90 million in 2022 to US$ 461.34 million by 2030; it is expected to register a CAGR of 4.8% from 2022 to 2030.
Market Insights and Analyst View:
Snack pellets are non-expanded products made from raw materials such as potato, corn, rice, tapioca, multigrain, and others. These pellets are produced dried and semi processed for easy storage and shipment. The semi-processed products are sold to snack manufacturers, where they are further processed by various methods such as frying and hot air baking. The demand for snack pellets is driven by rising inclination toward convenience food products and increasing adoption of advanced technologies in snack pellet manufacturing. In addition, emerging trend of healthy snacking can create lucrative opportunities for snack pellet manufacturers to develop healthy snack pellets such as multigrain-based pellets and vegetable-based pellets.
Growth Drivers and Challenges:
Extrusion technology, a crucial process in snack pellet production, has evolved over the years, enabling manufacturers to create diverse snack products with improved quality, texture, and taste. These technological advancements have increased production efficiency and facilitated the creation of innovative and appealing snack options, catering to the changing preferences of consumers in the region. One of the notable advancements in extrusion technology that has influenced the MENA snack pellets market is the development of twin-screw extruders. The extruders offer enhanced control over the cooking and expansion processes, resulting in consistent texture and taste of snack pellets. Incorporating twin-screw extruders allows for a wider variety of raw materials, including grains, pulses, and vegetables, for snack pellet production. This innovation has enabled manufacturers to produce healthier and more nutritious snack options that can align with the growing demand from snack manufacturers.
Furthermore, integrating 3D printing technology into the extrusion process has opened new avenues for snack pellet customization. This technology enables manufacturers to create intricate and attractive shapes, enhancing the visual appeal of the final snack products. This advancement has proven beneficial in marketing to younger demographics and families who value novelty and visual appeal in their snack choices. The customization potential offered by 3D printing in extrusion has contributed to expanding the snack pellets market in MENA by offering unique snacking experiences.
Fluctuations in the prices of key raw materials, such as grains and pulses, can directly impact the cost structure for manufacturers. Since snack pellets rely heavily on these raw materials, any substantial cost increase can lead to escalated production expenses. Due to cost pressures, manufacturers absorb additional expenses that can adversely impact their profit margins, or they pass them on to consumers, potentially affecting snack products' affordability and consumption rates. Energy and utility costs also play a pivotal role in increasing the overall cost of snack pellet production. The extrusion process, which is integral to snack pellet manufacturing, requires a significant amount of energy. The volatility of energy prices and potential supply disruptions challenge manufacturers to maintain consistent and predictable production costs. High energy costs can directly impact profit margins and might necessitate cost-cutting measures, which could compromise product quality and hinder innovation efforts. This situation highlights the delicate balance manufacturers must strike between maintaining product quality and managing production costs.
Report Segmentation and Scope:
The Middle East and North Africa snack pellets market is segmented on the basis of source, type, form, and country. Based on source, the Middle East and North Africa snack pellets market is segmented into potato, corn, rice, tapioca, multigrain, and others. By type, the market is bifurcated into plain and flavored. By form, the Middle East and North Africa snack pellets market is segmented into laminated, die face, tri dimensional, and others. By country, the Middle East and North Africa snack pellets market is segmented into Saudi Arabia, the UAE, Egypt, Morocco, and the Rest of Middle East and North Africa.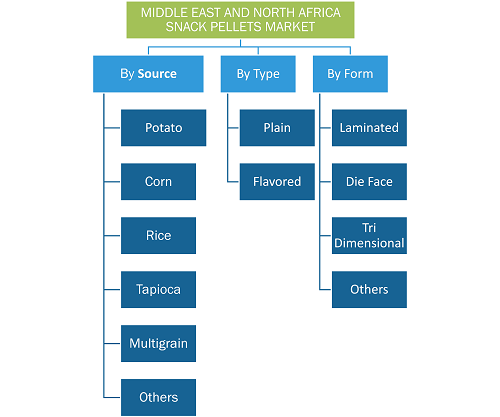 Sample PDF showcases the content structure and the nature of the information with qualitative and quantitative analysis.
Request discounts available for Start-Ups & Universities
Segmental Analysis:
Based on type, the Middle East and North Africa snack pellets market is segmented into plain and flavored. The plain segment holds a significant share of the Middle East and North Africa snack pellets market. However, the market for the flavored segment is expected to grow significantly during the forecast period. The demand for plain snack pellets is upsurging across the region due to their neutral flavor and versatile nature. These snack pellets serve as a blank canvas, allowing snack manufacturers to add a wide range of flavors, appealing to the diverse tastes of the local population. Key factor driving the popularity of plain snack pellets is their compatibility with traditional Middle Eastern and North African spices and seasonings.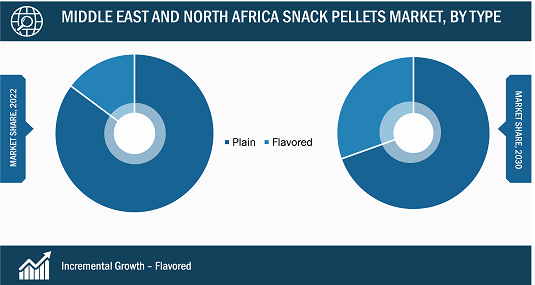 Sample PDF showcases the content structure and the nature of the information with qualitative and quantitative analysis.
Request discounts available for Start-Ups & Universities
Country Analysis:
Based on country, the Middle East and North Africa snack pellets market is segmented into Saudi Arabia, the UAE, Egypt, Morocco, and the Rest of Middle East and North Africa. The Middle East and North Africa snack pellets market was dominated by Egypt, which accounted for US$ 72.42 million in 2022. The UAE is the second major contributor to the market. The UAE snack pellets market is growing due to changing consumer preferences for ready-to-eat products, rising urbanization, and growing demand for convenient and on-the-go food options. The increasing demand for snacks with diverse flavors inspired by different cuisines, owing to the presence of a multicultural population, propel the market growth in the country. Moreover, the rising demand for healthier snack options has propelled the development of snack pellets made with multigrain, vegetable, and alternative flours, which has provided an opportunity for snack pellets manufacturers in the country.
Industry Developments and Future Opportunities:
Initiatives taken by the key players operating in the Middle East and North Africa snack pellets market are listed below:
In 2020, Quality Pellets AS launched its first certified organic and quinoa-based seaweed pellets across its operating regions, including Europe, the Middle East & Africa, and Asia.
COVID-19 Pandemic Impact:
Before the COVID-19 pandemic, the Middle East and North Africa (MENA) snack pellets market was majorly driven by strong demand for cereals, grain & pulses; rising awareness regarding the health benefits of healthy and value-added nutritional food products; and growing preference of consumers for exploring different convenient and on-the-go snacking options. However, the COVID-19 pandemic adversely affected economies such as the UAE, Saudi Arabia, Nigeria, and Africa and almost every industry, including food & beverages. The pandemic significantly disrupted the agricultural supply chains. Lockdowns, trade bans, and border restrictions hampered the production and supply of raw materials such as potatoes, wheat, corn, barley, and other cereals and pulses. The agricultural yield was reduced significantly due to lockdown restrictions, labor shortage, and nationwide business shutdown. Initially, in 2020, consumers started panic buying due to low production of snack options and fear of lockdown, which created a massive shortage of agricultural produce.
Many businesses recovered as the governments of various countries eased the restrictions after the initial months of lockdown in 2020. The introduction of the COVID-19 vaccine offered relief from the distressing pandemic situation, leading to a rise in business activities. Manufacturers of snack pellets overcame the demand and supply gap as they were permitted to operate at full capacity. Therefore, the resumption of operations in the manufacturing units positively impacted the snack pellets market in the Middle East and North Africa (MENA).
Competitive Landscape and Key Companies:
Bach Snacks SAL, Societe Cooperative Agricole Limagrain, Crunchy Food FZE, GHANEM ALMOUNAJED MD, Quality Pellets AS, and SOLINO Ltd Corp SaRL are among the prominent players operating in the Middle East and North Africa snack pellets market. These market players are adopting strategic development initiatives to expand, further driving the Middle East and North Africa snack pellets market growth.

Report Coverage
Revenue forecast, Company Analysis, Industry landscape, Growth factors, and Trends

Segment Covered
Source, Type, and Form

Regional Scope
North America, Europe, Asia Pacific, Middle East & Africa, South & Central America

Country Scope
This text is related
to country scope.
The List of Companies - Middle East and North Africa Snack Pellets Market
Bach Snacks SAL
Societe Cooperative Agricole Limagrain
Crunchy Food FZE
GHANEM ALMOUNAJED MD
Quality Pellets AS
SOLINO Ltd Corp SaRL
The Insight Partners performs research in 4 major stages: Data Collection & Secondary Research, Primary Research, Data Analysis and Data Triangulation & Final Review.
Data Collection and Secondary Research:
As a market research and consulting firm operating from a decade, we have published many reports and advised several clients across the globe. First step for any study will start with an assessment of currently available data and insights from existing reports. Further, historical and current market information is collected from Investor Presentations, Annual Reports, SEC Filings, etc., and other information related to company's performance and market positioning are gathered from Paid Databases (Factiva, Hoovers, and Reuters) and various other publications available in public domain.
Several associations trade associates, technical forums, institutes, societies and organizations are accessed to gain technical as well as market related insights through their publications such as research papers, blogs and press releases related to the studies are referred to get cues about the market. Further, white papers, journals, magazines, and other news articles published in the last 3 years are scrutinized and analyzed to understand the current market trends.
Primary Research:
The primarily interview analysis comprise of data obtained from industry participants interview and answers to survey questions gathered by in-house primary team.
For primary research, interviews are conducted with industry experts/CEOs/Marketing Managers/Sales Managers/VPs/Subject Matter Experts from both demand and supply side to get a 360-degree view of the market. The primary team conducts several interviews based on the complexity of the markets to understand the various market trends and dynamics which makes research more credible and precise.
A typical research interview fulfils the following functions:
Provides first-hand information on the market size, market trends, growth trends, competitive landscape, and outlook
Validates and strengthens in-house secondary research findings
Develops the analysis team's expertise and market understanding
Primary research involves email interactions and telephone interviews for each market, category, segment, and sub-segment across geographies. The participants who typically take part in such a process include, but are not limited to:
Industry participants: VPs, business development managers, market intelligence managers and national sales managers
Outside experts: Valuation experts, research analysts and key opinion leaders specializing in the electronics and semiconductor industry.
Below is the breakup of our primary respondents by company, designation, and region:

Once we receive the confirmation from primary research sources or primary respondents, we finalize the base year market estimation and forecast the data as per the macroeconomic and microeconomic factors assessed during data collection.
Data Analysis:
Once data is validated through both secondary as well as primary respondents, we finalize the market estimations by hypothesis formulation and factor analysis at regional and country level.
3.1 Macro-Economic Factor Analysis:
We analyse macroeconomic indicators such the gross domestic product (GDP), increase in the demand for goods and services across industries, technological advancement, regional economic growth, governmental policies, the influence of COVID-19, PEST analysis, and other aspects. This analysis aids in setting benchmarks for various nations/regions and approximating market splits. Additionally, the general trend of the aforementioned components aid in determining the market's development possibilities.
Various factors that are especially aligned to the country are taken into account to determine the market size for a certain area and country, including the presence of vendors, such as headquarters and offices, the country's GDP, demand patterns, and industry growth. To comprehend the market dynamics for the nation, a number of growth variables, inhibitors, application areas, and current market trends are researched. The aforementioned elements aid in determining the country's overall market's growth potential.
The "Table of Contents" is formulated by listing and analyzing more than 25 - 30 companies operating in the market ecosystem across geographies. However, we profile only 10 companies as a standard practice in our syndicate reports. These 10 companies comprise leading, emerging, and regional players. Nonetheless, our analysis is not restricted to the 10 listed companies, we also analyze other companies present in the market to develop a holistic view and understand the prevailing trends. The "Company Profiles" section in the report covers key facts, business description, products & services, financial information, SWOT analysis, and key developments. The financial information presented is extracted from the annual reports and official documents of the publicly listed companies. Upon collecting the information for the sections of respective companies, we verify them via various primary sources and then compile the data in respective company profiles. The company level information helps us in deriving the base number as well as in forecasting the market size.
3.4 Developing Base Number:
Aggregation of sales statistics (2020-2022) and macro-economic factor, and other secondary and primary research insights are utilized to arrive at base number and related market shares for 2022. The data gaps are identified in this step and relevant market data is analyzed, collected from paid primary interviews or databases. On finalizing the base year market size, forecasts are developed on the basis of macro-economic, industry and market growth factors and company level analysis.
Data Triangulation and Final Review:
The market findings and base year market size calculations are validated from supply as well as demand side. Demand side validations are based on macro-economic factor analysis and benchmarks for respective regions and countries. In case of supply side validations, revenues of major companies are estimated (in case not available) based on industry benchmark, approximate number of employees, product portfolio, and primary interviews revenues are gathered. Further revenue from target product/service segment is assessed to avoid overshooting of market statistics. In case of heavy deviations between supply and demand side values, all thes steps are repeated to achieve synchronization.
We follow an iterative model, wherein we share our research findings with Subject Matter Experts (SME's) and Key Opinion Leaders (KOLs) until consensus view of the market is not formulated – this model negates any drastic deviation in the opinions of experts. Only validated and universally acceptable research findings are quoted in our reports.
We have important check points that we use to validate our research findings – which we call – data triangulation, where we validate the information, we generate from secondary sources with primary interviews and then we re-validate with our internal data bases and Subject matter experts. This comprehensive model enables us to deliver high quality, reliable data in shortest possible time.
Trends and growth analysis reports related to Middle East and North Africa Snack Pellets Market
---