The NOR Flash Market is projected to reach US$ 6,069.5 million by 2028 from US$ 2,361.9 million in 2021; it is estimated to grow at a CAGR of 14.4% from 2021 to 2028.


NOR flash memory is an electronic nonvolatile computer memory storage medium that can be electrically deleted and reprogrammed. The growing demand for NOR flash in applications where individual bytes of data need to be written and read, and random access and execute-in-place access are required is boosting the market growth. NOR flash solutions have capacities in megabits and low gigabits range, which is their major feature. Further, high reliability and data integrity features have led to an increased customer base for NOR flash memory over the years. Rising demand for consumer electronics and communication devices, and the increasing penetration of electronics in automotive and industrial applications boost the NOR flash market growth. Further, the increasing applications of NOR flash memory in automotive, industrial, and medical sectors as well as in technologies such as the Internet of things (IoT), active-matrix organic light-emitting diode (AMOLED), and liquid crystal display (LCD) would drive the market during the forecast period.
Impact of COVID-19 Pandemic on NOR Flash Market
The COVID-19 pandemic hampered the economic growth of the manufacturing sector in most countries due to business shutdown and lockdown restrictions. Sales of products such as cars and electronics also declined for a few months in 2020. The shuttering of office premises, public places, schools, transportation, and other spaces also hampered the market growth. The semiconductors industry took a significant hit as dur to the lowering of demand for electronic components from the industrial sector. The revenue model for microelectronics has declined as no mass production was carried in the lockdown period. Post lockdown, the semiconductors industry started to regain the market share as production facilities resumed their operations, simultaneously ensuring compliance with all necessary measures. Besides, work from home and remote monitoring strategies also contributed to surge in the sale of advanced electronics products for better connectivity. The renewed importance of the IT and telecommunications sectors allowed them to evolve in accordance with new technologies such as IoT connectivity and high-speed, wi-fi-compatible packaging technologies. According to the Semiconductor Industry Association (SIA), the global semiconductor sales increased by 11% in the Q3 2020, which added to the demand for NOR flash memory.
Lucrative Regions for NOR Flash Providers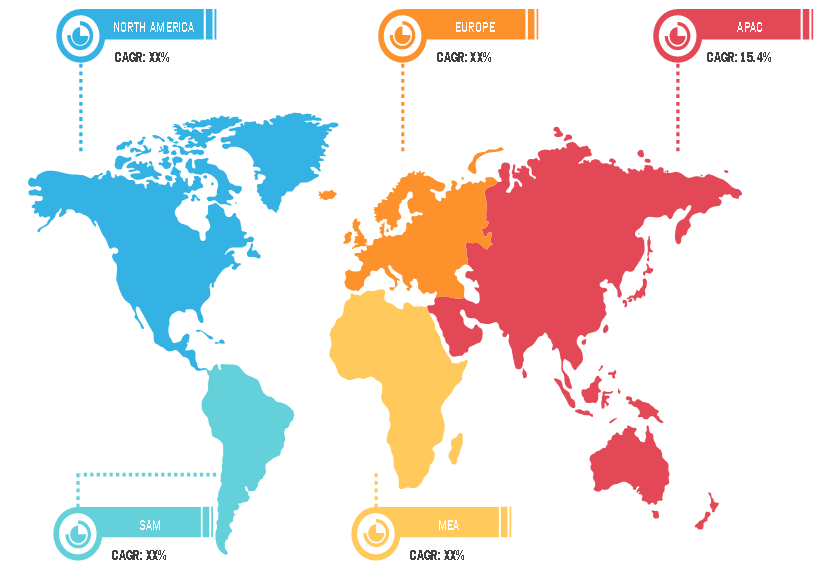 Get more information on this report :
NOR Flash Market Insights
Increasing Need for Advanced Features Boosts NOR Flash Market Growth
The rapidly expanding technological developments, coupled with the humongous production of data, has critically increased the demand for flash memory solutions that are capable of handling large data efficiently. The NOR flash memory fits into almost every expectation of end user, as they deliver a better-read performance and operate faster than already existing memory technologies. NOR flash memory is one of two types of nonvolatile storage technologies. It is most used in applications that require individual bytes of data to be written and read, and it is also used in random access and execute-in-place access techniques. The consumer electronics industry is witnessing immense growth in both developed and developing countries majorly due to advancements and smart features of modern devices. As a result, smartphones, tablets, PCs, TVs, washing machines, refrigerators, and music players have become an integral part of people's lives. These devices are becoming smarter with the ongoing technological advancements and integration of the Internet of things (IoT) and artificial intelligence (AI) with them.
Application Based Market Insights
There is an increase in demand for NOR flash memory in many industrial applications, requiring more code and data storage. The demand for embedded, serial NOR flash memory is increasing with the device developers seeking high-density embedded memory solutions that can provide storage at the lowest available cost per gigabit. Various industrial devices, such as security systems, military systems, and retail management products, require highly efficient NOR flash memory for data storage. Industrial manufacturers are focusing on implementing industrial IoT (IIoT) in their manufacturing plants to have control over the machines within these plants. This technology helps the companies to remotely monitor each machine throughout the production process. The growing influence of internet of Things (IoT) and artificial intelligence (AI) has propelled the demand for smart servers and devices, leading to the requirement of higher transfer speed and computing power. Thus, needs of high-quality storage devices would propel the demand for large sensor-based electronic integrations, thereby pushing the growth of the NOR flash market.
NOR Flash Market, by Application – 2020 and 2028 (%)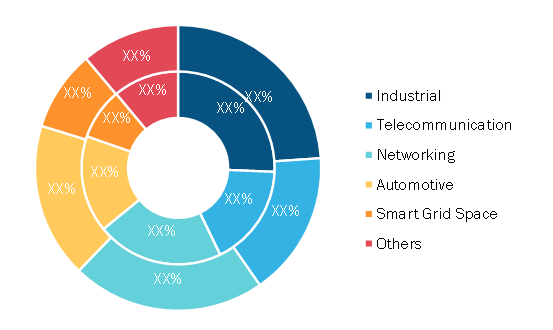 Get more information on this report :
Note: The outer circle represents market size for 2028, and the inner circle represents market size for 2020.
Strategic Insights
Report Coverage - NOR Flash Market
Report Coverage
Details
Market Size Value in
US$ 2,361.9 million in 2021
Market Size Value by
US$ 6,069.5 million by 2028
Growth rate
CAGR of 14.4% from 2021-2028
Forecast Period
2021-2028
Base Year
2021
No. of Pages
185
No. of Tables
88
No. of Charts & Figures
83
Historical data available
Yes
Segments covered
Type, Density and Application
Regional scope
North America, Europe, Asia Pacific, Middle East & Africa, South & Central America
Country scope
US, Canada, Mexico, UK, Germany, Spain, Italy, France, India, China, Japan, South Korea, Australia, UAE, Saudi Arabia, South Africa, Brazil, Argentina
Report coverage
Revenue forecast, company ranking, competitive landscape, growth factors, and trends
Free Sample Copy Available
Players operating in the NOR Flash Market adopt strategies such as mergers, acquisitions, and market initiatives to maintain their positions in the market. A few developments by the key players are listed below:
In 2021, Winbond Electronics Corporation, a major global supplier of semiconductor memory solutions, has announced the addition of a new single die monolithic 1.8V 512Mb SPI NOR flash that can handle up to 166 MHz standard/dual/quad SPI clocks to their comprehensive solution of SPI NOR flash.
In 2020, Infineon Technologies AG expands its memory capabilities with the acquisition of Cypress Semiconductor Corporation. Semper Secure is now available for Infineon's award-winning Semper NOR Flash memory platform. Semper Secure NOR Flash is the first memory solution to combine security and functional safety in a single NOR flash device, delivering the security, safety, and reliability required for the most advanced connected automotive, industrial, and communications systems. It is based on Semper NOR Flash's field-proven and robust smart memory architecture.
The global NOR Flash Market has been segmented as follows:
By Type
Serial NOR Flash
Parallel NOR Flash
By Density
Less than 250Mb
250Mb-1Gb
More than 1Gb
By Application
Industrial
Telecommunication
Networking
Automotive
Smart Grid Space
Others
By Geography
North America
Europe

Germany
France
Italy
UK
Russia
Rest of Europe

Asia Pacific (APAC)

Australia
China
India
Japan
South Korea
Rest of APAC

Middle East and Africa (MEA)

South Africa
Saudi Arabia
UAE
Rest of MEA

South America (SAM)

Brazil
Argentina
Rest of SAM
Company Profiles
Cypress Semiconductor Corporation
Integrated Silicon Solution Inc.
Micron Technology, Inc.
Winbond Electronics Corporation
Microchip Technologies, Inc.
Macronix International Co., Ltd
JSC
Elite Semiconductor Microelectronics Technology Inc.
Dialog Semiconductor
GigaDevice
Frequently Asked Questions