The travel vaccines market is projected to reach US$ 5,914.22 million by 2028 from US$ 3,078.94 million in 2021. It is estimated to grow at a CAGR of 9.8% from 2021 to 2028.
Travel vaccines, also called travel immunizations, are vaccinations for travelers can get before visiting certain regions of the world, which help protect them from serious infections and diseases common in the areas where the traveler is going to. Travel vaccines are safe, effective ways to protect travelers from bringing home infections that can lead to endemics or outbreaks. They are intended to protect travelers and to prevent disease outbreaks within and between countries. Some countries even require proof of vaccination for travelers traveling to or from a country. The rapid growth of the travel and tourism sector and the rising incidence of infectious diseases contribute to the market progress. However, the high cost of travel vaccines hinders the travel vaccines market growth.
The travel vaccines market is assessed on the basis of product, application, and geography. By geography, the market is broadly segmented into North America, Europe, Asia Pacific, the Middle East & Africa, and South & Central America. The travel vaccines market report offers insights and in-depth analysis of the market, emphasizing parameters such as travel vaccines market size, market trends, technological advancements, and market dynamics, along with the analysis of the competitive landscape of the leading market players.
Strategic Insights
Report Coverage - Travel Vaccines Market
Report Coverage
Details
Market Size Value in
US$ 3,078.94 million in 2021
Market Size Value by
US$ 5,914.22 million by 2028
Growth rate
CAGR of 9.8% from 2021 to 2028.
Forecast Period
2021- 2028
Base Year
2021
No. of Pages
198
No. of Tables
60
No. of Charts & Figures
104
Historical data available
Yes
Segments covered
Product and Application
Regional scope
North America, Europe, Asia Pacific, Middle East & Africa, South & Central America
Country scope
US, Canada, Mexico, UK, Germany, Spain, Italy, France, India, China, Japan, South Korea, Australia, UAE, Saudi Arabia, South Africa, Brazil, Argentina
Report coverage
Revenue forecast, company ranking, competitive landscape, growth factors, and trends
Free Sample Copy Available
The growth of the travel vaccines market size is expected to grow due to the increasing travel and tourism, prevention of transnational infections, and the growing incidences of infectious diseases. However, the high cost of travel vaccines is expected to hamper the travel vaccines market's growth.
Lucrative Regions in Travel Vaccines Market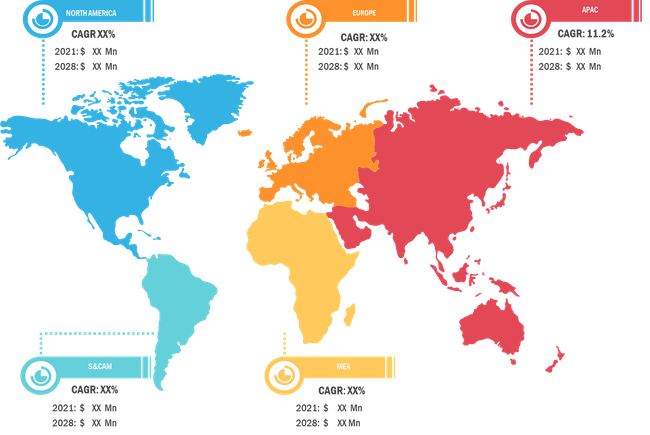 Get more information on this report :
Market Insights
Increasing Travel & Tourism Drives Travel Vaccines Market
As travelling and tourism have become an integral part of the human lifestyle, the travel and tourism industry has flourished considerably. Travelling and tourism have not only added a change in the ongoing routine of people but have also offered opportunities to explore different cultures, traditions, spiritualism, and for medical tourism. According to a survey conducted by The Millennial Travel Study by Skyscanner, over ~1,000 millennials (aged 18-35) were quizzed on factors, such as their preferred destination, mode of travel, and interests wherein, the survey showed that a major share of respondents preferred traveling to international destinations over domestic ones. The survey also noted that European destinations are a firm favorite among travelers of all age groups along with the US and New Zealand. Also, statistics from Our World in Data which collects data from the World Tourism Organization, showed increased tourism in various regions in 2019, such as the European Union saw ~966.44 million arrivals, North America saw ~200 million arrivals, and the Middle East & North Africa saw ~128 arrivals. Furthermore, arrivals in France stood at 212 million in 2018, while other European countries such as Spain saw 126.17 million arrivals in 2019.


The United Nations World Tourism Organization (UNWTO) indicated a rising number of arrivals, with 2.403 billion arrivals in 2019 and an estimated expenditure of US$ 1.439 billion in international tourism. While the COVID-19 pandemic hugely disrupted this trend, the anti-COVID-19 vaccination drives rollout for the masses along with COVID-19 regulations for safe traveling are expected to aid the normalization of tourism and travel. During traveling, a traveler is at risk of contracting regional diseases, which can lead to transnational disease outbreaks/epidemics. Thus, traveling outside the country requires immunization as a safety and precautionary measure to avoid the spread of such infections. Various countries have their own mandates and regulations to protect their citizens from travel-associated infections. For instance, the UK, National Health Service (NHS) organizes routine immunization or vaccination schedule for its citizens. If a person is traveling outside the UK, he/she needs to get vaccinated to prevent infectious diseases such as hepatitis A, typhoid, and yellow fever. Similarly, in Saudi Arabia, travelers coming from Hajj and Umrah pilgrimages are required to show proof of vaccination for meningitis and seasonal influenza. Many countries require mandatory vaccination proofs documented on an International Certificate of Vaccination or Prophylaxis (ICVP). Vaccination is necessary against the diseases mentioned in the US HHS (Department of Health & Human Services) such as chickenpox, cholera, COVID-19, diphtheria, influenza, Hepatitis A, Hepatitis B, Haemophilus influenzae type B, human papillomavirus, Japanese encephalitis, measles, meningococcal, mumps, pneumococcal, polio, rabies, rotavirus, rubella, shingles, tetanus, typhoid fever, whooping cough, and yellow fever, depending on the traveling country. The concern regarding the spread of regional diseases across nations is boosting the demand for travel vaccines market.
Product-Based Insights
Based on product, the global travel vaccines market is segmented into hepatitis A, hepatitis B, meningococcal vaccines, DPT, yellow fever, typhoid, Japanese encephalitis, measles mumps & rubella, rabies, polio, influenza, varicella & shingles, cholera, and others. The hepatitis A segment held the largest travel vaccines market share in 2021. While the hepatitis A segment is expected to account for the largest share during the forecast period, the DPT segment is projected to register the highest CAGR in the travel vaccines market during the forecast period due to the rising usage of DPT vaccine before travel. This is expected to aid the DPT vaccine usage before traveling and further drive the travel vaccines market growth over the next few years.
Travel Vaccines Market, by Product – 2021 and 2028

Get more information on this report :
Application-Based Insights
Based on application, the market is bifurcated into domestic travel and outbound travel. The outbound travel segment held a larger market share in 2021 and is anticipated to register a higher CAGR in the market during the forecast period. Increasing travel for business, tourism, and other purposes, such as medical tourism and migration, are boosting outbound travels worldwide, thereby driving the demand for travel vaccines.
Companies commonly adopt organic strategies to expand their footprints and product portfolios in the market. Moreover, the companies have implemented various inorganic strategies such as mergers and acquisitions, and partnerships. For instance, in February 2021, Dynavax Technologies Corporation announced that the European Commission (EC) granted Marketing Authorization for HEPLISAV B [Hepatitis B Vaccine (Recombinant), Adjuvanted] for the active immunization against hepatitis B virus infection (HBV) caused by all known subtypes of hepatitis B virus in adults of age 18 and more. The approval was issued following the favorable opinion of the European Medicines Agency (EMA) on the company's Marketing Authorization Application.
Company Profiles
GlaxoSmithKline plc
Merck & Co., Inc.
Sanofi
Novartis AG
Pfizer Inc.
Dynavax Technologies
Emergent BioSolutions Inc.
Abbott
Bharat Biotech
Valneva SE
Frequently Asked Questions