Digital Workplace Transformation Through Adoption of Advanced Solutions to Support Employee Communication Software Market Growth during 2020–2027
According to our latest study on "Employee Communication Software Market Forecast to 2027 – COVID-19 Impact and Global Analysis – by Deployment Type (On-Premise and Cloud), Enterprise Size (SMEs and Large Enterprises), and Industry (BFSI, Manufacturing, Retail, Healthcare, IT and Telecom, and Other Industries)," the market was valued at US$ 816.41 million in 2021 and is projected to reach US$ 1,780.09 million by 2027; it is expected to grow at a CAGR of 11.8% from 2020 to 2027. The report highlights key factors driving the market growth and prominent players with their developments in the market.
Businesses today are increasingly adopting digital and technology solutions to transform their business models and existing processes to enhance operational efficiency and increase revenue growth by implementing effective digital solutions and automated systems. In the past few years, proliferation of smart and connected devices, adoption of cloud computing, and emergence of technologies such as artificial intelligence (AI) and internet of things (IoT) have led to advent of smart and intelligent workplaces. Due to increasing penetration of web applications, mobile applications, and SaaS-based solutions in enterprises, the demand for advanced employee communication tools for effective and efficient business communication is rising at an impressive pace. The need for providing enhanced customer experience, streamlining business applications/systems, and engaging mobile and stationary workforce is boosting the adoption of employee communication software solutions among large, small, and medium-sized enterprises. In addition, the growing demand for end-to-end business process optimization, enhanced operational efficiency, efficient employee interaction, and reduced miscommunication are among the major factors that are fueling the adoption of these solutions globally. Beekeeper AG; Nudge Corporation; Poppulo (E-Search DAC); Simpplr Inc.; Smarp Oy; SnapComms; Sociabble, Inc.; Staffbase; theEMPLOYEEapp; and Workvivo Limited are among the key players operating in the employee communication software market.
Impact of COVID–19 Pandemic on North America Employee Communication Software Market
In 2019, North America led the employee communication software market in terms of revenue share and it is anticipated to hold a substantial share during the forecast period of 2020 to 2027. The region is characterized by the presence of developed nations such as the US and Canada, where the adoption of advanced technology/communication solutions, mobile applications, and digital services is quite high owing to the huge presence of key technology and internal communication software companies, consumer electronics manufacturers, cloud service providers, and tech-savvy population. Presently, in terms of COVID-19 outbreak, the US is the world's and North America's worst-affected country, and the economic and industry growth has negatively affected the country. However, to continue daily operations and key business activities, remote working has been adopted by major companies operating in this region. With this development, the demand for secure and advanced employee communication solutions to ensure proper communication and high productivity with continuous employee engagement is growing at an impressive pace over the past few months. Hence, the demand for employee communication platforms among enterprises is rising in a positive manner and COVID-19 has had a positive impact on the market growth.
Employee Communication Software Market Breakdown – by Region, 2019 (%)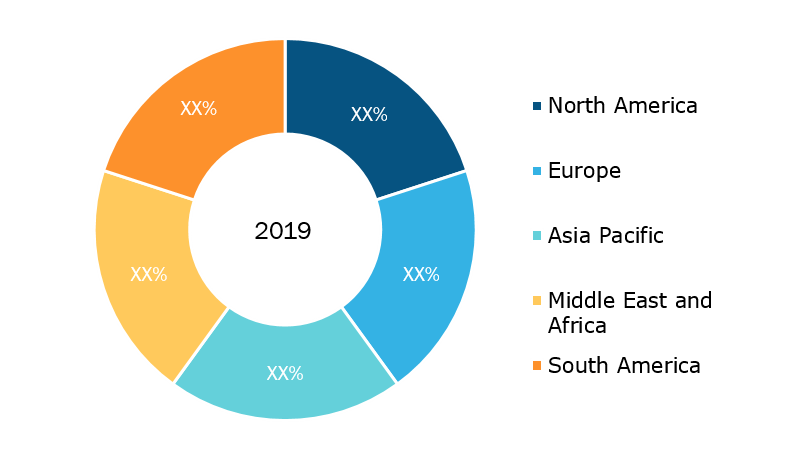 ---
Employee Communication Software Market to Grow at a CAGR of 11.8% to reach US$ 1,780.09 Million from 2020 to 2027
Download Free Sample
---
Employee Communication Software Market Forecast to 2027 - COVID-19 Impact and Global Analysis By Deployment Type (On-Premise and Cloud), Enterprise Size (SMEs and Large Enterprises), and Industry (BFSI, Manufacturing, Retail, Healthcare, IT and Telecom, and Other Industries)
The global employee communication software market has been segmented as follows:
Employee Communication Software Market– by Deployment Type
Employee Communication Software Market– by Enterprise Size
Employee Communication Software Market– by Industry
BFSI

Manufacturing

Retail

Healthcare

IT and Telecom

Other Industries
Employee Communication Software Market– by Geography
North America

Europe

Germany

France

Italy

UK

Russia

Rest of Europe

Asia Pacific (APAC)

Australia

China

India

Japan

South Korea

Rest of APAC

Middle East and Africa (MEA)

South Africa

Saudi Arabia

UAE

Rest of MEA

South America (SAM)

Brazil

Argentina

Rest of SAM
Contact Us
Phone: +1-646-491-9876
Email Id: sales@theinsightpartners.com
Download Free PDF Brochure
---
Related Readings
---