Rise in Demand for Energy Efficient Solutions Boost HVAC System Market Growth
According to our latest market study on "HVAC System Market Forecast to 2028 - COVID-19 Impact and Global Analysis – by Component, Type, Implementation and Application" the market is expected to grow from US$ 246.10 billion in 2022 to US$ 455.96 billion by 2028; it is anticipated to grow at a CAGR of 10.8% from 2022 to 2028.
Heating, ventilation, and air conditioning (HVAC) systems utilizes various technologies to control and maintain the qualitative aspects of indoor air. HVAC systems are experiencing widespread adoption owing to the features provided in this equipment or systems and their benefits amidst climate change and temperature needs. Such factors promoted revenue generation of HVAC system market players. The traditional or old air conditioning (AC) units can cause 100 million tons of greenhouse gas emissions each year. To resolve these issues, around 200 countries have signed the environmental agreement. The focus behind this is to limit the number of hydrofluorocarbon refrigerants (HFC) used in many air conditioners, as HFC is considered the most damaging to energy utilization. HVAC systems provide benefits such as cost savings and energy savings and help to maintain sustainable goals regarding environmental safety. The rapid urbanization and growing construction industry across the globe are projected to boost the HVAC system market growth.
The HVAC system market in APAC is segmented into China, India, Japan, South Korea, and Rest of APAC. The Asia Pacific is expected to grow at a fastest CAGR due to presence of massive HVAC system manufacturers in China, India, Japan, South Korea, and Taiwan. Increasing industrial and infrastructural operations in the Asia Pacific, especially in China and India, led to a rise in the number of construction projects. Such factors are likely to drive APAC's HVAC system market size during the forecast period.
The global HVAC system market ecosystem comprises the following stakeholders: electrical component suppliers, other component suppliers, technology providers, HVAC system manufacturers, third party service providers, aftermarket part providers and end users. Electrical & electronic component suppliers supply HVAC manufacturers with critical components of the HVAC system such as the fans, display modules and control systems, among others. Other component suppliers include suppliers of aluminum plates, copper tubes, aluminum ducts and plastic body parts. Technology providers include communication protocol providers and user interface developers among others. HVAC system market players integrate the various components and ensure that their HVAC products function as intended after installation. Third party service providers provide different types of services, such as assessment of a property and recommending appropriate HVAC system among others. Aftermarket part providers supply HVAC parts which may require replacement. End users refer to the user of the HVAC systems.
High temperature through the summer in the northern region of India and high humidly levels in the southern and western regions are driving the growth of the HVAC systems, and air conditioning equipment. In addition, the increasing proliferation of commercial and residential construction is also projected to foster the HVAC sales in India.
The HVAC system market is segmented into component, type, implementation, and application. Based on component, the market is segmented into thermostat, air handling units, central ACs, furnace, heat pump, compressor, and others. On the basis of type, the market is segmented into split system, ductless system, and packaged system. Based on installation, the market is bifurcated into new installation and retrofit. On the basis of application, the market is further segmented in to residential, commercial and industrial.
HVAC System Market Share - by Region, 2021 and 2028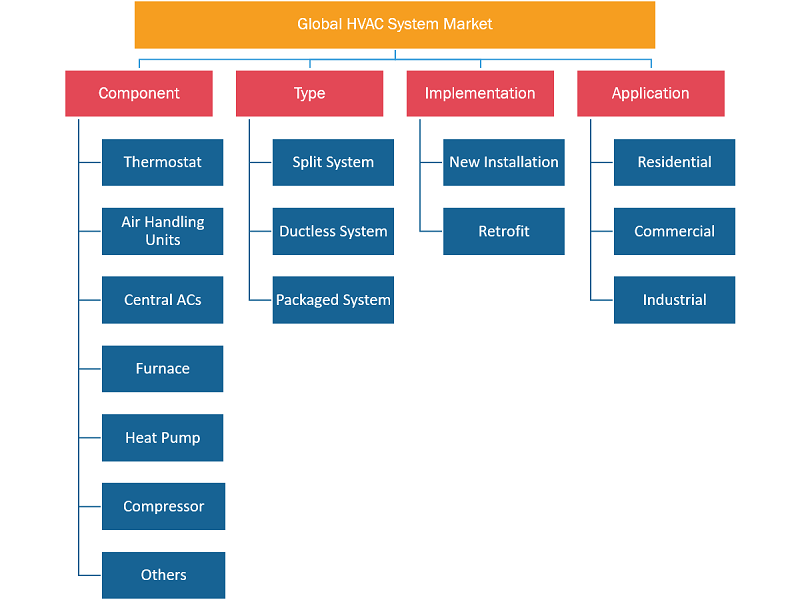 Report : HVAC System Market Forecast to 2028 - COVID-19 Impact and Global Analysis By Component (Thermostat, Air Handling Units, Central ACs, Furnace, Heat Pump, Compressor, and Others), Type (Split System, Ductless System, and Packaged System), Implementation (New Installation and Retrofit), and Application (Residential, Commercial, and Industrial)
Daikin Industries, Ltd.; Emerson Electric Co.; Rheem Manufacturing Company; Honeywell International Ltd.; Johnson Controls International plc; LG Electronics, Inc.; EVAPCO; Lennox International; Carrier AG and Trane Technologies, Inc. are among the key players profiled during this study on the HVAC system market. In addition, several other important market players were studied and analyzed during this study to get a holistic view of the market and its ecosystem.
The pandemic severely impacted the global HVAC system market in the first three quarters of 2020. Manufacturing was disrupted due to a shortage of components, while supply to the end user got interrupted due to travel bans. However, post 3rd quarter of 2020, as industries started resuming, demand for HVAC systems picked up. Several government and non-government organizations released guidance documents on increasing ventilation inside buildings since enclosed spaces can often become hotspot for the coronavirus. It promoted the adoption of various ventilation products such as HVAC systems, air purifiers and exhaust fans. Thus, the COVID-19 pandemic resulted in a drop in the HVAC system market size in 2020 and the first few quarters of 2021.
Contact Us
Contact Person: Sameer Joshi