The arthroscopy devices market is projected to reach US$ 9,853.88 million by 2028 from US$ 5,725.24 million in 2021; it is expected to register a CAGR of 8.1% from 2021 to 2028.
Arthroscopy is a procedure for diagnosing and treating joint problems. A surgeon inserts a narrow tube attached to a fiber-optic video camera called an arthroscope through a small incision about the size of a buttonhole. An arthroscope is a medical device that allows doctors to see within bodily joints such as the knee, hip, spine, shoulder, and elbow to inspect, diagnose, and perform therapeutic procedures. Arthroscopy devices can examine illnesses like osteoarthritis, rheumatoid arthritis, tendinitis, and bone tumors in the joints.
The report offers insights and in-depth analysis of the arthroscopy devices market emphasizing various parameters such as market trends, technological advancements, and market dynamics. It also provides the competitive landscape analysis of leading market players worldwide. Furthermore, it includes the impact of the COVID-19 pandemic on the market across all the regions. The COVID-19 pandemic created both a public health crisis and an economic crisis worldwide. Before the pandemic, the global arthroscopy devices market was constantly growing as regular screening, consolations, and treatments were going on. The first wave of COVID-19 disrupted the consultations, follow-ups, and screenings of oncological cases. The uncontrolled situation was created in the healthcare industry worldwide, led the reduced number of consultations and a smaller number of osteoarthritis and rheumatoid arthritis cases diagnosed. Several companies have experienced severe losses in the last quarter of 2019; the pandemic also negatively influenced the first and second quarters of 2020. Hence, the impact of the COVID-19 pandemic on the global market was immediate and drastic. Businesses worldwide were hampered due to disruption in the supply chain and increased demand of healthcare products and services. To reduce COVID-19 infection in hospitals and clinics, healthcare practitioners and patients adopted and preferred remote patient treatment. Under these unforeseeable circumstances, the orthopedic practice could not remain unaffected. Many surgical treatments and non-urgent consultations were canceled or postponed. Elective surgery was suspended in many institutions, and the overall volume of orthopedic cases fell dramatically in order to limit the spread of the virus and reserve and reallocate resources in healthcare personnel (nurses, anesthesiologists), medical equipment (personal protective equipment, ventilators), and beds. The "stay at home" strategy in the world resulted in a significant reduction in arthroplasty and arthroscopy surgeries, as well as a decrease in the incidence of osteoarthritis cases during the COVID-19 period.
Strategic Insights
Report Coverage - Arthroscopy Devices Market
Report Coverage
Details
Market Size Value in
US$ 5,725.24 Million in 2021
Market Size Value by
US$ 9,853.88 Million by 2028
Growth rate
CAGR of 8.1% from 2021 to 2028
Forecast Period
2021-2028
Base Year
2021
No. of Pages
169
No. of Tables
60
No. of Charts & Figures
76
Historical data available
Yes
Segments covered
Product, and Application
Regional scope
North America, Europe, Asia Pacific, Middle East & Africa, South & Central America
Country scope
US, Canada, Mexico, UK, Germany, Spain, Italy, France, India, China, Japan, South Korea, Australia, UAE, Saudi Arabia, South Africa, Brazil, Argentina
Report coverage
Revenue forecast, company ranking, competitive landscape, growth factors, and trends
Free Sample Copy Available
As the healthcare infrastructure was disrupted due to the COVID-19 outbreak, and the focus was shifted to the treatment of COVID-19, the diagnosis of various diseases was neglected. In addition, the detection and treatments of musculoskeletal diseases were also hampered by the COVID-19 pandemic. This majorly restrained the growth of the arthroscopy devices market worldwide.
Lucrative Regions for Arthroscopy Devices Market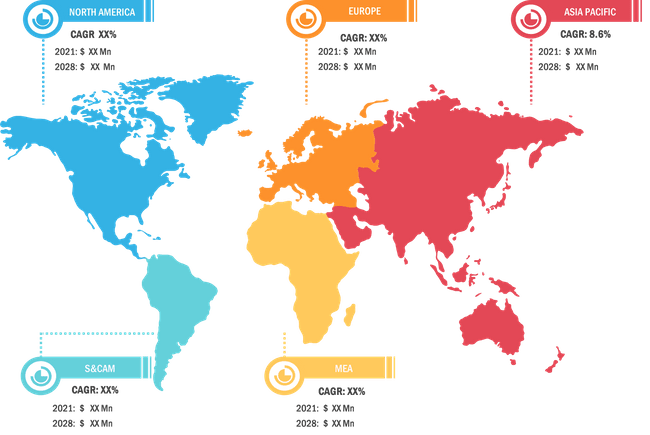 Get more information on this report :
Market Insights
Growing Prevalence of Musculoskeletal Disorders to Drive Market
Musculoskeletal disorders (MSDs) are the most common health conditions worldwide. According to the data published by the World Health Organization (WHO), in February 2021, approximately 1.71 billion individuals worldwide suffered from musculoskeletal problems. Lower back pain is a widespread musculoskeletal condition, affecting 568 million people worldwide. Lower back pain is the major cause of impairment in 160 countries. Musculoskeletal disorders severely impair mobility and dexterity, resulting in early retirement from work, decreased well-being, and diminished ability to socialize. The number of people disabled by musculoskeletal conditions has been growing, and this trend is expected to continue in the next decades.
Furthermore, as per the WHO, high-income countries are the most affected in terms of population (441 million), followed by countries in the WHO Western Pacific Region with 427 million, while Southeast Asia has 369 million. Musculoskeletal diseases are also the leading cause of years lived with disability (YLDs) worldwide, accounting for roughly 149 million YLDs, or 17% of all YLDs. Fractures, which affect 436 million people worldwide, osteoarthritis (343 million), other injuries (305 million), neck pains (222 million), amputations (175 million), and rheumatoid arthritis (14 million) all contribute to the overall burden of musculoskeletal diseases.
Surgical arthroscopy is a well-established therapy option for individuals with chronic joint pain and dysfunction. Compared to open joint procedures, arthroscopy is less invasive and results in better overall patient outcomes in symptom treatment, hospital stay, structural recovery, and long-term outcomes. Thus, the growing prevalence of musculoskeletal disorders, osteoarthritis, and rheumatoid arthritis is expected to drive the market during the forecast period.
Product-Based Insights
Based on product, the arthroscopy devices market is segmented into arthroscopes, arthroscopic implants, fluid management systems, radiofrequency systems, visualization systems, powered shaver systems, and other arthroscopic equipment. In 2021, the arthroscopes segment held the largest share of the market and is expected to register the fastest CAGR of 9.1% during the forecast period.
Arthroscopy Devices Market, by Product – 2020 and 2028

Get more information on this report :
Application-Based Insights
Based on application, the arthroscopy devices market is segmented into knee arthroscopy, hip arthroscopy, spine arthroscopy, foot and ankle arthroscopy, shoulder and elbow arthroscopy, and others. In 2021, the hip arthroscopy segment held the largest share of the market and is expected to report the highest CAGR of 8.9% during 2021–2028.
The arthroscopy devices market players adopt organic strategies such as product launch and expansion to expand their footprint and product portfolio worldwide and meet the growing demands.
By Geography
Based on geography, the arthroscopy devices market is segmented into North America (the US, Canada, and Mexico), Europe (the UK, Germany, France, Italy, Spain, and the Rest of Europe), Asia Pacific (China, Japan, India, Australia, South Korea, and the Rest of Asia Pacific), the Middle East & Africa (the UAE, Saudi Arabia, South Africa, and the Rest of Middle East & Africa), and South & Central America (Brazil, Argentina, and the Rest of South & Central America).
Company Profiles
Arthrex, Inc.
CONMED Corporation
Johnson and Johnson Services, Inc.
KARL STORZ SE & Co. KG
Medtronic
Richard Wolf GmbH.
Smith & Nephew
Stryker Corporation
Zimmer Biomet
NuVasive, Inc.
Frequently Asked Questions