The automotive hydraulic cylinders market is projected to grow from US$ 888.42 million in 2022 to US$ 1,207.58 million by 2028; it is estimated to grow at a CAGR of 5.2% from 2022 to 2028.
A hydraulic cylinder is a tube that produces linear actuation utilizing hydraulic pressure. The cylinder comprises a steel tube, a piston with an attached rod, and mounting accessories. The hydraulic fluid pressure forces a piston to move in a pushing or pulling motion. Hydraulic cylinders are durable and create more amount of force when compared to pneumatic, mechanical, and electrical systems. The cylinders require a significant amount of force for various tasks such as lifting, pushing, and pressing. They are used in numerous mobile applications, including excavators, dump trucks, graders, loaders, dozers, and backhoes, that move heavy loads. Single acting and double acting cylinders are two types of hydraulic cylinders used in automotive applications. The existence of key players providing automotive hydraulic cylinders plays a crucial role in the competitive market. With technological innovations, hydraulic cylinders are expected to be highly efficient in the coming years. Increasing demand from the construction industry and the growing use of hydraulic cylinders in mining vehicles are among the factors driving the automotive hydraulic cylinders market growth.
The automotive hydraulic cylinders market in North America is segmented into Canada, the US, and Mexico. The automotive hydraulic cylinders market in North America is growing at a significant rate due to the presence of several automotive vehicle manufacturers across the region. The presence of production plants of automotive such as off-highway vehicles across the US and Canada is catalyzing the growth of the regional market. Europe also accounted for a significant share of the global automotive hydraulic cylinders market owing to the presence of several market players, including Hyva Holding BV, Binotto SRL, Montanhydraulik GmbH, and Gidrolast Corp.
Strategic Insights
Report Coverage - Automotive Hydraulic Cylinders Market
Report Coverage
Details
Market Size Value in
US$ 888.42 Million in 2022
Market Size Value by
US$ 1,207.58 Million by 2028
Growth rate
CAGR of 5.2% from 2022 to 2028
Forecast Period
2022-2028
Base Year
2022
No. of Pages
156
No. of Tables
88
No. of Charts & Figures
81
Historical data available
Yes
Segments covered
Type, Truck Type, and Mounting Type
Free Sample Copy Available
Impact of COVID-19 Pandemic on Automotive Hydraulic Cylinders Market Growth
The COVID-19 outbreak adversely affected the world and is continuing to shatter several countries. The outbreak disrupted various primary industries, such as automobiles and construction. A negative pandemic impact on the growth of these industries limited the automotive hydraulic cylinders market growth. Factory shutdowns, trade bans, and border lockdowns to combat the coronavirus infection spread disrupted the working of automobile component companies across the world. APAC was hindered by the increasing number of COVID-19 confirmed cases in India, China, and other countries across the region in 2020. China and India are two prominent automotive manufacturing countries in the region that consistently catalyzes the demand for automotive hydraulic cylinders. The heavy vehicle sector in APAC countries witnessed a decline due to subsequent lockdowns to control the spread of the virus infection. The disruption in the supply chain and the closing of manufacturing plants hindered the market from the supply side.
Lucrative Regions for Automotive Hydraulic Cylinders Market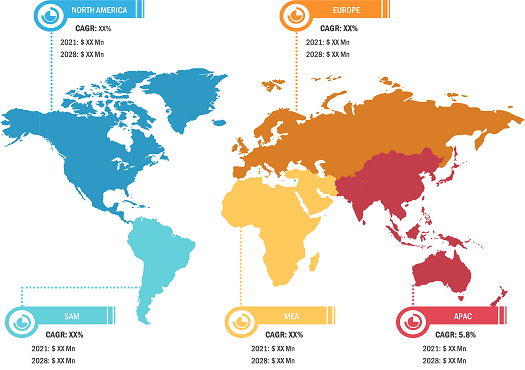 Get more information on this report :
Market Insights – Automotive Hydraulic Cylinders Market
Growing Use of Hydraulic Cylinders in Waste Management Vehicles to Drive Automotive Hydraulic Cylinders Market Growth in Future
The ongoing trend of industrialization and economic growth has resulted in increased municipal solid waste especially in cities with high populations. The increasing volume of waste damages the environment and negatively impacts the surrounding habitat. Failing to address such problems strategically leads to long-term impacts on the environment and public health, influencing economies in a destructive way. According to the World Bank Group, the world generates 1.82 metric tons of municipal solid waste every year. Further, World Bank Group expects 3.08 metric tons of global waste by 2050, which is more than double population growth over the same period. East Asia and Pacific generate 23% of the world's waste, which is higher than any other region. Due to such factors, economies are increasingly focusing on waste management strategies and adopting waste management vehicles. Hydraulic cylinders are commonly used in waste management vehicles such as garbage trucks, trash compactors, and others for pushing or dumping waste. Nearly every garbage truck uses hydraulic systems as they help easily load, lift, and transport solid and liquid waste types. Thus, increasing the use of hydraulics cylinders in waste management vehicles for controlling, lifting, filling, compacting, and dumping waste drives the market growth during the forecast period.
Type-Based Automotive Hydraulic Cylinders Market Insights
Based on type, the automotive hydraulic cylinders market is bifurcated into single acting cylinders and double acting cylinders. In 2021, the single acting cylinder segment held the largest share in the automotive hydraulic cylinders market share owing to its low cost and maintenance. Single acting cylinders involve few components, making them simple and easy to maintain. They are generally considered reliable due to low chances of failure. Single hydraulic cylinders are ideal for their capacity to serve high-end automotive applications, driving the growth of the global automotive hydraulic cylinders market growth for the single-acting cylinder segment.
Players operating in the automotive hydraulic cylinders market mainly adopt inorganic growth strategies to stay competitive in the market ecosystem.
In May 2021, Wastequip, a North American waste-handling equipment manufacturer, acquired Wastebuilt Environmental Solutions, LLC, an equipment, parts, and services provider for specialty and refuse fleet applications.
In August 2021, Muncie Power Products acquired a building at Interstate. Muncie, which produces power take-offs that transmit power to hydraulic equipment widely utilized in various industries will consolidate some of its operations into the building.
Company Profiled:
Delta Hydraulics Pty Ltd
Wastebuilt Environmental Solutions LLC
Wipro Enterprises Ltd
Gidrolast Corp
Ashun Fluid Power Co Ltd
Montanhydraulik GmbH
Muncie Power Products Inc
Jiaheng Hydraulic cylinder Co Ltd
Binotto SRL
Hyva Holding BV
Frequently Asked Questions