[Research Report] The autonomous underwater vehicle market is expected to grow from US$ 1.55 billion in 2022 to US$ 6.26 billion by 2030; it is estimated to grow at a CAGR of 19.1% from 2022 to 2030.
Analyst Perspective:
The autonomous underwater vehicle market has witnessed significant growth in recent years, driven by increasing acceptance of autonomous underwater vehicles for niche underwater applications such as surveying the subsea, assisting with scientific research, conducting military operations, and repairing oil & gas pipelines. AUVs consist of a robotic platform that operates underwater powered by batteries, and it has no contact with the outer surface. The AUVs are programmed to gather underwater environment data with their multiple sensors and systems.
AUVs are designed for hydrographic applications and acquiring higher resolution data using its towed and computer systems. AUV users produce accurate three-dimensional imaging geographical maps of the sea bed. They are able to gather optical camera photos and videos from the sea floor, which allows scientists to carry out specific research studies with a cost-effective platform. Rising technological advancements play a vital role in the autonomous underwater vehicle market growth. Rising adoption of artificial intelligence, the Internet of Things and machine learning for better connectivity to remote control and monitoring the subsea environment.
The military and defense industries are expected to have the largest share in 2022, owing to significant investment by several countries' government authorities. AUVs are used in anti-submarine warfare, mine countermeasures, surveillance, and force protection. AUVs are used to operate for longer durations without human interventions, including for several applications, including for the data collection of the oceanic territories. An emerging technology with underwater docking applications that helps to recharge and store additional data underwater. AUVs in many industries help to cross long distances across the ocean to provide surveillance of specific areas of the sea.
Market Overview:
Autonomous underwater vehicles are unmanned underwater vehicles designed to operate underwater without the requirement of any guidance and travel according to pre-programmed instructions. Autonomous underwater vehicles have a broad range of applications, including marine geoscience military operations, and are rapidly used for the military, scientific, and commercial sectors. AUVs have the ability to operate autonomously with host vessels well suited for the exploration of environments at the subsea level. They have revolutionized the ability to capture images with the seafloor for geological mapping using deep-water vessels.
The primary AUV applications include sub-marine hydrothermal studies, mapping & monitoring the low-temperature fluids, benthic mapping of the deep-water environments, and mapping of the subseafloor morphological features. Future technological developments in AUV technologies with the potential to study marine geoscience. These AUVs offer enhanced hovering for long endurance for extreme depths. Autonomous Underwater Vehicles are revolutionized with the ability to monitor and map marine environments. Marine underwater vehicles with autonomous systems have increased with a wide range of applications, including from military, marine protection, and defense industries. AUVs are used for the geohazard assessment of oil and gas exploration activities.
AUVs are capable of collecting sea profiling, marine mapping, and sea imaging with higher spatial resolutions. AUVs are used for navigational accuracy with their in-built towed instruments, such as side scan sonars and camera systems. AUVs are effectively used to bridge the gap between the spatial resolution with vessel-mounted and towed systems. The AUV function is used to navigate through the water without any assistance to perform the surveys and collect the data using the pre-programming.
Strategic Insights
Market Driver:
Increased Deep-Water Oils and Gas Exploration Activities to Drive Growth of Autonomous Underwater Vehicle Market
Autonomous underwater vehicles are the robotic platforms used to gather environmental data that provide bathymetric images to perform manipulation tasks. The AUVs are used to carry out subsea mapping and study the oil & gas exploration images in subsea. Oil and gas companies are more effectively and accurately able to explore and develop new offshore fields using the AUVs. Large-scale seafloor surveys, sea-bed mapping, and the detection of possible dangers in the cables and pipelines are done with AUVs. Several key players in the market are adopting the AUVs for oil and gas site mapping. For instance, C & C Technologies developed AUV for oil and gas exploration. This corporation specializes in technology solutions for mapping and surveying the global market. The company offers deep-water AUV capabilities for achieving the oil & gas surveys. The company served more than 62 clients globally and completed more than 180,000 kilometers of surveys using its AUVs. Oil and gas clients receive data from the AUV's onboard processing and data collection system.
These AUVs are used for scientific, industrial and military purposes. Rising demand for renewable energy sources with rising political instabilities, climate change, and the increasing demand for fossil energy sources have created a massive demand for AUVs. It has created a massive demand for a wide range of applications, including for commercial uses, scientific research purposes, military operations, and subsea crash investigations. They are used for detailed mapping and surveying of the subseafloor for the oil & gas industries before subsea infrastructure building. The AUVs help in the installation of gas and oil pipelines under the subsea level cost-effectively without disruption to the environment. With the increasing emergence of technological developments, the AUVs are used for studying oceans, lakes, and ocean floors. AUVs enable comprehensive survey design freedom and offer the best images possible to minimize geological risk completely. Unparalleled efficiency is provided by autonomous underwater vehicles with tether less operation, and rapid and precise node placement is guaranteed by pre-programmed autonomous mission planning.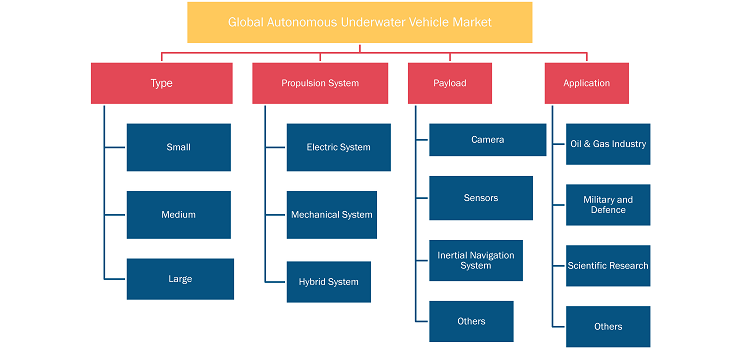 Segmental Analysis:
Based on type, the market is segmented into small, medium and large. Among these, the medium segment held the largest share in 2022, whereas the large AUVs segment is projected to grow with the highest CAGR in the market during the forecast period. AUVs have evolved as an emerging technology in the marine sector, with rising adoption in the military, commercial, and research applications. AUV demand is projected to expand with the highest CAGR throughout the forecast period, with positive growth in every industry owing to more use of the technologies. Based on the application, the market is divided into scientific research, military and defense, the oil & gas industry, and others. The military segment is anticipated to grow with the highest CAGR and contribute the largest share in 2022. In 2022, AUVs are used for a wide range of applications, including anti-submarine warfare, mine countermeasures, oceanography, search and rescue, and special military operations.
Regional Analysis:
North America is expected to have the largest share in 2022, owing to the rising development of advanced AUVs with increasing investment by oil and gas companies. In March 2020, Exxon Mobil Corporation awarded a contract to Ocean Infinity subsea marine robotics company for geophysical and geotechnical data acquisition using high-resolution autonomous underwater vehicles (AUVs) in offshore Guyana. ExxonMobil in Guyana uses AUVs to acquire data to help identify sea-bed conditions. Ocean Infinity deployed its AUVs in the deep water with a range of 230 to 7,054 feet and to survey around 1,197 square miles of area.
Europe is projected at a rapid pace owing to an increase in investment in renewable energies across France, Norway, Italy and Germany. The companies are developing and commercializing autonomous underwater vehicles to cater to the demand for oil and gas exploration activities. These oil and gas manufacturers have invested significantly in research and development activities with advanced features and improved designs of autonomous underwater vehicles.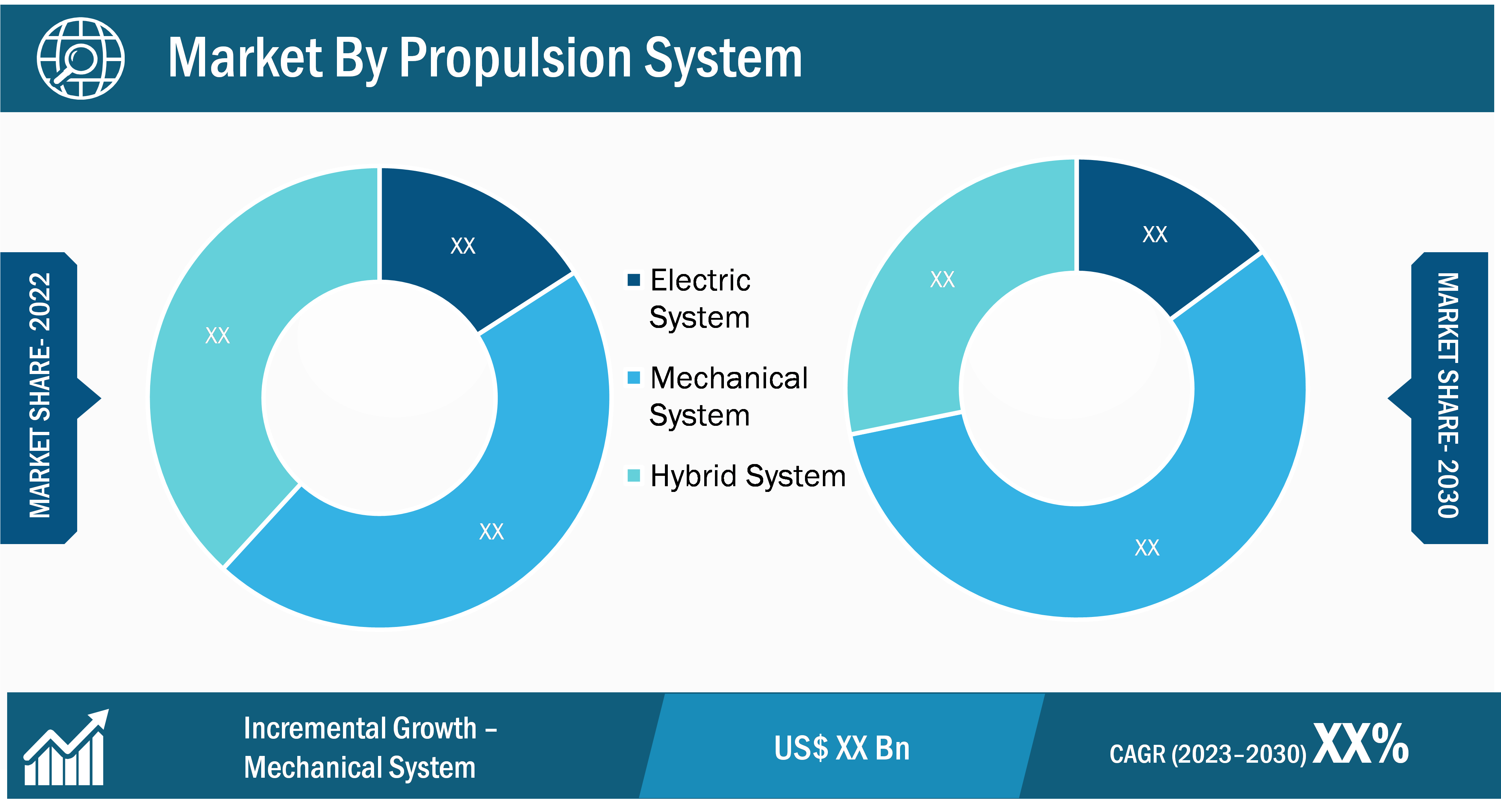 Key Player Analysis:
The autonomous underwater vehicle market analysis consists of players such as Atlas Elektronik GmbH (ThyssenKrupp Technologies AG), Saab Group, Oceanserver Technology, Graal, Inc., Eca Group (Groupe Gorge), Fugro, International Submarine Engineering (ISE) Ltd., Teledyne Technologies, Kongsberg Gruppen, and Lockheed Martin Corporation are the top players owing to the diversified product portfolio offered.
Recent Developments:
The companies are adopting several strategies, such as making contracts with military officials, mergers and acquisitions and advancement in product development in the autonomous underwater vehicle market. A few recent key market developments are listed below:
In July 2023, L3harris technologies Inc. partnered with the US Navy to develop and integrate docking applications using its AUVs that enabled the collection of data for submarine ventures. The autonomous underwater vehicle was launched to perform surveys in marine areas. The AUVs are used to return with required data with tactical and navigational planning and to deliver sub-sea mapping. The company developed Torpedo's Tube Launching and Recovery solution for the homing and docking with the launch of the fully autonomous recovery AUVs.
In June 2023, PXGEO marine and geophysical company ordered over 20 autonomous underwater vehicles (AUVs) from Saab Group. The order from the Saab Group's Sabertooth autonomous underwater vehicle was valued at US$ 57.1 million. The order includes more than 20 Sabertooth vehicles.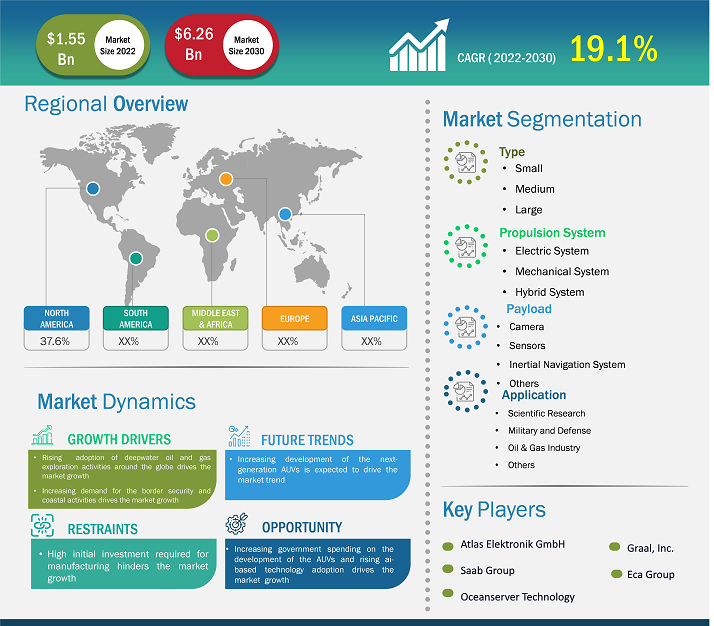 Sample PDF showcases the content structure and the nature of the information with qualitative and quantitative analysis.
Request discounts available for Start-Ups & Universities
REGIONAL FRAMEWORK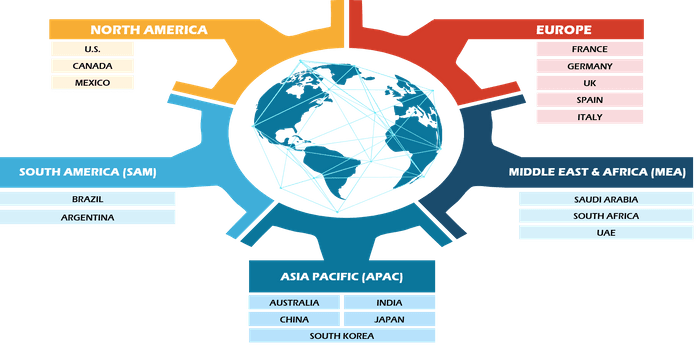 Have a question?

Naveen
Naveen will walk you through a 15-minute call to present the report's content and answer all queries if you have any.

Speak to Analyst
Sample PDF showcases the content structure and the nature of the information with qualitative and quantitative analysis.
Request discounts available for Start-Ups & Universities
MARKET PLAYERS
Sample PDF showcases the content structure and the nature of the information with qualitative and quantitative analysis.
Request discounts available for Start-Ups & Universities

Report Coverage
Revenue forecast, Company Analysis, Industry landscape, Growth factors, and Trends

Segment Covered
Type, Propulsion System, Payload, and Application

Regional Scope
North America, Europe, Asia Pacific, Middle East & Africa, South & Central America

Country Scope
This text is related
to country scope.
Atlas Elektronik GmbH (ThyssenKrupp Technologies AG)
Saab Group
Oceanserver Technology
Graal, Inc.
Eca Group (Groupe Gorge)
Fugro
International Submarine Engineering (ISE) Ltd.
Teledyne Technologies
Kongsberg Gruppen
Lockheed Martin Corporation
The Insight Partners performs research in 4 major stages: Data Collection & Secondary Research, Primary Research, Data Analysis and Data Triangulation & Final Review.
Data Collection and Secondary Research:
As a market research and consulting firm operating from a decade, we have published many reports and advised several clients across the globe. First step for any study will start with an assessment of currently available data and insights from existing reports. Further, historical and current market information is collected from Investor Presentations, Annual Reports, SEC Filings, etc., and other information related to company's performance and market positioning are gathered from Paid Databases (Factiva, Hoovers, and Reuters) and various other publications available in public domain.
Several associations trade associates, technical forums, institutes, societies and organizations are accessed to gain technical as well as market related insights through their publications such as research papers, blogs and press releases related to the studies are referred to get cues about the market. Further, white papers, journals, magazines, and other news articles published in the last 3 years are scrutinized and analyzed to understand the current market trends.
Primary Research:
The primarily interview analysis comprise of data obtained from industry participants interview and answers to survey questions gathered by in-house primary team.
For primary research, interviews are conducted with industry experts/CEOs/Marketing Managers/Sales Managers/VPs/Subject Matter Experts from both demand and supply side to get a 360-degree view of the market. The primary team conducts several interviews based on the complexity of the markets to understand the various market trends and dynamics which makes research more credible and precise.
A typical research interview fulfils the following functions:
Provides first-hand information on the market size, market trends, growth trends, competitive landscape, and outlook
Validates and strengthens in-house secondary research findings
Develops the analysis team's expertise and market understanding
Primary research involves email interactions and telephone interviews for each market, category, segment, and sub-segment across geographies. The participants who typically take part in such a process include, but are not limited to:
Industry participants: VPs, business development managers, market intelligence managers and national sales managers
Outside experts: Valuation experts, research analysts and key opinion leaders specializing in the electronics and semiconductor industry.
Below is the breakup of our primary respondents by company, designation, and region:

Once we receive the confirmation from primary research sources or primary respondents, we finalize the base year market estimation and forecast the data as per the macroeconomic and microeconomic factors assessed during data collection.
Data Analysis:
Once data is validated through both secondary as well as primary respondents, we finalize the market estimations by hypothesis formulation and factor analysis at regional and country level.
3.1 Macro-Economic Factor Analysis:
We analyse macroeconomic indicators such the gross domestic product (GDP), increase in the demand for goods and services across industries, technological advancement, regional economic growth, governmental policies, the influence of COVID-19, PEST analysis, and other aspects. This analysis aids in setting benchmarks for various nations/regions and approximating market splits. Additionally, the general trend of the aforementioned components aid in determining the market's development possibilities.
Various factors that are especially aligned to the country are taken into account to determine the market size for a certain area and country, including the presence of vendors, such as headquarters and offices, the country's GDP, demand patterns, and industry growth. To comprehend the market dynamics for the nation, a number of growth variables, inhibitors, application areas, and current market trends are researched. The aforementioned elements aid in determining the country's overall market's growth potential.
The "Table of Contents" is formulated by listing and analyzing more than 25 - 30 companies operating in the market ecosystem across geographies. However, we profile only 10 companies as a standard practice in our syndicate reports. These 10 companies comprise leading, emerging, and regional players. Nonetheless, our analysis is not restricted to the 10 listed companies, we also analyze other companies present in the market to develop a holistic view and understand the prevailing trends. The "Company Profiles" section in the report covers key facts, business description, products & services, financial information, SWOT analysis, and key developments. The financial information presented is extracted from the annual reports and official documents of the publicly listed companies. Upon collecting the information for the sections of respective companies, we verify them via various primary sources and then compile the data in respective company profiles. The company level information helps us in deriving the base number as well as in forecasting the market size.
3.4 Developing Base Number:
Aggregation of sales statistics (2020-2022) and macro-economic factor, and other secondary and primary research insights are utilized to arrive at base number and related market shares for 2022. The data gaps are identified in this step and relevant market data is analyzed, collected from paid primary interviews or databases. On finalizing the base year market size, forecasts are developed on the basis of macro-economic, industry and market growth factors and company level analysis.
Data Triangulation and Final Review:
The market findings and base year market size calculations are validated from supply as well as demand side. Demand side validations are based on macro-economic factor analysis and benchmarks for respective regions and countries. In case of supply side validations, revenues of major companies are estimated (in case not available) based on industry benchmark, approximate number of employees, product portfolio, and primary interviews revenues are gathered. Further revenue from target product/service segment is assessed to avoid overshooting of market statistics. In case of heavy deviations between supply and demand side values, all thes steps are repeated to achieve synchronization.
We follow an iterative model, wherein we share our research findings with Subject Matter Experts (SME's) and Key Opinion Leaders (KOLs) until consensus view of the market is not formulated – this model negates any drastic deviation in the opinions of experts. Only validated and universally acceptable research findings are quoted in our reports.
We have important check points that we use to validate our research findings – which we call – data triangulation, where we validate the information, we generate from secondary sources with primary interviews and then we re-validate with our internal data bases and Subject matter experts. This comprehensive model enables us to deliver high quality, reliable data in shortest possible time.
Trends and growth analysis reports related to Autonomous Underwater Vehicle Market
---