The cognitive assessment market was valued at US$ 4.01 billion in 2019 and is projected to reach US$ 17.08 billion by 2025. The Cognitive assessment market is expected to grow at a CAGR of 27.12% during the forecast period of 2020 to 2025.
The employment landscape has transformed radically after the financial crisis of 2008. The global upsurge in internet users and the groundbreaking changes in human resource management industry have created a rich atmosphere for cognitive assessment service to propagate. Cognitive assessment service plays a vital role in the clinical assessment and recruitment process across the globe. With increased access to computers and the Internet, particularly among older adults. Adoption of more flexible, device-independent deployment models with features ideal for self-assessment is propelling the cognitive and other internet based tests. Rise in aging population and increase in global research investment will act as major drivers for the continual growth in market size and commercial opportunity. Cognitive assessment market operates in a highly-fragmented and competitive marketplace. The leading companies in this market continue to broaden their addressable market, by adopting new technologies such as gamification and digitalization, diversifying their client base, and developing new applications. Almost all the prominent players face an increasing level of competition, both from start-ups as well the leading global technology companies across the world. The emerging players in the market face high barriers-to-entry due to technological advancements and high price-product evolution.
The market for Location of Things globally has been segmented into segments including components, applications, and end-users. The components segment is fragmented by solutions and services. Whereas the applications is further segmented into scientific research, clinical trial, academic assessments, and corporate training and recruitment. By end users market is segmented into education, healthcare, enterprise, sports, government, and defense. Geographically the market is presently dominated by developed regions including, North America. However, the market is expected to be in favor of APAC. The rising penetration of smartphones in the developing economies of Asia coupled with the rapidly developing internet infrastructures in these regions are proving to be the major drivers for the growth in the adoption of Location of Things technology.
Lucrative Regions in Cognitive Assessment Market


Get more information on this report :
Cognitive Assessment Market Insights
Growing interest of industries in various sectors towards cognitive assessment
Use of cognitive assessment has been increasing over past few years. These assessments have been widely used in different sectors for multiple assessment types such as recruiting, admissions, medical purpose, and others. Various companies are considering cognitive assessment as a necessary tool for getting better information of the candidates and help in the recruiting of the candidate for the job. Similarly, in the educational sector, cognitive assessment is used for evaluating the candidate and helping him/her in the things that he/she is lacking behind according to the assessments. These reasons will support strong growth of the cognitive assessment market and will continue to grow in the coming years.
Components -Based Market Insights
As a person gets older, changes occur in every part of the body, including the brain. Most likely, certain parts of the brain shrink, leading to difficulties in learning and other mental activities, and brain health complications. This is leading to a high demand for cognitive assessment tests for examining the problems in the older populations, so that a proper treatment can be taken for the same. As the older population increase, the demand for the cognitive assessment solutions and services will also increase, leading to high growth in the cognitive assessment market. There are mainly two types of components of cognitive assessment namely solutions and services.
Cognitive assessment Market, by Components – 2019 and 2025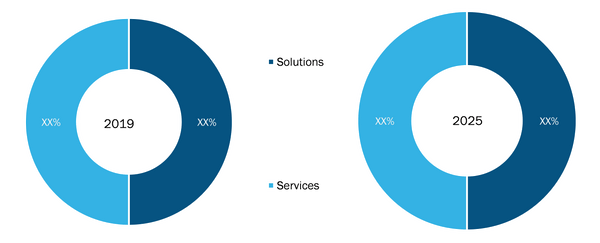 Get more information on this report :
Application -Based Market Insights
The Cognitive Assessment is divided into five major types i.e., scientific research, clinical research, academic assessment, corporate training and recruitment and others. The growth of ageing populations in several countries of Europe including France has prompted interest in the assessment of cognitive ability in elderly individuals. The early detection of cognitive impairment, and decline of cognitive abilities, is relevant to the diagnosis of mental health conditions such as dementia, mild cognitive impairment, and delirium.
End-User -Based Market Insights
The Cognitive Assessment market by end-user is further segmented into six major types. Education, Enterprise, Government, and Others explain the acceleration of the market growth. Globalization, better access to technology and a better understanding of the long-term benefits a good mental health also participate to that development. The market will continue its growth in the forecast period.
Strategic Insights
Report Coverage - Cognitive Assessment Market

| Report Coverage | Details |
| --- | --- |
| Market Size Value in | US$ 4.01 Billion in 2019 |
| Market Size Value by | US$ 17.08 Billion by 2025 |
| Growth rate | CAGR of 27.12% from 2020-2025 |
| Forecast Period | 2020-2025 |
| Base Year | 2019 |
| No. of Pages | 136 |
| No. of Tables | 17 |
| No. of Charts & Figures | 78 |
| Historical data available | Yes |
| Segments covered | Components ; Applications ; and End-users |
| Regional scope | North America, Europe, Asia Pacific, Middle East & Africa, South & Central America |
| Country scope | US, Canada, Mexico, UK, Germany, Spain, Italy, France, India, China, Japan, South Korea, Australia, UAE, Saudi Arabia, South Africa, Brazil, Argentina |
| Report coverage | Revenue forecast, company ranking, competitive landscape, growth factors, and trends |
| Free Sample Copy Available | |
Players operating in the Cognitive assessment market focus on strategies, such as market initiatives, acquisitions, and product launches, to maintain their positions in the cognitive assessment market. A few developments by key players of the cognitive assessment market are:
In June 2018, CogniFit signed an agreement with Moscow Pedagogical State University (MSPU). Under this agreement both the company's established an exclusive opportunity for implementing joint projects. It will permit exchange of knowledge between the scientists and Russian and foreign specialists in the field of psychological science.
In May 2018, Cambridge entered into a contract with major pharmaceutical company worth USD 0.5 million for using the company's Cognition Kit digital health software for a clinical trial.
Cognitive Assessment Market – by Component

Cognitive Assessment Market – by Application
Scientific Research
Clinical Trail
Academic Assessments
Corporate Training & Recruitment
Others

Cognitive Assessment Market – by End-User
Healthcare
Education
Enterprise
Sports
Government
Defense
Others

Cognitive assessment Market – by Geography
North America
Europe

France
Germany
Spain
UK
Italy
Rest of Europe

Asia Pacific (APAC)
MEA

Saudi Arabia
UAE
South Africa

SAM

Cognitive assessment Market – Company Profiles
Cambridge Cognition Ltd.
CogniFit Ltd.
Cogstate Ltd.
MedAvante-ProPhase, Inc
NeuroCog Trials
ERT Clinical
Scientific Brain Training (SBT) SA
Ortelio Ltd
Pearson plc
Thomas International Ltd.