The doxorubicin market is projected to reach US$ 1,983.40 million by 2028 from US$ 1,390.64 million in 2022. It is expected to register a CAGR of 6.1% from 2022 to 2028.
Doxorubicin belongs to the anthracycline family and is widely used to treat malignancies, such as breast, lung, multiple myeloma, ovarian, kidney, liver, sarcoma, and others. The product is used in patients with cancer whose disease has progressed or recurred after chemotherapy.
The report offers insights and in-depth analysis of the global doxorubicin market, emphasizing various parameters, such as market trends, technological advancements, and market dynamics. It also provides the competitive landscape analysis of leading market players and the impact of the COVID-19 pandemic on the market across all major regions.
The COVID-19 pandemic disrupted the socioeconomic conditions of various countries worldwide. The cost of overall healthcare is surging significantly in North America. The US health system incurred a direct cost of US$ 5.3 billion in 2020. The healthcare system contributed US$ 60 billion in addition to the overall annual costs of the country in 2020. Over 40% of the population in North America canceled their appointments in 2020, and 13% reported that they needed care but did not either schedule or receive care. The COVID-19 pandemic altered economic conditions and social behaviors in North American countries. Containment measures enacted by governments to mitigate the spread of disease changed the US healthcare service delivery pattern. According to the Department of Emergency Medicine, in many cities across the country, emergency department (ED) visits decreased by ~40% in 2020. Moreover, outpatient appointments and elective treatments were postponed or replaced by telemedicine practices.
Strategic Insights
Report Coverage - Doxorubicin Market
Report Coverage
Details
Market Size Value in
US$ 1,390.64 Million in 2022
Market Size Value by
US$ 1,983.40 Million by 2028
Growth rate
CAGR of 6.1% from 2022 to 2028
Forecast Period
2022-2028
Base Year
2022
No. of Pages
199
No. of Tables
86
No. of Charts & Figures
81
Historical data available
Yes
Segments covered
Drug Formulation, Application, and Distribution Channel
Regional scope
North America, Europe, Asia Pacific, Middle East & Africa, South & Central America
Country scope
US, Canada, Mexico, UK, Germany, Spain, Italy, France, India, China, Japan, South Korea, Australia, UAE, Saudi Arabia, South Africa, Brazil, Argentina
Report coverage
Revenue forecast, company ranking, competitive landscape, growth factors, and trends
Free Sample Copy Available
In November 2021, Pfizer Inc. announced the investigational COVID-19 oral antiviral candidate, PAXLOVID. Based on an interim analysis of the Phase 2/3 Evaluation of Protease Inhibition for COVID-19 in High-Risk Patients (EPIC-HR), which is a randomized, double-blind study of non-hospitalized adult COVID-19 patients who were at a high risk of progressing to severe illness, the PAXLOVID vaccine reportedly reduced hospitalization and death. There were supply constraints related to vaccine production in the initial months of 2021. However, setting up new plants and promoting technological shifts are the strategies that support the production of booster doses in the US and Canada, along with their administration plans.
Furthermore, the chaotic situation was created in the healthcare industry across the countries, leading to a reduced number of consultations and a smaller number of cancer cases diagnosed. For instance, international efforts suggest that the diagnoses of cancers were reduced by 40% between March 9, 2020, and May 17, 2020, compared to diagnoses averaged over the same period in 2018 and 2019. In its disruption of clinical trials and drug supply to patients, the COVID-19 pandemic has impacted the most crucial areas of the global doxorubicin market.
Based on region, the global doxorubicin market is segmented into North America, Europe, Asia Pacific, the Middle East and Africa, and South and Central America.
Lucrative Regions for Global Doxorubicin Market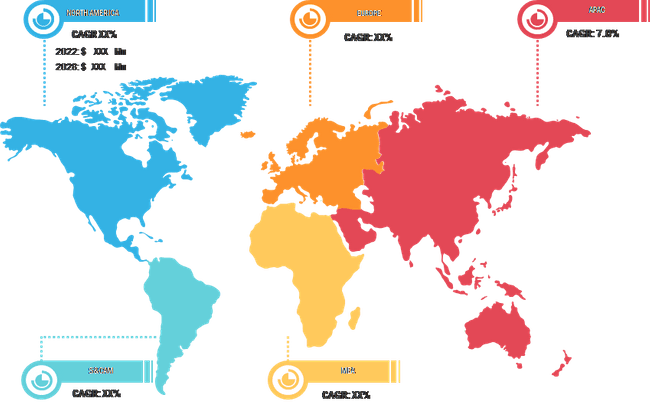 Get more information on this report :
Market Insights
Increasing Prevalence of Cancer Drives Global Doxorubicin Market
Cancer is a leading cause of death globally. According to the World Health Organization (WHO), cancer was the first leading cause of death in people below 70 years in 183 countries and the fourth major cause of death among the population of all ages in 123 countries worldwide in 2019. In addition, as per the data published by the WHO in March 2021, different cancer types will have caused ~10 million deaths in 2020. The increasing prevalence of cancer has burdened healthcare systems worldwide, bolstering the demand for chemotherapy. Doxorubicin is one of the primary drugs used as first-line treatment in chemotherapy. The drug is used to induce regression in disseminated neoplastic diseases like breast, ovarian, transitional cell bladder, thyroid, gastric, acute lymphoblastic leukemia, acute myeloblastic leukemia, Wilms' tumor, neuroblastoma, soft tissue and bone sarcomas, Hodgkin's disease, malignant lymphoma, and bronchogenic carcinomas, in which the small cell histologic type. The drug is also recommended as adjuvant therapy in women who have had primary breast cancer removed and have axillary lymph node involvement.
According to Cancer Statistics, 2022, published in the American Cancer Society's journal, data from 2015 to 2019 indicated a 0.5% annual increase in female breast cancer. At the same time, the incidence of prostate cancer remained stable. Thus, the increasing number of cancer patients worldwide is projected to drive global doxorubicin market growth.
Drug Formulation-based Insights
Based on drug formulation, the global doxorubicin market is bifurcated into lyophilized powder and doxorubicin injection. In 2022, the lyophilized powder segment accounted for a greater market share. The market position of this segment is due to the increasing prevalence of cancer, storage stability, and rising preference for chemotherapy.
Application-based Insights
Based on application, the global doxorubicin market is segmented into lung cancer, sarcoma, breast cancer, multiple myeloma, ovarian cancer, kidney cancer, leukemia, liver cancer, and others. The breast cancer segment is likely to dominate the market in 2022.
Distribution Channel-based Insights
Based on the distribution channel, the global doxorubicin market has been categorized into hospital pharmacy, retail pharmacy, and online pharmacy. The hospital pharmacy segment is expected to hold the largest market share in 2022.
Global Doxorubicin Market, by Distribution Channel– 2022 and 2028

Get more information on this report :
Players in the global doxorubicin market adopt organic strategies, such as product launch and expansion, to increase their footprint and product portfolio worldwide.
By Geography, North America is further segmented into the US, Canada, and Mexico. Europe is bifurcated into France, Germany, Italy, the UK, Spain, and the Rest of Europe. APAC is divided into China, India, South Korea, Japan, Australia, and the Rest of APAC. Middle East and Africa is segmented into South Africa, Saudi Arabia, UAE, and the Rest of MEA. South and Central Ameirca is segmented into Brazil, Argentina, and the Rest of SCAM.
Some of the major players contributing in the doxorubicin market are Accord Healthcare, Cipla, Inc, Dr. Reddy, Cadila Pharmaceuticals, Meiji Seika Pharma Co, Janseen Pharmaceuticals (Johnson and Johnson Services, Inc.), Novartis AG, Pfizer, Inc., Sun Pharmaceutical Industries Ltd, Baxter International Inc.
Frequently Asked Questions