The fishmeal market was valued at US$ 8,153.6 million in 2020 and is projected to reach US$ 15,264.6 million by 2028; it is expected to grow at a CAGR of 8.3% from 2021 to 2028.
Fishmeal is produced using fish by-products from the food processing and filleting industries. It is mainly used as a high protein (60–72%) ingredient in feed produced for farmed animals and aquaculture species. The demand for fishmeal exceeds the supply for it; therefore, the feed industry has considerably changed the composition of fishmeal in feed. The fishmeal market has witnessed the growth over historic period owing to the development of aquaculture due to rising demand for seafood products and increasing reliance on aquaculture by developing countries to resolve food scarcity. Also, fishmeal is sustainable in nature as it is produced from waste components of other industry. Therefore, it is a part of various environmental conservation programs. The market is thereby benefitting from sustainable practices, such as organic farming.
In 2020, Asia-Pacific held the largest revenue share of the global fishmeal market. Also, the region is expected to register the highest CAGR during the forecast period. Asia-Pacific comprises several major economies such as India, China, Japan, South Korea, and Australia. These countries are witnessing an upsurge in industrialization in the food sector and urbanization activities, offering ample opportunities for the key players in the fishmeal market. Asia-Pacific is anticipated to witness a rising demand for fishmeal in the coming years owing to the presence of numerous small and medium level domestic players in the market. During the forecast period, the fishmeal market is expected to witness huge demand from the aquaculture and organic farming industries due to its highly nutritious profile containing essential amino acids. Besides, fishmeal finds applications in nutraceutical, pharmaceutical, and other industries. The fishmeal market in Asia-Pacific is expected to grow during the forecast period due to enormous growth in the aquaculture sector, especially in India and China. Additionally, the rising population and growing government support are driving the market growth in the region.


Strategic Insights
Report Coverage - Fishmeal Market
Report Coverage
Details
Market Size Value in
US$ 8,153.6 million in 2020
Market Size Value by
US$ 15,264.6 million by 2028
Growth rate
CAGR of 8.3% from 2021 to 2028
Forecast Period
2021-2028
Base Year
2020
No. of Pages
125
No. of Tables
56
No. of Charts & Figures
67
Historical data available
Yes
Segments covered
Source, and Application
Regional scope
North America, Europe, Asia Pacific, Middle East & Africa, South & Central America
Country scope
US, Canada, Mexico, UK, Germany, Spain, Italy, France, India, China, Japan, South Korea, Australia, UAE, Saudi Arabia, South Africa, Brazil, Argentina
Report coverage
Revenue forecast, company ranking, competitive landscape, growth factors, and trends
Free Sample Copy Available

The COVID-19 pandemic has negatively impacted the fisheries industry with disruptions in its supply chain. The decline in the demand for seafood has resulted in the decreased production of fish. Low fish demand reduced fish fleet activities, which negatively impacted the production of fish by-products, especially fishmeal. However, with the launch of vaccination drives globally, the economies are reviving, and industries are witnessing demand for their products. Various governments are also taking initiatives to minimize the loss of the fisheries industry due to this pandemic. With this, the fishmeal market is expected to witness growth in the coming years.
Geographic Overview of Fishmeal Market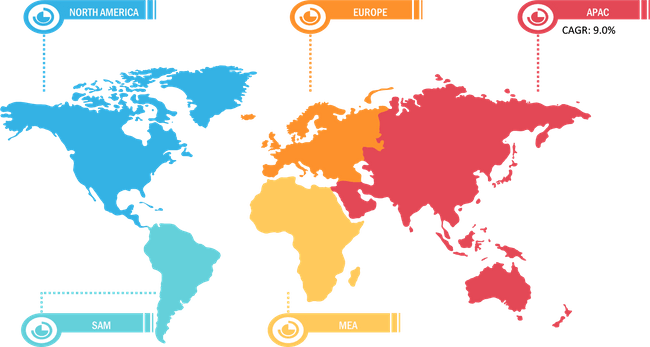 Get more information on this report :
Market Insights
Increasing Demand for Protein Rich Animal Feed
The industrialization of animal farming has increased the demand for protein-rich animal feed ingredients to raise the feed conversion rate. Industrially raised livestock are mainly fed on concentrates made from cereal and vegetable protein such as soybean meals to assist them in gaining weight and producing protein-rich meat. Farm animals depend on proteins and other elements as building blocks essential for growth. Proteins in animal feeds are an excellent energy source and essential amino acids, such as lysine and methionine. The growing awareness about the health benefits of proteins on animal health has created a substantial demand for various protein feeds, such as animal protein meals, feather meals, fishmeal, bone meal, and blood meal. Fishmeal is a rich source of protein, minerals, and fatty acids and is easily digested by the livestock upon consumption. High-quality fishmeal enables the formulation of nutrient-dense livestock diets, promoting their optimal growth. As livestock and farm animals contribute significantly to the global food supply chain, the demand for protein-rich nutritious animal feed is rising and is expected to continue during the forecast period. The constantly burgeoning demand for protein-rich animal feeds to promote growth in livestock at all stages of life is driving the overall fishmeal market substantially.
Source Insights
Based on source, the global fishmeal market is segmented into salmon, mackerel, anchovy, capelin, and others. In 2020, the anchovy segment accounted for the largest revenue share. Anchovies are majorly found in SAM, especially in Peru. The volume of fishmeal production manufactured from Peruvian anchovies is equivalent to the requirement of half of the global fed farmed fish production. The market for the anchovy segment is expected to witness growth during the forecast period due to the availability of anchovies in ample quantity. The high availability of anchovies also has a positive impact on the global food security.
Application Insights
Based on application, the global fishmeal market is segmented into animal feed, agriculture, and others. In 2020, the animal feed segment accounted for the largest revenue share. Fishmeal is a highly digestible feed ingredient, carrying a high amount of energy per unit weight. It contains little carbohydrate and is an excellent source of vitamins, minerals, oils (lipids), and proteins. Many commercial fishmeal are made from small and bony fishes, which are not suitable for consumption by human or manufactured from by-products of the fish processing industry. Therefore, the valorization of by-products makes the fishmeal animal feed economical. Hence, the enhancement of animal feed with the help of fishmeal is driving the market growth for this segment.
Global Fishmeal Market, by Application – 2020 and 2028

Get more information on this report :
TripleNine, The Scoular Company, FF SKAGEN A/S, Pelagia AS, Soytex LTD, Pesquera Diamante S.A., TASA, Oceana Group Limited, Omega Protein Corporation, and COPEINCA are a few well-established players in the global fishmeal market. Companies in the market are adopting strategies such as product developments, plant expansions, and mergers and acquisitions to expand their footprint worldwide and meet the growing demand from end users. For instance, in September 2021, Scoular launched a new brand Encompass for its growing fishmeal business.
Report Spotlights
Progressive industry trends in the global fishmeal market to help players develop effective long-term strategies
Business growth strategies adopted by developed and developing markets
Quantitative analysis of the global fishmeal market from 2019 to 2028
Estimation of the demand for fishmeal across various industries
Recent developments to understand the competitive market scenario and the demand for fishmeal
Market trends and outlook coupled with factors driving and restraining the growth of the fishmeal market
Decision-making process by understanding strategies that underpin commercial interest with regard to the global fishmeal market growth
Fishmeal market size at various nodes of the market
Detailed overview and segmentation of the global fishmeal market as well as its dynamics in the industry
Fishmeal market size in various regions with promising growth opportunities
Fishmeal Market, by Source
Salmon
Mackerel
Anchovy
Capelin
Others
Fishmeal Market, by Application
Company Profiles
TripleNine
The Scoular Company
FF SKAGEN A/S
Pelagia AS
Soytex LTD
Pesquera Diamante S.A.
TASA
Oceana Group Limited
Omega Protein Corporation
COPEINCA
Frequently Asked Questions