The generic injectables market is projected to reach US$ 150.65 billion by 2028 from US$ 74.74 billion in 2021; it is expected to register a CAGR of 10.5% from 2021 to 2028.
Generic injectables are the bioequivalents of their branded counterparts and are not protected by patents. They are safe and effective as the innovator drugs since they have similar active ingredients, dosages, strength, qualities, form, etc.

The report offers insights and in-depth analysis of the generic injectables market, emphasizing various parameters such as market trends, technological advancements, and market dynamics; it also provides the competitive landscape analysis of leading market players and the impact of the COVID-19 pandemic on the market across all major regions. The COVID-19 pandemic has disrupted the socioeconomic conditions of various countries across the world. As per the recent WHO statistics, the US is the world's worst-affected country due to the pandemic with the highest number of cases. The high number of COVID cases has negatively impacted the economy of the US, and consequently that of North America. There has been a decline in overall business activities and growth of various industries operating in the region.
Strategic Insights
Report Coverage - Generic Injectables Market
Report Coverage
Details
Market Size Value in
US$ 74.74 billion in 2021
Market Size Value by
US$ 150.65 billion by 2028
Growth rate
CAGR of 10.5% from 2021 to 2028
Forecast Period
2021- 2028
Base Year
2021
No. of Pages
217
No. of Tables
110
No. of Charts & Figures
81
Historical data available
Yes
Segments covered
Type, Container Type, Application, and Route of Administration, and Geography
Regional scope
North America, Europe, Asia Pacific, Middle East & Africa, South & Central America
Country scope
US, Canada, Mexico, UK, Germany, Spain, Italy, France, India, China, Japan, South Korea, Australia, UAE, Saudi Arabia, South Africa, Brazil, Argentina
Report coverage
Revenue forecast, company ranking, competitive landscape, growth factors, and trends
Free Sample Copy Available
However, there was an unusual demand for Remdesivir, an antiviral medicine used to treat patients, when the outbreak was at its peak. Thus, manufacturers in the generic injectables market are now prepared for the future as they focus on keeping adequate stock for keeping supply chain operations unaffected dur to any type of vulnerabilities. Gilead Sciences and other big pharma companies, for example, have reduced the prices of their generic versions of remdesivir considerably. Companies are utilizing government programs and financing schemes offered by the BFSI industries to streamline their operations. In May 2020, the US government entered into an agreement, worth US$ 812 million, with a group of American generic medicine manufacturers, with the goal of bolstering the country's drug supply amid the global COVID-19 pandemic.

Furthermore, the pandemic strained pharmaceutical industries globally, interrupting and delaying supply of various critical drugs. Many market players came to rescue with immediate actions. For instance, in January 2021, Civica Rx teamed up with the brand-new Phlow Corp. in an effort to support drug manufacturing in the US and supply critical medications to hospitals fighting the pandemic. Civica invested US$ 124.5 million in the construction of a sterile injectable manufacturing facility in Petersburg, Virginia, which rose to prominence last year owing to a large government contract to produce COVID-19-related drugs.

Based on region, the generic injectables market is segmented into North America, Europe, Asia Pacific, the Middle East & Africa, and South & Central America.
Lucrative Regions for Generic Injectables Market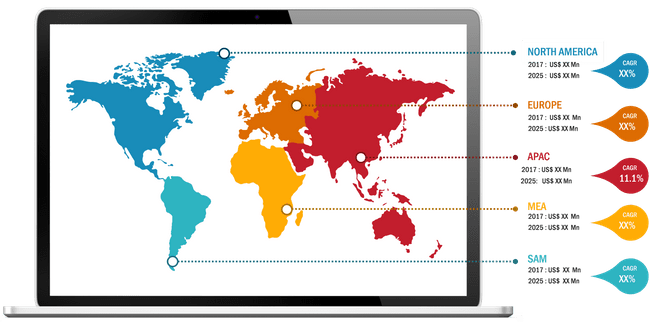 Get more information on this report :
Market Insights
High Demand for Affordable Drugs Drives Generic Injectables Market
Innovator drugs are expensive owing to high investments made in the research & development of molecules; these drugs are specifically unaffordable for a large share of the population in developing countries. However, generic drugs are affordable and provide greater access to healthcare. As published by the Association for Accessible Medicines (AAM), the average primary copay (the amount set by the insurance plans) of a generic drug is US$ 6.06 and US$ 40.30 for branded drugs. This fact indicates the falling prices of generic medicines by at least ~7%. According to the American Association of Retired Person (AARP), branded drug prices continue to increase at a pace that is 100-times greater than inflation. Moreover, as mentioned by the USFDA, 9/10 prescriptions filled in the US are for generic drugs. Additionally, the generic drug's average manufacturer prices (AMP) are ~39% lower than the branded drug's AMP. For instance, as published by Association for Accessible Medicines (AAM), 93% of generic prescriptions are filled for US$ 20 or less. The facts mentioned above boost the demand and availability of generic injectables, thus driving the entry of more players into the generic injectables market.

Further, low prices of generic injectables contribute to greater and effective chronic illness treatments. As per the World Health Organization (WHO), ~422 million people worldwide were diabetic in 2021. Generic injectables such as insulin injections offer immediate solutions for such ailments, alongside ensuring affordable treatments in developing countries.
Product Type-Based Insights
Based on product type, the generic injectables market is segmented into large molecule injectables and small molecule injectables. In 2021, the large molecule injectables segment accounted for a greater market share. The market position of this segment is credited to a surge in the adoption of biologics in the healthcare sector, and the progress of monoclonal antibody and antibody-drug conjugates (ADCs) into the drug development.
Generic Injectables Market, by Product Type – 2020 and 2028

Get more information on this report :
Container Type-Based Insights
Based on container type, the generic injectables market is segmented into vials, premix, prefilled syringes, ampoules, and others. The vials segment is likely to dominate the market in 2021.
Application-Based Insights
The generic injectables market, based on application, has been categorized into oncology, infectious diseases, cardiology, diabetes, immunology, and others. The oncology segment is likely to hold the largest share of the market in 2021. An increase in cancer incidences and rise in the launch of drugs is anticipated drives the growth of the oncology market segment.
Route of Administration-Based Insights
Based on the route of administration, the generic injectables market has been categorized into intravenous, intramuscular, subcutaneous, and others. The intravenous segment held the largest market share in 2021.

The generic injectables market players adopt organic strategies such as product launch and expansion to expand their footprint and product portfolio worldwide.
By Geography
North America

Europe

France
Germany
Italy
UK
Spain
Rest of Europe

Asia Pacific (APAC)

China
India
South Korea
Japan
Australia
Rest of APAC

Middle East & Africa (MEA)

South Africa
Saudi Arabia
UAE
Rest of MEA

South and Central America (SCAM)

Brazil
Argentina
Rest of SCAM
Company Profiles
Astrazeneca
Baxter International, Inc.
Biocon
Fresenius SE & Co. KGaA
GlaxoSmithKline Plc
Hikma Pharmaceuticals
Johnson & Johnson Services, Inc.
Lupin, Ltd.
Merck & Co., Inc.
Mylan N.V.
Pfizer, Inc
Frequently Asked Questions