The global healthcare mobility solutions market amassed US$ 57,162.65 million in 2019 and is speculated to generate US$ 2,72,054.00 million by 2027, rising at a CAGR of 22.2% during 2020–2027.
The rising adoption of telemedicine and mHealth solutions and increasing use of mobile devices are the key driving elements fostering the market growth. On the contrary, data security issues, technical challenges, and lack of awareness curb the expansion of global healthcare mobility solutions market
Medical institutes and organizations can streamline the workflow and effectively manage staff and patient data with healthcare mobility solutions. These solutions constitute mobile applications and enterprise solution platforms. Various IT firms offer enterprise solutions for the cost-effective management of healthcare resources.
Regionally, North America dominated the global healthcare mobility solutions market in 2019 and is anticipated to retain the lead throughout the forecast period. Asia Pacific is pacing up with the highest CAGR over the forecast years.
COVID-19 Impact
Halt in Personal Clinical Visits and Appointments Aid the Growth of the Global Healthcare Mobility Solutions Market
The global COVID-19 pandemic wreaked havoc on the medical and healthcare systems worldwide. In North America, many cities observed complete closure resulting in the cancellation of clinical appointments. Patients with severe health conditions such as neurological diseases faced delays in their timely mandatory treatments. Supply chain disruption ultimately influenced sales during 2020. Telehealth systems in the country proved effective in providing high-quality remote care, saving time and space.
In Asia Pacific, healthcare services, pharmaceutical firms, and MedTech companies took immediate action to harness digital health technologies through all patient pathways across the region. Major legislative policies under jurisdictions in APAC provided comprehensive guidance about telehealth legislation and improved coverage of reimbursements. China, a technical pioneer, leapfrogged other digital health markets during the pandemic. The country has been pursuing telemedicine since 2014. Chinese medical practitioners embraced electronic patient health reports and telehealth consultation in practice. Indonesia also possessed an erudite and flourishing health technology ecosystem (HTE) with several tech start-ups providing much-needed telehealth services.
Future Trends
Integration of Artificial Intelligence in Mobility Solutions
Artificial intelligence (AI) embedded in healthcare systems is likely to empower the global healthcare mobility solutions market in coming years as it is projected to help reduce administration and healthcare expenses. Besides, it can improve the work efficiency and productivity of healthcare workers. The healthcare mobility solution providers offer customized AI-integrated services to end-users featuring patient safety, secure payment methods, and real-time communication. AI assists advanced data analytics in identifying potential risks to patient's health, thereby providing a personalized approach for prescribing medicines. Additionally, the AI allows lucid mobility access for disabled and elderly people by introducing affordable AV technology. Thus, the integration of AI with mobility solutions will emerge as a promising trend in the future global healthcare mobility solutions market.
Drivers
Increasing Adoption of Telemedicine and mHealth Solutions
The physicians, patients, promoters, medical facilities, and communities witnessed the benefits and improved health outcomes of advanced telemedicine and mHealth technology. Patient engagement increased with the appropriate promotion of mobile technologies. Booking appointments for diagnosis, consultation, and treatment has become simple and hassle-free. Healthcare practitioners can provide patient care beyond clinics due to telemedicine and mHealth solutions. Reduced overall healthcare expenditure, less administrative time, proper personnel allocation, improved internal communication process, orderly management of patients and their data, and enhanced nursing activities are some of the primary advantages of these technologies. Moreover, telemedicine Apps provide medical education services allowing students to view experiments conducted by experts.
Rising Use of Mobile Devices
Mobile devices have enabled healthcare providers to monitor and assess the patient's progress. The use of mobile devices increased right from the inception of digital healthcare. A study by Ponemon Institute put forth the statistics that around 84% of physicians use smartphones for clinical work, while over 56% of doctors prefer tablets. According to the GSMA real-time intelligence data, 50% of the 5.13 billion people have mHealth apps installed on their phones for fitness tracking and vital health signs. These Apps also help people in managing their medications and conditions. The use of mobile devices for remote clinical care increased tenfold amidst the COVID-19 pandemic. Various companies started offering digital solutions for better medical workflow. Even in the ICUs or emergency settings, patient's conditions can be diagnosed with mobile devices and access tools. Electronic health records (EHRs), clinical decision support systems (CDSS), and picture archiving communication systems (PACS) are widely preferred as the point of care over mobile devices. Such rising penetration of digital devices in clinical care is likely to accelerate the growth of global healthcare mobility solutions market.
Restraints
Data Security Issues, Technical Challenges, and Lack of Awareness Associated with Healthcare Mobility Solutions
Several challenges encountered by key market players include security issues, complex integration and implementation, patient engagement hurdles, user complaints, and lack of awareness about mobile health solutions. In addition, medical facility centers worldwide need to adhere to the compliance of regulatory agencies pertaining to the clinical data of patients, financial data of healthcare facilities, and other confidential data. Medical centers in the US are obliged to stand by the Health Insurance Portability and Accountability Act (HIPAA) of 1996, a federal law protecting patient data disclosure. Developers face significant challenges in designing medical applications as elderly patients find it difficult to understand the functionality. Various tools such as fitness bands, glucometers, and blood pressure monitors often fail to connect with applications resulting in discomfort and frustration among patients. Also, there is a lack of awareness and penetration of mobile healthcare solutions in remote rural areas. Such challenges pose hindrance to the growth of global healthcare mobility solutions market.
Customize Research To Suit Your Requirement

We can optimize and tailor the analysis and scope which is unmet through our standard offerings. This flexibility will help you gain the exact information needed for your business planning and decision making.

Global Healthcare Mobility Solutions Market: Strategic Insights

| | |
| --- | --- |
| Market Size Value in | US$ 57,162.65 Million in 2019 |
| Market Size Value by | US$ 272,054 Million by 2027 |
| Growth rate | CAGR of 22.2% from 2020-2027 |
| Forecast Period | 2020-2027 |
| Base Year | 2020 |

Akshay

Have a question?

Akshay will walk you through a 15-minute call to present the report's content and answer all queries if you have any.

Speak to Analyst
Market Segmentation
By Products and Services
Remote Data Provision and Healthcare Monitoring Spurred the Segmental Growth
The global healthcare mobility solutions market, by products and services, is segmented into mobile devices, mobile applications, and enterprise mobility platforms. The segment, mobile devices, housed the largest market share in 2019 and is anticipated to register the highest CAGR during the forecast timeframe. Portable computers, RFID scanners, barcode scanners, and other devices work on mobility solutions as they are used to create, store, and share the data. These devices assist clinical staff in providing data to patients and family members away from medical centers. Patient monitoring becomes effective and flexible with these devices.
The mobile applications segment stood as the second-largest market holder in 2019 and is likely to grow with a considerable CAGR during 2020–2027. Healthcare information technology integrated mobile Apps into clinical care for smooth functioning and management of healthcare data. These applications offer broader healthcare solutions, including electronic health records, messaging services, clinical digital solutions, and R&D services. Besides, they are used along with imaging, monitoring, therapeutic, and laboratory equipment.
Global Healthcare Mobility Solutions Market, by Products and Services – 2019 & 2027
Sample PDF showcases the content structure and the nature of the information with qualitative and quantitative analysis.
Request discounts available for Start-Ups & Universities
By End-User
Integration of Mobility Solutions Affirmed the Segment's Dominance
Based on end-user, the global healthcare mobility solutions market is split into healthcare providers, healthcare payers, and patients, of which the healthcare providers segment dominated the market in 2019 and is likely to surge with the highest CAGR over the forecast period. Healthcare providers work as primary contact for patients to access expert opinions about available treatment options. The segmental growth is largely attributed to the increasing adoption of mobility solutions that assist cost optimization strategies and the rising focus on better treatment outcomes.
Healthcare payers follow the above-mentioned segment in dominating the global healthcare mobility solutions market in 2019. They offer financial cover for treatment and diagnosis. They use digital data and records to analyze pricing, reimbursements, and health economic outcomes. Mobility solutions enable healthcare payers to assess healthcare coverage and associated decisions. Moreover, the growing reimbursements by public and private players are likely to foster the segmental growth.
Regional Insights
The global healthcare mobility solutions market is segmented into North America, Europe, Asia Pacific (APAC), South & Central America (SCAM), and Middle East & Africa (MEA).
North America occupied the largest market share in 2019, accruing maximum revenue. The regional healthcare mobility solutions market thrives on increasing adoption of digital healthcare technologies, government support for telemedicine and mHealth technologies, public and private partnerships for the development of healthcare digitization, and newer product launches. In the US, the market growth is characterized by developed healthcare information technology and well-established healthcare infrastructure. Also, the COVID-19 pandemic enhanced the growth of digital tracking and real-time location systems in the country. Meanwhile, the government of Canada supports companies and collaborates with prominent market players to advance healthcare system.
Asia Pacific healthcare mobility solutions market is proliferating rapidly, with the highest CAGR throughout the forecast period. The growth of the market is accustomed to the potential aspects such as increasing awareness about the potential benefits of healthcare management, rising penetration of smartphones, influence of social media on healthcare, and excess healthcare expenditure. The Chinese market growth is an outcome of increasing utilization of smart devices, technological advancements, demand for personalized medicines, and advanced connectivity solutions. Key market players in Japan are emphasizing organic and inorganic strategies for business development, thus assisting the market growth.
Lucrative Regions for Healthcare Mobility Solutions Market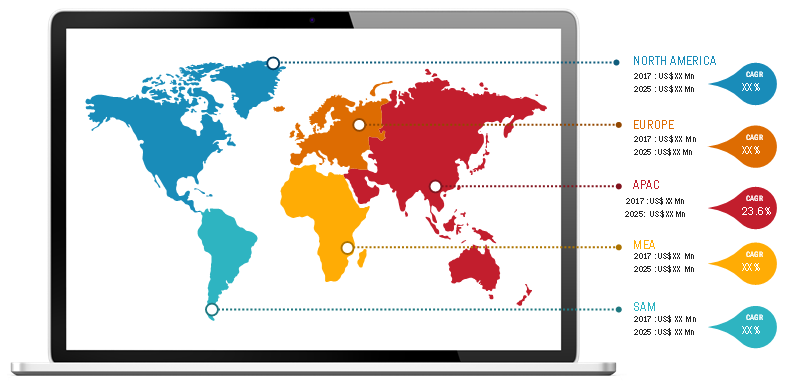 Sample PDF showcases the content structure and the nature of the information with qualitative and quantitative analysis.
Request discounts available for Start-Ups & Universities
Key Market Players:
Oracle Corporation (US)
Cisco Systems, Inc (US)
Koninklijke Philips N.V. (Netherlands)
SAP SE (Germany)
Zebra Technologies Corporation (US)
Cerner Corporation (US)
AT&T Inc. (US)
Honeywell International Inc. (US)
[x]cube LABS (US)
AirStrip (US)
Key Developments:
May 2020:

Cisco announced its intent to acquire ThousandEyes, Inc, a provider of internet and cloud intelligent platform headquartered in San Francisco, US.

February 2021:

Zebra Technologies expanded Singapore headquarters to support the technical transformation of enterprises.

October 2019:

Cerner Corporation signed a definitive agreement to acquire AbleVets, a strategic IT consulting and engineering firm.

October 2020:

Honeywell collaborated with Influence Healthcare International (IHI) to advance the healthcare quality by deploying cutting-edge technology and next-generation end-to-end connected solutions.
Report Coverage
The global healthcare mobility solutions market research report provides detailed insights into the market in terms of size, share, trends, and forecasts. It delivers crisp and precise know-how of drivers, restraints, opportunities, segments, and industrial landscape. The COVID-19 impact analysis is discussed with the consequences followed in global and regional markets. A list of key market players with their respective developments in recent years has been reserved as a special mention.

Report Coverage
Revenue forecast, Company Analysis, Industry landscape, Growth factors, and Trends

Segment Covered
Products and Services , Application , and End User , and Geography

Regional Scope
North America, Europe, Asia Pacific, Middle East & Africa, South & Central America

Country Scope
Argentina, Australia, Brazil, Canada, China, France, Germany, India, Italy, Japan, Mexico, Saudi Arabia, South Africa, South Korea, Spain, United Arab Emirates, United Kingdom, United States
Frequently Asked Questions
---
What is healthcare mobility solutions market?
Healthcare mobility solutions help the healthcare organizations to stream workflow and effectively manage workforce and patient data. These solutions comprises of mobile applications and enterprise solution platforms. Enterprise solutions offered by various healthcare IT firms provide various advantages such as cost-effectively healthcare management and efficient management of healthcare resources.
What is the cost of healthcare mobility solutions?
The cost of healthcare mobility solution may vary depending upon the features offered by the company in the solution and subscription of the solution. The average of cost of a solution with subscription for one month may be cost ~ US$ 99–US$ 110.
The List of Companies - Healthcare Mobility Solutions Market
Oracle Corporation
Cisco Systems, Inc.
Koninklijke Philips N.V.
SAP SE
Zebra Technologies Corporation
Cerner Corporation
AT&T Inc.
Honeywell International Inc.
[X]CUBE Labs
AirStrip
The Insight Partners performs research in 4 major stages: Data Collection & Secondary Research, Primary Research, Data Analysis and Data Triangulation & Final Review.
Data Collection and Secondary Research:
As a market research and consulting firm operating from a decade, we have published many reports and advised several clients across the globe. First step for any study will start with an assessment of currently available data and insights from existing reports. Further, historical and current market information is collected from Investor Presentations, Annual Reports, SEC Filings, etc., and other information related to company's performance and market positioning are gathered from Paid Databases (Factiva, Hoovers, and Reuters) and various other publications available in public domain.
Several associations trade associates, technical forums, institutes, societies and organizations are accessed to gain technical as well as market related insights through their publications such as research papers, blogs and press releases related to the studies are referred to get cues about the market. Further, white papers, journals, magazines, and other news articles published in the last 3 years are scrutinized and analyzed to understand the current market trends.
Primary Research:
The primarily interview analysis comprise of data obtained from industry participants interview and answers to survey questions gathered by in-house primary team.
For primary research, interviews are conducted with industry experts/CEOs/Marketing Managers/Sales Managers/VPs/Subject Matter Experts from both demand and supply side to get a 360-degree view of the market. The primary team conducts several interviews based on the complexity of the markets to understand the various market trends and dynamics which makes research more credible and precise.
A typical research interview fulfils the following functions:
Provides first-hand information on the market size, market trends, growth trends, competitive landscape, and outlook
Validates and strengthens in-house secondary research findings
Develops the analysis team's expertise and market understanding
Primary research involves email interactions and telephone interviews for each market, category, segment, and sub-segment across geographies. The participants who typically take part in such a process include, but are not limited to:
Industry participants: VPs, business development managers, market intelligence managers and national sales managers
Outside experts: Valuation experts, research analysts and key opinion leaders specializing in the electronics and semiconductor industry.
Below is the breakup of our primary respondents by company, designation, and region:

Once we receive the confirmation from primary research sources or primary respondents, we finalize the base year market estimation and forecast the data as per the macroeconomic and microeconomic factors assessed during data collection.
Data Analysis:
Once data is validated through both secondary as well as primary respondents, we finalize the market estimations by hypothesis formulation and factor analysis at regional and country level.
3.1 Macro-Economic Factor Analysis:
We analyse macroeconomic indicators such the gross domestic product (GDP), increase in the demand for goods and services across industries, technological advancement, regional economic growth, governmental policies, the influence of COVID-19, PEST analysis, and other aspects. This analysis aids in setting benchmarks for various nations/regions and approximating market splits. Additionally, the general trend of the aforementioned components aid in determining the market's development possibilities.
Various factors that are especially aligned to the country are taken into account to determine the market size for a certain area and country, including the presence of vendors, such as headquarters and offices, the country's GDP, demand patterns, and industry growth. To comprehend the market dynamics for the nation, a number of growth variables, inhibitors, application areas, and current market trends are researched. The aforementioned elements aid in determining the country's overall market's growth potential.
The "Table of Contents" is formulated by listing and analyzing more than 25 - 30 companies operating in the market ecosystem across geographies. However, we profile only 10 companies as a standard practice in our syndicate reports. These 10 companies comprise leading, emerging, and regional players. Nonetheless, our analysis is not restricted to the 10 listed companies, we also analyze other companies present in the market to develop a holistic view and understand the prevailing trends. The "Company Profiles" section in the report covers key facts, business description, products & services, financial information, SWOT analysis, and key developments. The financial information presented is extracted from the annual reports and official documents of the publicly listed companies. Upon collecting the information for the sections of respective companies, we verify them via various primary sources and then compile the data in respective company profiles. The company level information helps us in deriving the base number as well as in forecasting the market size.
3.4 Developing Base Number:
Aggregation of sales statistics (2020-2022) and macro-economic factor, and other secondary and primary research insights are utilized to arrive at base number and related market shares for 2022. The data gaps are identified in this step and relevant market data is analyzed, collected from paid primary interviews or databases. On finalizing the base year market size, forecasts are developed on the basis of macro-economic, industry and market growth factors and company level analysis.
Data Triangulation and Final Review:
The market findings and base year market size calculations are validated from supply as well as demand side. Demand side validations are based on macro-economic factor analysis and benchmarks for respective regions and countries. In case of supply side validations, revenues of major companies are estimated (in case not available) based on industry benchmark, approximate number of employees, product portfolio, and primary interviews revenues are gathered. Further revenue from target product/service segment is assessed to avoid overshooting of market statistics. In case of heavy deviations between supply and demand side values, all thes steps are repeated to achieve synchronization.
We follow an iterative model, wherein we share our research findings with Subject Matter Experts (SME's) and Key Opinion Leaders (KOLs) until consensus view of the market is not formulated – this model negates any drastic deviation in the opinions of experts. Only validated and universally acceptable research findings are quoted in our reports.
We have important check points that we use to validate our research findings – which we call – data triangulation, where we validate the information, we generate from secondary sources with primary interviews and then we re-validate with our internal data bases and Subject matter experts. This comprehensive model enables us to deliver high quality, reliable data in shortest possible time.
Trends and growth analysis reports related to Global Healthcare Mobility Solutions Market
---