The MEMS foundry market is expected to grow from US$ 764.05 million in 2022 and it is expected to grow at a CAGR of 9.7% from 2022 to 2028.
Sensors used in military and defense applications must be reliable in every aspect, as they are a critical part of devices used in defense applications, including monitoring and surveillance at borders. Systems such as drones, missiles, spacecraft, ships, satellites, and rockets require various MEMS sensors, including accelerometers and gyroscopes, to collect data for proper functioning. Several companies have developed MEMS-based defense system sensors for ballistic testing, jet engine test stands, marine propulsion systems, jet fuel analyzers, and missile guidance systems. Thus, with the growing demand for advanced security and defense systems, the need for sensors is also increasing. Moreover, MEMS-based advanced Global Positioning System (GPS) to ensure better guidance and navigation of missiles has been a major area of research for a long. Researchers have been combining radio frequency (RF) velocity and range sensors with micro-MEMS and inertial measurement units (IMUs) to achieve superior navigation accuracy. MEMS technologies are also used in chemical attack warning sensors, micro-robotic electronic disabling systems, earth mapping, etc. Such applications of MEMS are supporting the MEMS foundry market growth.
Radio-frequency MEMS (RF-MEMS) and optical MEMS are gaining significant traction in the design and development of military sensors. Low power consumption, compact size, and ultrahigh reliability of MEMS are the major factors bolstering its need in battlefield tanks, drone electronic components, hostile territory surveillance systems, unmanned air vehicles (UAVs), covert communication devices, and missiles meant to shoot down hostile targets. Furthermore, MEMS-based sensors help in monitoring the working condition of weapons and environmental parameters on battlefields. Therefore, the rising adoption of MEMS solutions in military applications is encouraging MEMS manufacturers to expand their manufacturing capabilities, thereby driving the growth of the MEMS.
Strategic Insights
Report Coverage - MEMS Foundry Market
Report Coverage
Details
Market Size Value in
US$ 764.05 million in 2022
Market Size Value by
US$ 1,332.55 million by 2028
Growth rate
CAGR of 9.7% from 2022 to 2028
Forecast Period
2022-2028
Base Year
2022
No. of Pages
163
No. of Tables
59
No. of Charts & Figures
75
Historical data available
Yes
Segments covered
MEMS Type, Process, Foundry Type, and End User
Regional scope
North America, Europe, Asia Pacific, Middle East & Africa, South & Central America
Country scope
US, Canada, Mexico, UK, Germany, Spain, Italy, France, India, China, Japan, South Korea, Australia, UAE, Saudi Arabia, South Africa, Brazil, Argentina
Report coverage
Revenue forecast, company ranking, competitive landscape, growth factors, and trends
Free Sample Copy Available
Impact of COVID-19 Pandemic on MEMS Growth
The US was the most affected country in Americas due to the COVID-19 pandemic. In 2020, due to the strict government regulations and lockdowns, many electronics and semiconductor manufacturers in the US operated with a limited workforce or temporarily stopped their production. This adversely affected the supply chain and the import & export of semiconductor chips and electronic products. As a result, semiconductor manufacturers were unable to meet their delivery timelines. In May 2020, Rogue Valley Microdevices Inc., a biomedical company, played a strategic role in the development of COVID-19 diagnostic tests. Thus, due to such activities by companies, the demand for MEMS increased in the healthcare industry in the Q2 of 2020. Moreover, the growth of the automotive & consumer electronics industries and the rising focus on the expansion of IoT technology bolstered the demand for MEMS. Thus, from Q1 of 2021, the supply lines of the automotive & electronics industries started to stabilize, and the revenue of these industries showcased positive momentum, which contributed to the MEMS foundry market growth in Americas.
Lucrative Regions for MEMS Foundry Market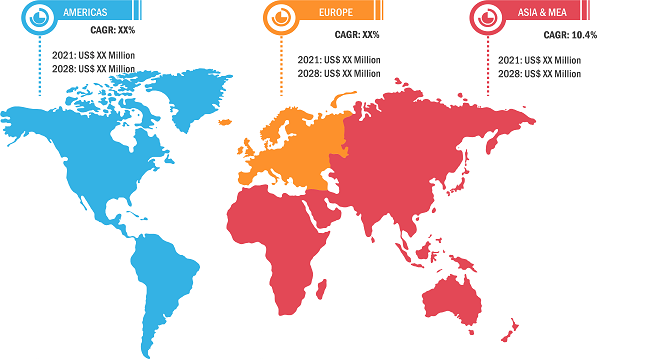 Get more information on this report :
Market Insights – MEMS Foundry Market
Environmental sensors, such as gas sensors, temperature sensors, and smoke sensors, integrated with artificial intelligence-based interfaces are expected to aid in enhanced environmental protection. Also, AI-enabled environmental sensors are beneficial at an industrial scale for monitoring chemical releases, which would contribute to environmental resource protection. Numerous environmental sensors, including biosensors, have been introduced in the market for monitoring harmful environmental substances. Thus, the rising use of environmental sensors is likely to boost the demand for MEMS sensors, thereby creating new opportunities for the MEMS foundry market growth in the coming years.
MEMS Type-Based Insights
Based on MEMS type, the global MEMS foundry market is segmented into accelerometer, gyroscope, radio frequency devices, mems microphone, pressure sensor, temperature sensor, and others. MEMS-based radio frequency devices are estimated to be the most ordered product from MEMS foundries, followed by pressure sensor and accelerometer in 2021. An accelerometer is one of the major applications of MEMS and is used across various industries, such as consumer electronics, automotive, industrial, healthcare, aeronautics, and defense industries. Electronic devices comprise a variety of sensors for better performance of their respective operations, which is ultimately driving the demand for MEMS foundry services for the accelerometer segment.
The MEMS foundry market is segmented on the basis of MEMS type, process, foundry type, and end user. Based on MEMS type, the market is segmented into accelerometer, gyroscope, digital compass, mems microphone, pressure sensor, temperature sensor, and others. Based on process, the market is categorized into deposition, lithography, etching & fabrication, and packaging. Based on foundry type, the market is segmented into deposition, lithography, etching & fabrication, and packaging. Based on end user, the MEMS foundry market is segmented into large enterprises and SMEs. Based on vertical, the MEMS foundry market is segmented into consumer electronics, automotive, industrial, healthcare, and others.
Silex Microsystems AB; Teledyne Dalsa; Sony Semiconductor Solutions Corporation; Taiwan Semiconductor Manufacturing Company, Limited; X-FAB Silicon Foundries SE; Asia Pacific Microsystems, Inc.; Atomica Corp.; ROHM Co., Ltd.; STMicroelectronics, N.V.; and Koninklijke Philips N.V. are among the key MEMS foundry market players.
MEMS foundry market players are utilizing several strategies to focus on growth.
In July, 2022, STMicroelectronics, a global semiconductor leader serving customers across the spectrum of electronics applications, and GlobalFoundries Inc., a global leader in feature-rich semiconductor manufacturing, announced that they have signed a Memorandum of Understanding to create a new, jointly-operated 300mm semiconductor manufacturing facility in Crolles, France.
In April, 2022, Bosch Sensortec acquired Arioso Systems to diversify its product portfolio. Arioso Systems is one of the world's most innovative providers of MEMS micro speaker technology. Acquisition with Bosch, it will leverage the full potential of its micro speakers.
Frequently Asked Questions