[Research Report] The hydrolyzed collagen market was valued at US$ 946.43 million in 2022 and is projected to reach US$ 1,322.60 million by 2028; it is expected to register a CAGR of 5.7% from 2022 to 2028.
Hydrolyzed collagen has significant applications in the biomedical and tissue engineering fields. It is used in various medical devices, including wound dressings and fillers for bone voids. Hydrolyzed collagen and gelatin have strong cell adhesion, biocompatibility properties, and a high degree of formability. Hydrolyzed collagen is a prominent extracellular matrix component (ECM) in many tissues and organs. It plays a vital role in the formation of tissues and the preservation of proper tissue architecture and function. As a result, cell transplantation carriers have been developed using different collagen scaffolds, such as sponges and gels. Thus, the growing demand for hydrolyzed collagen for various applications propels the market growth.
In 2022, North America held the largest share of the global hydrolyzed collagen market, and Asia Pacific is estimated to register the highest CAGR during the forecast period. Functional foods and beverages containing hydrolyzed collagen play a pivotal role in strengthening skin and providing elasticity and hydration to the skin. They also help retain the integrity of cartilage that protects joints. Therefore, benefits associated with the hydrolyzed collagen intake, coupled with changing consumer preferences and behavior, have fueled the demand for hydrolyzed collagen-based nutraceuticals across the region. As a result, many major players in the nutritional ingredients sector are focusing on expansion and increasingly adopting strategic planning. For instance, in December 2020, Gelita AG acquired Turkish gelatin producer SelJel. Through this joint venture, Gelita AG would strengthen its position in the hydrolyzed collagen market. Therefore, the rising adoption of strategic initiatives by the key players has further strengthened the hydrolyzed collagen market growth.
Strategic Insights
Report Coverage - Hydrolyzed Collagen Market
Report Coverage
Details
Market Size Value in
US$ 946.43 million in 2022
Market Size Value by
US$ 1,322.60 million by 2028
Growth rate
CAGR of 5.7% from 2022 to 2028
Forecast Period
2022-2028
Base Year
2022
No. of Pages
163
No. of Tables
64
No. of Charts & Figures
83
Historical data available
Yes
Segments covered
Source, and Application
Free Sample Copy Available
Impact of COVID-19 Pandemic on Hydrolyzed Collagen Market
The COVID-19 pandemic affected economies and industries in several countries across the globe. Lockdowns, travel restrictions, and business shutdowns in North America, Europe, Asia Pacific (APAC), South & Central America (SAM), and the Middle East & Africa (MEA) hampered the growth of several industries, including the food & beverages, pharmaceutical & nutraceutical, and personal care industries. The shutdown of manufacturing units disturbed global supply chains, manufacturing activities, delivery schedules, and essential and nonessential product sales. Various companies witnessed delays in product deliveries and a slump in sales of their products in 2020. Moreover, the bans imposed by governments of various countries in Europe, Asia Pacific, and North America on international travel compelled companies to discontinue their collaboration and partnership plans temporarily. All these factors hampered various industries in 2020 and early 2021, thereby restraining the growth of various markets, including the hydrolyzed collagen market.
Hydrolyzed Collagen Market Breakdown, by Region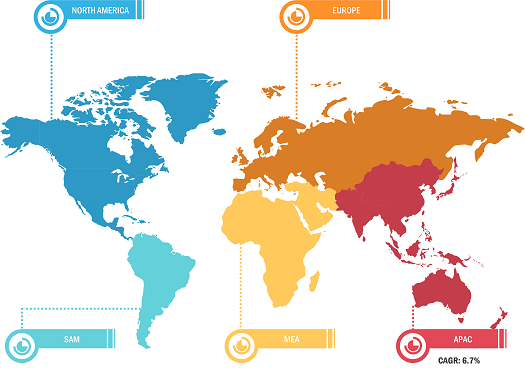 Get more information on this report :
Market Insights
Strategic Development Initiatives by Key Market Players Drive Hydrolyzed Collagen Market
Hydrolyzed collagen manufacturers worldwide are investing significantly in strategic development initiatives such as product innovation, mergers & acquisitions, and expansion of their businesses to attract many consumers and enhance their market position. They increasingly invest in product innovation to expand their customer base and meet emerging consumer trends. For instance, in March 2022, an Australia-based beauty brand 'Vida Glow' launched natural marine collagen radiance capsules derived from hydrolyzed collagen peptide powder made from sustainably sourced fish skin. Additionally, with increasing demand, Vida Glow announced an expansion in the US market in the same month. Moreover, hydrolyzed collagen is now increasingly used by animal nutrition manufacturers to enhance the quality of pet food with nutritional enrichment. For instance, in November 2022, Pawable, the UK-based manufacturer, launched "Collar-Gen," a powdered supplement to prevent joint, skin, and digestive issues in dogs. It contains five different types of 100% natural hydrolyzed collagen. Such product innovations help hydrolyzed collagen extend its reach and gain a competitive edge in international markets, further propelling the hydrolyzed collagen market growth.
Source-Based Insights
Based on source, the hydrolyzed collagen market is divided into bovine, porcine, poultry, marine, and others. The bovine segment held the largest share of the market in 2022. After the collagen is extracted in an aqueous solution, it is dried and powdered to form a final product. Bovine collagen has been found to improve Type I and III collagen levels in the human body. The skin is primarily built up of Types I and III collagen; thus, its intake in specified quantities helps reduce wrinkles, promote elasticity, and increase skin moisture. Moreover, hydrolyzed collagen from bovine lungs showed anti-inflammatory and antioxidant properties. These factors are driving the market for the segment.
Hydrolyzed Collagen Market, by Type – 2022 and 2028

Get more information on this report :
Application-Based Insights
Based on application, the hydrolyzed collagen market is segmented into food and beverages, pharmaceuticals and nutraceuticals, personal care, and others. The food and beverages segment is expected to register the highest CAGR during the forecast period. Hydrolyzed collagen acts as a binding agent for ingredients used in nutritional bars, enhancing their softness. As a result of increased health consciousness, food manufacturers prefer hydrolyzed collagen to develop nutritious food products. Collagen hydrolysates can attach calcium ions, improving their bioavailability. Thus, hydrolyzed collagen can be used in functional food ingredients to manage mineral deficiencies.
Hydrolyzed collagen can be beneficial for foods that require storage in cold or freezing temperatures because it acts as an anticoagulant and helps decrease the damage in cells and tissues. Hydrolyzed collagen helps increase and maintain the product's sensorial, physical, and chemical properties. Thus, owing to the abovementioned properties, hydrolyzed collagen has been used to prepare different products such as meat, beverages, and soups.
The major players operating in the hydrolyzed collagen market are Ewald-Gelatine GmbH, GELITA AG, Rousselot BV, Nitta Gelatin Inc, Protein SA, ConnOils LLC, Norland Products Inc, Tessenderlo Group NV, Titan Biotech Ltd, and Viscofan DE GmbH. These companies focus on new product launches and geographical expansions to meet the growing consumer demand worldwide and increase their product range in specialty portfolios. They have a widespread global presence, which provides them to serve a large set of customers and subsequently increases their market share.
Report Spotlights
Progressive industry trends in the hydrolyzed collagen market to help companies develop effective long-term strategies
Business growth strategies adopted by the market players in developed and developing countries
Quantitative analysis of the market from 2022 to 2028
Estimation of global demand for hydrolyzed collagen
Porter's Five Forces analysis to illustrate the efficacy of buyers and suppliers in the hydrolyzed collagen market
Recent developments to understand the competitive market scenario
Market trends and outlook, and growth drivers and restraints in the hydrolyzed collagen market
Assistance in the decision-making process by highlighting market strategies that underpin commercial interest
Size of the hydrolyzed collagen market at various nodes
A detailed overview and hydrolyzed collagen industry dynamics
Size of the hydrolyzed collagen market in various regions with promising growth opportunities
Frequently Asked Questions