The IoT market is expected to grow from US$ 483.28 billion in 2022 to US$ 2,270.42 billion by 2028; it is estimated to register at a CAGR of 29.4% from 2022 to 2028.
The Internet of Things (IoT) extends Internet connectivity to physical objects and devices. Also, it gives greater control over lights, appliances, and door locks, offers insights into resource consumption habits, streamlines business processes, and enables connectivity between people and systems. Moreover, IoT devices can interact and communicate with each other over the Internet or directly via a wireless protocol and can be remotely monitored and controlled. IoT devices in the consumer market typically pertain to products that enable smart homes, for instance, lighting fixtures, thermostats, home appliances, cameras, and home security systems. Furthermore, IoT helps connect various smart devices to ease the business operation and sharing & collection of data, which are further utilized to enhance customer's experience.
Large, well-known, and financially strong companies in the global IoT market include Microsoft; IBM Corporation; Oracle; SAP SE; and Google, Inc., therefore— the bargaining power of buyers in the IoT market is quite high. Furthermore, the increasing number of smart city projects, the growing number of online and offline IoT product distributors, and escalating demand for implementing IoT technologies in the automotive sector are likely to propel the market growth. The major companies in the IoT market use different strategies while planning solutions and service models for different industry verticals. Continuous advancements in the technology sector are anticipated to put pressure on IoT solution providers to adapt to the changes to sustain their market position in the IoT market.
Strategic Insights
Report Coverage - IoT Market
Report Coverage
Details
Market Size Value in
US$ 483.28 Billion in 2022
Market Size Value by
US$ 2,270.42 Billion by 2028
Growth rate
CAGR of 29.4% from 2022 to 2028
Forecast Period
2022-2028
Base Year
2022
No. of Pages
192
No. of Tables
88
No. of Charts & Figures
83
Historical data available
Yes
Segments covered
Offering, and End User
Free Sample Copy Available
Impact of COVID-19 Pandemic on IoT Market
The COVID-19 outbreak dramatically impacted the global economy during its peak in 2020 and disrupted economies and businesses across the globe. Further, the adoption of IoT technology increased tremendously across several verticals, which helped smart cities sustain utility grids and guaranteed that the public's electricity, water, and gas requirements were met while avoiding the risk of sending technicians for manual work in the field during the pandemic. Moreover, IoT technology played a vital role in the healthcare system as it enabled proper monitoring of COVID-19 patients by employing an interconnected network. In addition, this technology helps increase patient satisfaction and reduces the readmission rate in hospitals. Also, remote working, contactless payments, transmission chain tracking, and "Health 4.0" are a few factors that supported the demand for IoT applications during the pandemic. Hence, the COVID-19 outbreak positively impacted the IoT market growth.
Lucrative Regions: IoT Market Share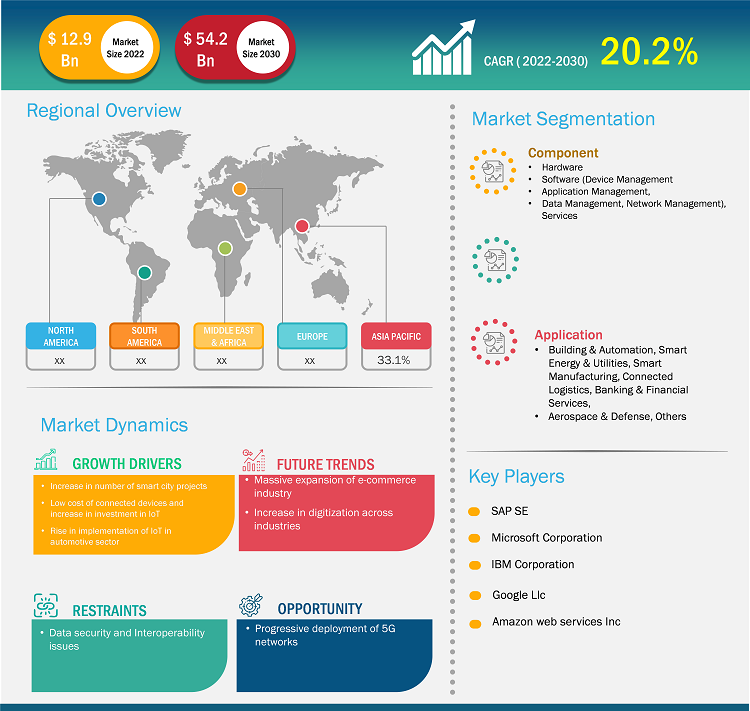 Get more information on this report :
Market Insight – IoT Market
Reduction in Cost of Connected Devices and Increase in Investments in IoT
The number of connected devices or IoT devices that send data by connecting wirelessly to a network is increasing tremendously. Also, sensor technology embedded in IoT devices continues to become cheaper, more advanced, and widely available. In addition, devices' availability and cost-effectiveness create possibilities for new sensor applications, including large-scale monitoring and detection. Moreover, there is improved mobile connectivity with the advent of 5G, further accelerating new investments in IoT. Large enterprises continue to invest their sizable resources in IoT. In addition, companies are increasingly utilizing IoT as part of their business plans, rapidly revamping their IoT plans, and executing long-term IoT deals. Also, businesses are investing in connected device sensors, from tools and equipment to vehicles and buildings, and leveraging each use case's layers of analytics to create actionable data sources that derive higher-level business insights. A growing shift toward long-term IoT adoption is becoming extremely important to professionals in the IoT industry. Several businesses are adding sensors to people, places, products, and processes to collect and analyze information for better decision-making and increased transparency. Therefore, IoT provides a compelling reason for all the investments in the cloud, data centers, global networks, and big data analytics by enabling innovations and revenue streams, enhancing better customer experiences and asset utilization, improving employee productivity, and increasing efficiency in supply chain and logistics operations. These factors, as a result, collectively boost the IoT market growth.
Offering-Based Insights
Based on offering, the IoT market is segmented into hardware, software, and service. In 2022, the hardware segment accounted for the largest share of the IoT market. The demand for hardware IoT devices continues to grow as they manage essential tasks and functions such as system activation, security, action specifications, communication, and detection of support-specific goals and actions. Moreover, hardware components achieve an interface with the physical world and perform more computationally complex tasks. Furthermore, there is a growing number of product launches and developments for hardware offerings in the market. For instance, in December 2021, Silicon Labs—which designs and manufactures semiconductors, other silicon devices, and software—launched Custom Part Manufacturing Service. In addition, this new service portfolio helps makers customize their Silicon Labs hardware at the factory. The Silicon Labs hardware portfolio includes wireless SoCs, modules, and MCUs, that help customers have a footmark, and they can be tracked throughout the entire chip's journey. These factors are collectively driving the IoT market for the hardware segment.
Players operating in the IoT market are mainly focused on developing advanced and efficient products
In January 2022, PTC Inc.—which develops parametric, associative feature-based, solid computer-aided design (CAD) modeling software, including an Internet-based product for product lifecycle management (PLM)—and Schaeffler, which is a global automotive and industrial supplier, announced a new alliance that will see Schaeffler standardize on PTC solutions to deploy an integrated, end-to-end IT landscape, which will further boost the development of Schaeffler's initiatives for digital twins and visualization of 3D models.
In December 2021, CMC Microsystems—Canada's top hardware technology facilitator—and AIoT Canada, an industrial cluster promoting and accelerating IoT technologies, entered a strategic alliance. With this partnership, AIoT Canada planned to connect its industrial IoT partners with top experts and institutions in Canada.
The IoT market is segmented into five major regions—North America, Europe, Asia Pacific (APAC), Middle East & Africa, and South America. In 2022, Europe led the market with a substantial revenue share, followed by North America. Further, Asia Pacific is expected to register the highest CAGR in the IoT market from 2022 to 2028.
Microsoft Corporation; Hewlett Packard Enterprise Development LP; SAS Institute Inc.; VMware, Inc.; Google, LLC; Oracle Corporation; Cisco Systems, Inc.; SAP SE; IBM Corporation; and Qualcomm Technologies, Inc. are among the key players operating in the IoT market. The market report provides detailed market insights, which help the key players strategize growth in coming years.
Frequently Asked Questions