The miticides market size is expected to grow from US$ 996.48 million in 2022 to US$ 1,352.39 million by 2028; it is estimated to grow at a CAGR of 5.2% from 2022 to 2028.
Miticides are also known as Acaricides, which are pesticides specially manufactured to kill rodents, mice, and tricks. Growing demand to control various crop-related diseases and concerted efforts of governments and companies to promote sustainable agriculture are a few of the key factors contributing to the growth of the market. In addition, the growing demand for miticides for fruits and vegetables is one of the major factors driving the market growth. Poor diet is one of the major causes of malnutrition and diseases across the world. Micronutrients and dietary fibers are necessary for health, and fruits and vegetables are loaded with such nutrients, which makes them an essential part of a healthy diet. Thus, their demand is growing with the rising awareness about healthy diets. The World Health Organization (WHO) and the Food and Agriculture Organization (FAO) recommend a minimum consumption of 400g of fruits and vegetables per person per day. This diet would help to prevent chronic diseases such as heart disease, diabetes, cancer, and obesity. It is also likely to prevent and alleviate several micronutrient deficiencies, especially in people from less developed countries. An insufficient intake of fruits and vegetables is estimated to lead to ~14% of deaths from gastrointestinal cancer worldwide, ~11% of those from ischemic heart disease, and ~9% of those caused by stroke.
In 2022, Asia Pacific held the largest share of the miticides market and is estimated to register the highest CAGR during the forecast period. The market growth in this region is mainly attributed to growing awareness about crop protection chemicals among farmers, surging government subsidies, and rising food demand due to the increasing population. During the forecast period, the growing demand for agricultural products and organic produce is increasing the need for high productivity and yield, which is boosting the use of miticides in Asia Pacific countries, especially China, Japan, and India. The growing agriculture sector is increasing the product consumption rate in Asian countries. According to the Asian Development Bank, rising incomes and urbanization are affecting food consumption activities across the region.
Strategic Insights
Report Coverage - Miticides Market
Report Coverage
Details
Market Size Value in
US$ 996.48 million in 2022
Market Size Value by
US$ 1,352.39 million by 2028
Growth rate
CAGR of 5.2% from 2022 to 2028
Forecast Period
2022-2028
Base Year
2022
No. of Pages
192
No. of Tables
117
No. of Charts & Figures
109
Historical data available
Yes
Segments covered
Source, Form, and Crop Type
Free Sample Copy Available
Impact of COVID-19 Pandemic on Miticides Market
Lockdowns, travel restrictions, and business shutdowns due to the COVID-19 pandemic adversely affected economies and industries in various countries in North America, Europe, Asia Pacific (APAC), South & Central America, and the Middle East & Africa (MEA). The crisis disturbed global supply chains, manufacturing activities, delivery schedules, and essential and nonessential product sales. Various companies announced possible delays in product deliveries and a slump in future sales of their products in 2020. Further, the international travel bans imposed by various governments in Europe, Asia Pacific, and North America forced several companies to discontinue their collaboration and partnership plans. All these factors hampered the chemicals & materials industry in 2020 and early 2021, thereby restraining the growth of various markets related to this industry, including the miticides market.
Before the onset of the COVID-19 outbreak, the miticides market was mainly driven by the rising demand from the agriculture industry. However, in 2020, various industries had to slow down their operations due to disruptions in value chains caused by the shutdown of national and international boundaries. The COVID-19 pandemic disrupted the supply chain of key raw materials and disturbed manufacturing processes due to restrictions imposed by government authorities in various countries. Such factors reduced the production of agrochemicals, including miticides.
Miticides Market Breakdown, by Region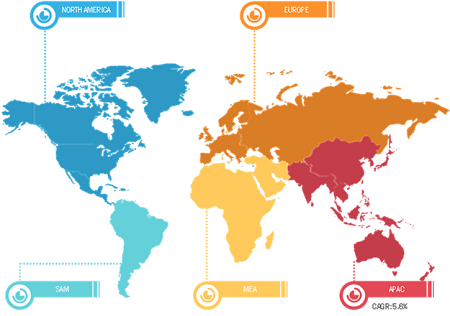 Get more information on this report :
Market Insights
Strategic Developments by Key Players Favor Miticides Market Growth
Key players in the market are engaged in adopting various marketing strategies such as product launches, mergers & acquisitions, collaborations, and others. Such strategic developments by key players in the market are expected to surge the growth of the miticides market.
Source-Based Insights
Based on source, the miticides market is bifurcated into bio-based and synthetic. The synthetic segment held a larger market share in 2022, and the bio-based segment is expected to register a higher CAGR during the forecast period. Chemical miticides are preferred over bio-based ones due to their effectiveness and ability to destroy mites and ticks faster. Chemicals affect mites' essentially biological processes or systems such as the nervous system, growth, or metabolic energy production.
Form-Based Insights
Based on form, the miticides market is bifurcated into dry and liquid. The liquid segment held a larger market share in 2022, and the dry segment is expected to register a higher CAGR during the forecast period. Liquid miticides are highly efficient as they are composed of smaller particle sizes and can be easily absorbed by plants. They do not cause dust formation on spraying, thus lowering the risk of inhaling toxins through the mouth and nose. Easy application, transport, storage, and the high effectiveness of liquid miticides in destroying ticks and mites are a few factors augmenting the growth of the miticides market for the liquid segment.
Miticides Market, by Form – 2022 and 2028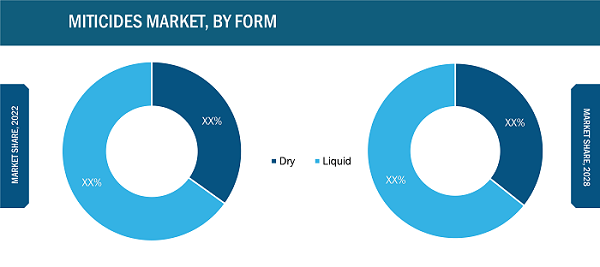 Get more information on this report :
Crop Type-Based Insights
Based on crop type, the miticides market is segmented into fruits and vegetables, cereals and grains, oilseeds and pulses, and others. The fruits and vegetables segment held the largest share of the global miticides market in 2021. Fruits and vegetables grown in the subtropical and temperate zones are most susceptible to mites. Miticides are chemicals that kill or repel mites. Therefore, miticides are commonly employed to ensure successful fruit and vegetable production.
Nihon Nohyaku Co Ltd, Kemin Industries Inc, BASF SE, Bayer AG, FMC Corp, Gowan Co, Syngenta AG, UPL Ltd, Oro Agri International BV, and Certis USA LLC are among the major players operating in the miticides market. These companies mainly focus on product innovation to expand their market size and follow emerging market trends.
Report Spotlights
Progressive industry trends in the miticides market to help companies develop effective long-term strategies
Business growth strategies adopted by the miticides market players in developed and developing countries
Quantitative analysis of the market from 2020 to 2028
Estimation of global demand for miticides
Porter's Five Forces analysis to illustrate the efficacy of buyers and suppliers in the miticides market
Recent developments to understand the competitive market scenario
Market trends and outlook, as well as factors driving and restraining the growth of the miticides market
Assistance in the decision-making process by highlighting market strategies that underpin commercial interest
Size of the miticides market at various nodes
Detailed overview and segmentation of the market and growth dynamics of the miticides industry
Size of the miticides market in various regions with promising growth opportunities
Frequently Asked Questions