The passport reader market size was valued at US$ 212.40 million in 2022 and is projected to reach US$ 310.17 million by 2028; it is expected to grow at a CAGR of 6.5% from 2022 to 2028.
The increasing spending on the adoption of advanced technologies and security devices in developing and developed countries is driving the demand for passport readers. Governments of different countries are taking significant steps to boost the security and authentication measures at airports and cross-country land/marine borders with the use of electronic devices such as passport readers. Additionally, the continuous emphasis on the construction of new airports and expansion of existing airports are also fueling the demand for passport readers, and therefore driving the passport reader market.
The key factors bolstering the passport reader market growth include surging immigrant population, rising adoption of e-passports, and increasing international air passenger traffic worldwide. Moreover, advancement in technologies, including OCR, is expected to boost the demand for passport readers.
Border control requirements are exceptionally diverse, with certain borders fixed in airports or posts on roads, and several border control measures take place in a mobile manner on ships, trains or by monitoring pedestrians. It outstretched the requisite for an integrated portable reader capable of completing all measures of immigration procedures, such as reading varied ID documents, obtaining biometrics, and connecting to remote databases.
Additionally, passport checks are an essential security measure for several businesses and institutions. In some instances, a passport is the most appropriate document to collect necessary customer information. Also, in some cases, passports are mandatory by law, and the collected data must be shared with local authorities. As manual checking of passports is a tedious task in some businesses, they prefer using dedicated passport readers. In such cases, mobile passport scanning integrated with Mobile optical character recognition (OCR) is an ideal alternative. Thus, increase in adoption rate of mobile passport scanning devices is foreseen to catalyze the passport reader market size.
Strategic Insights
Report Coverage - Passport Reader Market
Report Coverage
Details
Market Size Value in
US$ 212.40 Million in 2022
Market Size Value by
US$ 310.17 Million by 2028
Growth rate
CAGR of 6.5% from 2022 to 2028
Forecast Period
2022-2028
Base Year
2022
No. of Pages
180
No. of Tables
111
No. of Charts & Figures
89
Historical data available
Yes
Segments covered
Technology, Type, Application, and Sector
Free Sample Copy Available
Impact of COVID-19 Pandemic on Passport Reader Market
Tourism is one of the industries relying heavily on aviation. By facilitating tourism, air transport helps generate economic growth and alleviate poverty. ~1.4 billion tourists cross borders every year, and over half of them travel to their destinations by air. According to ICAO, the outbreak of COVID 19 is anticipated to result in an overall reduction of 1,878 to 3,227 million air passengers worldwide in 2020. Also, as per the UNWTO, the international tourism is expected to decline from US$ 910 to 1,170 billion in 2020, in comparison to the US$ 1.5 trillion generated in 2019, owing to travel restrictions. These statistics are expected to reduce the adoption of passport readers across the application areas, which is anticipated to slowdown the growth of passport reader market through 2020.
Lockdowns imposed by the governments resulted in a huge impact on the air travel industry. The European region closed its borders to prevent the spread of COVID-19, essentially discontinuing travel between countries. The ACI Europe estimated a loss of ~US$ 22.2 billion due to the decline of ~900 million passenger visits in the region in 2020. Further, according to World Tourism Organization, international arrivals declined by 70% in 2020. This led to a drastic decline in the demand for passport readers, thereby severely affecting passport reader market in the region. However, with the relaxation of lockdown measures in 2021, operations resumed in international travels. Therefore, the demand for passport readers is expected to escalate in the upcoming years. According to the World Tourism Organization (UNWTO), Europe rebounded the international tourism, reaching 81% of pre-pandemic levels in September 2022.
Lucrative Regions for Passport Reader Market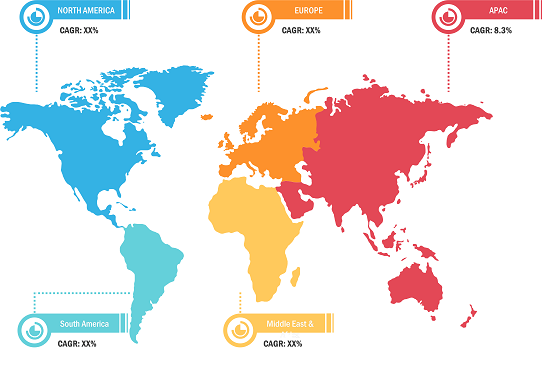 Get more information on this report :
Market Insights
Increase in Passport Forgery
In the last few years, passport forgery incidents have surged to a great extent, thus, threatening national security. To handle this, the US Department of State's law enforcement arm and DS Service have appointed special agents to identify fake passports and coordinate with over 160 countries for investigation resolutions. Several cases were detected concerning the forging of passports worldwide. Hence, border control authorities and airport officials have installed passport readers that can test the originality of the document. Moreover, the upcoming e-passports are facilitating in eliminating the forgery of documents. These passports have a chip with stored data of travelers, which can be checked at the time of check-in through passport readers. These innovative security features are expected to prevent unlawful activities of generating fake documents. Migration to e-passports has been in progress since 2005, and over 150 states in the US started issuing e-passports in mid-2019. The increase in the deployment of passport readers and issuing of e-passports is expected to mitigate the threat of forged passports, which is expected to drive the passport reader market.
Technology-Based Market Insights
Based on technology, the global passport reader market is segmented into RFID, barcode, and OCR. Passport reader manufacturers worldwide are focusing on the development and integration of advanced technologies. The growing demand for technologically advanced devices for reading and capturing data from images, printed text in machine-encoded text, scanned documents, and document photographs is boosting the passport reader market growth globally. Smart Engine offers OCR passport reading solutions that are integrated with systems like passport scanners and tour booking applications for easy and automatic passport reading. The company also launched its solutions in Kazakhstan in 2021, which provided lucrative opportunities for the company to explore new markets.
The passport reader market is segmented based on type, technology, application, end user, and geography. Based on technology, the market is segmented into RFID, barcode, and OCR. Based on type, the passport reader market size is segmented into swipe readers, self-service kiosks, compact full-page readers, and portable readers. Based on application, the passport reader market analysis is categorized into airport security, border control, and others. Based on sector, the market is segmented into private and public. Based on geography, the passport reader market is primarily segmented into North America, Europe, Asia Pacific (APAC), the Middle East & Africa (MEA), and South America.
Access Ltd; ARH Inc.; Beijing Wintone Science & Technology Co., Ltd.; DESKO GmbH; Thales Group; IER SAS; Regula Forensics Inc.; Shenzhen Rakinda Technology Co., Ltd.; Lintech Enterprises Limited; and Veridos GmbH are among the key passport reader market players.
Product development is the commonly adopted strategy by companies to expand their product portfolio. The key passport reader market players are implementing this strategy to expand the customer base and gain a significant share in the passport reader market, which, in turn, enables them to maintain their brand name in the global market. For instance:
In October 2022, Bejing Wintone Science & Technology Co. Ltd. announced the launch of a new passport reader device integrated with face recognition technology for the e-gate application. It can recognize any document in compliance with ICAO 9303.
In October 2022, DESKO GmbH announced the launch of a new PENTA Scanner 4X Cube. It is better, faster, and more efficient than the company's other scanners, which can scan all the documents needed.
Frequently Asked Questions