The pet ID microchips market is projected to reach US$ 111.35 million by 2028 from US$ 79.53 million in 2022; it is expected to grow at a CAGR of 5.8% during 2022–2028.
According to the American Veterinary Medical Association (AVMA), a microchip is a small electronic chip enclosed in a glass cylinder about the same size as a rice grain. Often the pet ID microchips are also referred to as a transponder. The chip is generally injected inside a pet with a custom injector by a veterinary doctor and intended to remain inside the pet's body. The pet ID microchip is devoid of batteries and activated when a scanner passes over it. Once activated, the chip transmits the identification number to the scanner; then, the number is displayed on the scanner's screen. A single chip is expected to remain functional for up to 25 years and lasts the pet's lifetime. Most present-day chips function at 134.2 kHz, while some 125 kHz microchips are still sold in the US. Innovations in the microchip have significantly reduced its size and added functionality of the temperature reading of the pet when scanned with a microchip scanner. Microchips are an effective means of identifying pet since it is embedded inside the body and hence cannot be chewed off, removed, torn, or falsified. Veterinarians and animal-welfare charities across the world are embracing pet ID microchipping mandates imposed by regulatory bodies. The pet ID microchip helps properly identify pets and quickly reunite owners with lost or injured pets. In the UK, the government passed a regulation in 2016 for all pet owners to microchip their dogs and register their details on a centralized database. Therefore, enforcement by regulatory bodies for compulsory pet microchipping and scanning is driving the pet ID microchips market growth.
Pet ID Microchips Market - Strategic Insights
Report Coverage - Pet ID Microchips Market
Report Coverage
Details
Market Size Value in
US$ 79.53 Million in 2022
Market Size Value by
US$ 111.35 Million by 2028
Growth rate
CAGR of 5.8% from 2022 to 2028
Forecast Period
2022-2028
Base Year
2022
No. of Pages
152
No. of Tables
61
No. of Charts & Figures
73
Historical data available
Yes
Segments covered
Pet Type, and End User
Free Sample Copy Available
Impact of COVID-19 Pandemic on Pet ID Microchips Market Growth
During the COVID-19 outbreak, the continuous growth in COVID-19 patients compelled government authorities to impose stringent travel bans across the US and other regions in the first three quarters of 2020, which disrupted the normal functioning of various enterprises. Implementing containment measures such as trade bans, travel restrictions, and workplace workforce limitations impacted various businesses' manufacturing, supply, and sales. Hence enterprises strongly adopted work-from-anywhere (WFA) trends. Social isolation and WFA arrangements propelled the adoption of companion animals, which bolstered the pet ID microchips market. This is because most pets are first microchipped before getting adopted. As per the PetPoint report of December 2021, published by Pethealth Inc, more than 0.1 million cats and dogs entered AWOs in the US in December. Of this, more than 20,000 were stray cats, and more than 22,000 were stray dogs. Additionally, the report states that more than 49,000 cats were adopted, while more than 34,000 stray dogs were adopted. Hence, the pandemic positively impacted the pet ID microchips market growth.
Lucrative Regions for Pet ID Microchips Market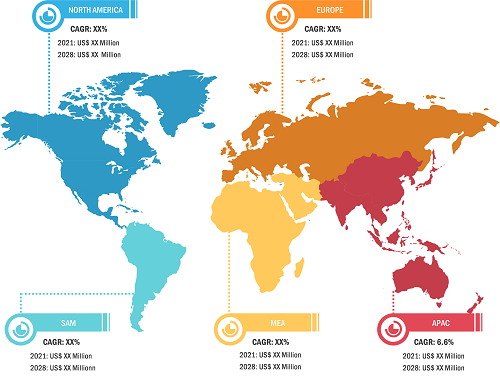 Get more information on this report :
Market Insights – Pet ID Microchips Market
Veterinarian care is increasingly becoming expensive, and routine veterinary visits make up the second-largest segment of a dog owner's expenditures after food. According to American Pet Products Association (APPA), people in the US will spend nearly US$ 109.6 billion on their pets in 2022. Moreover, pet accessories are becoming technical, and there are growing inventions and developments in the pet industry. With massive spending on pets, there is an increasing demand for sophisticated pet technology, mainly among tech-savvy owners, who are expected to utilize ID microchips to ensure pet security. Furthermore, ID microchips are becoming increasingly popular among pet owners, as they help them track animals without using traditional collars and tags. Therefore, the demand for ID microchips for pets is expected to grow significantly in the coming years.
Pet Type-Based Insights
The dogs segment accounted for the largest pet ID microchips market share in 2021. The rising regulations on microchipping pet dogs primarily drive the market growth for the segment. According to European Pet Food Industry Federation (FEDIAF), Europe had 92 million pet dogs in 2021 and 85.2 million pet dogs in 2018. Also, as per the American Veterinary Medical Association's (AVMA) 2017–2018 estimations, the US had nearly 77 million pet dogs and 69 million pet dogs in 2012. With the rising number of dog owners, microchipping of pet dogs is gaining traction globally. Several countries have mandated the microchipping of dogs, which is primarily driving this segment's growth.
The global pet ID microchips market is bifurcated on the basis of pet type and end user. Based on pet type, the pet ID microchips market is segmented into horses, dogs, cats, and others. The others segment of pet type includes rabbits, ferrets, guinea pigs, and snakes. Based on end user, the global pet ID microchips market is segmented into breeders, households, pet shops, and others. The others segment of end user includes pounds, shelters, animal welfare organizations (AWOs), and rescue organizations. Based on geography, the pet ID microchips market is primarily segmented into North America, Europe, Asia Pacific (APAC), the Middle East & Africa (MEA), and South America (SAM). Pethealth, Inc; Merck & Co., Inc; Elanco Animal Health, Inc; Avid Identification Systems, Inc; Datamars SA; Trovan Ltd; Virbac SA; Animalcare Group Plc; Microchip4solutions Inc; and PeddyMark Ltd are among the key pet ID microchips market players.
Pet ID microchips market players mainly focus on partnerships and acquisitions to increase their market share.
In September 2022, El Paso Animal Services, in partnership with 24Pet, launched the 24Pet Reunite Site solar-powered microchip scanner at Salvador Rivas Jr. Park located at 12480 Pebble Hills Dr. The Reunite Site will allow community members to scan pets to see if they are microchipped, learn their pet's microchip number, and find out where and how to get their pet microchipped if they need one.
In August 2020, Bayer completed the sale of its Animal Health business unit to the US company Elanco Animal Health Incorporated. The transaction was completed after the fulfillment of the closing conditions, including the receipt of regulatory approvals.
Frequently Asked Questions