The Portugal sterilization services market was valued at US$ 99.72 million in 2022 and is projected to reach US$ 162.34 million by 2030; it is estimated to record a CAGR of 6.3% from 2022 to 2030.
Analyst Perspective:
Medical devices are sterilized in different ways; these include the application of dry heat, moist heat (steam), vaporized hydrogen peroxide, radiation, ethylene oxide gas, and other sterilization methods such as vaporized peracetic acid, chlorine dioxide gas, and nitrogen dioxide. The sterilization process for some products is delicate and complex, requiring higher quality standards. The demand for sterilization processes for medical devices is continuously growing due to the increasing number of hospital-acquired infections, rising counts of surgical procedures, greater attention toward disinfection, and the growth of the pharmaceutical and biotechnology sectors. The increasing prevalence of healthcare-associated infections and the growing number of surgical procedures propel the sterilization services market growth.
Market Overview:
Sterilization services involve processes that eliminate or destroy all forms of microbial life, including bacteria, viruses, fungi, and spores from medical devices, equipment, and instruments. The Portugal sterilization services market growth is attributed to events like the COVID-19 pandemic that highlighted the importance of rapid and effective sterilization to prevent the spread of infections. Many healthcare facilities outsource sterilization services to specialized providers to reduce costs and ensure compliance with regulations. Developing countries are investing in healthcare infrastructure, creating new opportunities for sterilization services providers to cater to growing medical needs. These factors are responsible for the Portugal sterilization services market growth during the forecast period.
Market Driver:
Growth in Medical Device Industry Drives Portugal Sterilization Services Market Expansion
Top revenue-generating medical device companies are investing significantly in the R&D of advanced technologies and sterilization services in Portugal. Medical devices and equipment are an essential part of monitoring patients. Sterilization is one of the crucial steps in the medical device manufacturing process. The sterilization modality varies on the basis of material compatibility, process availability, processing location, physical device attributes, regulatory approval, cost, and regulatory registration within the countries. Portugal has ~200 companies distributing medical devices. The public sector makes over 80% of medical device expenditure in Portugal, while 20% of sales are generated from the private sector. Further, products holding high sales potential in the Portuguese market are surgery equipment, patient monitoring systems, mini-invasive surgery (MIS) equipment, noninvasive medical apparatus, video endoscopes, X-Ray equipment, digital image processing, magnetic resonance imaging (MRI) equipment, and picture archiving systems, among others. Thus, the healthcare market requires proper management of safety standards to get clearance from regulatory bodies such as the EMA. It is expected that the budget for healthcare will increase in the coming future, as Portugal's budget allocation for healthcare increased by 6.7% in 2022 compared to 2021. The medical market in Portugal shows opportunities for innovative medical devices and diagnostic equipment. The aforementioned factors are likely to continue to provide lucrative opportunities for the Portugal sterilization services market during the forecast period.
Segmental Analysis: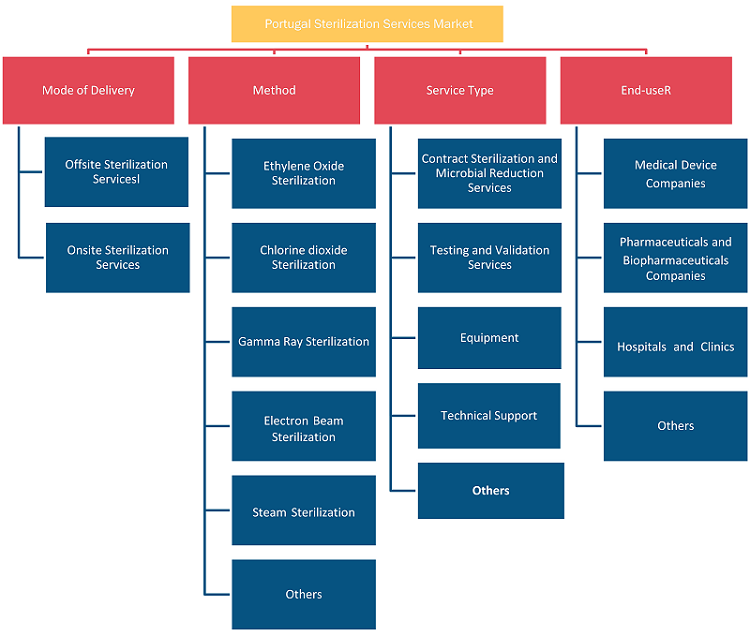 Sample PDF showcases the content structure and the nature of the information with qualitative and quantitative analysis.
Request discounts available for Start-Ups & Universities
Based on mode of delivery, the Portugal sterilization services market is bifurcated into offsite sterilization services and onsite sterilization services. The offsite sterilization segment held a larger market share in 2022; the onsite sterilization segment is anticipated to register a higher CAGR during 2022–2030. The market growth for the segment is attributed to the fact that offsite sterilization services have been proven cost-effective for hospitals. Moreover, companies in this business appoint qualified staff with excellent technical know-how to provide improved services, alongside maintaining high standards by complying with government regulations. Moreover, they are developing innovative solutions to reduce the time and cost for customers, which triggers the demand for offsite sterilization services. For instance, the Mobile Sterile Processing Unit of STERIS plc, a fully integrated, mobile central sterile processing department (SPD), allows for a turnkey process to continually support the operations without disruption during hospital construction, renovation, or expansion.

Sample PDF showcases the content structure and the nature of the information with qualitative and quantitative analysis.
Request discounts available for Start-Ups & Universities
Based on method, the market is segmented into ethylene oxide sterilization, chlorine dioxide sterilization, gamma ray sterilization, electron beam sterilization, steam sterilization, and others. The ethylene oxide sterilization segment held the largest market share in 2022, and the chlorine dioxide sterilization segment is anticipated to register the highest CAGR during 2022–2030. The market growth for the segment is driven by the crucial and most commonly used methods during surgical procedures and other medical treatments. The process involves exposing products to EtO gas under vacuum in a sealed chamber. EtO has the ability to penetrate multiple layers of packaging, making it suitable for a broad range of materials. The size, shape, and material composition of many medical devices make EtO the most suitable sterilization method, as other methods, such as steam and radiation, do not provide the required levels of sterility. Moreover, using non-EtO sterilization methods might result in the degradation of core materials of several devices, compromising product safety for patients.
Based on service type, the market is segmented into contract sterilization and microbial reduction services, testing and validation services, equipment, technical support, and others. The contract sterilization and microbial reduction services segment held the largest market share in 2022 and is anticipated to register the highest CAGR during 2022–2030. Contract services include in-house and offsite sterilization of medical devices, pharmaceuticals, and packaged units. Hospitals and manufacturers prefer these services as they significantly reduce cost and resource burden, allowing them to focus on core activities. Further, contract-based sterilization service personnel are trained for and well-versed with industry standards. In the last few years, the contract sterilization industry has witnessed phenomenal growth owing to the cost-effectiveness and wide adoption of these services in large- and small-scale manufacturers. Thus, the contract sterilization services market is expected to grow during the forecast period.
Based on end user, the market is segmented into medical device companies, pharmaceutical and biopharmaceutical companies, hospitals and clinics, and others. The medical device companies segment held the largest market share in 2022 and is anticipated to register the highest CAGR during 2022–2030. The demand for medical devices would continue to rise in the coming years owing to the increasing population and prevalence of chronic diseases. Moreover, a persistent increase in the number of people gaining access to healthcare worldwide is fueling innovation in the medical device industry, which strives to provide better and widely available diagnostic equipment, boosting the Portugal sterilization services market growth.
Key Player Analysis:
Steris Plc; Ecolab Inc; Azbil Telstar, TUV SUD AG, Sterifast Sterilization & Disinfection Systems Lda, Oneprotec Europe Lda, Steelco SpA, ASP Global Manufacturing GmbH, and Ionisos are among the top players operating in the Portugal sterilization services market owing to their diversified product portfolio.
Recent Developments:
Inorganic and organic strategies such as mergers and acquisitions are highly adopted by companies in the Portugal sterilization services market. A few recent key market developments are listed below:
In June 2023, STERIS plc. signed a definitive agreement to purchase the surgical instrumentation, laparoscopic instrumentation, and sterilization container assets from Becton, Dickinson and Company. STERIS anticipates that the acquisition will qualify for a tax benefit related to tax-deductible goodwill, with a present value of approximately US$ 60 million.
In January 2023, Ionisos and Studer Cables AG announced an agreement under which Ionisos acquired an E-beam sterilization and cross-linking facility from Studer Cables AG in Däniken, Switzerland. The acquisition increases Ionisos' sterilization capacity, diversifying its technology mix and extending its geographic footprint in Europe.
In August 2021, Ecolab Inc. opened the Ecolab Healthcare Advanced Design Center in Eagan, Minnesota—the state-of-the-art, 22,000-square-foot innovation center that enables Ecolab Healthcare partner with medical device industry customers to develop cutting-edge surgical equipment and new solutions for hospitals and surgery centers to prevent infections.

Report Coverage
Revenue forecast, Company Analysis, Industry landscape, Growth factors, and Trends

Segment Covered
Mode of Delivery, Method, Service Type, and End User

Regional Scope
North America, Europe, Asia Pacific, Middle East & Africa, South & Central America

Country Scope
This text is related
to country scope.
The List of Companies - Portugal sterilization services market
Steris Plc
Ecolab Inc
Azbil Telstar
TUV SUD AG
Sterifast Sterilization & Disinfection Systems Lda
Oneprotec Europe Lda
Steelco SpA
ASP Global Manufacturing GmbH
Ionisos
The Insight Partners performs research in 4 major stages: Data Collection & Secondary Research, Primary Research, Data Analysis and Data Triangulation & Final Review.
Data Collection and Secondary Research:
As a market research and consulting firm operating from a decade, we have published many reports and advised several clients across the globe. First step for any study will start with an assessment of currently available data and insights from existing reports. Further, historical and current market information is collected from Investor Presentations, Annual Reports, SEC Filings, etc., and other information related to company's performance and market positioning are gathered from Paid Databases (Factiva, Hoovers, and Reuters) and various other publications available in public domain.
Several associations trade associates, technical forums, institutes, societies and organizations are accessed to gain technical as well as market related insights through their publications such as research papers, blogs and press releases related to the studies are referred to get cues about the market. Further, white papers, journals, magazines, and other news articles published in the last 3 years are scrutinized and analyzed to understand the current market trends.
Primary Research:
The primarily interview analysis comprise of data obtained from industry participants interview and answers to survey questions gathered by in-house primary team.
For primary research, interviews are conducted with industry experts/CEOs/Marketing Managers/Sales Managers/VPs/Subject Matter Experts from both demand and supply side to get a 360-degree view of the market. The primary team conducts several interviews based on the complexity of the markets to understand the various market trends and dynamics which makes research more credible and precise.
A typical research interview fulfils the following functions:
Provides first-hand information on the market size, market trends, growth trends, competitive landscape, and outlook
Validates and strengthens in-house secondary research findings
Develops the analysis team's expertise and market understanding
Primary research involves email interactions and telephone interviews for each market, category, segment, and sub-segment across geographies. The participants who typically take part in such a process include, but are not limited to:
Industry participants: VPs, business development managers, market intelligence managers and national sales managers
Outside experts: Valuation experts, research analysts and key opinion leaders specializing in the electronics and semiconductor industry.
Below is the breakup of our primary respondents by company, designation, and region:

Once we receive the confirmation from primary research sources or primary respondents, we finalize the base year market estimation and forecast the data as per the macroeconomic and microeconomic factors assessed during data collection.
Data Analysis:
Once data is validated through both secondary as well as primary respondents, we finalize the market estimations by hypothesis formulation and factor analysis at regional and country level.
3.1 Macro-Economic Factor Analysis:
We analyse macroeconomic indicators such the gross domestic product (GDP), increase in the demand for goods and services across industries, technological advancement, regional economic growth, governmental policies, the influence of COVID-19, PEST analysis, and other aspects. This analysis aids in setting benchmarks for various nations/regions and approximating market splits. Additionally, the general trend of the aforementioned components aid in determining the market's development possibilities.
Various factors that are especially aligned to the country are taken into account to determine the market size for a certain area and country, including the presence of vendors, such as headquarters and offices, the country's GDP, demand patterns, and industry growth. To comprehend the market dynamics for the nation, a number of growth variables, inhibitors, application areas, and current market trends are researched. The aforementioned elements aid in determining the country's overall market's growth potential.
The "Table of Contents" is formulated by listing and analyzing more than 25 - 30 companies operating in the market ecosystem across geographies. However, we profile only 10 companies as a standard practice in our syndicate reports. These 10 companies comprise leading, emerging, and regional players. Nonetheless, our analysis is not restricted to the 10 listed companies, we also analyze other companies present in the market to develop a holistic view and understand the prevailing trends. The "Company Profiles" section in the report covers key facts, business description, products & services, financial information, SWOT analysis, and key developments. The financial information presented is extracted from the annual reports and official documents of the publicly listed companies. Upon collecting the information for the sections of respective companies, we verify them via various primary sources and then compile the data in respective company profiles. The company level information helps us in deriving the base number as well as in forecasting the market size.
3.4 Developing Base Number:
Aggregation of sales statistics (2020-2022) and macro-economic factor, and other secondary and primary research insights are utilized to arrive at base number and related market shares for 2022. The data gaps are identified in this step and relevant market data is analyzed, collected from paid primary interviews or databases. On finalizing the base year market size, forecasts are developed on the basis of macro-economic, industry and market growth factors and company level analysis.
Data Triangulation and Final Review:
The market findings and base year market size calculations are validated from supply as well as demand side. Demand side validations are based on macro-economic factor analysis and benchmarks for respective regions and countries. In case of supply side validations, revenues of major companies are estimated (in case not available) based on industry benchmark, approximate number of employees, product portfolio, and primary interviews revenues are gathered. Further revenue from target product/service segment is assessed to avoid overshooting of market statistics. In case of heavy deviations between supply and demand side values, all thes steps are repeated to achieve synchronization.
We follow an iterative model, wherein we share our research findings with Subject Matter Experts (SME's) and Key Opinion Leaders (KOLs) until consensus view of the market is not formulated – this model negates any drastic deviation in the opinions of experts. Only validated and universally acceptable research findings are quoted in our reports.
We have important check points that we use to validate our research findings – which we call – data triangulation, where we validate the information, we generate from secondary sources with primary interviews and then we re-validate with our internal data bases and Subject matter experts. This comprehensive model enables us to deliver high quality, reliable data in shortest possible time.
Trends and growth analysis reports related to Portugal Sterilization Services Market
---