[Research Report] The Poultry Probiotic market is expected to grow from US$ 117 million in 2022 to US$ 188 million by 2030; it is expected to record a CAGR of 6.5% from 2022 to 2030.

Market Insights and Analyst View:

Poultry probiotics are live fungi, bacteria, or yeasts that supplement the gastrointestinal flora and aid in maintaining a healthy digestive system, thereby promoting the growth performance and overall health of poultry animals. Probiotics are a feed additive that has gained popularity in poultry production following the ban on antibiotic growth promoters (AGP). These probiotics are added to poultry feed in order to increases the production of meat and eggs from poultry animals.

Growth Drivers and Challenges:

Rising awareness regarding the need to improve gut health and immunity of poultry animals, coupled with the increasing outbreak of diseases in chicken, boost the demand for growth promoters such as probiotic ingredients. Therefore, the increasing usage of additives in poultry feed is boosting the demand for the poultry probiotic. Moreover, the high efficacy of bifidobacterium in preventing the contraction of specific infections & diseases and maintaining gastrointestinal flora in poultry animals and its ability to enhance the growth rate and feed efficiency in poultry animals are likely to fuel the product demand. Additionally, supportive regulations regarding antibiotic bans, as various incidences show the harmful effect of antibiotics in meat products, are likely to encourage using natural ingredients in feed additives to drive the demand for poultry probiotics. For instance, from 2006 onwards, the European Union (EU) has prohibited using antibiotics as feed additives. Hence, many activities were initiated to establish alternative strategies in order to prevent the growth of pathogenic bacteria in farm animals. Prebiotics, probiotics, and essential oils have been suggested as alternatives to animal feed antibiotics. Thus, the increasing adoption of probiotics as an alternative to antibiotics in animal feed creates lucrative growth opportunities in the poultry probiotics market.

Furthermore, world poultry meat production soared by 9 to 133 million tons from 1961 to 2020, and the production of eggs shot up from 15 to 93 million tons. In 2020, poultry meat represented almost 40 % of global meat production. Thus, high poultry production is expected to boost the demand for feed additives such as poultry probiotics. However, rules and regulations regarding the utilization of probiotics in poultry feed are becoming increasingly stringent. There are discrepancies on the usage of probiotics in between developed and developing countries in the form of standard issues such as environmental protection, animal welfare, and meat quality. This factor can hamper the poultry probiotic market growth across the globe.

Strategic Insights
Report Segmentation and Scope:

The "Global Poultry Probiotic Market" is segmented based on type, application, and geography. The poultry probiotic market is segmented into lactobacillus, bifidobacterium, saccharomyces, streptococcus, and others based on product type. On the basis of application, the market is classified into chicken, turkey, and Others. The poultry probiotic market based on geography is segmented into North America (US, Canada, and Mexico), Europe (Germany, France, Italy, UK, Russia, and Rest of Europe), Asia Pacific (Australia, China, Japan, India, South Korea, and Rest of Asia Pacific), Middle East & Africa (South Africa, Saudi Arabia, UAE, and Rest of Middle East & Africa), and South & Central America (Brazil, Argentina, and Rest of South & Central America)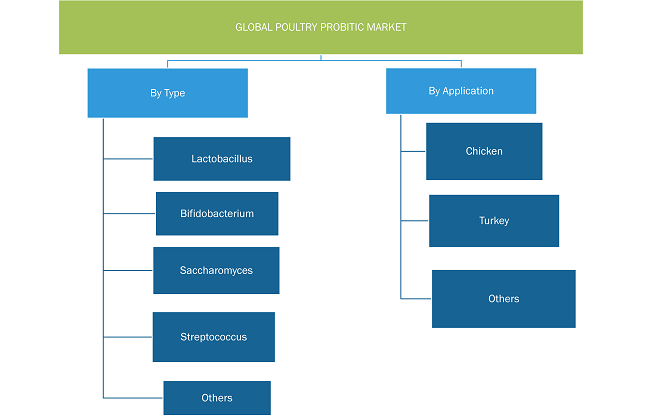 Segmental Analysis:

The poultry probiotic market is segmented based on type into lactobacillus, bifidobacterium, saccharomyces, streptococcus, and others. The lactobacillus segment holds a significant market share and is expected to register a significant CAGR in the poultry probiotic market during the forecast period. Lactobacillus is a microbe widely used in preparing poultry probiotic formulations due to its ability to improve immunity and decrease enzyme activity. Rising awareness regarding the importance of the health and nutrition of poultry animals among poultry farmers is anticipated to trigger the segment growth. Moreover, probiotics are exposed to harsh conditions in the small intestine and stomach after they survive the manufacturing process and degradation overtime on the shelf. According to the research of UK food microbiologists, only some highly resistant bacteria, like lactobacillus, can survive stomach acid. The other probiotic bacteria are anticipated to get destroyed by stomach acid. Thus, lactobacillus is mostly a preferred probiotic species by the poultry feed industries.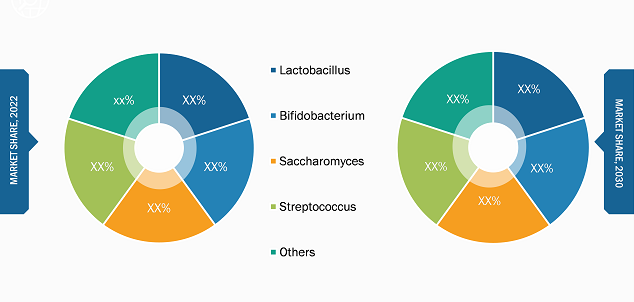 Regional Analysis:

Based on geography, the poultry probiotic market is segmented into five key regions: North America, Asia Pacific, Europe, South & Central America, and Middle East & Africa. The global poultry probiotic market in the Asia Pacific is significantly increasing due to the rising animal feed production and growing livestock. Asia Pacific is the largest producer of animal feed globally. The region accounts for the largest human population among all five regions and contains around 60% of the global population. Hence, the mass of the region is bolstering the demand for meat products, which is leading the region for livestock and subsequently favoring the poultry probiotic market growth in the region. Moreover, favorable government schemes and subsidies to promote the growth of poultry livestock further boost the demand for poultry feed additives such as probiotics in the region. The rising production and consumption of animal feed among livestock farms increase the growth of the poultry probiotic market in Asia Pacific.

Industry Developments and Future Opportunities:

Various initiatives taken by key players operating in the poultry probiotic market are listed below:

1. In September 2022, Lallemand opened a new branch in Poland and standardized its presence to directly sell its microbial-based animal nutrition and well-being solutions.

2. In September 2022, DSM acquired Prodap. Prodap is a leading animal nutrition and technology company based in Brazil. With this strategy, the company's technological offerings include specialized nutritional solutions and consulting services to enhance animal farming efficiency and sustainability.

3. In December 2022, the Adisseo group acquired Nor-Feed and its subsidiaries in order to develope and register botanical additives for utilization in animal feed.

4. In October 2022, the partnership between BASF and Evonik allowed Evonik certain non-exclusive licensing rights to OpteinicsTM, a digital solution to reduce the negative environmental impact of the feed industries and animal protein and improve comprehension.

COVID-19 Impact:

The COVID-19 pandemic affected almost all industries in various regions. Lockdowns, business shutdowns, and travel restrictions in North America (NA), Europe (EU), Asia Pacific (APAC), South & Central America, and the Middle East & Africa (MEA) imped the growth of several industries, including the livestock industry, food & beverage industry, animal feed industries. The closure of manufacturing units disturbed global supply chains, production activities, delivery schedules, and nonessential and essential product sales. Many companies witnessed delays in product deliveries and a slump in sales of their products in 2020. Animal feed manufacturers temporarily close their operations or limit their production capacities, negatively impacting the poultry probiotic market growth. However, by the end of 2021, many countries were fully vaccinated, and governments announced relaxations in specific regulations, including lockdowns and travel bans. The relaxation of trade restrictions aided in import and export operations, positively impacting the poultry probiotic market growth.

Competitive Landscape and Key Companies:

A few of the key players operating in the global poultry probiotic market include ADM, Chr. Hansen Holding A/S, Adisseo, Alltech, Land O'Lakes, Inc., Lallemand Inc., DSM, IFF Nutrition and Biosciences, Kemin Industries, Inc. Dupont DE Nemours, Inc., among others. These market players are adopting strategic development initiatives to expand, further driving the poultry probiotic market growth.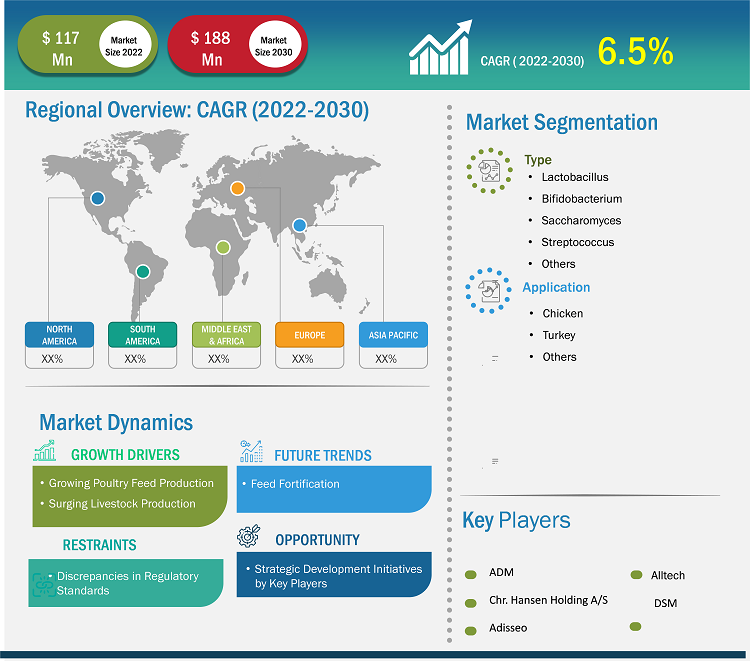 Sample PDF showcases the content structure and the nature of the information with qualitative and quantitative analysis.
Request discounts available for Start-Ups & Universities
REGIONAL FRAMEWORK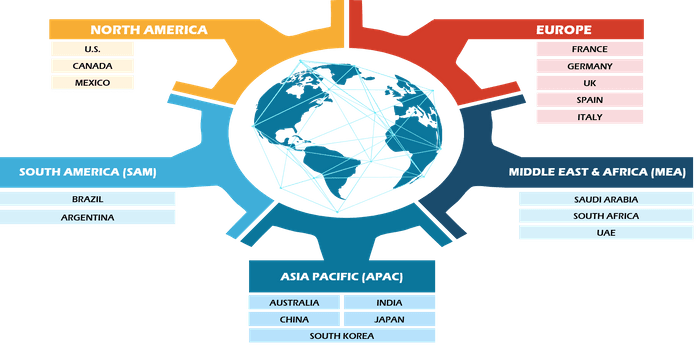 Have a question?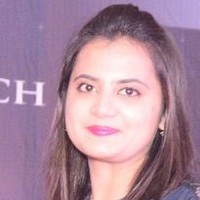 Shejal
Shejal will walk you through a 15-minute call to present the report's content and answer all queries if you have any.

Speak to Analyst
Sample PDF showcases the content structure and the nature of the information with qualitative and quantitative analysis.
Request discounts available for Start-Ups & Universities
MARKET PLAYERS
Sample PDF showcases the content structure and the nature of the information with qualitative and quantitative analysis.
Request discounts available for Start-Ups & Universities

Report Coverage
Revenue forecast, Company Analysis, Industry landscape, Growth factors, and Trends

Segment Covered
This text is related
to segments covered.

Regional Scope
North America, Europe, Asia Pacific, Middle East & Africa, South & Central America

Country Scope
This text is related
to country scope.
1.ADM, Chr
2.Hansen Holding A/S
3.Adisseo
4.Alltech
5.Land O'Lakes Inc
6.Lallemand Inc
7.DSM
8.IFF Nutrition
9.Biosciences
10.Kemin Industries Inc
11.Dupont DE Nemours, Inc
The Insight Partners performs research in 4 major stages: Data Collection & Secondary Research, Primary Research, Data Analysis and Data Triangulation & Final Review.
Data Collection and Secondary Research:
As a market research and consulting firm operating from a decade, we have published many reports and advised several clients across the globe. First step for any study will start with an assessment of currently available data and insights from existing reports. Further, historical and current market information is collected from Investor Presentations, Annual Reports, SEC Filings, etc., and other information related to company's performance and market positioning are gathered from Paid Databases (Factiva, Hoovers, and Reuters) and various other publications available in public domain.
Several associations trade associates, technical forums, institutes, societies and organizations are accessed to gain technical as well as market related insights through their publications such as research papers, blogs and press releases related to the studies are referred to get cues about the market. Further, white papers, journals, magazines, and other news articles published in the last 3 years are scrutinized and analyzed to understand the current market trends.
Primary Research:
The primarily interview analysis comprise of data obtained from industry participants interview and answers to survey questions gathered by in-house primary team.
For primary research, interviews are conducted with industry experts/CEOs/Marketing Managers/Sales Managers/VPs/Subject Matter Experts from both demand and supply side to get a 360-degree view of the market. The primary team conducts several interviews based on the complexity of the markets to understand the various market trends and dynamics which makes research more credible and precise.
A typical research interview fulfils the following functions:
Provides first-hand information on the market size, market trends, growth trends, competitive landscape, and outlook
Validates and strengthens in-house secondary research findings
Develops the analysis team's expertise and market understanding
Primary research involves email interactions and telephone interviews for each market, category, segment, and sub-segment across geographies. The participants who typically take part in such a process include, but are not limited to:
Industry participants: VPs, business development managers, market intelligence managers and national sales managers
Outside experts: Valuation experts, research analysts and key opinion leaders specializing in the electronics and semiconductor industry.
Below is the breakup of our primary respondents by company, designation, and region:

Once we receive the confirmation from primary research sources or primary respondents, we finalize the base year market estimation and forecast the data as per the macroeconomic and microeconomic factors assessed during data collection.
Data Analysis:
Once data is validated through both secondary as well as primary respondents, we finalize the market estimations by hypothesis formulation and factor analysis at regional and country level.
3.1 Macro-Economic Factor Analysis:
We analyse macroeconomic indicators such the gross domestic product (GDP), increase in the demand for goods and services across industries, technological advancement, regional economic growth, governmental policies, the influence of COVID-19, PEST analysis, and other aspects. This analysis aids in setting benchmarks for various nations/regions and approximating market splits. Additionally, the general trend of the aforementioned components aid in determining the market's development possibilities.
Various factors that are especially aligned to the country are taken into account to determine the market size for a certain area and country, including the presence of vendors, such as headquarters and offices, the country's GDP, demand patterns, and industry growth. To comprehend the market dynamics for the nation, a number of growth variables, inhibitors, application areas, and current market trends are researched. The aforementioned elements aid in determining the country's overall market's growth potential.
The "Table of Contents" is formulated by listing and analyzing more than 25 - 30 companies operating in the market ecosystem across geographies. However, we profile only 10 companies as a standard practice in our syndicate reports. These 10 companies comprise leading, emerging, and regional players. Nonetheless, our analysis is not restricted to the 10 listed companies, we also analyze other companies present in the market to develop a holistic view and understand the prevailing trends. The "Company Profiles" section in the report covers key facts, business description, products & services, financial information, SWOT analysis, and key developments. The financial information presented is extracted from the annual reports and official documents of the publicly listed companies. Upon collecting the information for the sections of respective companies, we verify them via various primary sources and then compile the data in respective company profiles. The company level information helps us in deriving the base number as well as in forecasting the market size.
3.4 Developing Base Number:
Aggregation of sales statistics (2020-2022) and macro-economic factor, and other secondary and primary research insights are utilized to arrive at base number and related market shares for 2022. The data gaps are identified in this step and relevant market data is analyzed, collected from paid primary interviews or databases. On finalizing the base year market size, forecasts are developed on the basis of macro-economic, industry and market growth factors and company level analysis.
Data Triangulation and Final Review:
The market findings and base year market size calculations are validated from supply as well as demand side. Demand side validations are based on macro-economic factor analysis and benchmarks for respective regions and countries. In case of supply side validations, revenues of major companies are estimated (in case not available) based on industry benchmark, approximate number of employees, product portfolio, and primary interviews revenues are gathered. Further revenue from target product/service segment is assessed to avoid overshooting of market statistics. In case of heavy deviations between supply and demand side values, all thes steps are repeated to achieve synchronization.
We follow an iterative model, wherein we share our research findings with Subject Matter Experts (SME's) and Key Opinion Leaders (KOLs) until consensus view of the market is not formulated – this model negates any drastic deviation in the opinions of experts. Only validated and universally acceptable research findings are quoted in our reports.
We have important check points that we use to validate our research findings – which we call – data triangulation, where we validate the information, we generate from secondary sources with primary interviews and then we re-validate with our internal data bases and Subject matter experts. This comprehensive model enables us to deliver high quality, reliable data in shortest possible time.
Trends and growth analysis reports related to Poultry Probiotic Market
---