[Research Report] The proanthocyanidins market was valued at US$ 164.70 million in 2018 and is projected to reach US$ 281.47 million by 2027, growing at a CAGR of 6.2% during the forecast period from 2019 to 2027.
Proanthocyanidins ((PAC) are a class of flavonoids which are known for its nutritional value and therapeutic health benefits. The demand for proanthocyanidin-rich products is increasing with the rapid evolution of the healthcare and food and beverage industry. Various studies have been conducted related to proanthocyanidins which represents their health-promoting effects, and their application in the food and pharmaceutical industry.
Asia Pacific is estimated to register the fastest CAGR in the market over the forecast period. The rapid growth of this region is primarily attributed to the rising awareness related to health benefits and rich nutritional profile offered by the products prepared from proanthocyanidins. Due to the increase rate of lifestyle-related diseases, people are opting for a healthier lifestyle and food. Proanthocyanidins reduce the oxidative damage caused by free radicals in the human body. Further, it also helps in preventing heart-related diseases, and several studies have shown that proanthocyanidins reduce blood pressure and improve fat metabolism. Moreover, some studies also claim proanthocyanidins to have antitumor and anti-cancer activities. These factors are anticipated to fuel the growth of the proanthocyanidins market in the Asia Pacific region over the forecast period. Further, the growing demand for proanthocyanidin in organic and natural beauty products is projected to drive the market growth in the Asia Pacific region.
Global Proanthocyanidins Market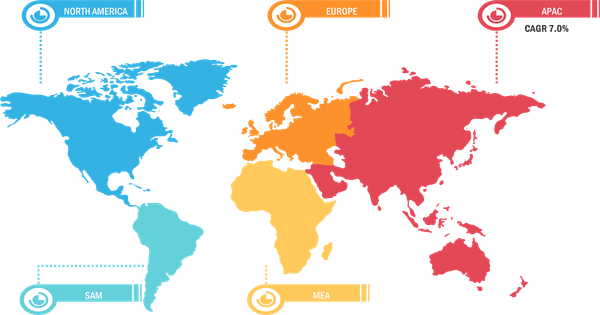 Sample PDF showcases the content structure and the nature of the information with qualitative and quantitative analysis.
Request discounts available for Start-Ups & Universities
Market Insights
Rising use of proanthocyanidins in cosmetic applications
Natural ingredients are becoming more prevalent in the formulations for cosmetic and skin care purposes due to growing consumer concerns associated with synthetic ingredients and chemical substances. The use of plant extracts has been extended to skin care and personal care applications owing to its antioxidant and antimicrobial activities and tyrosinase inhibition effect. Proanthocyanidins are considered as a type of powerful free radical scavenger and antioxidant which are extracted from plant extracts such as grape seed extract, cranberry extract, pine bark extract and others. The antioxidant and scavenging properties of proanthocyanidins are increasingly identified to produce several products in personal care sector. The polymers are potentially used to improve chloasma in a short period of administration. For instance, the grape seed hydroethanolic extract is a rich source of polyphenols including proanthocyanidin. The grape seed extract is therefore, used to prepare grape seed oil, serum and other cosmetic products. Grape seed oil has high amount of tannins and oligomeric proanthocyanosides and possesses high stability and resistance to oxidation reaction. Further, the presence of proanthocyanidins provide the skin with strong antioxidant characteristics which helps to neutralize free-radicals present in the environment. Also, proanthocyanosides is also known to possess skin-soothing and healing properties. In addition, proanthocyanidins are being increasingly used in preparation of cosmetics, such as hand cream and sunscreen cream. Therefore, it is evident that proanthocyanidins are widely useful in the production of several cosmetic products. The growing focus towards research and development followed by the advancement in technology along and growth of cosmetic and skincare market, the demand for proanthocyanidins is expected to rise in the global scenario.
Source Insights
The proanthocyanidins market based on source has been segmented into cranberry, grape seeds, pine bark and others. The cranberry is the fastest growing segment in the global proanthocyanidins market. Cranberry contains proanthocyanidins (PACs) which have been identified as one of the phytochemicals responsible for many of the health benefits. Cranberries contain unique A-type PACs, that exhibit ex vivo bacterial anti-adhesion activity. It helps prevent to E. coli, which is the cause of about 85% of Urinary tract infections (UTIs) and 90% of cases of acute pyelonephritis. The PACs contained in cranberries may also benefit oral health. T e presence of PACs along with other vitamins and antioxidants has increased the use of cranberries and its extracts in pharmaceuticals and dietary supplements. With the rise in the aging population, consumers are becoming more conscious and aware of various diseases that can be prevented by consuming natural foods and supplements containing proanthocyanidins. These concerns have driven the growth of the segment in the proanthocyanidins market..
Type Insights
The proanthocyanidins market based on type is segmented into type A and type B. Type A segment is the fastest growing segment in the global proanthocyanidins market. Type A proanthocyanidins are a type of proanthocyanidins, which are a class of flavonoids. Although various food plants such as red grapes, black grapes, grape seeds, red wine, bilberries, strawberries, blueberries, red cabbage, apple peel, and pine bark contain high amounts of proanthocyanidins, only a few food plants such as cranberries, plums, avocados, peanuts or cinnamon, contain type A proanthocyanidins, Cranberries are considered as a major source of type A proanthocyanidins. Cranberry proanthocyanidins are composed of type A linkages and have been closely linked with preventing adhesion of P-fimbriated uropathogenic Escherichia coli to uroepithelial cells. Type A proanthocyanidins found in cranberries have healthy aging properties. This has propelled the demand for type A proanthocyanidins in the cosmetic application. The type A proanthocyanidins in cranberry are unique because they are the only proanthocyanidins that have antibacterial activity. The anti-adhesion property of type A proanthocyanidins is the basis of the extraordinary ability of cranberries to improve urinary tract health.
Application Insights
The proanthocyanidins market based on application is segmented into pharmaceuticals and dietary supplements, foods and beverages, and personal care and cosmetics. The personal care and cosmetics segment is the fastest growing segment in the global proanthocyanidins market. Proanthocyanidins is gaining traction from personal care and cosmetics products manufacturers due to its antioxidants, anti-inflammatory, moisturizing, and hydration properties. It has ability to bond with collagen which makes it effective in promoting youthful skin, cell health, elasticity, and flexibility. Proanthocyanidins helps to firm up the facial skin and also helps to reduce wrinkles and blemishes for a younger look. It also reduces the cosmetical damage of UV exposure, such as increased pigmentation, thus lightening the skin. Thus it is used in various personal care and cosmetics products such as anti-aging creams, sunscreens, facial serum, cleaners, lotions etc. Proanthocyanidins oil is also used as an ingredient in various lip balms and lip care products, as it can moisturize the sensitive skin of the lips and helps in retaining its softness. Proanthocyanidins may also help in improving the complexion by averting blemishes. Proanthocyanidins are also used in the face creams to avoid acne breakouts due to its anti-bacterial properties. Proanthocyanidins also performs on large open pores of the skin and tightens the skin. It has skin health-boosting collagen protein, which helps to reduce pores. All these therapeutic properties have raised the utilization of proanthocyanidins in personal care and cosmetic products which is driving the market growth.
Global Proanthocyanidins Market, by Application – 2019 & 2027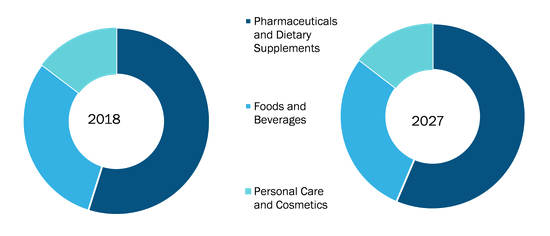 Sample PDF showcases the content structure and the nature of the information with qualitative and quantitative analysis.
Request discounts available for Start-Ups & Universities
Customize Research To Suit Your Requirement

We can optimize and tailor the analysis and scope which is unmet through our standard offerings. This flexibility will help you gain the exact information needed for your business planning and decision making.

Proanthocyanidins Market: Strategic Insights

| | |
| --- | --- |
| Market Size Value in | US$ 164.70 Million in 2018 |
| Market Size Value by | US$ 281.47 Million by 2027 |
| Growth rate | CAGR of 6.2% from 2019-2027 |
| Forecast Period | 2019-2027 |
| Base Year | 2019 |

Shejal

Have a question?

Shejal will walk you through a 15-minute call to present the report's content and answer all queries if you have any.

Speak to Analyst
Market initiative and mergers and acquisitions are commonly adopted by companies to expand their footprint worldwide, which is further impacting the size of the market. The players present in the proanthocyanidins market adopt the strategy of market initiative and mergers and acquisitionsto enlarge the customer base and to gain significant market share across the world, which also permits the players to maintain their brand name globally.
Report Spotlights
Progressive industry trends in the global proanthocyanidins market help players develop effective long-term strategies
Business growth strategies adopted by developed and developing markets
Quantitative analysis of the global proanthocyanidins market from 2017 to 2027
Estimation of global proanthocyanidins demand across various industries
PEST analysis to illustrate the efficacy of buyers and suppliers operating in the industry to predict market growth
Recent developments to understand the competitive market scenario and global proanthocyanidins demand
Market trends and outlook coupled with factors driving and restraining the growth of the global proanthocyanidins market
Decision-making process by understanding strategies that underpin commercial interest with regard to global proanthocyanidins market growth
Global proanthocyanidins market size at various nodes of market
Detailed overview and segmentation of the global proanthocyanidins market, as well as its dynamics in the industry
Global proanthocyanidins market size in various regions with promising growth opportunities
Global Proanthocyanidins Market – By Source
Cranberry
Grape Seeds
Pine Bark
Others
Global Proanthocyanidins Market, by Type
Global Proanthocyanidins Market, by Application
Pharmaceuticals and Dietary Supplements
Foods and Beverages
Personal Care and Cosmetics
Company Profiles
NOW Foods
Fruit d'Or
Artemis International
Beijing Gingko Group
Eevia Health Oy
Indena S.p.A.
Nexira
Natac Group
Givaudan S.A.
Yuensun Biological Technology Co., Ltd

Report Coverage
Revenue forecast, Company Analysis, Industry landscape, Growth factors, and Trends

Segment Covered
Source ; Type ; Application , and Geography

Regional Scope
North America, Europe, Asia Pacific, Middle East & Africa, South & Central America

Country Scope
Argentina, Australia, Brazil, Canada, China, France, Germany, India, Italy, Japan, Mexico, Russian Federation, Saudi Arabia, South Africa, South Korea, United Arab Emirates, United Kingdom, United States
The Insight Partners performs research in 4 major stages: Data Collection & Secondary Research, Primary Research, Data Analysis and Data Triangulation & Final Review.
Data Collection and Secondary Research:
As a market research and consulting firm operating from a decade, we have published many reports and advised several clients across the globe. First step for any study will start with an assessment of currently available data and insights from existing reports. Further, historical and current market information is collected from Investor Presentations, Annual Reports, SEC Filings, etc., and other information related to company's performance and market positioning are gathered from Paid Databases (Factiva, Hoovers, and Reuters) and various other publications available in public domain.
Several associations trade associates, technical forums, institutes, societies and organizations are accessed to gain technical as well as market related insights through their publications such as research papers, blogs and press releases related to the studies are referred to get cues about the market. Further, white papers, journals, magazines, and other news articles published in the last 3 years are scrutinized and analyzed to understand the current market trends.
Primary Research:
The primarily interview analysis comprise of data obtained from industry participants interview and answers to survey questions gathered by in-house primary team.
For primary research, interviews are conducted with industry experts/CEOs/Marketing Managers/Sales Managers/VPs/Subject Matter Experts from both demand and supply side to get a 360-degree view of the market. The primary team conducts several interviews based on the complexity of the markets to understand the various market trends and dynamics which makes research more credible and precise.
A typical research interview fulfils the following functions:
Provides first-hand information on the market size, market trends, growth trends, competitive landscape, and outlook
Validates and strengthens in-house secondary research findings
Develops the analysis team's expertise and market understanding
Primary research involves email interactions and telephone interviews for each market, category, segment, and sub-segment across geographies. The participants who typically take part in such a process include, but are not limited to:
Industry participants: VPs, business development managers, market intelligence managers and national sales managers
Outside experts: Valuation experts, research analysts and key opinion leaders specializing in the electronics and semiconductor industry.
Below is the breakup of our primary respondents by company, designation, and region:

Once we receive the confirmation from primary research sources or primary respondents, we finalize the base year market estimation and forecast the data as per the macroeconomic and microeconomic factors assessed during data collection.
Data Analysis:
Once data is validated through both secondary as well as primary respondents, we finalize the market estimations by hypothesis formulation and factor analysis at regional and country level.
3.1 Macro-Economic Factor Analysis:
We analyse macroeconomic indicators such the gross domestic product (GDP), increase in the demand for goods and services across industries, technological advancement, regional economic growth, governmental policies, the influence of COVID-19, PEST analysis, and other aspects. This analysis aids in setting benchmarks for various nations/regions and approximating market splits. Additionally, the general trend of the aforementioned components aid in determining the market's development possibilities.
Various factors that are especially aligned to the country are taken into account to determine the market size for a certain area and country, including the presence of vendors, such as headquarters and offices, the country's GDP, demand patterns, and industry growth. To comprehend the market dynamics for the nation, a number of growth variables, inhibitors, application areas, and current market trends are researched. The aforementioned elements aid in determining the country's overall market's growth potential.
The "Table of Contents" is formulated by listing and analyzing more than 25 - 30 companies operating in the market ecosystem across geographies. However, we profile only 10 companies as a standard practice in our syndicate reports. These 10 companies comprise leading, emerging, and regional players. Nonetheless, our analysis is not restricted to the 10 listed companies, we also analyze other companies present in the market to develop a holistic view and understand the prevailing trends. The "Company Profiles" section in the report covers key facts, business description, products & services, financial information, SWOT analysis, and key developments. The financial information presented is extracted from the annual reports and official documents of the publicly listed companies. Upon collecting the information for the sections of respective companies, we verify them via various primary sources and then compile the data in respective company profiles. The company level information helps us in deriving the base number as well as in forecasting the market size.
3.4 Developing Base Number:
Aggregation of sales statistics (2020-2022) and macro-economic factor, and other secondary and primary research insights are utilized to arrive at base number and related market shares for 2022. The data gaps are identified in this step and relevant market data is analyzed, collected from paid primary interviews or databases. On finalizing the base year market size, forecasts are developed on the basis of macro-economic, industry and market growth factors and company level analysis.
Data Triangulation and Final Review:
The market findings and base year market size calculations are validated from supply as well as demand side. Demand side validations are based on macro-economic factor analysis and benchmarks for respective regions and countries. In case of supply side validations, revenues of major companies are estimated (in case not available) based on industry benchmark, approximate number of employees, product portfolio, and primary interviews revenues are gathered. Further revenue from target product/service segment is assessed to avoid overshooting of market statistics. In case of heavy deviations between supply and demand side values, all thes steps are repeated to achieve synchronization.
We follow an iterative model, wherein we share our research findings with Subject Matter Experts (SME's) and Key Opinion Leaders (KOLs) until consensus view of the market is not formulated – this model negates any drastic deviation in the opinions of experts. Only validated and universally acceptable research findings are quoted in our reports.
We have important check points that we use to validate our research findings – which we call – data triangulation, where we validate the information, we generate from secondary sources with primary interviews and then we re-validate with our internal data bases and Subject matter experts. This comprehensive model enables us to deliver high quality, reliable data in shortest possible time.