The global skin cancer diagnostics market generated US$ 3,364.46 million in 2021 and is projected to account for US$ 5,480.45 million by 2028, expanding at a CAGR of 7.2% during 2021–2028.
The increasing incidences of skin cancer and launch of new products are the primary aspects buoying the market growth, while the barriers to early skin cancer diagnostics in low and middle-income countries curtail the expansion of global skin cancer diagnostics market
Carcinogenic condition of the skin arises due to abnormal growth of skin cells, generally occuring in the areas exposed to the sun. Ultraviolet (UV) radiation, a leading cause of skin cancer, alters the genetic composition (DNA) of cells. Melanoma and non-melanoma are the two main categories of skin cancer. Several imaging solutions such as CT scans, MRIs, PET scans, bone scans, and chest X-rays are used to diagnose the disease. Besides, the diagnostic therapies include chemotherapy, targeted therapy, immunotherapy, radiotherapy, freezing treatment, and scraping therapy to help cure the dermal condition.
Regionally, North America held the major share of the global skin cancer diagnostics market and is likely to retain its dominance throughout the forecast period. Asia Pacific, the most lucrative market, is speculated to spur at the fastest pace due to increasing number of clinical trials and rising investments to develop new dermal therapies. Prominent skin cancer diagnostics market players have been into organic and inorganic developments. The former includes product launches and approvals while the latter constitutes collaboration, acquisitions, and partnerships. To put in figures, organic developments hold 74% of the strategic growth, whereas inorganic developmental contribution accounts for 26% of the business expansion. Such growth strategies have helped companies enhance their market value and affirm the position.
COVID-19 Impact
Delays and Interruptions in the Non-Urgent Dermal Surgeries Ceased the Global Skin Cancer Diagnostics Market
The global COVID-19 pandemic disrupted the skin cancer diagnostics market and halted business operations. In North America, the non-urgent medical services stood interrupted. Lockdown in the region during 2020 to mid-2021 led to delayed clinical visits. The diagnosis of melanoma and other skin cancers took longer than usual. Hospitals encountered drastic reduction in skin biopsies. With 15% drop in skin biopsy number, a huge backlog remained uncleared during the pandemic. Treatment and management post diagnosis were delayed leading to certain death instances due to dermal cancer. In 2020, melanoma alone reported around 5.6% of all cancer cases in the US causing maximum fatalities. Overall, the pandemic had a profound impact on the routine management of skin cancer services in the US.
In Europe, the elected surgeries including skin cancer excisions were postponed. The healthcare routine changed radically with severe impact on surgical practices. Carcinogenic treatments were hampered with detection and diagnosis being missed and therapies came to standstill. Postponing visits led to complex health implications. Although, skin biopsies resumed post pandemic, a large pile of un-intervened cases remained for almost half a year. Prioritizing COVID infected patients and desisting other medical services had put the healthcare industry in Asia Pacific in crucial position. Medical resources were rationalized to manage the influx of COVID-19 cases. This wreaked havoc in the routine care system of cancer patients. the delays and disruptions in timely healthcare access worsened conditions coercing patients to opt for expensive advanced carcinogenic treatment. The regular cancer screening practices across the region were halted. Medical systems in the region started recognizing the fickle and deadly nature of cancer with its intersection with other widespread health problems.
Future Trends
AI Assisted Skin Cancer Diagnostics
Advanced dermatoscopes aid in better visualization of skin cancer with diagnostic sensitivity improved by 10–30%. Similarly, the applications of artificial intelligence (AI) technology branched into the early-stage skin cancer detection. In February 2022, researchers at Fraunhofer Center for Assistive Information and Communication Solutions (AICOS) introduced Derm.AI software offering primary assessment of skin lesions that look potentially harmful. The software is likely to assist dermatologists to analyze the cases and risk of skin cancer. In January 2017, a group of researchers at Stanford University, developed an AI algorithm for skin cancer diagnosis. They created a database of over 130,000 skin disease images and their algorithm visualizes potential cancer from the very first test. Veriskin Inc. introduced TruScore, a non-invasive, low-cost, and hand-held device supported by AI for skin cancer diagnostics and screening.
Drivers
Increasing Incidences of Skin Cancer
According to the WHO, over 1.20 million skin cancer cases were reported in 2020. Skin cancer is by far the most common of all cancer types. Although Melanoma accounts for around 1% of total skin cancer cases, it causes maximum death instances. The rate of melanoma occurrence rapidly increased in the past few decades, varying with the age. Increased exposure to UV rays leads to genetic mutations causing prolonged skin cancer condition. According to the American Cancer Society's statistics of 2022, around 7,650 people are likely to lose it to melanoma with approximately 5080 men and 2570 women. As per the GLOBOCAN 2020, over 19.3 million cancer cases, excluding 18.1 million nonmelanoma skin cancer cases were registered across the world. Several countries have adopted nationwide programs for cancer awareness and early diagnosis, thereby driving the growth of global skin cancer diagnostics market.
Launch of New Skin Cancer Diagnostics Products
Early detection and timely diagnosis of skin cancer grants the lease of life to cancer patients. in response to this, various companies emphasize offering advanced products for the skin cancer quicker diagnosis. 3Derm Systems, Inc. developed 3DermSpot, an AI-based algorithm that autonomously detects melanoma, squamous cell carcinoma, and basal cell carcinoma using standard skin images. DermaSensor Inc. introduced DermaSensor device as an objective tool to assess lesions suggestive of skin cancer. The device provides feedback on cellular substructures that are invisible to the naked eye, even after inspected by dermatoscopy. In May 2021, SciBase Holding AB launched its non-melanoma skin cancer (NMSC) clinical application and MDR certification process. Such innovations by major market players are certain to accelerate the growth of global skin cancer diagnostics market.
Restraints
Barriers to Early Skin Cancer Diagnostics Market in Low and Middle-Income Countries
The poor literacy regarding health, stigma around cancer, limited access to primary care, inaccurate clinical assessments, delay in clinical diagnostics, inaccessibility of testing, and lack of people's follow up are the legit factors hindering the early diagnosis of cancer in low and middle-income economies. An improper healthcare management often diagnose the cancer in last or intermediate stage, eventually leading to the increased fatality rates. The lack of awareness surged cancer incidences and mortality among children in average economy countries. However, the healthcare providers there lack the resources critical to upgrade medical infrastructure and service quality. High diagnostic and imaging equipment costs, low reimbursement rates, and budgetary constraints limit the cancer diagnosis leading to unspecific and insensitive diagnostic results. These challenges in low-income regions restrict the growth of global skin cancer diagnostics market.
Strategic Insights
Report Coverage - Global Skin Cancer Diagnostics Market
Report Coverage
Details
Market Size Value in
US$ 3,364.46 Million in 2021
Market Size Value by
US$ 5,480.45 Million by 2028
Growth rate
CAGR of 7.2% from 2021 to 2028
Forecast Period
2021-2028
Base Year
2021
No. of Pages
197
No. of Tables
58
No. of Charts & Figures
69
Historical data available
Yes
Segments covered
Type, Screening Type
Regional scope
North America, Europe, Asia Pacific, Middle East & Africa, South & Central America
Country scope
US, Canada, Mexico, UK, Germany, Spain, Italy, France, India, China, Japan, South Korea, Australia, UAE, Saudi Arabia, South Africa, Brazil, Argentina
Report coverage
Revenue forecast, company ranking, competitive landscape, growth factors, and trends
Free Sample Copy Available
Market Segmentation
By Type
Rising Incidences of Types of Non-Melanoma Skin Cancer Surged the Segmental Growth
The global skin cancer diagnostics market, by type, is split into melanoma and non-melanoma. The latter dominated the market in 2021 with the largest revenue share and is anticipated to spur at the highest CAGR during the forecast period. The segmental growth is accustomed to the rising instances of basal cell and squamous cell carcinoma and the awareness campaigns about non-melanoma skin cancer. Though curable through surgery and rarely lethal, the surgical treatment of nonmelanoma cancer is painful and disfiguring. The incidences are difficult to determine due to inefficient reliable registration. Countries located in the decreasing latitudinal region having higher levels of UV radiations have reported more instances of nonmelanoma cancer. The Skin Cancer Foundation stated that over 5,400 patients succumb to non-melanoma cancer every month globally.
The melanoma segment was the second-largest occupant of the global skin cancer diagnostics market in 2021. As per the WHO data published in October 2017, approximately 132,000 melanoma skin cancer cases are registered worldwide every year. In the US, the instances increased by an average of 4%. According to the GLOBOCAN 2020, the number of new melanoma cases in 2020 were close to 324,635. Though malignant melanoma skin cancer is less prevalent than non-melanoma one, it still remains a major cause of fatality.
Skin Cancer Diagnostics Market, by Type – 2021 and 2028

Get more information on this report :
By Screening Type
Numerous Benefits of Biopsy Procedure Upheld the Segment's Dominance
Based on screening type, the global skin cancer diagnostics market is segmented into skin biopsy, blood tests, dermatoscopy, imaging tests, and lymph node biopsy. The skin biopsy segment occupied the largest market share in 2021 and is likely to register the highest CAGR over the forecast period. The skin biopsy procedure requires a small part of the skin to be cut and removed for the test. It detects the skin cancer, infection, or other skin conditions. Skin samples are collected and assessed by different types of biopsies such as punch, excisional, incisional, and shave biopsy. Particularly, in case of non-melanoma, biopsy is often the only test to diagnose the stage or extension of the cancer.
The dermatoscopy segment follows the skin biopsy to encompass the global skin cancer diagnostics market in 2021. It is one of the fastest growing segments. It sensitizes detecting the skin cancer, reduces the number of benign lesions biopsied, and enables the diagnosis of thinner melanomas. Owing to these benefits, dermatoscopy is widely used as primary screening test for skin cancer. It has been a cost-effective procedure, leading to the decreased number of excised benign lesions. Dermatoscopes are light-weight, battery-operated, and handy with convenient attachments to record though smartphones.
Regional Insights
Geographically, the global skin cancer diagnostics market is segmented into North America, Europe, Asia Pacific (APAC), South & Central America (SCAM), and Middle East & Africa (MEA).
North America held the largest market share in 2021 and is forecasted to retain its dominance till 2028. The region's highest market occupancy is attributed to the increasing incidences of skin cancer, rising awareness, and increasing product launches. The US market is thriving on skin cancer incidences, increasing government support, and advanced products for detection in the Skin Cancer Diagnostics market. research states that non-melanoma skin cancers such as BCC and SCC affects over 3 million American citizens every year. The Skin Cancer Foundation revealed that at least 1 in 5 Americans will develop skin cancer by the age of 70. In Canada, melanoma has been highly prevalent and equally fatal for the cancer patients. Morbidity due to skin cancer is becoming usual across the country. According to the Canadian Skin Cancer Foundation, every year more than 80,000 skin cancer cases are registered of which around 5,000 cases report melanoma skin cancer. The number of skin cancer cases across the country is more than the number of breast, prostate, lung, and colon cancer cases put together.
Asia Pacific skin cancer diagnostics market is projected to expand with the highest CAGR over the forecast period. The regional market growth is ascribed to rapidly growing geriatric population, improving healthcare infrastructure, growing per capita income, and developments by major players. Besides, the increasing number of clinical trials, public and private investment in the therapeutic development, increasing expenditure on R&D activities, advanced clinical technologies, and innovative medical diagnostic devices are among the prominent aspects propelling the regional Skin Cancer Diagnostics market growth over the projection period. In China, skin cancer has been a significant public health problem. Country's rapidly aging population continues to put a financial strain on healthcare system. Exposure to ultraviolet B radiation and higher levels of arsenic in drinking water has been linked to skin cancer in India. According to the Indian Council of Medical Research (ICMR), northern part of India has the highest melanoma incidences.
Lucrative Regions for Skin Cancer Diagnostics Market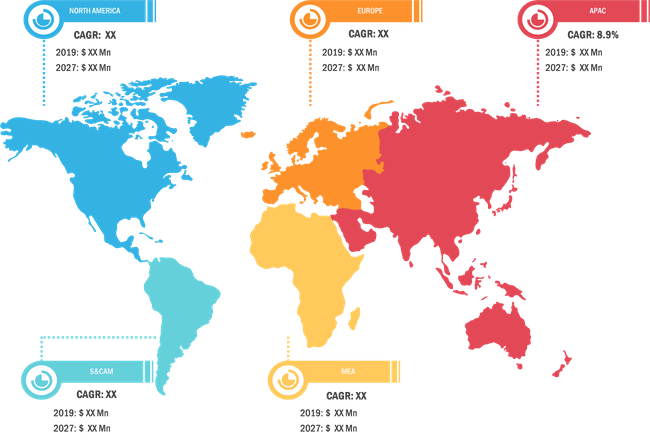 Get more information on this report :
Key Market Players:
SkylineDx BV (Netherlands)
AMLo Biosciences Limited (UK)
NeraCare GmbH (Germany)
DermLite LLC (USA)
bioMerieux SA (France)
Veriskin Inc (US)
Castle Biosciences, Inc. (US)
DermTech Inc (US)
HOFFMANN-LA ROCHE LTD (Switzerland)
Michelson Diagnostics Ltd (UK)
Key Developments:
December 2021:

SkyineDx entered into a 3-year strategic partnership with Life Sciences' institute VIB for the evaluation and initiation of collaborative projects focused on molecular diagnostics.

July 2020:

Veriskin received US FDA breakthrough device designation for its TruScore device.

April 2021:

Castle Biosciences, Inc. signed a definitive agreement to acquire entire equity of Myriad myPath, LLC (Myriad myPath Laboratory) from Myriad Genetics for US$ 32.5 million.
Report Coverage
The global skin cancer diagnostics market research report provides detailed insights into the market in terms of size, share, trends, and forecasts. It delivers crisp and precise know-how of drivers, restraints, opportunities, segments, and industrial landscape. The COVID-19 impact analysis is discussed with the consequences followed in global and regional markets. A list of key market players with their respective developments in recent years has been reserved as a special mention.
Frequently Asked Questions