The smart bike market is valued US$ 1,431.77 million in 2022, it is expected to grow at a CAGR of 10.7% during 2022–2028
Incorporating smart bike riding into the daily exercise regimen can help lose body fat while improving cardiovascular health. The smart bikes have an inbuilt screen to show activity information. Also, the bike can be paired with smartwatches, smartphones, and tablets to monitor exercise goals set beforehand, track calories burnt, and watch infotainment content. Apart from being positively impacted by the COVID-19 pandemic, the global smart bike market growth is also driven by constantly changing lifestyles, growing e-commerce adoption, and rising youth population, as well as growing lifestyle-related health issues. For instance, adult obesity rates in the US exceeded 35% in 12 states, 25% in 48 states, and 30% in 35 states according to data published by the State of Child Obesity.Org in September 2020.
The demand for smart bikes in the market significantly increased during the COVID-19 crisis as fitness enthusiasts resorted to exercising at home. To provide convenience, smart bike industry players upgraded their products. For instance, in November 2021, Muoverti launched a TiltBike, enabling riders to balance and steer, accelerate and brake, and fully engage their body to simulate the riding experience. Similarly, other manufacturers have developed smart bikes to provide riders with a significant outdoor riding experience while being indoors. A few of these bikes are Wattbike, Flexbike, PowerMax BS-130, and Joroto Indoor Cycle. Wattbike provides accurate data, polar view, real ride feel technology, handlebar height, etc., thus giving the sensation of riding on the road. Flexbike is a Bluetooth-enabled smart bike. The Flexnest's app provides 3 types of bike workouts: quick, virtual, and class ride. Such advancements led to increased attractiveness of smart bikes to consumers, thereby promoting its purchase. Thus the smart bike market growth ensued.
Strategic Insights
Report Coverage - Smart Bike Market

| Report Coverage | Details |
| --- | --- |
| Market Size Value in | US$ 1,431.77 Million in 2022 |
| Market Size Value by | US$ 2,640.10 Million by 2028 |
| Growth rate | CAGR of 10.7% from 2022 to 2028 |
| Forecast Period | 2022-2028 |
| Base Year | 2022 |
| No. of Pages | 163 |
| No. of Tables | 88 |
| No. of Charts & Figures | 78 |
| Historical data available | Yes |
| Segments covered | Connectivity, Handle Type, and Application |
| Regional scope | North America, Europe, Asia Pacific, Middle East & Africa, South & Central America |
| Country scope | US, Canada, Mexico, UK, Germany, Spain, Italy, France, India, China, Japan, South Korea, Australia, UAE, Saudi Arabia, South Africa, Brazil, Argentina |
| Report coverage | Revenue forecast, company ranking, competitive landscape, growth factors, and trends |
| Free Sample Copy Available | |
Impact of COVID-19 Pandemic on Smart Bike Market Growth
The continuous growth in COVID-19 patient pool size compelled government authorities to impose stringent travel bans across several countries in the first three quarters of 2020, which led to significant disruptions in the normal functioning of various industries. Implementing containment measures such as trade bans, travel restrictions, and workplace workforce limitations impacted lifestyle of most people. Hence, compelled to be indoors for a longer time, people searched for ideal indoor fitness equipment to maintain fitness. This provided huge growth opportunities for the market players globally.
Key smart bike market players witnessed a sharp increase in demand in 2020 since consumers were increasingly turning to advanced smart bikes to increase the attractiveness of indoor fitness. Hence, the pandemic positively impacted the smart bike market growth.
Lucrative Regions for Smart Bike Market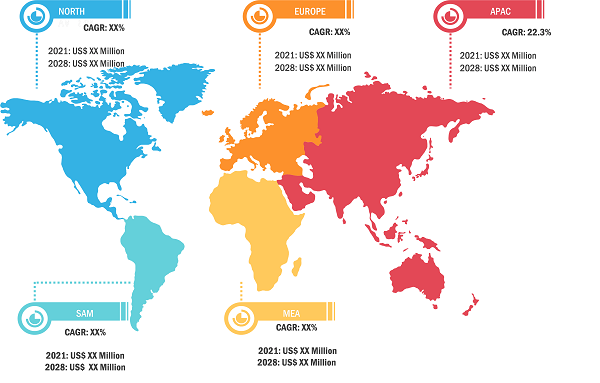 Get more information on this report :
Market Insights – Smart Bike Market
Physical activities (e.g., cycling) increase secretion of hormones such as endorphins and serotonin, which improve individuals' health and help regulate mood, stress, and anxiety. Regular cycling promotes good cholesterol and lowers bad cholesterol. It helps reduce risks and delay the symptoms of degenerative diseases, such as Parkinson's or Alzheimer's disease. Regular exercise on a smart bike is good for toning legs, thighs, buttocks, and arms, as well as abdominal and back muscles. It also helps burn a lot of calories, thus making it effective for weight loss. The growing awareness regarding such benefits and different technological advantages of smart bikes has been promoting the smart bike market growth.
Application-Based Insights
The smart bike market, by application, is bifurcated into residential and commercial. The residential segment held a larger market share in 2021 and is expected to retain its dominance during the forecast period. Moreover, the segment is expected to be the fastest-growing segment during the forecast period. Due to various circumstances, including rising urbanization, sedentary lives, and demanding schedules of working professionals, there is increasing adoption of smart bikes for exercise that can be utilized in the comfort of one's own home to maintain a healthy lifestyle. Simultaneously, the growing desire for this equipment to treat numerous lifestyle diseases such as arthritis, diabetes, stroke, and cardiovascular problems is boosting segment and smart bike market growth.
The smart bike industry is segmented into connectivity, handle type, and application. Based on connectivity, the market is bifurcated into Bluetooth and Wi-Fi. By handle type, the smart bike market is categorized into fixed handle type and moving handle type. In terms of application, the market is bifurcated into residential and commercial.
Based on geography, the smart bike market is segmented into North America, Europe, Asia Pacific (APAC), Middle East & Africa (MEA), and South America (SAM). Echelon Fitness Multimedia, LLC; Garmin Ltd.; Keiser Corporation; Life Fitness; Nautilus, Inc.; Peloton Interactive, Inc.; Wahoo Fitness; Johnson Health Tech; Mad Dogg Athletics; and Sole Fitness are key smart bike market players.
Smart bike market players are utilizing acquisition strategies to focus on growth.
In April 2022, Blue Goji announced that they had acquired the assets and intellectual property of Interactive Fitness Holdings (IFH). Through the acquisition, Blue Goji will manage Expresso and CyberCycle exercise bikes. The company will pair Expresso Bikes with GojiPlay and CyberCycle Bikes with GojiCare, which will help the company attract more customers in the market.
In April 2021, Peloton Interactive, Inc. acquired Precor, Inc., a global commercial fitness equipment provider. With this acquisition, Peloton established its US manufacturing capacity and development capabilities, accelerating Peloton's penetration of the commercial market.
Frequently Asked Questions