The logistics services market is projected to reach US$1,758.22 billion by 2028 from US$1077.47 million in 2020 it is estimated to grow at a CAGR of 5.6% from 2021 to 2028.
The increasing reliance on improving operational efficiency, along with the rising popularity of outsourcing logistics operations and selected supply chain processes to reduce operating costs, has gained momentum across a variety of sectors. In addition, the advent of third-party logistics and fourth-party logistics companies has increased the global demand for logistics service providers. Freight forwarding, freight management, consulting, route optimization, network analysis, project management, inventory and storage management, and supply chain consultancy are among the key services provided by leading logistics companies. Also, the diverse benefits associated with the use of technologically driven logistics services, such as real-time tracking and monitoring, analytics, forecasting, and planning, further add to the profitability for the market participants. The logistics service industry is extremely fragmented due to the existence of several businesses that specialize in various logistical services and the existence of a large client base. Domestic businesses from several rising economies, such as Asia and Africa, are further boosting the market rivalry with steady, competitive logistics service pricing. Supply chain networks are continually changing, thereby opening new trade corridors. Organizations and economies that can take advantage of these new trade corridors are likely to profit the most from the global trade progress. A portion of these opportunities is expected to come from the sharing of a comprehensive set of best practices that are widely used in developed markets but have limited or no implementation in many developing countries. Strategy and consultation for people management, such as a managerial accounting system, diversity management, knowledge sharing, KPIs from prior liberalization processes, and developing strong Corporate Social Responsibility (CSR) practices. Due to continuous investments, new product developments, and modern technology integration, the global logistics services industry is expected to expand rapidly in the coming years. The logistics services market is dominated by a few well-known global players that continually invest in R&D to provide the best service to their customers. In terms of geographic development and technology improvements, logistics service providers, particularly third-party service providers, are experiencing tremendous growth. For example, 3PL organizations are now employing a variety of software-based solutions in their operations to lower inefficiencies and costs. In addition, implementing voice recognition software in the communications of warehouse management systems supports order processing and inventory recording, reducing the need for staff and their training. Asia Pacific holds a majority share of the logistics services market, and it is projected to register the highest CAGR in the market during the forecast period.
Impact of COVID-19 Pandemic on Logistics Services Market
The outbreak of COVID-19 affected the world economy during late 2019 and in 2020, including: Flight cancellations, travel bans, and quarantines that have led to significant slowdowns in overall supply chain and logistics activities around the world. Logistics companies involved in the movement, storage and flow of goods are directly affected by the COVID 19 pandemic. However, some industries are struggling with pandemics, while others are thriving, such as healthcare and pharmaceuticals. E-commerce and daily necessities will also have a positive impact on the global logistics industry in the event of COVID 19. In addition, increasing demand for medical and FMCG supplies such as hospital supplies, gloves, disinfectants, vaccines, and fresh foods is driving the growth of the logistics market amid the COVID-19 pandemic.
Lucrative Regions for Logistics Services Providers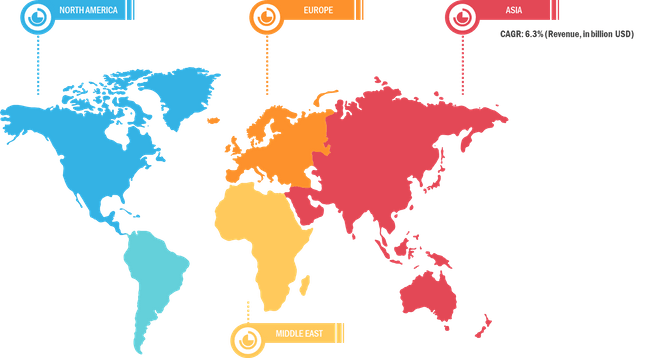 Logistics Services Market: Market Insights
Growth of E-Commerce Industry with Rise in Reverse Logistic Operations
E-commerce refers to the buying and selling of goods over the Internet. In addition to the regular function of delivering products to consumers, logistics service providers also cater to the needs of the e-commerce industry by managing and monitoring the supply chain of its e-commerce business. This allows these businesses to focus on marketing and other business operations. The benefits of logistics to the e-commerce industry have significantly increased the acceptance of logistics services worldwide. According to the latest United Nations Conference on Trade and Development (UNCTAD) report, released in April 2020, the global e-commerce sales reached US$ 25.6 trillion in 2018, accounting for ~30% of the global gross domestic product (GDP). In 2018, the value of the global B2B e-commerce business was US$ 21 trillion, and it accounted for ~83% of the overall e-commerce of the world; furthermore, the value of B2C e-commerce was US$4.4 trillion. This growth is ascribed to a rapid surge in cross-border shopping. More than 1.4 billion people shopped online in 2018; enterprises in the US, China, and Japan dominate the global e-commerce sales.
Mode of Transportation-Based Market Insights
Efficient transportation is the physical movement of goods in a relatively safe manner, at the right time, in the right condition, and in a cost-effective manner. Transportation plays role in moving goods from the place of manufacturing or storage to the place of use or distribution, and the point of final consumption. Based on the mode of transportation, the logistics services market is segmented into roads, railroads, waterways, and air routes. The criteria for selecting the shipping mode are defined by the physical characteristics of the goods and shipment in transit. In certain situations, environmental factors such as road and railroad destruction can have a significant impact on the type of choice.
Logistic Providers-Based Market Insights
The global logistics services market, by component type, is segmented into First & Second Party Logistics, Third Party Logistics, Fourth Party Logistics, and Fifth Party Logistics. A third-party logistics provider (3PL) provides logistics services to companies for a part or, sometimes, all of their supply chain management functions. Outsourcing logistics to third-party supply chain managers is an ongoing trend. The logistics services market is currently estimated at US$ 1077.46 billion, and a major share of the logistics services is outsourced to third-parties. However, the levels of outsourcing vary significantly between countries. Generally, outsourcing is a preferred logistics activity in the UK and the US, while China and India hold significant potential for the future growth of third-party logistics businesses.
Organization Size-Based Market Insights
Logistics services are essential for businesses that involve the transportation of goods from one place to other, and to avoid the complications related to the process, various SMEs and large organizations are adopting logistics services. With rapid developments in technologies, several small & medium, and large enterprises are opting for logistics services, which allows them to shift their focus on core competencies, company restructuring, and cost reduction. Based on organization size, the global logistics service market is segmented into small & medium enterprises, and large enterprises.
Strategic Insights
Product development is the commonly adopted strategy by companies to expand their product portfolio. FedEx, Maersk, DHL, UPS, Expeditors, among others, are the key players implementing such strategies to enlarge their customer base and revenue share in the logistics services market, which in turn allows them to maintain their brand name. A few of the recent key developments are mentioned below:
In November 2021, A. P. Moller - Maersk, a global integrator of container logistics, signed a definite agreement with Saudi Ports Authority to establish 205,000 sq. m. integrated logistics park, which will offer their customers an extensive infrastructure for warehousing and distribution, cold storage, and e-commerce. The facility will also serve as a hub for transshipments, petrochemical consolidation, air freight, and container cargo.
In January 2021, FedEx and Microsoft announced a new cross-platform logistics solution for the e-commerce industry. This new offering is aimed at increasing merchant competitiveness in the e-commerce space by improving customer engagement and providing enhanced shipping options.
The logistics services market is segmented on the basis of Mode of Transportation, Logistics Providers, Organization size, and End-users. Based on Mode of Transportation, the market is segmented into Roadways, Waterways, Rail and, Airways; based in Logistics Providers, the market is bifurcated into First & Second Party Logistics, Third Party Logistics, Fourth Party Logistics, and Fifth Party Logistics; by Organization size, the market is segmented into Small and Medium enterprises and Large enterprises, and by End-users the market is further segmented into Government & Public Utilities, Healthcare, Industrial Manufacturing, Retail & Consumer Goods, and Aerospace & Defense, and Others
CEVA Logistics; Panalpina World Transport (Holding) Ltd.; United Parcel Service (UPS); C.H. Robinson Worldwide, Inc.; A.P. MOLLER – MAERSK; Nippon Express; FedEx; DB Schenker; DHL International GmbH; and KUEHNE + NAGEL are a few major players operating in the global logistics services market.

Report Coverage
Revenue forecast, Company Analysis, Industry landscape, Growth factors, and Trends

Segment Covered
This text is related
to segments covered.

Regional Scope
North America, Europe, Asia Pacific, Middle East & Africa, South & Central America

Country Scope
This text is related
to country scope.
CEVA LOGISTICS
PANALPINA WORLD TRANSPORT (HOLDING) LTD
UNITED PARCEL SERVICE (UPS)
C.H. ROBINSON WORLDWIDE, INC
A.P. MOLLER – MAERSK
NIPPON EXPRESS
FEDEX
DB SCHENKER
DHL INTERNATIONAL GMBH
KUEHNE + NAGEL
The Insight Partners performs research in 4 major stages: Data Collection & Secondary Research, Primary Research, Data Analysis and Data Triangulation & Final Review.
Data Collection and Secondary Research:
As a market research and consulting firm operating from a decade, we have published many reports and advised several clients across the globe. First step for any study will start with an assessment of currently available data and insights from existing reports. Further, historical and current market information is collected from Investor Presentations, Annual Reports, SEC Filings, etc., and other information related to company's performance and market positioning are gathered from Paid Databases (Factiva, Hoovers, and Reuters) and various other publications available in public domain.
Several associations trade associates, technical forums, institutes, societies and organizations are accessed to gain technical as well as market related insights through their publications such as research papers, blogs and press releases related to the studies are referred to get cues about the market. Further, white papers, journals, magazines, and other news articles published in the last 3 years are scrutinized and analyzed to understand the current market trends.
Primary Research:
The primarily interview analysis comprise of data obtained from industry participants interview and answers to survey questions gathered by in-house primary team.
For primary research, interviews are conducted with industry experts/CEOs/Marketing Managers/Sales Managers/VPs/Subject Matter Experts from both demand and supply side to get a 360-degree view of the market. The primary team conducts several interviews based on the complexity of the markets to understand the various market trends and dynamics which makes research more credible and precise.
A typical research interview fulfils the following functions:
Provides first-hand information on the market size, market trends, growth trends, competitive landscape, and outlook
Validates and strengthens in-house secondary research findings
Develops the analysis team's expertise and market understanding
Primary research involves email interactions and telephone interviews for each market, category, segment, and sub-segment across geographies. The participants who typically take part in such a process include, but are not limited to:
Industry participants: VPs, business development managers, market intelligence managers and national sales managers
Outside experts: Valuation experts, research analysts and key opinion leaders specializing in the electronics and semiconductor industry.
Below is the breakup of our primary respondents by company, designation, and region:

Once we receive the confirmation from primary research sources or primary respondents, we finalize the base year market estimation and forecast the data as per the macroeconomic and microeconomic factors assessed during data collection.
Data Analysis:
Once data is validated through both secondary as well as primary respondents, we finalize the market estimations by hypothesis formulation and factor analysis at regional and country level.
3.1 Macro-Economic Factor Analysis:
We analyse macroeconomic indicators such the gross domestic product (GDP), increase in the demand for goods and services across industries, technological advancement, regional economic growth, governmental policies, the influence of COVID-19, PEST analysis, and other aspects. This analysis aids in setting benchmarks for various nations/regions and approximating market splits. Additionally, the general trend of the aforementioned components aid in determining the market's development possibilities.
Various factors that are especially aligned to the country are taken into account to determine the market size for a certain area and country, including the presence of vendors, such as headquarters and offices, the country's GDP, demand patterns, and industry growth. To comprehend the market dynamics for the nation, a number of growth variables, inhibitors, application areas, and current market trends are researched. The aforementioned elements aid in determining the country's overall market's growth potential.
The "Table of Contents" is formulated by listing and analyzing more than 25 - 30 companies operating in the market ecosystem across geographies. However, we profile only 10 companies as a standard practice in our syndicate reports. These 10 companies comprise leading, emerging, and regional players. Nonetheless, our analysis is not restricted to the 10 listed companies, we also analyze other companies present in the market to develop a holistic view and understand the prevailing trends. The "Company Profiles" section in the report covers key facts, business description, products & services, financial information, SWOT analysis, and key developments. The financial information presented is extracted from the annual reports and official documents of the publicly listed companies. Upon collecting the information for the sections of respective companies, we verify them via various primary sources and then compile the data in respective company profiles. The company level information helps us in deriving the base number as well as in forecasting the market size.
3.4 Developing Base Number:
Aggregation of sales statistics (2020-2022) and macro-economic factor, and other secondary and primary research insights are utilized to arrive at base number and related market shares for 2022. The data gaps are identified in this step and relevant market data is analyzed, collected from paid primary interviews or databases. On finalizing the base year market size, forecasts are developed on the basis of macro-economic, industry and market growth factors and company level analysis.
Data Triangulation and Final Review:
The market findings and base year market size calculations are validated from supply as well as demand side. Demand side validations are based on macro-economic factor analysis and benchmarks for respective regions and countries. In case of supply side validations, revenues of major companies are estimated (in case not available) based on industry benchmark, approximate number of employees, product portfolio, and primary interviews revenues are gathered. Further revenue from target product/service segment is assessed to avoid overshooting of market statistics. In case of heavy deviations between supply and demand side values, all thes steps are repeated to achieve synchronization.
We follow an iterative model, wherein we share our research findings with Subject Matter Experts (SME's) and Key Opinion Leaders (KOLs) until consensus view of the market is not formulated – this model negates any drastic deviation in the opinions of experts. Only validated and universally acceptable research findings are quoted in our reports.
We have important check points that we use to validate our research findings – which we call – data triangulation, where we validate the information, we generate from secondary sources with primary interviews and then we re-validate with our internal data bases and Subject matter experts. This comprehensive model enables us to deliver high quality, reliable data in shortest possible time.