The warehouse management system market is expected to grow from US$ 14,517.07 million in 2022 to US$ 51,360.23 million by 2030; it is estimated to register a CAGR of 17.3% from 2023 to 2030.
Many enterprises are introducing robotics technology to improve the management of inventory, especially after the onset of the COVID-19 pandemic. The implementation of robotics technology reduces labor costs, provides more efficient and accurate process flow, and robots can work 24x7 at the same cost. In addition, robotics technology integrated with artificial intelligence (AI) and the Internet of Things (IoT) helped enterprises improve warehouse automation. With the integration of robotics technology and warehouse management system, robots are fed the inventory data, which helps them perform accurate and efficient warehouse operations. Such benefits are fueling the warehouse management system market growth.
Warehouses are incorporating robots to perform simple and repetitive tasks, especially in industries such as manufacturing and retail & e-commerce. Due to shifting consumer preferences during the COVID-19 pandemic, warehouses across all sizes increasingly adopted automation to maintain social distancing and reduce the number of staff that works from the facility. In addition, robots are widely used to perform tasks for workers such as measuring temperatures and administering hand sanitizer. Many logistics experts have also shifted their manual operations to automation. Warehouse robotics technology is rapidly advancing; for instance, robots can navigate the warehouse autonomously. In addition to bulk transport of goods, robots can pick, pack, and palletize items, which simplifies warehouse-related processes. Moreover, the rising popularity of e-commerce has accelerated the demand for robots across WMS. With the growing number of online orders and rising demand for faster shipping, warehouses and fulfillment centers are leveraging robotic systems to improve order completion and better manage inventory. The demand for robot hardware systems is growing, which helps reduce the time and resources spent on retrieving and transporting items around the warehouse floor. The system allows workers to concentrate on more complicated processes such as packing and shipping orders.
Warehouse Management System Market - Strategic Insights
Report Coverage - Warehouse Management System Market
Report Coverage
Details
Market Size Value in
US$ 14,517.07 million in 2022
Market Size Value by
US$ 51,360.23 million by 2030
Growth rate
CAGR of 17.3% from 2023 to 2030
Forecast Period
2023-2030
Base Year
2022
No. of Pages
208
No. of Tables
137
No. of Charts & Figures
91
Historical data available
Yes
Segments covered
Component, Tier Type, Industry, and Geography
Free Sample Copy Available
Impact of COVID-19 Pandemic on Europe Warehouse Management System Market Growth
In Europe, the timing and the degree of response by different countries to the COVID-19 pandemic, followed by gradually restarting economies, resulted in an adverse impact on the warehouse management system market in the region. Prominent European warehouse management system market players suffered a significant downturn in revenue forecasts as the supply chain was disrupted due to import and export restrictions. In addition, the shutdown of manufacturing and production in commercial spaces, especially during the initial phase of the pandemic, negatively impacted the market in the region. Several verticals, such as manufacturing, retail, e-commerce, and automotive, are adopting WMS offerings as consumers quickly migrate to internet platforms. In addition, there is a rise in demand for online food and beverages, essentials, and prescriptions—increasing the requirement for warehousing.
Several major firms are opening warehouses in several countries to accommodate the rising demand for WMS solutions. As a result, WMS is becoming more popular in e-commerce and third-party logistics companies. E-commerce behemoths such as Amazon, Asos, and eBay are projected to continue driving the demand for WMS as they establish new facilities throughout the region. Additionally, the situation is improving owing to the decline in COVID-19 cases in the area, and the market is picking up speed and will expand throughout the projection period. Therefore, the warehouse management system market growth is estimated to rise substantially post-COVID-19.
Lucrative Regions for Warehouse Management System Market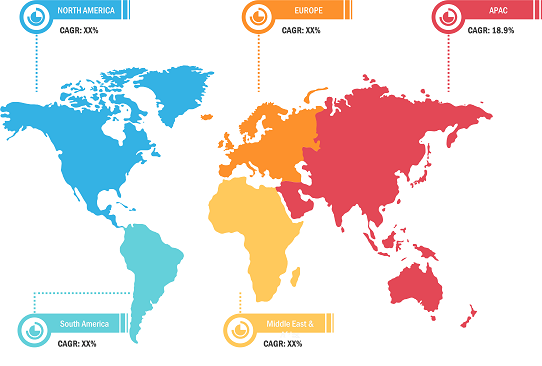 Get more information on this report :
Market Insights – Warehouse Management System Market
Evolving Global Supply Chain Networks
The cause-and-effect situation in a supply chain network is relatively straightforward. Organizations have more geographic distribution within their warehouse network, adding a layer of complexity regarding management. Managing a supply chain across borders also introduces regulatory and localization complexity that must be dealt with, as users in different countries use the same underlying systems to get the job done. Moreover, WMS plays a critical role in helping organizations deal with the added logistical burden of globalization. Leading WMS solutions can take this to another level through specialized data collection and integration tools. In January 2023, Crave InfoTech launched a new product for extended warehouse management (EWM) called cEWM, which is built using SAP BTP. It is a cross-platform that streamlines warehouse processes, whether online or offline. The traditional Internet-ported apps used in warehouses often lose connectivity and with it, all the process data, thereby becoming a bottleneck for the overall supply chain. Crave InfoTech's cEWM app addresses these challenges and works efficiently offline or online, irrespective of mid-process disconnection. Furthermore, supply chain management aims to maintain an uninterrupted flow of goods, from collecting raw materials to manufacturing to distributing the final product.
Component-Based Insights – Warehouse Management System Market
Based on component, the warehouse management system market size is segmented into hardware, software, and services. The hardware segment accounted for the largest share of the market in 2022.
The hardware components in the WMS optimize warehouse workflow by analyzing the best use of floor space based on the task and material characteristics. A warehouse can lower operating expenses by considering the best locations to store products and materials or equipment. Implementation of hardware systems enables core capabilities and features such as stock locating, task interleaving, wave planning, order allocation, inventory management, cycle counting, picking, replenishment, packing, shipping, labor management, and automated materials handling equipment (MHE) interfaces. The emergence of the COVID-19 pandemic has accelerated progress toward automation, and even with a spike in unemployment rates, warehouse operations were automated to meet the growing demand from customers.
The warehouse management system market is segmented based on component, tier type, industry, and geography. Based on component, the market is segmented into hardware, software, and services. Based on tier type, the market is segmented into advance (tier 1), intermediate (tier 2), and basic (tier 3). Based on industry, the warehouse management system market is segmented into manufacturing, automotive, food & beverages, electrical & electronics, healthcare, retail and e-commerce, and others.
Based on geography, the warehouse management system market size is primarily segmented into North America, Europe, Asia Pacific (APAC), the Middle East & Africa (MEA), and South America. In 2022, APAC held the largest warehouse management system market share and is expected to retain its dominance during the forecast period. The region is also expected to register the highest CAGR in the global warehouse management system market during the forecast period.
International Business Machines Corp, SAP SE, Epicor Software Corp, Softeon Inc, Oracle Corp, Panasonic Holdings Corp, Infor Inc, Manhattan Associates Inc, PTC Inc, and Tecsys Inc are among the key warehouse management system market players.
The warehouse management system market players focus on developing advanced and efficient systems. For instance:
In 2023, Tecsys announced how its warehouse-in-a-warehouse e-commerce fulfillment solution enables retailers and brands to execute e-commerce fulfillment flawlessly while leaving existing wholesale and distribution models and legacy systems intact.
In 2022, Infor, the industry cloud company, announced that Mooneh, a third-party logistics storage and distribution provider operating for leading international pharmaceutical corporations, deployed Infor WMS (warehouse management system). In addition to establishing an efficient and effective warehouse operation, the solution delivers full inventory traceability. SNS, a leading supply chain consultancy and software implementation provider, successfully delivered the project.
Frequently Asked Questions