The wipes market was valued at US$ 14,446.0 Mn in 2019 and is expected to grow at a CAGR of 11.8% from 2019 to 2030 to reach US$ 49,507.6 million by 2030.
Wipes are mainly used to maintain skin health and personal hygiene. Apart from maintaining personal and household hygiene, wet tissues and wipes exhibit antibacterial, exfoliating, and moisturizing properties. This has propelled the demand for wipes among health-conscious consumers. To capitalize on the surging demand, key wipe manufacturers are introducing wipes for both male and female skin types. These factors boost the demand for wipes globally. The rapid growth of the personal care industry provides opportunities for wipe manufacturers to innovate their product offerings and packaging.
Asia Pacific is estimated to register the fastest CAGR in the wipes market over the forecast period. The rapid growth of this region is primarily attributed to the rising awareness related to the importance of health and hygiene in developed and developing countries China, India, Japan, South Korea, and Australia. The spread of infectious diseases such as coronavirus in countries such as China, India, and Australia has propelled the demand for disinfectant wipes over the past few months. Also, the rise in population along with an increase in purchasing power and count of the female population in Asian countries is expected to boost the demand for wipes to avoid infectious diseases and skin problems. The baby wipes segment experiences an increase in sales in countries such as China, India, Japan, and Australia due to growth in the infants' population. An increasing number of potential buyers in a developing country such as India is expected to drive the wipes market over the forecast period.
The US, Brazil, India, Russia, South Africa, Mexico, Spain, and the UK are among the most affected countries in terms of confirmed cases and reported deaths as of August 2020. COVID-19 has affected economies and industries in various countries due to lockdowns, travel bans, and business shutdowns. The global consumer goods industry is one of the major industries suffering serious disruptions such as supply chain breaks, disruptions in manufacturing due to COVID-19 outbreak. For instance, China is the global hub of manufacturing and the largest raw material supplier for various industries. The lockdown of various plants and factories in China and leading regions such as Asia Pacific and Europe are affecting the global supply chains and negatively impacting the manufacturing, delivery schedules, and sales of various goods. All these factors have greatly affected the global wipes market
Global Wipes Market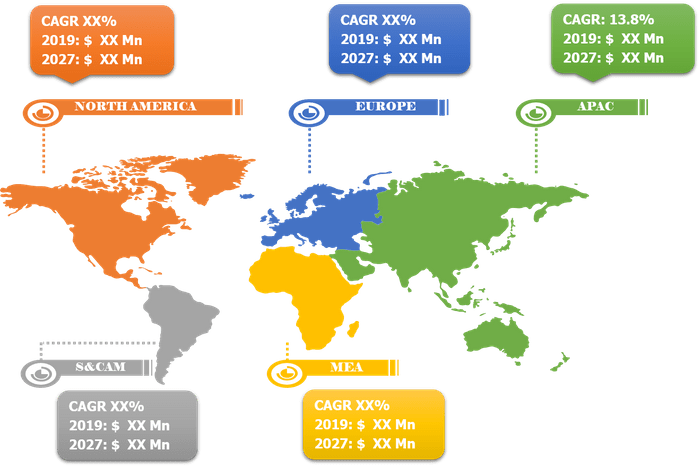 Get more information on this report :
Market Insights
Rising Adoption of Biodegradable Wipes
Rising demand for biodegradable wipes is mainly attributed to the shift in consumer preference toward eco-friendly products and growing focus of governments on green procurement policies. Wipes produced from biodegradable substances can be easily broken down anaerobically by bacteria or other living organisms over a period of time. This helps in reducing the accumulation of the waste in the environment. Therefore, biodegradable wipes are gaining high acceptance among the consumers in developed countries such as the US, Canada, Germany, France, Italy, and the UK. Moreover, environmentally friendly personal products are becoming increasingly popular, further driving the demand for biodegradable wipes globally. Various R&D activities are undertaken by the key players to develop innovative products that have the least impact on the environment or are environment-friendly. For instance, eco-friendly nappy brand Naty produces compostable baby wipes. Likewise, Nivea offers biodegradable aloe cleansing wipes. These gentle wipes biodegrade in 28 days and are made of 100% renewable plant fibers to ensure that no waste is generated that might pollute the environment. Therefore, the development of new and innovative biodegradable wipes is projected to provide a huge growth opportunity for the key players operating in the wipes market during the forecast period.
Type Insights
The wipes market based on type has been segmented into baby wipes, facial wipes, moist flushable wipes, household wipes, and others. The household wipes segment is expected to grow at fastest growth rate during the forecast period of 2019-2027. The wet wipes can serve a number of requirements for personal and household purposes. There are different types of wet wipes available in the market for consumers to use to clean floors, toilet seats, and other surface areas around the home. Wet wipes are commonly used for cleaning purposes like personal hygiene and household cleaning. Gel wipe is known to be a moisturizing gel applied to dry toilet paper for cleaning purposes like personal hygiene or to reduce skin irritation from diarrhoea. It is an alternative to wet wipes. Household all-purpose cleaning wet wipes are also known as disinfectant wipes. The all-purpose disinfecting wipes effectively clean, shine and deodorize all hard washable surfaces with anti-bacterial action. The wipes are impregnated high performance formulation with a citrus orange fragrance clean, even heavy grease and dirt. Companies such as Dr. Wipes are offering household silver cleaning wet wipes, window & glass cleaning wet wipes, stainless steel wet wipes, furniture polishing wet wipes, leather cleaning wet wipe, anti-lime cleaning wet wipes, and household all-purpose wet wipes
Global Wipes Market, by Type– 2018 & 2027

Get more information on this report :
Distribution Channel Insights
The wipes market based on distribution channels is segmented into supermarkets & hypermarket, convenience store, online and others. The others segment is expected to grow at fastest growth rate during the forecast period of 2019-2027. The other segment of wipes distribution channels includes grocery stores, cosmetic stores, specialty stores such as medical stores, etc. These retailers sell multiple products from various national and local brands in different packaging formats, such as glass, premium plastics, and others. The wipes are being channelled to the local grocery stores. These stores serve with various brands and products of wipes and refill them on a timely basis. The product gets sold regularly as these stores are placed at reachable vicinity in each and every local area. Specialty stores, including medical stores, offer customers an extensive range of wipes products in one platform. These shops also provide great consumer experience with unique features such as high-level customer service, premium offers, and special discounts. These types of stores do not involve the sales of all types of products, like in the case of hypermarkets & supermarkets. All types of wipes including facial wipes, baby wipes, wipes for personal hygiene, and other wipes are also available in the cosmetics and personal care stores along with other cosmetic brands
Strategic Insights
Report Coverage - Wipes Market

| Report Coverage | Details |
| --- | --- |
| Market Size Value in | US$ 14,446.0 Million in 2019 |
| Market Size Value by | US$ 49,507.6 Million by 2030 |
| Growth rate | CAGR of 11.8% from 2019 to 2030 |
| Forecast Period | 2019-2030 |
| Base Year | 2019 |
| No. of Pages | 241 |
| No. of Tables | 56 |
| No. of Charts & Figures | 74 |
| Historical data available | Yes |
| Segments covered | Type ; Distribution Channel |
| Regional scope | North America, Europe, Asia Pacific, Middle East & Africa, South & Central America |
| Country scope | US, Canada, Mexico, UK, Germany, Spain, Italy, France, India, China, Japan, South Korea, Australia, UAE, Saudi Arabia, South Africa, Brazil, Argentina |
| Report coverage | Revenue forecast, company ranking, competitive landscape, growth factors, and trends |
| Free Sample Copy Available | |
Reckitt Benckiser Group Plc., Procter & Gamble, S.C. Johnson & Son, The Clorox Company, Contac Inc., Diamond Wipes International Inc., are amongst others are the key players present in the global wipes market. These companies are implementing new product development and mergers and acquisition strategies to enlarge the customer base and gain significant market share across the world, which, in turn permit the players to maintain their brand name globally.
Report Spotlights
Progressive industry trends in the global wipes market help players develop effective long-term strategies
Business growth strategies adopted by developed and developing markets
Quantitative analysis of the global wipes market from 2017 to 2027
Estimation of global wipes demand across various industries
PEST analysis to illustrate the efficacy of buyers and suppliers operating in the industry to predict wipes market growth
Recent developments to understand the competitive market scenario and global wipes demand
Market trends and outlook coupled with factors driving and restraining the growth of the global wipes market
Decision-making process by understanding strategies that underpin commercial interest with regard to global wipes market growth
Global wipes market size at various nodes of market
Detailed overview and segmentation of the global wipes market, as well as its dynamics in the industry
Global wipes market size in various regions with promising growth opportunities
Global Wipes Market, by Type
Baby Wipes
Facial Wipes
Moist Flushable Wipes
Household Wipes
Others
Global Wipes Market, by Distribution Channel
Supermarkets & Hypermarket
Convenience Store
Online
Others
Company Profiles
Reckitt Benckiser Group Plc
Procter & Gamble
S.C. Johnson & Son
The Clorox Company
Contec Inc.
Diamond Wipes International Inc.
DuPont de Nemours, Inc
Rockline Industries
Kimberly-Clark Corporation
Nice-Pak Products, Inc