The blockchain market is expected to grow from US$ 4,935.0 million in 2021 to US$ 227,996.6 million by 2028; it is estimated to grow at a CAGR of 72.9% from 2021 to 2028.
Blockchain technology and its applications in the banking, financial services, and insurance (BFSI) sector have attracted a lot of attention in the past few years, majorly due to its ability to transform existing industries' foundations and business models. Presently, apart from cryptocurrency applications, the other major practical applications of Blockchain are still in the banking and financial sector; however, various companies and institutions are now rapidly developing Blockchain-based solutions to solve complex business problems. In general terms, Blockchain is a subset of a broader distributed ledger technology (DLT), and it combines three significant concepts – cryptography, smart contracts, and distributed ledger design. Distributed ledger technology (DLT) is a fast-emerging approach that records and shares data across various data stores/ledgers. DLT facilitates the recording, sharing, and synchronization of transactions and data across a distributed network of different network participants.


The global Blockchain market is anticipated to exhibit very high growth in the near future. Major driving factors contributing to the market growth include extensive adoption of Blockchain solutions in the BFSI sector; advantages such as higher transparency, higher operational efficiency, and substantial cost savings; and an increase in the number of innovative startups. During the forecast period, trends such as rising government support and initiatives and a combination of Blockchain and artificial intelligence for advanced applications are expected to provide exciting opportunities for the players operating in the Blockchain market.
Strategic Insights
Report Coverage - Blockchain Market
Report Coverage
Details
Market Size Value in
US$ 4,935.0 Million in 2021
Market Size Value by
US$ 227,996.6 Million by 2028
Growth rate
CAGR of 72.9% from 2021 to 2028
Forecast Period
2021-2028
Base Year
2021
No. of Pages
190
No. of Tables
88
No. of Charts & Figures
89
Historical data available
Yes
Segments covered
Component, Application, and Industry Vertical
Regional scope
North America, Europe, Asia Pacific, Middle East & Africa, South & Central America
Country scope
US, Canada, Mexico, UK, Germany, Italy, France, India, China, Japan, South Korea, Australia, UAE, Saudi Arabia, South Africa, Brazil, Argentina
Report coverage
Revenue forecast, company ranking, competitive landscape, growth factors, and trends
Free Sample Copy Available

Impact of COVID-19 Pandemic on Blockchain Market
While the COVID-19 pandemic has posed significant issues for organizations worldwide, the Blockchain market has grown steadily during the crisis. Most crucially, throughout the epidemic, healthcare workers have moved to use chats, emails, phones, and video conversations to treat patients remotely, preventing the virus from spreading. The use of penetration testing tools for safe online transactions and conversational data increased due to this. The adoption of the Blockchain market by various firms to give optimal security during a chaotic environment is also a crucial element driving the Blockchain market vertical. The COVID-19 pandemic has impacted all aspects of society, including individuals and corporations. The internet ecosystem has become increasingly important globally. The reliance on online enterprises has expanded dramatically due to the COVID-19 outbreak. The internet is being used by BFSI, healthcare and life sciences, manufacturing, retail, transportation and logistics, and other industries to provide critical services to consumers. The demand for a Blockchain has surged among vendors. Various governments and regulatory agencies have forced both public and private organizations to accept new techniques of teleworking and preserving social distance in the wake of the COVID-19 pandemic. Since then, digital business practices and the use of emails on home servers have become the new business continuity plan (BCP) for a variety of enterprises.
Lucrative Regions for Blockchain Market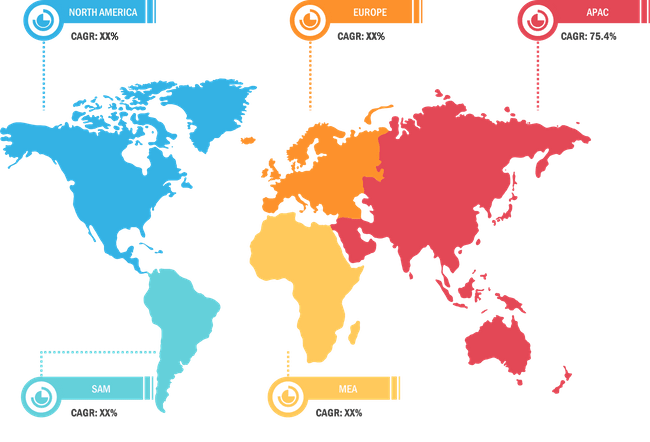 Get more information on this report :
Blockchain Market Insights
All the major industries worldwide, including BFSI, retail, logistics & transportation, healthcare, automotive, media & entertainment, and government, are embracing and investing in disruptive technologies such as Blockchain, artificial intelligence, Internet of Things (IoT), big data, and predictive analytics. The rising adoption of Blockchain technology is driven by the successful use cases and proof of Blockchain concepts in various industries that resulted in increased transparency, enhanced operational efficiency, and reduced costs. The nature of businesses is becoming very competitive in every industry worldwide, and to compete efficiently, enterprises nowadays rely on technology integration into various business functions to increase operational transparency and efficiency.


Blockchain has several applications in the financial sector, including payments, capital markets, trade services, investment & wealth management, and securities & commodities exchanges. Substantial cost savings is one of the main drivers for the rising adoption of Blockchain in this sector.


The use of Blockchain technology made transactions more transparent across major industries. This transparency helps prevent fraud and unauthorized activities in industries, such as financial services, government, and healthcare, where sensitive data is shared among participants. Blockchain streamlines and automates the traditional, paper-heavy processes, which are time-consuming and prone to human error. This makes transactions fast and efficient, thus, increasing operational efficiency.


Cost reduction and cost savings are major priorities for any business. Blockchain eliminates unnecessary third parties or intermediaries to reduce time and costs. With all these advantages, Blockchain enables businesses to improve operational efficiency, transparency, lower operating costs, and thus, helps them enhance service quality and customer experience.
Component Segment Insights
Based on component, the blockchain market can be bifurcated into services and solution. The solution segment led the blockchain market. The increasing adoption of blockchain solutions due to their capacity to provide more transparency in financial transaction management in bitcoin, as well as increasing digitization, is propelling the blockchain market forward. Customers can use the market's blockchain platform to create private, public, and consortium-based blockchain environments and construct their own blockchain applications and solutions. People, products, apps, and services can interact across the blockchain network, cloud providers, and enterprises using these platforms.
Blockchain Market, by Component (% Share)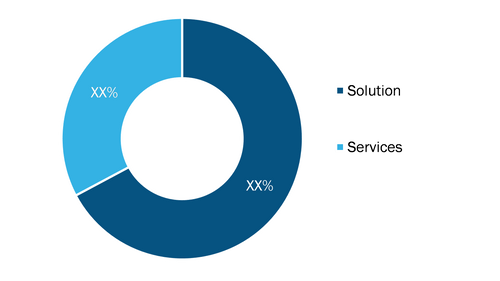 Get more information on this report :
Application Segment Insights
The global blockchain market is segmented into payments, exchanges, smart contracts, documentation, digital identity, governance, risk & compliance, and others. The payment segment led the blockchain market. The others segment includes digital voting, ride-sharing, advertising, and many others. Blockchain reduces cost, increases security, increases transparency, and decreases transaction time while reducing the need for a trusted third party. Blockchain handles a varying set of rules and configurations. An application such as smart contracts, can greatly improve process efficiency, reliability, transparency, and reduce risk. The prospective uses of blockchain are varied and wide, and the technology is becoming more prevailing.
Industry Vertical Type Segment Insights
Blockchain is a distributed ledger capable of automatically verifying and recording a high volume of digital transactions, regardless of location. As startups use blockchain technology to drive greater transparency across the digital information network, they are increasing the awareness of blockchain technology in various sectors. Based on industry vertical, the global Blockchain market is categorized into BFSI, retail, government, transportation & logistics, healthcare, automotive, media & entertainment, and others. The others segment includes manufacturing, real estate, power and utilities, telecom, and sports.
The Blockchain market players focus on new product innovations and developments by integrating advanced technologies and features to compete. For instance, in 2019, Carrefour and Nestle Partnered with IBM to use blockchain technology in food categories. The partnership would enable a rapid expansion of a blockchain-based network that brings more transparency to the global food supply chain of retailers, growers, wholesalers, processors, distributors, and manufacturers.
Blockchain Market – Company Profiles
IBM Corporation
Microsoft Corporation
Accenture
Amazon
SAP Se
Hewlett Packard Enterprise Development LP (HPE)
Oracle Corporation
Intel Corporation
Ripple
Bitfury Group
Frequently Asked Questions