The edge banding materials market size was valued at US$ 1,505.74 million in 2022; it is expected to grow at a CAGR of 9.7% from 2022 to 2028.
Edge banding is the process of covering the raw edges of medium-density fiberboard, plywood, block boards, or other materials with the help of edge banding tape. Edge banding creates durable and visually appealing trim edges during finish carpentry. Edge banding can be made of different materials, such as plastic, wood, and metal.
The rough edges of plywood and other wood material can easily absorb atmospheric moisture. This can lead to the deterioration of the plywood. Edge banding helps keep moisture away from entering the plywood and increases its durability. Edge banding tapes generally have a very smooth finish and provide an aesthetic appearance.
Due to its excellent processing characteristics, plastic is the most used material in manufacturing edge bands for the furniture industry. Plastic edge banding tapes are usually flame-retardant and recyclable. Moreover, plastic edge banding is very popular for modular furniture as it is durable, easy to fix, and has an extremely long life. It offers high-impact resistance and is appropriate for straight and curved panel processing. It is used extensively across the furniture industry, including manufacturing kitchens, bathrooms, and shop fittings.
The rapidly expanding construction industry globally is boosting the consumption of edge banding materials. Residential and commercial constructions are rapidly developing in emerging economies. In the building & construction industry, edge banding is used in carpentry and furniture-making. Edge banding is utilized to cover the exposed sides of materials such as plywood and particle board, giving the appearance of a solid material. Edge banding can also be used instead of features such as face frames or molding. Thus, the growing use of edge banding in the building & construction industry is expected to propel the edge banding materials market growth during the forecast period.
Strategic Insights
Report Coverage - Edge Banding Materials Market
Report Coverage
Details
Market Size Value in
US$ 1,505.74 Million in 2022
Market Size Value by
US$ 2,620.53 Million by 2028
Growth rate
CAGR of 9.7% from 2022 to 2028
Forecast Period
2022-2028
Base Year
2022
No. of Pages
189
No. of Tables
85
No. of Charts & Figures
83
Historical data available
Yes
Segments covered
Material, and End Use
Regional scope
North America, Europe, Asia Pacific, Middle East & Africa, South & Central America
Country scope
US, Canada, Mexico, UK, Germany, Spain, Italy, France, India, China, Japan, South Korea, Australia, UAE, Saudi Arabia, South Africa, Brazil, Argentina
Report coverage
Revenue forecast, company ranking, competitive landscape, growth factors, and trends
Free Sample Copy Available
Impact of COVID-19 Pandemic on Edge Banding Materials Market
The COVID-19 pandemic affected economies and industries in various countries due to lockdowns, travel bans, and business shutdowns. In 2020, various industries had to slow down their operations due to disruptions in value chains caused by the shutdown of national and international boundaries, which led to low demand for edge banding materials from various industries. The COVID-19 pandemic caused volatility in the prices of polymer materials required to produce edge banding materials. The worldwide consumption of edge banding materials declined due to low demand from various industries such as construction and manufacturing. The reduced demand from various industries due to the COVID-19 pandemic negatively impacted the growth of the edge banding materials market. However, the demand for edge banding materials is expected to rise globally as various economies revive their operations.
Global Edge Banding Materials Market Breakdown – by Region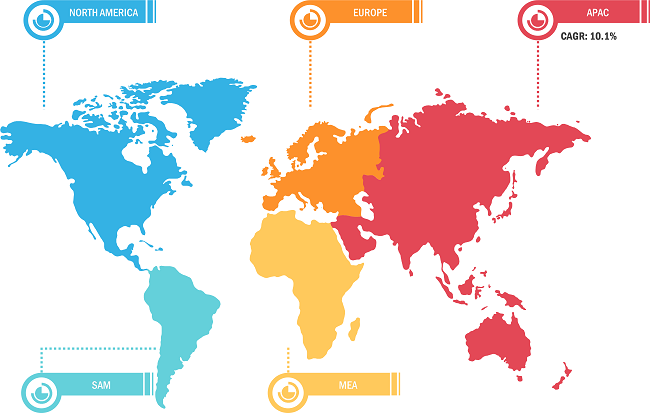 Get more information on this report :
Market Insights
Growing Interest in Sustainable Products
Sustainability has become an important aspect of many industries. Many furniture manufacturers are influenced by business and consumer interest in green products, in line with the increased focus on sustainability. Many furniture brands are offering sustainable product lines. In line with this, various edge banding material manufacturers are also offering products made from eco-friendly materials. Furniture can be made with recycled materials or more sustainable and eco-friendly products to reduce environmental impact. For example, BioPlastic Solutions, LLC—a US-based company involved in bioplastic engineering and manufacturing proprietary bio-based poly-resins and products—provides an eco-friendly PVC alternative—BioEdge Edge banding. This product eliminates the use of oil and harmful chemicals. It is a complete bio-replacement for PVC and ABS edge banding. BioBest is a patented, proprietary plastic material manufactured from corn and sugar cane processing. Hence, the growing trend of using eco-friendly products is expected to boost the demand for bio-based and eco-friendly edge banding materials during the forecast period.
Moreover, changing consumer preferences, rising inclination toward a luxurious lifestyle, increasing income levels of consumers, and growing commercial spaces are boosting the demand for wood-based edge banding materials. In modern furniture manufacturing, edge banding quality is one of the key criteria for evaluating the quality of the entire furniture item. Thus, furniture manufacturers use wood-based edge banding to get an aesthetic and natural finish. These factors are driving the global edge banding materials market.
Material Insights
Based on material, the global edge banding materials market has been segmented into plastic (PVC, ABS, acrylic, and others), wood, metal, and others. The plastic segment held the largest market share in the global edge banding materials market in 2021. PVC material is the majorly utilized plastic in edge banding.
Edge Banding Materials Market, by Material – 2021 and 2028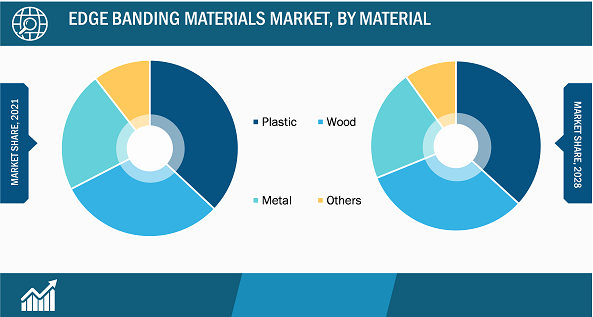 Get more information on this report :
Product Resources, Inc.; EdgeCo Incorporated; Surteco USA Inc.; Charter Industries, LLC; JSO Wood Product; Product Resources, Inc.; Sauers & Company Veneers; EdgeCo Incorporated; Edgebanding Services, Inc. (ESI); and REHAU Incorporated are among the major players operating in the global edge banding materials market. Players operating in the global edge banding materials market are constantly focusing on strategies such as investments in research and development activities and new product launches.
Report Spotlights
Progressive industry trends in the edge banding materials market to help players develop effective long-term strategies
Business growth strategies adopted by developed and developing markets
Quantitative analysis of the edge banding materials market from 2019 to 2028
Estimation of global demand for edge banding materials
Porter's Five Forces analysis to illustrate the efficacy of buyers and suppliers operating in the industry
Recent developments to understand the competitive market scenario
Market trend and outlook, as well as factors driving and restraining the growth of the edge banding materials market
Assistance in the decision-making process by highlighting market strategies that underpin commercial interest, leading to the market growth
The size of the edge banding materials market size at various nodes
Detailed overview and segmentation of the market, as well as the edge banding materials industry dynamics
Size of the edge banding materials market in various regions with promising growth opportunities
Company Profiles
Product Resources, Inc.
EdgeCo Incorporated
Surteco USA Inc.
A Charter Industries, LLC.
JSO Wood Product
Product Resources, Inc.
Sauers & Company Veneers
EdgeCo Incorporated
Edgebanding Services, Inc. (ESI)
REHAU Incorporated
Frequently Asked Questions