Market Insights
Endoscopy procedures are widely used to examine patients' internal tissue and organs to formulate a clear picture of their condition. The winning character of these devices is that they are non-surgical and minimally invasive. The global endoscopy devices market garnered US$ $ 45,612.3 million in 2025 from US$ 26,333.3 million in 2017. The market is estimated to grow with a CAGR of 7.5% over 2017-2025.
The medical diagnosis done by endoscopy compared to scans from outside the body vary in their informative capacity. Besides diagnosis, endoscopic devices are employed for small surgical tasks due to their novel, flexible design, minimal cost, time, and physical trauma compared to surgery. This makes it an attractive alternative to traditional tools we have been using up until now, making it especially renowned among healthcare providers. As more and more people warm up to endoscopic scans and procedures, investment is flowing toward the global endoscopy devices market.
Future Trends
Upgrading the marvellous technology of endoscopy to another level, market players are stepping toward the fields of robotic endoscopic systems. Robotics in surgical endoscopy is anticipated to perform various procedures, from GI surface dissection to transendoluminal peritoneal surgery. The rise in GI cancer is a major factor speeding the introduction of robotic systems in endoscopy. Presently, robot-assisted endoscopic instruments lack the stability, strength, and precision to perform advanced maneuvers risk-free and reliably. However, other hybrid technologies are being developed, combining the benefits of a laparoscope and an endoscope. Such developments are expected to skyrocket the global endoscopy devices market sales.
Drivers
Rising Prevalence of Diseases Requiring Endoscopy
Increasing incidences of chronic diseases have driven the implementation of long-term medical management and functional endoscopic surgery. Additionally, technological developments allow various market players to innovate technically advanced medical devices to treat these disorders through minimally invasive procedures. For incidence, balloon sinuplasty is the widely used procedure to treat CRS, and various market leaders are developing balloon endoscopy devices. With developments in endoscopic technology, various regulators are approving these medical devices. In recent years, there has been a substantial rise in the number of cases of cancer and other diseases. WHO estimated 8.8 million lives to be claimed by cancer in 2015, making cancer the second leading cause of death. Endoscopy has become the preferred method for diagnosing and treating ailments such as cancer, and as its prevalence rises, so does the demand for endoscopy devices driving the global endoscopy devices market.
Favourable Government Initiatives
The future of technological development is hinged on the support it obtains from the government since regulations and approvals can propel or halt the growth of any market. Endoscopy devices have received abundant support from the government worldwide due to its efficiency as a diagnostic tool and are minimally invasive and easily accessible. Healthcare is always on the top of the priority list for any country. One such example is the impressive initiative Queensland Government took by implementing Endoscopy Action Plan, aiming to deliver sustainable access to better quality gastrointestinal endoscopy services. There has been a surge in the percentage of the elderly in our population. Being highly vulnerable to health issues and disorders, the utility of endoscopy devices rises correspondingly, giving a lift to the growth of the endoscopy devices market.
Restraints
Risk of Infections Caused due to Endoscopy Restrict the Global Endoscopy Devices Market Growth
During endoscopic procedures, the internal channels and the external surfaces are exposed to body fluids and contaminants. Flexible endoscopes are heat labile devices posing a challenge for disinfection procedure. The Society for Healthcare Epidemiology of America laid stringent guidelines for the sterilization and reprocessing of endoscopes. Various medical institutes have reported instances of infections and other complications such as tearing and bleeding of the gastrointestinal tract arising due to endoscopy. In some cases, patients have also suffered from allergies caused due to exposure to dyes used in the procedure. Moreover, the infection caused due to CRE bacteria via ERCP duodenoscopes has been a serious matter of concern. Despite the sterilization instructions laid down by manufacturers, the chances of bacterial transmission cannot be avoided due to intricate and tiny parts. These setbacks have created resistance for the growth of endoscopy devices market.
Strategic Insights
Report Coverage - Global Endoscopy Devices Market
Report Coverage
Details
Market Size Value in
US$ 26,333.3 Million in 2017
Market Size Value by
US$ 45,612.3 Million by 2025
Growth rate
CAGR of 7.5% from 2018-2025
Forecast Period
2018-2025
Base Year
2018
No. of Pages
331
No. of Tables
168
No. of Charts & Figures
94
Historical data available
Yes
Segments covered
Product ; Application ; End User and Geography
Regional scope
North America, Europe, Asia Pacific, Middle East & Africa, South & Central America
Country scope
US, Canada, Mexico, UK, Germany, Spain, Italy, France, India, China, Japan, South Korea, Australia, UAE, Saudi Arabia, South Africa, Brazil, Argentina
Report coverage
Revenue forecast, company ranking, competitive landscape, growth factors, and trends
Free Sample Copy Available
Market Segmentation
By Product
Benefits Served in Minimally Invasive Procedures Raise the Segmental Demand
Based on product, the global endoscopy devices market is split into endoscopes, visualization systems, other endoscopy equipment, and accessories. In 2017, the endoscopes segment dominated the market with a largest revenue share. Also, it is projected to grow rapidly during the forecast period due to large number of applications being served. Endoscope serves minimally invasive surgical procedures with insertion in body openings. It is also used in small surgical procedures due to its fine and flexible design. It saves time and expenses in standard surgical procedures. The demand for the segment is expected to soar in coming years due to increasing number of disorders and various launches and product enhancements in manufacturing.
The visualization system was the second-largest occupant of the global endoscopy devices market in 2017. These systems help obtain enhanced quality images and videos. Various surgical procedures can be observed that simplify easy diagnosis and treatment. Several instruments such as wireless displays and monitors, light sources, video processors, endoscopic cameras, video recorders, video converters, carts, transmitters & receivers, camera heads, and others constitute the endoscopy through visualization system.
By Application
Quick Diagnosis and Emergence of New Laparoscopic Devices Strengthened the Segment's Dominance
According to the application, the global endoscopy devices market is split into gastrointestinal endoscopy, laparoscopy, arthroscopy, otoscopy, urology endoscopy, bronchoscopy, laryngoscopy, and others. The laparoscopy segment, in 2017, occupied the largest market share. Laparoscopy examines the organs inside the abdomen, being minimally invasive in nature as it works with small incisions. The procedure generally diagnoses pelvic or abdominal pain. Smaller scars, reduced pain, and rapid recovery make laparoscopy advantageous over other diagnostic methods. Major market players are introducing high-quality, ergonomic, and cost-effective laparoscopic instrumentation.
The gastrointestinal endoscopy segment stood as the second-largest market occupant in 2017. The procedure checks internal lining of the upper gastrointestinal (GI) tract. It detects symptoms and conditions affecting esophagus, stomach, and upper intestine or duodenum. The segment gained traction due to comfortability and issue correction it serves during procedures. In addition to this, several companies have launched their range of products to be used for GI endoscopy.
Endoscopy Devices Market, by End User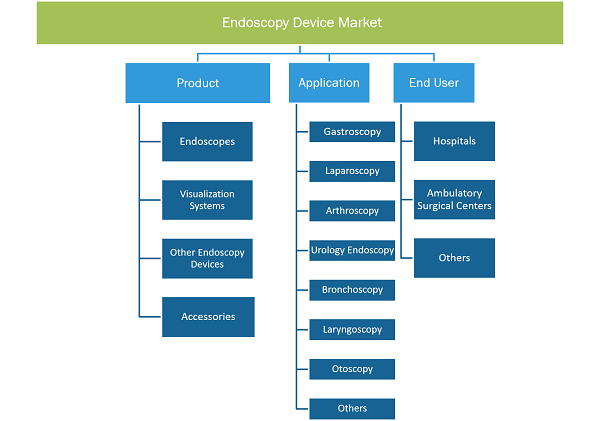 Get more information on this report :
Regional Insights
Geographically, the global endoscopy devices market is segmented into North America, Europe, Asia Pacific (APAC), Middle East & Africa (MEA), and South & Central America (SCAM).
North America, with the largest revenue share, dominated the global endoscopy devices market in 2017. All major regions here are witnessing a sequential change in the market statistics. The prevalence of cancer and screening programs is contributing to the regional market surge. Colonoscopy has been one of the most prominent endoscopic procedures carried out in the US, followed by esophagogastroduodenoscopy (EGD) and Flexible sigmoidoscopy. Increasing acceptance, high health care spending, government aid for R&D, and awareness towards endoscopy procedures are the key aspects elevating the demand for endoscopic devices in the US market. Barrett's Esophagus and Colon cancer are the major prevalent diseases in Canada, and their diagnosis requires endoscopic procedures. Physicians and doctors in Canada recommend endoscopic ultrasound (EUS) and flexible sigmoidoscopy procedures to initiate early-stage cancer diagnosis.
Asia Pacific endoscopy devices market is speculated to expand at the highest CAGR throughout the forecast period. The region accounted for over 24% of the global endoscopy devices market due to largely populated countries such as China and India, increasing developments by market players, and the introduction of new products and therapies. Besides, the rising prevalence of cancer, increasing healthcare expenditure, and advanced clinical technology bolsters the regional endoscopy devices market. In China, the prevalence of gastric cancer has been severe, which demands endoscopic procedures. Apart from this, many international players are collaborating with Chinese companies to widen their customer base and affirm their position in the APAC market. In India, huge cases of chronic obstructive pulmonary disease demand endoscopic procedures in large numbers. Moreover, the Make in India initiative boosted the manufacturing of endoscopy devices.
Lucrative Regional Markets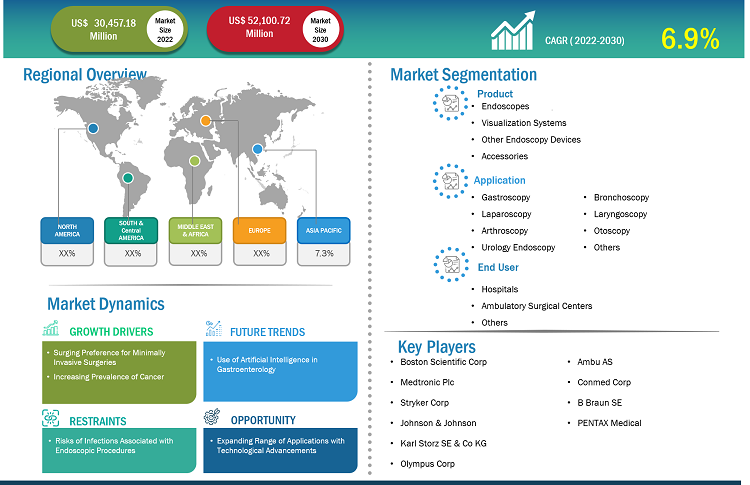 Get more information on this report :
Key Market Players:
Olympus Corporation (Japan)
Stryker (US)
Medtronic (Ireland)
Karl Storz SE & CO. KG (Germany)
Ethicon US, LLC (US)
Richard Wolf GMBH (Germany)
Boston Scientific Corporation (US)
Smith & Nephew (UK)
COOK (US)
Fujifilm Holdings Corporation (Japan)

Key Developments:
May 2018:

Olympus Corporation launched ENF-VT3, the world's first rhino-laryngo videoscope to incorporate 4-direction angulation capability. This helped company offer a strong product portfolio in the market.

January 2016:

Stryker endoscopy division acquired Ivy Sports Medicine, LLC, which offers a comprehensive minimally invasive meniscal repair platform.

August 2016:

Medtronic's minimally invasive therapies group acquired Smith & Nephew's gynecology business to expand its surgical offerings.

August 2017:

Ethicon launched ProxiSure suturing devices for bariatric, general, colorectal, and gynecology procedures.

Report Coverage
The global endoscopy devices market research report provides detailed insights into share, size, trends, and opportunities in the market. It briefs the role of drivers and restraints impacting market fluctuations. Besides, the industrial landscape, market overview, and global business analysis have been elaborated to help determine future business investments. Dominant market players with their recent developments have been highlighted, mentioning product launches, expansions, and acquisitions.
Frequently Asked Questions