The Europe bulk molding compound market is expected to grow from US$ 239.60 million in 2019 to US$ 340.02 million by 2027; it is estimated to grow at a CAGR of 4.6% from 2020 to 2027.

Germany, UK France, Italy and Russia are major economies in Europe. The increase in demand for lightweight, high strength, and fire resistance materials by various industrial sector is driving the Europe bulk molding compound market. The demand for lightweight materials with high tensile strength is on the rise amongst several sectors such as automotive, aerospace and construction and many others. The use of lightweight materials has a direct impact upon the overall dynamics and structure of the components in which they are used. BMC is one such compound material, which are manufactured with the help of thermosetting polymeric matrices. It is known to possess several properties such as good mouldability, high dimensional stability, excellent mechanical and electrical properties, resistance from chemical and corrosion and others. Other than this, it is known for their lightweight nature and are quite economical which makes them ideal component to be across several application bases. The demand for BMC compounds have considerably increased across automotive and aerospace industry owing to rise in advancement and innovation in these industries. Weight along with strength has become a significant factor for the performance of a vehicle. A slight reduction in the weight can improve the performance of a vehicle. This has offered a great scope in the growth of Europe Bulk Molding Compound (BMC) Market in scenario.
Presently, major countries in Europe are under lockdown due to the COVID 19 pandemic. In the high-impact countries in the region, isolation and social distancing measures have been put in place. The lesser production of goods and commodities is hampering the growth of the Europe bulk molding compound market as the demand for these solutions has declined over the past couple of months. Russia has reported the highest number of confirmed cases of as the disease in the European region. The outbreak and measures taken to contain the infection spread are likely to impact the food & beverages industry in the region, mainly due to disruptions in supply and distribution chain. In addition, the overall manufacturing processes, research, and development activities will also impact market growth.
With the new features and technologies, vendors can attract new customers and expand their footprints in emerging markets. This factor is likely to drive the Europe bulk molding compound market. The market is expected to grow at a good CAGR during the forecast period.
Europe Bulk molding compound Market Revenue and Forecast to 2027 (US$ Mn)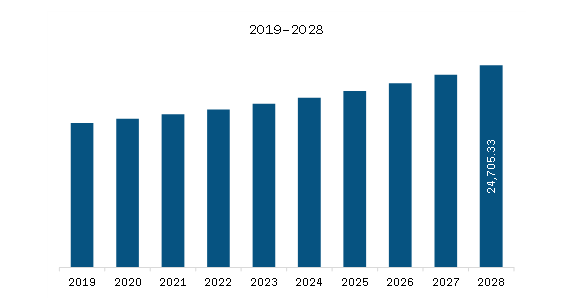 Get more information on this report :
Europe Bulk Molding Compound Market Segmentation
Europe Bulk Molding Compound Market, by Resin Type
Polyester

Vinyl Resin

Others
Europe Bulk Molding Compound Market, by Fiber Type
Europe Bulk Molding Compound Market – by Application
Electrical Industry

Automotive Industry

Others
Europe Bulk Molding Compound Market – by Country
Germany

France

UK

Italy

Russia

Rest of Europe