The level gauge market is projected to reach US$ 2,013.69 million by 2028 from US$ 1,391.31 million in 2021; it is expected to grow at a CAGR of 5.6% from 2022 to 2028.
Level gauges are instruments for sensing and measuring fluid or gas levels in tanks or other storage containers. These devices are commonly used to detect fluid levels in drums, tanks, pressure vessels, and other similar uses in industrial process applications. When a direct physical measurement of the liquid level is not possible or practical, such as when the fluid being measured is toxic or when the tank or vessel housing the fluid is sealed and under pressure, level gauges are commonly used.
Fluid interface measurements are in high demand in manufacturing equipment such as frying drums, dehydrators, regenerators, settling tanks, and clarifiers. When two immiscible liquids are present in the same vessel, interface measurement is required. Liquid-solid interfaces, liquid-liquid interfaces, vapor-liquid interfaces, and foam-liquid interfaces are all examples of interfaces. Magnetic level gauges are used to determine the exact level of the upper liquid, the bottom liquid, and the level where the two liquids meet.
One of the important factors driving the growth of the level gauge market is the growth of oil & gas businesses and strong industrial activity worldwide. Additionally, increased deployment of automatic tank gauge systems is boosting the adoption of level gauge systems in various industries, likely to fuel the level gauge market expansion over the forecast period. Due to high accuracy levels in measuring components in pharmaceutical manufacturing, the pharmaceutical industry is likely to see increased demand. Initially, pharmaceutical manufacturers had numerous measuring issues, resulting in a requirement for level sensing gauges. The necessity to get government certification, conform to criteria set by numerous health-related organizations, and maintain perfect operations has increased the demand for level gauges in the pharmaceutical industry. Furthermore, throughout the forecast period, the expansion of automated processes in the pharmaceutical industry is likely to drive the need for level gauges.

Report Coverage
Impact of COVID-19 Pandemic on Level Gauge Market
Various economies in Asia Pacific witnessed a sharp decline in their gross domestic product (GDP) in 2020 due to the sudden closedown of most economic activities across the country. The region consists of prominent oil and gas producing countries. According to the Organization for Economic Co-operation and Development (OECD), the pandemic severely affected several countries, such as India, Australia, China, and Japan. India is the worst-hit country by the pandemic in this region. Limitations imposed by governments to control the spread of COVID-19 during the initial time frame of the outbreak in these countries have affected the production process due to the limited workforce. China, Australia, Iran, Indonesia, and Malaysia are a few of the major natural gas-producing countries in the region. APAC's main natural gas-consuming countries are China, Japan, South Korea, and India.
Lucrative Regions for Level Gauge Market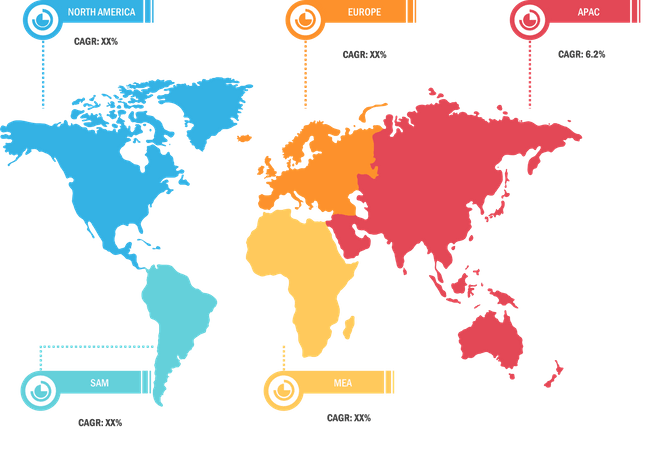 Get more information on this report :
Market Insights – Level Gauge Market
North America is the most technologically advanced region, with several key economies, including the US, Canada, and Mexico. Developed countries in the region are known for adopting advanced technologies, high living standards, and developed infrastructure. Several industries, such as oil & gas and food & beverages in the region, are expanding their production scale due to rising consumer demand, leading to the level gauge market growth.
Level gauge manufacturers in Europe are also contributing significantly to market growth. Some of the prominent market players in Europe are PI Control Europe, P&ID b.v., Wema UK, ABB, Bliss Anand Europe, Hadro Techniek B.V., General Instruments Europe, Fival Srl, and Klinger Europe. These manufacturers offer more than one type of level gauge.
The APAC Level Gauge market is segmented into Australia, India, China, Japan, and South Korea. The growth in the manufacturing industry in Asian countries, such as China, India, Japan, South Korea, and Taiwan, would further positively impact the uptake of level gauge. Government initiatives, such as Make in India and Make in China, are transforming the manufacturing industry of India and China, respectively. This is augmenting the growth of the level gauge market in the region.
Technology-Based Insights
Based on technology, the level gauge market is segmented into magnetic level gauge, reflex level gauge, transparent level gauge, tabular level gauge, and others. The magnetic level gauge segment is expected to register the highest CAGR during the forecast period due to its usage in various end-users. A magnetic level indicator is frequently employed in situations when a sight glass (or glass sight gauge) is unsuitable for the job or underperforming due to plant requirements.
The level gauge market is segmented on the basis of gauge type, technology, end-user, and geography. Based on gauge type, the level gauge market is segmented into tank level, fuel level, water level, and mechanical level. Based on technology, the level gauge market is segmented into magnetic level gauge, reflex level gauge, transparent level gauge, tabular level gauge, and others. By end-user, the level gauge market is segmented into oil & gas, food & beverages, chemical & petrochemical, marine, energy & power, and others. Based on geography, the level gauge market is primarily segmented into North America, Europe, Asia Pacific (APAC), the Middle East & Africa (MEA), and South and Central America.
ABB Ltd.; Barksdale Inc.; Ayvaz; BinMaster; jbj Techniques Ltd.; Jogler, LLC; KOBOLD Messring GmbH; KROHNE Messtechnik GmbH; Krueger Sentry Gauge Co.; and SensorsOne Ltd. are among the key level gauge market players.
Frequently Asked Questions