The plastic to fuel market was valued at US$ 3,645.23 million in 2022 and is projected to reach US$ 8,804.20 million by 2028; it is expected to grow at a CAGR of 15.8% from 2022 to 2028.
Asia Pacific comprises many developing countries including China and India. These are also the top two most populated countries worldwide. China alone produces 59,079,741 tons of plastic every year. These plastic wastes are either dumped into landfills or the ocean, thereby populating the environment and leaving long-term adverse impacts worldwide. Moreover, Asia Pacific accounts for the major share in marine plastic pollution with major contributors such as China, Indonesia, Sri Lanka, Vietnam, and the Philippines. Inefficient waste management infrastructure and the lack of awareness regarding the adverse impact of single-use plastic are the main reasons contributing to the rise in plastic waste across the region.
The rising investments by both the governments and private organizations to promote recycling of plastic to further reusable materials are propelling the growth of the plastic to fuel market across the region. In 2020, Circulate Capital, an investment management organization, announced its investment of US$ 19 million in four privately held Indian recycling companies – Srichakra Polyplast, Dalmia Polypro Industries, Deeya Panel Products, and Rapidue Technologies. Similarly, in 2020, Circulate Capital Ocean Fund (CCOF) invested US$ 39 million to create the largest investment portfolio devoted to fighting ocean plastic waste across India. Hence, constant investments by government and private companies to fight the adverse impact of plastic across countries in Asia Pacific are expected to contribute to the plastic to fuel market growth.
In APAC, India plastic to fuel market growth is expected to be the highest. According to the report published by the Central Pollution Control Board (CPCB) in 2018-19, India generates about 3.3 Mn metric tons of waste annually. The government of India under its Swach Bharat Abhiyan is actively taking steps to reduce the adverse impact of plastic on the local and global level. in 2020, Needa Green Energy Limited (NGEL) has set up a plastic to petrol developing plant in Guntur. The system was developed by three technocrats in 2020. Thus, the above mentioned developments are supporting the growth of the plastic to fuel market in India.
Strategic Insights
Report Coverage - Plastic to Fuel Market

| Report Coverage | Details |
| --- | --- |
| Market Size Value in | US$ 3,645.23 Million in 2022 |
| Market Size Value by | US$ 8,804.20 Million by 2028 |
| Growth rate | CAGR of 15.8% from 2022 to 2028 |
| Forecast Period | 2022-2028 |
| Base Year | 2022 |
| No. of Pages | 118 |
| No. of Tables | 40 |
| No. of Charts & Figures | 61 |
| Historical data available | Yes |
| Segments covered | Technology, End Product and Geography |
| Regional scope | North America, Europe, Asia Pacific, Middle East & Africa, South & Central America |
| Country scope | US, Canada, Mexico, UK, Germany, Spain, Italy, France, India, China, Japan, South Korea, Australia, UAE, Saudi Arabia, South Africa, Brazil, Argentina |
| Report coverage | Revenue forecast, company ranking, competitive landscape, growth factors, and trends |
| Free Sample Copy Available | |
Impact of COVID-19 Pandemic on Plastic to Fuel Market
APAC is characterized by many developing countries, a positive economic outlook, high residential and industrial presence, huge population, and rising disposable income. All these factors make APAC a major growth driving region for various markets, including plastic market. China, one of the largest plastic dependent country and massive plastic landfills, experienced stringent lockdown during initial phase of 2020, which disrupted the global plastic waste supply chain. Even as the factories in China are begun to operate, several businesses have reduced or pause on their operations, thereby, leading the plastic to fuel market players in the country to witness limited volume of plastic waste. This hindered the growth of the plastic to fuel market in China.
Lucrative Regions for Plastic to Fuel Market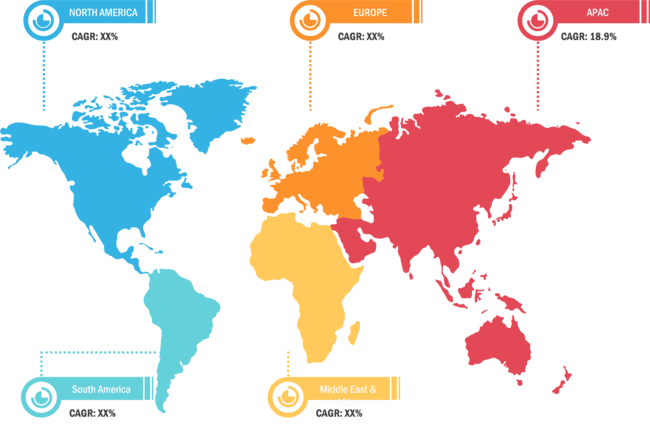 Get more information on this report :
Market Insights
Introduction of Go Green Process
Plastic to fuel initiatives is starting to gain traction in the energy industry, as more people become aware of the widespread environmental damage caused by single-use plastics and people's insufficient recycling habits. This is prompting researchers to look for new ways to dispose of the growing plastic output. An increase in government subsidies for green technology development and attempts to encourage such technologies through increased financing are projected to provide significant market growth possibilities. Furthermore, the government's tightening of energy-security regulations is pressuring businesses to invest in environmentally friendly research. Plastics-to-fuel is a promising option for not just reducing pollution but also bringing major economic benefits to regions. According to the American Chemistry Council, plastic-to-fuel plants in the US alone would generate over 39,000 employment and nearly US$ 9 billion in economic output, indicating that the worldwide market potential for this business is enormous.
Technology-Based Market Insights
Based on technology, the global plastic to fuel market is segmented into pyrolysis, gasification and depolymerization. The pyrolysis technology dominated the market in 2021, accounting for the bulk of worldwide sales. This approach is more efficient than other technologies at processing mixed, unclean, and dirty polymers. Furthermore, the technique can produce a variety of fuel types, such as biofuel, solid residue, and synthetic gas. During the forecast period, these reasons are expected to boost the market growth for the pyrolysis segment.
End Product-Based Market Insights
Based on end product, the plastic to fuel market is segmented into crude oil, hydrogen and others. The others segment is projected to grow at a highest CAGR during the forecast period. Diesel, sulfur, and gasoline were among the various types of end products. Diesel fuel, in general, is a liquid fuel developed particularly for use in diesel engines and whose fuel ignition occurs because of compression of the input air mixture and subsequently injection of fuel, without the need of a spark plug. As a result, strong compression ignition properties are required for diesel fuel. Plastic processing is being promoted in several nations such as India, Japan, Germany, and the United States among others as a means of extracting fuel. For instance, in 2019, for example, the Indian government opened India's first plastic to diesel conversion facility in Mathura. Every day, the facility will remove five metric tonnes of plastic from the city and turn it to fuel.
The plastic to fuel market size has been segmented based on technology, end product, and geography. Based on technology, the plastic to fuel market analysis is segmented into pyrolysis, gasification, and depolymerization. Based on end product, the plastic to fuel market size is bifurcated into crude oil, hydrogen, and others. Based on geography, the plastic to fuel market analysis is primarily segmented into North America, Europe, Asia Pacific (APAC), the Middle East & Africa (MEA), and South America.
Product development is the commonly adopted strategy by companies to expand their product portfolio. Agilyx Inc.; Cassandra Oil AB; Klean Industries Inc.; Nexus Fuel LLC; OMV Aktiengesellschaft; Bradam Group, LLC; RESYNERGI; MK Aromatics Ltd.; Plastic2Oil, Inc.; and Plastic Advanced Recycling Corp. are among key plastic to fuel market players implementing strategies to enlarge the customer base and gain significant share in the global plastic to fuel market, which, in turn, permits them to maintain their brand name globally. A few of the recent key developments are:
In 2020, Plans for building the UK's first waste plastic to hydrogen facility have moved a step further to fruition with the completion of a Front-End Engineering Design phase.
In 2018, After six years of research and development, Biofabrik group's WASTX Plastic technology has unveiled a prototype for a machine capable of transforming plastic waste into fuel.
In 2020, Oil refiner SK Innovation Co. is all set to develop up-cyling technology for producing petrochemical raw material from plastic wastes in cooperation with Jeju Clean Energy.
Frequently Asked Questions