The refrigerant market was valued at US$ 16,458.3 million in 2021 and is projected to reach US$ 25,534.6 million by 2028; it is expected to grow at a CAGR of 6.5% from 2021 to 2028.
Refrigerant is a type of fluid used in the thermodynamic cycle of air conditioning. The refrigerant undergoes a continuous transition of phase from liquid to gas and then gas to liquid in the refrigeration process. Refrigerants are highly used as coolants in refrigeration systems, chillers, and air conditioning to absorb heat from the surroundings and pump it outside.
In 2020, Asia Pacific held the largest revenue share of the global refrigerant market. High demand for cooling systems from commercial and industrial sectors such as chemical processing, food & beverages, and healthcare is mainly driving the market in Asia Pacific. Additionally, the region consists of countries such as Japan, South Korea, India, and China, which are top manufacturers of refrigeration systems and air conditioning. HFC refrigerants are preferred in industrial chillers due to their perfect thermal stability, minimal toxicity, non-corrosiveness, and non-combustibility. The growing industrialization and urbanization is also the major factor for the rising demand for refrigerants in the region.
Strategic Insights
Report Coverage - Refrigerant Market
Report Coverage
Details
Market Size Value in
US$ 16,458.3 Million in 2021
Market Size Value by
US$ 25,534.6 Million by 2028
Growth rate
CAGR of 6.5% from 2021 to 2028
Forecast Period
2021-2028
Base Year
2021
No. of Pages
150
No. of Tables
60
No. of Charts & Figures
73
Historical data available
Yes
Segments covered
Type, and Application
Regional scope
North America, Europe, Asia Pacific, Middle East & Africa, South & Central America
Country scope
US, Canada, Mexico, UK, Germany, Spain, Italy, France, India, China, Japan, South Korea, Australia, UAE, Saudi Arabia, South Africa, Brazil, Argentina
Report coverage
Revenue forecast, company ranking, competitive landscape, growth factors, and trends
Free Sample Copy Available
Impact of COVID-19 Pandemic on Refrigerant Market
The COVID-19 pandemic affected economies and industries in various countries due to lockdowns, travel bans, and business shutdowns. In 2020, various industries had to slow down their operations due to disruptions in value chains caused by the shutdown of national and international boundaries, which led to low demand for refrigerants from various industries. The COVID-19 pandemic caused volatility in the prices of raw materials required to produce refrigerants. The worldwide consumption of refrigerants declined due to the low demand from various industries such as construction and manufacturing. The reduced demand from various industries due to the COVID-19 pandemic negatively impacted the growth of the refrigerant market. However, the demand for refrigerants is expected to rise globally as various economies revive their operations.
Global Refrigerant Market Breakdown – by Region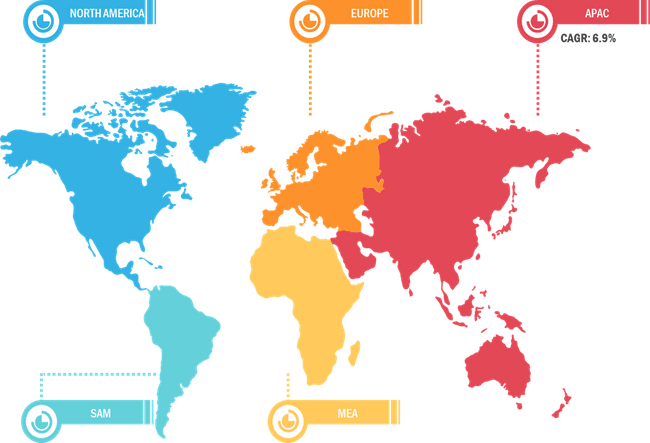 Get more information on this report :
Market Insights
Rise in Demand for Refrigeration Systems
Refrigeration is the essential process in the industry and home appliances for the purpose of cooling and maintaining room temperature. The refrigeration system consists of four major components – compressor, condenser, expansion device, and evaporator. Refrigerants are combined with compressor and evaporator to absorb heat from the environment. The increasing demand for refrigeration systems at a larger scale in industrial and commercial sectors is fueling the market growth. Many chemical manufacturing industries use refrigeration systems at a large scale for chemical processing. This has led to an increase in the consumption of refrigerants at a higher rate for industrial applications. For example, HFC refrigerant was used during the Aramco project in Saudi Arabia. The boom in industrialization has led to a rise in demand for various types of refrigerants in refrigeration and air conditioning (RAC) the industry.
Refrigeration systems are used in the large cold chain for storing and distributing goods with the help of refrigerated transport such as refrigerator trucks, rails, cars, and containers. The advancement in the supply chain industry with the introduction of refrigeration systems for maintaining the quality of products during transportation has created lucrative opportunities for the refrigerants market.
Type Insights
Based on type, the global refrigerant market has been segmented into HCFC, HFC, HFO, isobutane, propane, ammonia, carbon dioxide, and others. The HFC segment held the largest market share in the global market in 2020. HFCs are primarily used in refrigeration, air-conditioning, insulating foams, and aerosol propellants, with minor uses such as solvents and fire protection. HFC refrigerants are also used in vehicle air conditioning systems. Thus, the application scope of HFC is held responsible for its dominance in the refrigerant market.
Refrigerant Market, by Type – 2020 and 2028


Get more information on this report :
The Chemours Company; Arkema; Honeywell International Inc.; Linde plc; Air Liquide; Dongyue Group; SINOCHEM GROUP CO., LTD.; DAIKIN INDUSTRIES, Ltd.; AGC Inc.; and Airgas, Inc. are among the major players operating in the global refrigerant market. Players operating in the global market are constantly focusing on strategies such as investments in research and development activities and new product launches.
Report Spotlights
Progressive industry trends in the refrigerant market to help players develop effective long-term strategies
Business growth strategies adopted by developed and developing markets
Quantitative analysis of the refrigerant market from 2019 to 2028
Estimation of global demand for refrigerants
Porter's Five Forces analysis to illustrate the efficacy of buyers and suppliers operating in the industry
Recent developments to understand the competitive market scenario
Market trend and outlook, as well as factors driving and restraining the growth of the refrigerant market
Assistance in the decision-making process by highlighting market strategies that underpin commercial interest, leading to the market growth
The refrigerant market size at various nodes
Detailed overview and segmentation of the market, as well as the refrigerant industry dynamics
Size of the refrigerant market in various regions with promising growth opportunities
Global Refrigerant Market
Type
HCFC
HFC
HFO
Isobutane
Propane
Ammonia
Carbon Dioxide
Others
Application
Refrigeration Systems
Chillers
Air-Conditioning Systems
MACs
Others
Company Profiles
The Chemours Company
Arkema
Honeywell International Inc.
Linde plc
Air Liquide
Dongyue Group
SINOCHEM GROUP CO., LTD.
DAIKIN INDUSTRIES, Ltd.
AGC Inc.
Airgas, Inc.
Frequently Asked Questions