The single pair ethernet market was valued at US$ 1,901.37 million in 2021 and is projected to reach US$ 3,602.17 million by 2028; it is estimated to grow at a CAGR of 9.6% from 2021 to 2028.
SPE (Single Pair Ethernet) is an end-to-end industrial Ethernet technology taking over the old legacy of fieldbus networks and traditional Ethernet, and creating a path for IIoT, smart manufacturing, and Industry 4.0. With industrial communication technology getting advanced, demand for SPE is introduced and standardized in a market, contributing to the single pair ethernet market growth. Further, it has been witnessed that there is a higher demand for solutions that would adapt to long-term smart manufacturing strategies. SPE is receiving acceptance in the industries and application areas, including the process industry, automotive, transportation, industrial automation, robotics, and advanced manufacturing, fueling the growth of single pair ethernet market size. In November 2019, the Institute of Electrical and Electronics Engineers (IEEE) certified a new standard for single pair ethernet protocol – the IEEE 802.3cg standard (also depicted as the 10Base-T1). The 10-Base-T1S "Short Range" is ideal for computing, automotive, industrial applications within a range of 25m, whereas 10-Base-T1L"Long Range" is appropriate for IoT, Industrial areas such as factories, large warehouses, and others where the range is 1,000m.
As more and more industrial components are becoming smart and intelligent, the connections are no longer restricted to internal company networks. This factor has made the devices a part of the Internet. With increased evaluation, collection, and use of data, the need for more powerful infrastructure is also rising. At the same time, the advanced infrastructure of changing industries is projected to take up less space and fewer resources and is fueling the use of more sensors and high network bandwidth. The factors described above assist in promoting the scope of SPE, thus influencing the single pair ethernet market growth.
Strategic Insights
Report Coverage - Single Pair Ethernet Market
Report Coverage
Details
Market Size Value in
US$ 1,901.37 Million in 2021
Market Size Value by
US$ 3,602.17 Million by 2028
Growth rate
CAGR of 9.6% from 2021 to 2028
Forecast Period
2021-2028
Base Year
2021
No. of Pages
180
No. of Tables
56
No. of Charts & Figures
78
Historical data available
Yes
Segments covered
Type and Application
Regional scope
North America, Europe, Asia Pacific, Middle East & Africa, South & Central America
Country scope
US, Canada, Mexico, UK, Germany, Spain, Italy, France, India, China, Japan, South Korea, Australia, UAE, Saudi Arabia, South Africa, Brazil, Argentina
Report coverage
Revenue forecast, company ranking, competitive landscape, growth factors, and trends
Free Sample Copy Available
Impact of COVID-19 Pandemic on Single Pair Ethernet Market
During the first few months of 2020, manufacturing declined massively. Automotive, consumer electronics, construction materials, aerospace and defense, mining, glass, chemicals, and many more observed a decline in their production activities, affecting the single pair ethernet market. In the 3rd quarter, the business started coming back into business with lesser capacity and less workforce. As manufacturing is amongst the prominent user of SPE, demand for industrial communication got adversely affected due to the closure of manufacturing units. Further, in 2021, with manufacturing plants commenced with operating full capacity, the demand for scalable, reliable, fast, and interoperable communication protocols increased, which impacted the scope of industrial automation and positively affected the growth of single pair ethernet market. Additionally, rising initiatives by governments to lower human intervention & control the spread of the COVID-19 pandemic are promoting the adoption of industrial automation. The demand for advanced technologies with low human interruption increased due to the COVID-19 pandemic, positively creating demand for the single pair Ethernet.
Lucrative Regions for Single Pair Ethernet Market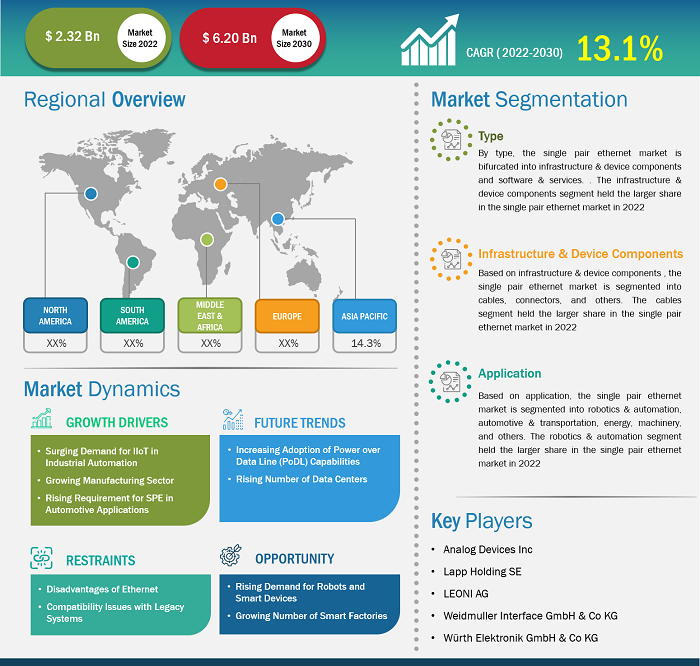 Get more information on this report :
Market Insights – Single Pair Ethernet Market
Growing Demand for Manufacturing Industries Propels Single Pair Ethernet Market Growth
The global manufacturing sector is rapidly expanding, with many regions investing in manufacturing plants in their localities. As per the Global Manufacturing Risk Index 2020: China, the US, Japan, Germany, and India are the prominent countries in this sector. The COVID-19 pandemic adversely affected all countries. In addition to industrial advancements in emerging economies, governments are striving to expand the manufacturing sector in their respective countries. AI, 3D printing, and robots are the most prevailing technologies in the manufacturing sector. For instance, in Australia, the modern manufacturing initiative is a major element of the country's government's modern manufacturing strategy that aims to assist Australian manufacturers in scale-up and compete internationally. Similarly, India can become a global hub for manufacturing by 2030. Such robust plans and aims for reinforcing the manufacturing sector are driving the growth of IIoT and automation globally, which fueled the growth of the single pair ethernet market. Further, the demand for real-time manufacturing data, increased analytics, secure device-to-cloud computing, and monitoring applications is rising, thereby increasing demand for better industrial communication, which, in turn, is driving the growth of the single pair ethernet market.
Application-Based Insights
Based on application, the single pair ethernet market is segmented into Robotics & Automation, Machinery, Energy, Automotive & Transportation, and Others. Industrial robots create a significant demand on cables and other supply lines for equipment that the robot uses to complete its current work. Several axes are set in motion during one work step, and cables are bent or twisted thousands of times throughout working life. As a result, cable makers provide optimized Ethernet cables for various applications. The finer strands in the very flexible cables allow for more work cycles. The thinner a copper conductor, the less plastic deformation occurs, and the material solely suffers elastic deformations. The growing usage of Artificial Intelligence and cloud-based solutions for internal efficiency among SMEs is fueling the robotics and automation market across the globe, thereby driving market growth. Furthermore, the rising trend of cloud-based solutions and the increasing use of robot-based solutions across various end-user industries is predicted to open up new opportunities for growth in robotics & automation adoption rate, which, in turn, boosts the single pair ethernet market.
The single pair ethernet market is segmented based on type and application. Based on type, the single pair ethernet market is segmented into infrastructure & device components and software & services. Based on application, the single pair ethernet market is segmented into robotics & automation, machinery, energy, automotive & transportation, and others. Geographically, the single pair ethernet market is segmented into North America, Europe, Asia Pacific (APAC), Middle East & Africa (MEA), and South and Central America. Analog Devices, Inc.; Belden Inc.; HARTING Technology Group; LAPP Group; LEONI; PHOENIX CONTACT India Pvt.Ltd.; Siemon; TE Connectivity Ltd.; Wiedmuller Interface GmbH & Co. KG; and Wurth Elektronik are among the key players profiled during the single pair ethernet market study.
Players operating in the single pair ethernet market are mainly focused on the development of advanced and efficient products.
In 2022, Analog Devices announced that the company will invest USD 110.3 million over the next three years in ADI Catalyst, a 100,000 square foot custom-built facility for innovation and collaboration located at its campus in the Raheen Business Park in Limerick, Ireland.
In 2021, Belden announced a new partnership with Dynics, which is a provider of factory automation, hardware and software solutions. This strategic technology alliance agreement is a robust cybersecurity solution to market with best-in-class technology to protect industrial networks.
Frequently Asked Questions