The surgical robots market is projected to reach US$ 17,647.82 million by 2028 from US$ 6,839.07 million in 2021. It is expected to register a CAGR of 14.8% from 2022 to 2028.
Surgical robots are used for minimally invasive surgery and enable precise manipulation of surgical instruments beyond human ability in a small operation space. It is a broad concept that encompasses many common procedures, such as urological surgery, orthopedic procedure, laparoscopic cholecystectomy (gall bladder excision), gynecological surgery, and others.
The report offers insights and in-depth analysis of the global surgical robots market, emphasizing various parameters, such as market trends, technological advancements, and market dynamics. It also provides the competitive landscape analysis of leading market players and the impact of the COVID-19 pandemic on the market across all major regions.
The cost of overall healthcare is surging significantly in North America. The US health system incurred a direct cost of US$ 5.3 billion in 2020. The healthcare system contributed US$ 60 billion in addition to the overall annual costs of the US in 2020. Over 40% of the population in North America canceled their appointments in 2020, and 13% of them reported that they needed care but were not scheduled or received care.
The COVID-19 pandemic altered economic conditions and social behaviors in North American countries. Containment measures enacted by governments to mitigate the spread of disease changed the US healthcare service delivery pattern. According to the Department of Emergency Medicine, in many cities across the country, emergency department (ED) visits decreased by ~40% in 2020. Moreover, outpatient appointments and elective treatments were postponed or replaced by telemedicine practices.
Surgical robots market - Strategic Insights
Report Coverage - Surgical Robots Market
Report Coverage
Details
Market Size Value in
US$ 6,839.07 Million in 2021
Market Size Value by
US$ 17,647.82 Million by 2028
Growth rate
CAGR of 14.8% from 2022 to 2028
Forecast Period
2022-2028
Base Year
2021
No. of Pages
195
No. of Tables
85
No. of Charts & Figures
78
Historical data available
Yes
Segments covered
Components, Application, and End User
Regional scope
North America, Europe, Asia Pacific, Middle East & Africa, South & Central America
Country scope
US, Canada, Mexico, UK, Germany, Spain, Italy, France, India, China, Japan, South Korea, Australia, UAE, Saudi Arabia, South Africa, Brazil, Argentina
Report coverage
Revenue forecast, company ranking, competitive landscape, growth factors, and trends
Free Sample Copy Available
Regarding the surgical procedure itself, the fewer the surgical team members, the lower the possibility of contamination. While Robots-assisted surgery can lessen the risk of contamination, contactless remote Robotic surgery, which can be performed with the patient's presence in the operating theatre, would be the ideal situation for preventing virus spread. During pandemics, this visionary environment would allow surgeons to continue operating without fearing additional infection. Thus, the market was positively impacted post the first wave of COVID-19.
Furthermore, the chaotic situation was created in the healthcare industry across the countries, leading to a reduced number of consultations and a smaller number of cancer cases diagnosed. For instance, international efforts suggest that the diagnoses of cancers were reduced by 40% between March 9, 2020, and May 17, 2020, compared to diagnoses averaged over the same period in 2018 and 2019. The COVID-19 pandemic has impacted the most crucial areas of the global surgical robots market in its disruption of clinical trials and drug supply to patients.
Based on region, the global surgical robots market is segmented into North America, Europe, Asia Pacific, the Middle East and Africa, and South and Central America.
Lucrative Regions for Global Surgical Robots Market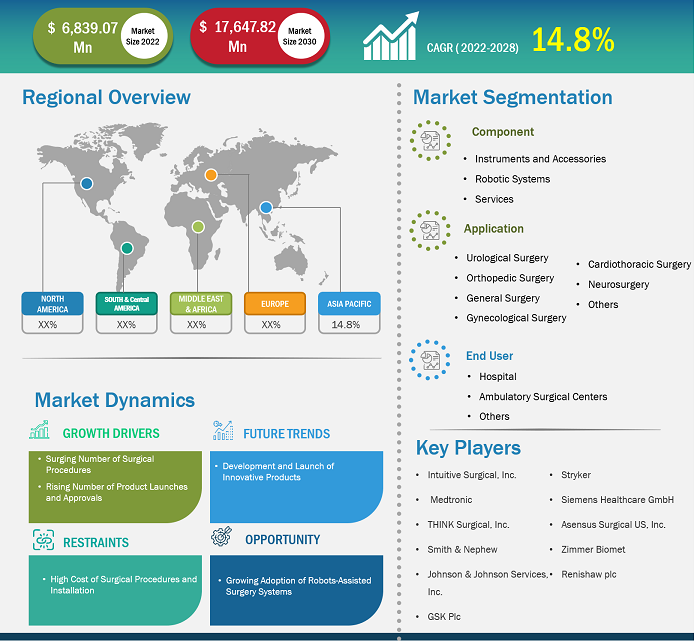 Get more information on this report :
Market Insights
Surging Number of Surgical Procedures Drives Global Surgical Robots Market
There is a rise in the number of surgeries performed across the world. In the last 25 years, the incidence of cardiovascular diseases has increased globally. The rise in diabetic cases and lifestyle changes are leading to an increase in the number of cardiovascular surgeries and general surgeries. For instance, colorectal cancer is one of the most commonly found and lethal cancers developed in individuals due to the combined influence of genetic and environmental factors. According to the World Health Organization (WHO), colorectal cancer is the third most prevalent form of cancer, with ~1.93 million global cases in 2020.
Furthermore, colorectal cancer mortality and incidence rates vary globally, and ~916,000 deaths in 2020 were associated with it. It is the third most common type of cancer in men and the second most common cancer in women. The lifetime risk of developing colorectal cancer is about 1 in 23 for men and 1 in 25 for women. Further, ~95,55,027 cancer deaths were recorded in 2018, of which 8,80,792 were related to colorectal cancer. Therefore, colorectal cancer was identified as the third most common cancer and the second highest death-causing cancer. Therefore, the increasing number of colorectal cancer incidences has resulted in the surging demand for surgical Robots.
According to the data published by the Obesity and Metabolic Surgery Society of India in 2020, the number of bariatric surgeries increased by ~86.7% in India during 2014–2018. Further, as per the study published by the American Society for Metabolic and Bariatric Surgery, ~252,000 weight loss surgeries were performed in the US in 2019. The growing number of surgical procedures creates a need for Robotic surgery instruments. For instance, according to the 2021 National Health Statistics Reports from the Centers for Disease Control, obesity has reached 41.9% among adults and 19.7% among children and adolescents aged 2-19 years.
Moreover, it has been stated that severe obesity, corresponding to a body mass index (BMI) of 40 or higher, is present in 9.2% of adults in the US. Therefore, the relationship between obesity and the development of various well-known comorbidities, including cardiovascular diseases, diabetes, liver disease, chronic kidney disease, osteoarthritis, and cancer, makes obesity one of the top preventable causes of mortality. Moreover, intense lifestyle modification and pharmacotherapy usually fail to achieve long-term sustained weight loss and remission of obesity-related comorbidities (10% weight loss at one year and 5.3% at 8 years). However, CDC states that bariatric surgery has been demonstrated to be effective at achieving long-term weight–loss up to 77% of excess weight loss (~77% of excess weight at one year and over ~50% at 10-20 years), remission of obesity-related comorbidities, and reducing the incidence of major cardiovascular conditions.
Thus, Surgical Robots have been designed to exceed the limitations of conventional laparoscopy. The laparoscopic procedure involves a 2-dimensional view displayed on a monitor, whereas robotic surgery offers a close three-dimensional vision portrayed in the commodity of a console, which gives the surgeon a feeling of operating from inside the cavity. For instance, robotic systems, such as Da Vinci Xi, manufactured by Intuitive Surgical, provide an active camera, multi-quadrant access, improved precision of motion, filtered tremor, and instruments with endo wrist movements and seven degrees of freedom, powerfully enhancing the dexterity of the surgeon. Therefore, the utilization of robotic platforms for primary and bariatric surgery is expected to rise over the forecast period. Moreover, the surge in the prevalence of chronic conditions and the increasing number of surgical procedures generate the demand for surgical robots.
Surgical robots market – Components based Insights
Based on components, the global surgical robots market is segmented into instruments & accessories, robotic systems, and services. In 2021, the instrument and accessories segment accounted for a greater market share.
Surgical robots market - Application based Insights
Based on application, the global surgical robots market is segmented into urological surgery, orthopedic surgery, general surgery, gynecological surgery, cardiothoracic surgery, neurosurgery, and others. The urological surgery segment dominated the market in 2021.
Surgical robots market - End User based Insights
Based on the end user, the global surgical robots market has been categorized into hospitals, ambulatory surgical centers, and others. The hospital segment held the largest market share in 2021.
Global Surgical Robots Market, by End User– 2021 and 2028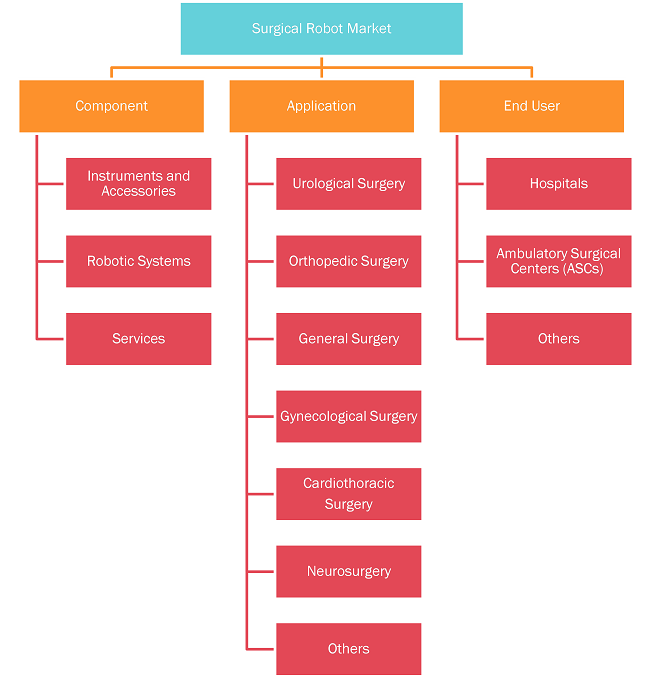 Get more information on this report :
Players in the global surgical robots market adopt organic strategies, such as product launch and expansion, to increase their footprint and product portfolio worldwide.
By Geography, North America is further segmented into the US, Canada, and Mexico. Europe is segmented into Germany, the UK, France, Italy, Spain, and the Rest of Europe. APAC is divided into China, Japan, India, South Korea, Australia, and the Rest of APAC. The Middle East and Africa is segmented into Saudi Arabia, South Africa, the UAE, and the Rest of the MEA. South and Central America is segmented into Brazil, Argentina, and the Rest of SCAM.
Some major players in the surgical robots market are Intuitive Surgical, Smith + Nephew, Johnson & Johnson Services, Stryker, Zimmer Biomet, Medtronic, Siemens Healthineers AG, THINK Surgical, Asensus Surgical, Inc., and Reninshaw plc.
Frequently Asked Questions